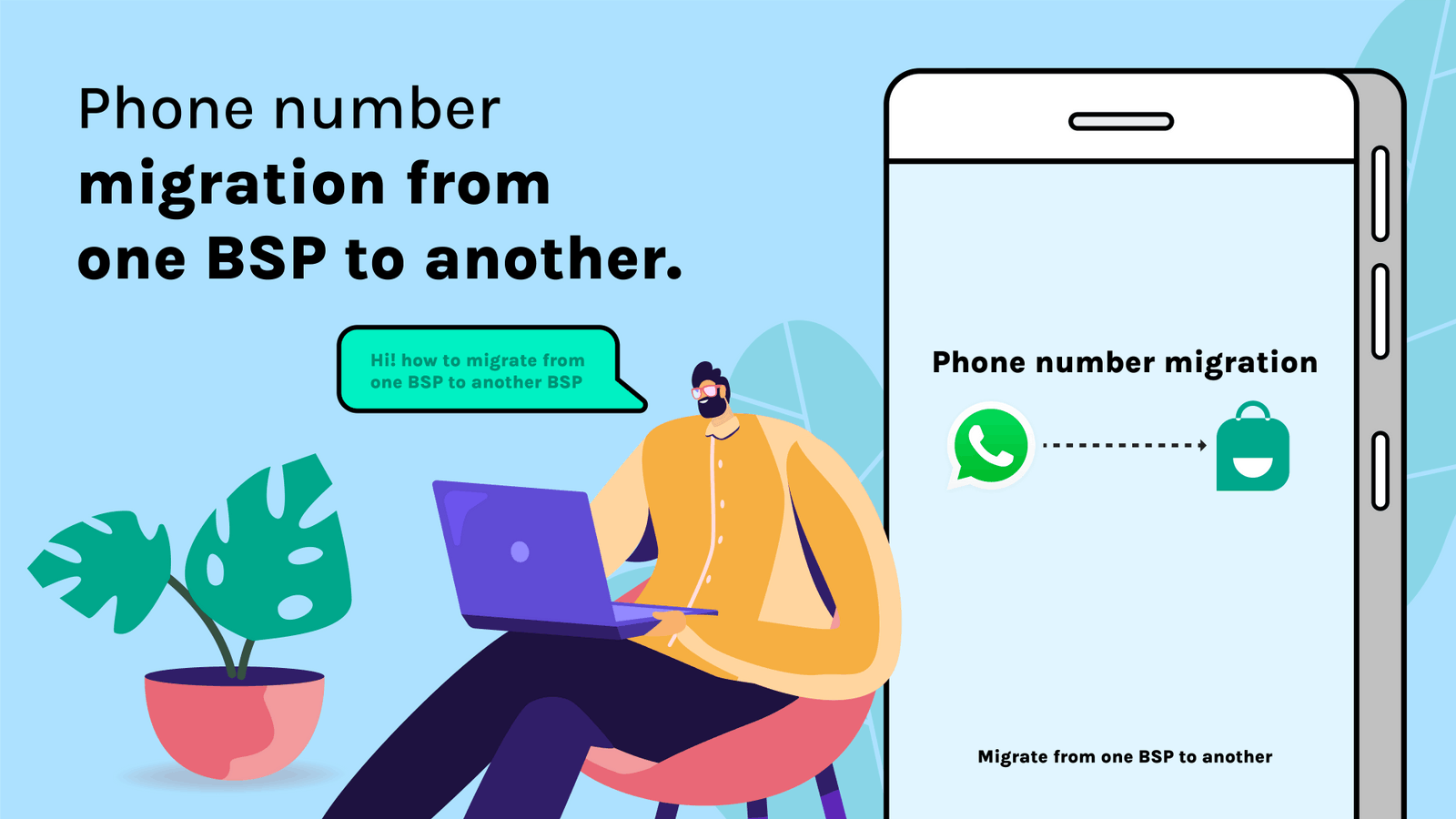 The Complete Guide to WhatsApp Business provider migration
WhatsApp allows businesses to switch their BSPs (Business Service Providers) from one to another without losing the registered WhatsApp number. Even if you are not using a BSP but consuming the WhatsApp Business APIs on your own, you can migrate to a BSP like Interakt (the official WhatsApp Business APIs Service/Solution Provider) easily as part of this migration. In this blog we will understand the migration and answer some common questions around the same.
Note: This migration process is different from migration of Business App to WhatsApp Business APIs.
Before we get to the migration process. Let us understand some keywords.
• Source BSP: The BSP you are migrating from is called the Source BSP.
• Destination BSP: The BSP you are migrating to is the Destination BSP.
• Source WhatsApp Business Account (WABA): The WhatsApp Business account the phone number is currently registered to is referred to as, Source WABA.
• Destination WABA: The WhatsApp Business account the number will be migrated to is referred to as, Destination WABA.
What gets retained while migrating WhatsApp Business BSPs?
In addition to keeping the registered phone number, business owners can retain the:
• Display Name
• Quality Rating
• Official Business Account Status
• Messaging Limits
• Template Messages that have been approved previously
Under templates, it's only the high quality template messages that are migrated as per this process. These can be used immediately and do not have to undergo a review process again with WhatsApp.
Low quality, rejected, pending templates and chat history is not migrated from Source BSP to Destination BSP as part of this process.
‍What happens to the billing and charges while migrating WhatsApp Business BSPs?
Messages sent before migration are charged to the Source BSP. Messages sent after migration are charged to the Destination BSP. Messages sent from the source, and that are not delivered before migration, are still charged to the Source BSP when they get delivered.
In addition to this, pricing changes apply as per the Destination BSP. To look at how Interakt gives you a bang for your buck. Read here for details.
‍How much time does WhatsApp Business BSPs migration take?
The whole migration process can be done in a matter of minutes. Until migration is completed by registering the phone number on the Destination WABA, the Source WABA can continue to send and receive messages without disruption in service. After migration is complete, the Destination WABA can start sending messages immediately, without any downtime.
‍Why should businesses migrate to Interakt?
Interakt helps business owners leverage WhatsApp Business APIs to manage their end customers. Features such as Shared Team Inbox, Pre-Approved WhatsApp Templates, Automated notifications, Analytics, User Management, Auto Replies and many more provide numerous benefits to business owners.
Some of the benefits are:
• Build customer relationships by leveraging one of the highest engagement communication platforms
• Proactive communication through Automated notifications to enhance customer experience
• Power your business revenue via. Conversational Commerce done through Lead Generation, Upselling, Assisted Selling etc.
• Work in cohesion with third party software and applications to create a unified end user experience via. Native integrations and APIs.
Sign up today for the 14-day free trial period and experience it for yourself.
What are the steps to perform the WhatsApp Business BSPs migration?
While the migration of a WhatsApp API number from one BSP to another is performed by the Destination BSP. Following are some pre-requisites to be followed. In the below example the Destination BSP is Interakt.
Step 1: Get the confirmation from the source BSP that the Two-Factor Verification (2FA) is disabled for the account.
Step 2: Check if your Source WABA's Business verification and WABA is approved.
Step 3: Ensure you have access to the registered phone number to receive and verify the 6 Digit PIN Code through SMS or Voice Call during the migration process.
Step 4: Check if your Destination WABA's Business verification and WABA is approved.
Step 5: Connect with us or drop us an email at, "[email protected]"
‍Some Frequently Asked Questions (FAQs)
•Is there downtime during WABAs migration?
The whole migration happens in under few minutes with no expected downtime
• How to take a backup before phone migration? Will message, chat history and insights for the phone number be migrated? 
There is no explicit need to take backup (unless the business wants to) before the migration. As mentioned above, message, chat history and insights do not get migrated as part of this.
• Change in pricing before and after migrating a phone number from existing BSPs to a different one?
Yes, the pricing change is applicable as per the new BSP. If you are migrating from one BSP to Interakt. Know more about Interakt's WhatsAPP Business API pricing.