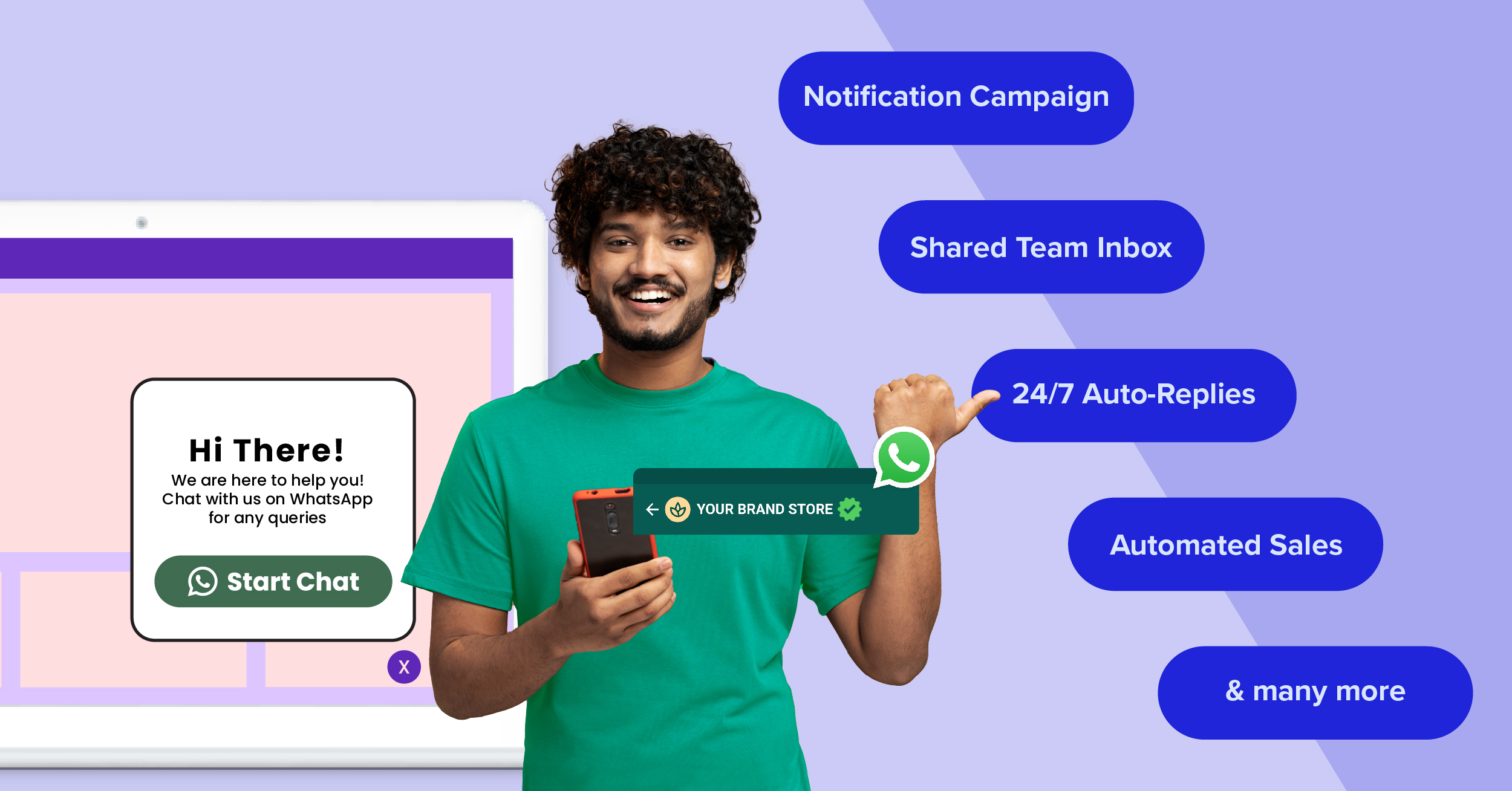 Effective tips and tricks to use WhatsApp for Business in 2023
Owing to several proven benefits of using WhatsApp for business, many brands now use WhatsApp for marketing, sales and support in their companies. 
But not all businesses on WhatsApp are seeing as much success because the level of success depends on several factors such as the industry, the target audience, the messaging strategy, the quality of products or services offered, and the competition in the market.
However, businesses can take action and make necessary changes to improve their success on WhatsApp. 
Here are some tips and tricks on how to use WhatsApp for business in 2023 to ensure maximum success:
Tips and tricks to use WhatsApp for business to get better results
If you are looking to efficiently use WhatsApp for business, here are some tips and tricks that can help you make the most of the WhatsApp Business API with Interakt: 
1. Create a comprehensive WhatsApp Business Profile 
A complete business profile on WhatsApp is crucial as it not only provides customers with vital information about the business but also enables businesses to establish credibility and build trust with their customers.
Follow these tips for carrying business through WhatsApp via a professional and effective business profile.
• Choose a professional profile picture (logo) 
• Write a clear and concise business description
• Include business address, hours, and contact information
• Use relevant keywords for searchability
• Add a call-to-action (CTA) to your profile
• Regularly update the profile with new information
2. Add WhatsApp widget to website
By integrating WhatsApp into websites, businesses can boost website traffic and user engagement as customers tend to engage more with businesses that offer direct communication channels. Moreover, it increases the likelihood of customer inquiries and purchases as customers can easily communicate with the business.
To effectively integrate WhatsApp into websites, businesses should:
• Add a click-to-chat button for easy customer conversations
• Use WhatsApp automated messages and automations for quick and efficient customer service
3. Encourage visitors to chat
Prompting site visitors to start a chat on WhatsApp is an effective way to increase sales because it creates an opportunity for businesses to engage with potential customers and provide them with personalized assistance. This not only increases the chances of converting a visitor into a customer but also creates a positive customer experience, which can lead to repeat business and referrals.
Here are some ways to prompt site visitors to start a chat and use WhatsApp for business more efficiently:
• Display a pop-up message on your website that encourages visitors to start a conversation on WhatsApp; this could be a personalized message that offers assistance or special promotion
• Set up a welcome message along with list messages to offer a guided path for a visitor to start chatting with your business 
• Use targeted messaging to prompt visitors to start a chat; for example, if a visitor is browsing a product page, you could display a message offering assistance with their purchase
4. Make customers aware of you
Creating a buzz among customers via WhatsApp messaging is important for businesses to increase engagement, generate positive word-of-mouth marketing, increase brand awareness, and drive sales and revenue.
To create a buzz among customers of your business via WhatsApp, businesses can follow these tips:
• Offer exclusive deals and promotions to WhatsApp users, such as discount codes or early access to new products
• Use WhatsApp to provide sneak peeks of upcoming products or services, behind-the-scenes content, or exclusive access to events
• Encourage user-generated content by asking customers to share photos or videos of themselves using your products or services and feature them on your social media, newsletters, etc.,
• Share industry news, trends, or insights relevant to your brand while using WhatsApp for business  
5. Create a catalog that reflects the brand's tone and personality
Creating a WhatsApp catalog is crucial for businesses as it enables them to exhibit their products or services to potential customers in a convenient and accessible manner, which can increase their visibility and reach, resulting in more leads and sales.
To use WhatsApp for business, create a product catalog on WhatsApp that aligns with your brand's tone and personality to effectively communicate your brand's values and message to potential customers.
Here are some tips on making your product catalog on WhatsApp appealing:
• Use high-quality images
• Provide clear and concise product descriptions
• Organize products into categories or collections
• Include pricing information
• Use product videos
6. Segment your customers proactively
Segmenting your customers on WhatsApp is important because it allows you to tailor your marketing messages and communication to specific groups of customers. This can improve the relevance and effectiveness of your messaging, increase customer engagement, and ultimately lead to higher conversion rates and sales.
By understanding your customer's behavior and preferences, you can create targeted campaigns that speak directly to their needs and interests, resulting in a more personalized and satisfying customer experience.
7. Set up WhatsApp chat automations and auto replies for FAQs 
This typically includes setting up chat automations for out of office (OOO) messages, delayed messages and a welcome message to keep the customers who reach out to you on WhatsApp, engaged. 
Auto-replies save business hours, improve customer service, increase productivity, and provide consistency in communication with customers on WhatsApp.  
Best practices to follow when using chat automations and auto-replies: 
• Customize your messages to match your brand and customers' needs
• Keep messages brief and to the point
• Personalize messages by using the customer's name and relevant information 
• Use appropriate tone, avoiding offensive or sarcastic language
• Use emojis wisely, avoiding too many or inappropriate ones
• Avoid using slang or abbreviations to ensure clear communication
8. Leverage WhatsApp groups to build a community 
While you're going to use WhatsApp broadcast messages to run promotions around your deals and discounts, use the Group to build a closed community for your existing customers. This can be a safe space for your customers to ask questions, experiences or get suggestions from others like them. 
Here are some tips for using WhatsApp groups for business:
• Keep the group size manageable
• Set clear guidelines for behavior
• Share relevant information
• Respond promptly
• Personalize messages
• Avoid spamming
9. Avoid spammy practices 
Businesses should avoid spammy practices on WhatsApp as it can damage their reputation, and reduce the effectiveness of marketing efforts.
WhatsApp policies state that your account can be blocked if you engage in the following activities:
• Send excessive unsolicited messages
• Send too many messages, pictures, or videos in a short period
• Send the same message to multiple users without receiving any response
• Engage in abusive or illegal activity on the platform.
To maintain relevance and avoid being spammy, it is essential to personalize communication and use opt-ins. Additionally, an official WhatsApp API provider can help ensure messages are not considered spam.
10. Create media-rich campaigns
Multimedia-rich WhatsApp business messaging campaigns are more effective, provide a better user experience, and give businesses a competitive advantage.
Tips for creating multimedia-rich messaging campaigns on WhatsApp:
• Short and engaging videos are especially effective for driving home key points or demonstrating a product or service
• Try to include images, infographics, and GIFs in your messaging campaigns to make them stand out and grab attention
• Audio clips are a great way to add personality to your WhatsApp campaigns
11. Showcase your product demo on WhatsApp
Providing a demo on WhatsApp can improve the likelihood of a customer purchasing as it helps them better understand the product and its value proposition.
The demo can be customized to the specific needs and interests of the customer, making it more effective in showcasing the product's features and benefits.
Customers using the messaging app daily can access the product demo easily, thereby increasing brand awareness. 
You can do this by sharing a product demo video alongside reading material via WhatsApp broadcasts as a follow-up. Or you can share a registration link for your Live product demo or training session via WhatsApp broadcasts.
12. Run giveaway campaigns 
Creating giveaway campaigns on WhatsApp can be an effective way for businesses to increase engagement and build brand loyalty among their customers.
By offering free products or services, businesses can incentivize customers to engage with their brand and create positive associations. Giveaway campaigns can also generate buzz and word-of-mouth marketing, as customers may share the campaign with their friends and family. 
13. Provide enhanced customer support on WhatsApp
The two-way communication makes WhatsApp a fantastic channel to offer customer support on. If you have the WhatsApp widget added to your website already, set up a few automations that are targeted at providing shopping assistance to interested buyers. 
Tips for providing enhanced customer support on WhatsApp: 
• Set clear expectations for response times and availability
• Use automated messages for frequently asked questions or after-hours inquiries
• Personalize messages and address customers by name
• Provide helpful and informative responses to customer inquiries or complaints.
• Offer proactive support and suggestions to customers
• Monitor and analyze customer interactions to improve the quality of support over time
14. Set up click to WhatsApp ads 
Initiating conversations on a personal channel like WhatsApp can be challenging. 
But when done right, it can also be very rewarding. 
This is where we have started to recommend running click to WhatsApp ads. 
Click to WhatsApp ads are well suited for promoting new products or collections that you want your audience to know about. At the same time, they are also perfect for promoting exclusive deals and discounts to bring back shoppers that may have abandoned the purchase. 
Instead of driving the shopper to an online store, these ads focus on bringing them back to WhatsApp to converse with your brand instead – and we all know the power of conversations with a salesperson in-store! 
Don't wait, get started with WhatsApp Business API today! 
Using an official WhatsApp Business API solution provider ensures secure, reliable, and compliant communication on WhatsApp. Authorized providers offer access to the official API, providing quality and legitimacy of service with features like verified accounts, message templates, and system integration. 
But more importantly, using a solution like Interakt also helps you set up all the automations and WhatsApp broadcasts in one place, ensuring you meet all the compliances and rules set by the messaging platform. 
Start Your 14-Day Free Trial Now!
Frequently asked questions on WhatsApp for Business
How to use WhatsApp for business?
To use WhatsApp for business, you need to create a WhatsApp Business account, which is free and easy to set up. You can then use it to communicate with customers, share updates, and promote products/services. The benefits of using WhatsApp for business include faster communication, better customer engagement, and increased brand visibility. It also allows for personalized messaging and easy access to customer data. 
What are the disadvantages of WhatsApp Business?
The disadvantages of WhatsApp for businesses include limited features compared to other marketing tools, potential privacy concerns, and the risk of spamming customers. This is where the WhatsApp Business API solution providers like Interakt are a better choice. It comes with the ability to help you set up automations across the buyer journey and also create a commerce experience with the help of payment integrations and checkout links. Learn more about the differences here. Differences between WhatsApp & WhatsApp Business API  
Is WhatsApp Business free? 
The WhatsApp Business app is free to download and the first 1000 conversations are free every month. This helps businesses build stronger relationships with customers through conversations, experiment with campaigns before they scale their campaign types and have to pay for conversations. 
Is WhatsApp Business API free?
The WhatsApp Business API by itself is free but messages are charged per session, which includes all the messages exchanged between the business and the customer in a 24-hour window. This can increase a business's spend on WhatsApp as they start to use it for promotions, sales and support. Using a WhatsApp Business API solution provider not just equips you with an ease to leverage all features, but also a friendlier pricing. Apart from basic subscription charges, Interakt WhatsApp Business  API  Pricing includescharges Rs.0.56/Business Initiated Conversation and Rs.0.34/User Initiated Conversation (1000 user-initiated conversations free per WABA). Learn more about the pricing here.