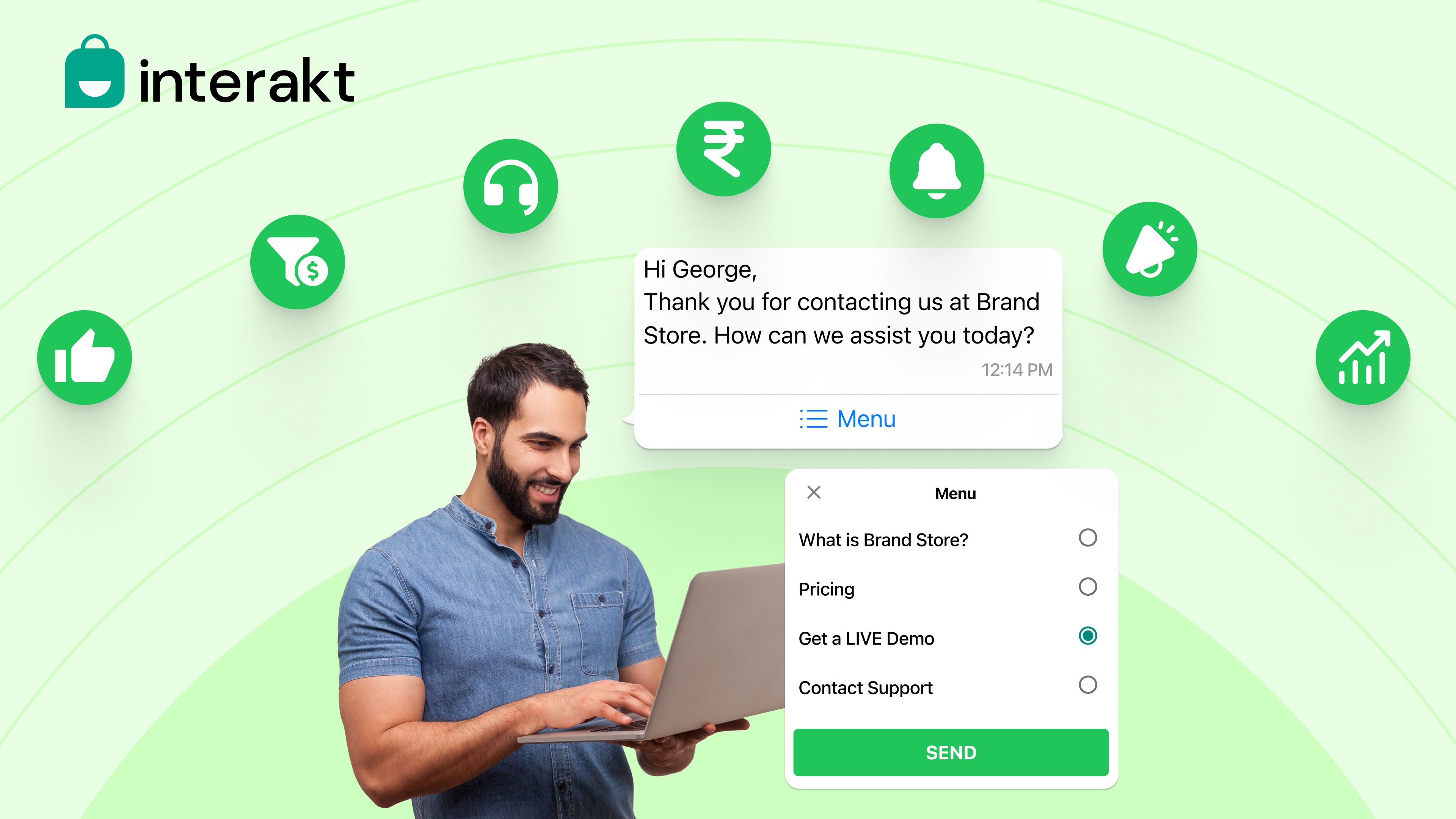 7 Ways Businesses Can Use WhatsApp for Customer Service in 2023
Across industries, it is one of the golden truths that customer support makes or breaks businesses. How well you address consumer needs, concerns and troubles, has a big impact on whether they choose to engage with your brand again – and this often has a direct impact on the sales you make in that audience segment. 
Studies have found that 81% of consumers are of the opinion that positive customer service experiences influence them to make more purchases. In fact, consumers tend to choose brands that can offer a good experience over a good discount. 
But traditional ways of offering customer support are no longer able to meet with consumer preferences. No one wants to send emails or hold on phone calls to service centers anymore. And that's where WhatsApp for customer support comes in! 
In this article, we will discuss the ways in which businesses can use WhatsApp for customer service. 
Why Should Businesses Use WhatsApp for Customer Service?
WhatsApp is a popular and widely used messaging platform, which makes it easily accessible across all your audience demographics. Unlike live chat that requires customers to stay on a browser tab or email which requires making the effort to access the inbox, WhatsApp is used throughout the day. 
But apart from its frequent use, here's what makes WhatsApp for customer support a promising strategy: 
• Reduced costs: WhatsApp charges businesses based on conversations and the type of templates used, which makes it more cost-effective than other channels that cost per interaction. 
• Stress-Free and Natural: WhatsApp is naturally used for conversations and allows for instant replies. With features like quick replies and canned responses, it makes it simpler for both the support team and the customer to have conversations. 
• Scope for automation: With access to WhatsApp Business API, businesses can also enable custom automation to address FAQs and certain levels of customer queries. This helps them reduce the workload of the support team and offer a quick turnaround time. 
• Visual communication: Allows you to communicate with rich media like images, pdfs and videos as well as through interactive CTAs and Quick Reply Buttons.
What are the Best Ways to Use WhatsApp for Customer Service?
While there is no one set way of using WhatsApp for customer service, let's look at a few things businesses can do: 
1. Solving queries on chat 
Customer service calls are always infamous for their wait times. This is where using WhatsApp for Customer service becomes the ideal alternative. 
Divert queries to WhatsApp chat and offer customer care through automated chatbots or your support agents. Rather than being stuck at one call, your service agents can handle multiple queries simultaneously on WhatsApp, solving issues and providing answers 24×7 without waiting times. 
This means faster, more convenient and more effective customer care that offers the finest support and service experience to your customers.
2. Send our notifications, updates, and alerts
WhatsApp does not restrict you with character limits so you can send out valuable information related to orders with no hindrance. You can leverage WhatsApp to share updates on orders when it's packed, dispatched and delivered, and notify of upcoming sales and offers. 
You can even send a WhatsApp SMS right away when suspicious behavior is discovered on a customer's account to let them know and offer them the opportunity to investigate and confirm. 
Send notifications, alerts, reminders, and recommendations to provide your customers with better experience, that eventually reduces the queries that the support team needs to handle. 
3. Gather customer feedback 
Customer service is nothing without customer feedback. Using WhatsApp Business API you can automate a sequence to request customer feedback through a two-way conversation. 
This could be focused on simply the shopping experience your brand has to offer or even the product someone probed about. 
The natural chat interface makes feedback collection more personal, helping you gather more organic insights on how your customers feel. 
4. Personalize product recommendations 
Personalization is critical in winning customer attention. WhatsApp being a frequently used app, helps you to be where customers are, and by personalizing your customer support efforts, you can drive engagement and solve queries in an interactive and simplified manner. 
For instance, when asked to assist with shopping, you can send personalized product recommendations to the consumer during the chat. This helps them not just address their query, but also immediately go back to their purchase journey. 
5. Provide post-purchase assistance 
Customer support is of the most importance at the post-sales stage, as this could decide the possibility of further sales from that specific buyer. WhatsApp lets you handle post-purchase support in a cost-effective, seamless way. 
You can provide buyers with live tutorials for products that need assembling or provide "how-to" instructions in the form of pdfs and respond to return and refund requests at a faster pace.
6. Share product catalogs 
With the help of the WhatsApp Business API, you can also share your WhatsApp Business catalog during the customer support conversation. This enables you to cut short the time to provide buyers with more details on a product, and also help them get the information they need to make a purchase decision. 
This helps reduce the back and forth between the chat and your website, reducing the purchase anxiety and the chances of a buyer dropping off mid-way. 
7. Humanize and legitimize your business
Another way to use WhatsApp for customer service is to legitimize your business. When you converse with customers more proactively, you are able to show the people behind your brand, humanizing the entire experience. 
In addition to the same, the ability to set up a comprehensive WhatsApp Business profile and apply for a green tick, further helps legitimize your business in the eyes of the consumer. 
Tips and Tricks to Use WhatsApp for Customer Service
To ensure you make the most of WhatsApp for customer support, you will need to follow a few things. Here are some of the tips our team recommends: 
1. Set up FAQs
FAQs can help address queries that are recurrent and common, without having to involve your support team to step in. This decreases the workload on the team, as only queries that require hands-on assistance will reach the team, and simpler ones will be answered by the FAQs on WhatsApp. 
2. Set up Quick Replies
Quick replies are nothing but canned responses in the form of interactive messages the customer support team can simply click and respond with. This makes it simpler for the team to reply to certain types of queries and questions, while maintaining the brand voice. We recommend using WhatsApp Business API to set up more than 50 such quick replies with ease.
3. Automate support
One of the best aspects of WhatsApp Business customer service is the ability to automate support. Use a WhatsApp Business API solution like Interakt to automate as much of the support flow as possible. You can define when the support query needs to be handed to your support team if the bot is unable to resolve the issue. This divides the support flow cleverly for efficient issue resolution, without burdening your human support agents. 
4. Leverage telephone calls
If the support chat is taking too long, it is better to provide customers with the choice to request a call. This can help reduce the back-and-forth exchanges and arrive at resolutions more easily.
5. Follow up on queries 
When customers request support and leave without waiting for a response, follow up by asking if their concern or query was addressed or not. This shows them how your business values its customers.
6. Set up away messages 
Your business team is human after all and will definitely need a break. Set clear business hours and create "Away Messages" to make sure you don't lose customers when your support team is unavailable. You can notify customers when your customer service agents are back online, making the customers feel that your business heard and valued their request. To set away messages you can go to settings, open business settings and then access the away message section.
7. Label and track conversations
When you have a growing business tracking your customers and remembering them becomes tedious and hard. When you use a solution like Interakt, you can categorize customer conversations based on type. You can label them as "Regulars, Pending Orders, New, Promo, etc." based on their status making it easier for you to track them over time. 
How do WhatsApp Businesses Help in Personalizing Customer Service?
Personalization is not just important for marketing. You need to be able to personalize a customer's experience even when you're providing them with shopping assistance or support. Here's how you can personalize customer service with the help of a WhatsApp Business API solution: 
• Address buyers with their first names so that the conversation feels more personal. 
• The ability to track conversations lets you refer to past interactions when offering support. For instance, if they have purchased something from you in the past, or if they have enquired about something from you before, you can tie the queries together. 
• Follow up with customers to ensure a query is resolved or if they need any more assistance. 
How Are Companies Using WhatsApp Business API for Personalized Customer Service?
WhatsApp Business API has unlocked a lot of potential in improving the way businesses offer customer support. Here are a few brands that are succeeding with the same: 
1. CellBell
CellBell, a leading DTC online business, needed an easy and accessible channel for customer support to address the challenges of offering support at scale. By using WhatsApp, they were able to see a significant improvement in their engagement and retention rates by offering efficient customer support during a purchase journey. The platform combined with Interakt, allowed them to provide streamlined and secure conversations that made better customer support with WhatsApp possible over scale.
2. AccioJob
AccioJob, a placement solution provider for students, businesses, and colleges, founded by IIT Delhi alumni needed an app for hands-on mentoring and student outreach. Using WhatsApp Business API with Interakt, they are able to send out personalized test reminders to students, conduct training and resolve queries easily with WhatsApp Quick Replies and FAQs.
3. The State Plate
The State Plate, a popular food brand, needed a platform for proactive support and promotions, and most of its customers wanted assistance to find the right products for them. As WhatsApp is a preferred channel among most of their buyers, the brand set up a proactive customer support system using WhatsApp Business API, resulting in a triple increase in their CLTV. 
4. WeSkill
WeSkill, an extra-curricular learning platform, uses WhatsApp for 95% of its communications. By employing automation, they are now able to save 3-4 hours daily, while making the WhatsApp chats highly interactive. With Interakt and WhatsApp Business API, they are able to move closer to the goal of providing a holistic approach to education. 
Should You Use WhatsApp for Customer Support?
Considering how proactively businesses have started using WhatsApp, it is evident that people are seeing the capabilities of the channel. We believe WhatsApp to be a wonderful platform that has a positive conversational tone and allows for a lot of flexibility.
Thinking of leveraging WhatsApp Business API?
Get Interakt to utilize the WhatsApp Business API, unlock the power of automation and provide proactive WhatsApp Business Customer Service!