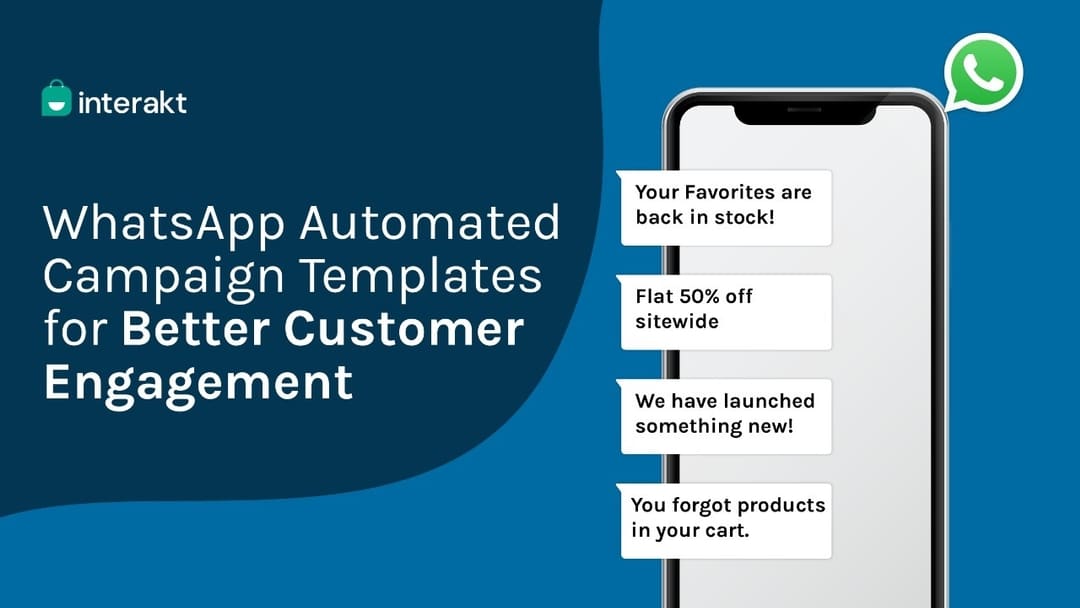 WhatsApp Automation campaign: How to use WhatsApp Automation Campaign templates
With 2 billion active users worldwide, it's no new-news that WhatsApp is one of the leading channels that businesses should be leveraging to communicate with their customers. And with WhatsApp automated campaign templates now available, owing to the release of the WhatsApp Business API in 25 countries (and slowly expanding), the potential is untapped and infinite!
In this article, we're going to walk you through a few WhatsApp automated campaigns that can help your business engage customers better, drive them back to your store and even nudge purchases.
We're also including a few templates alongside to inspire your first WhatsApp automated campaign. So without further ado, let's get straight into it before your competitor does!
Top 5 WhatsApp automated campaign templates you need to get started with
1. WhatsApp broadcast messages for promotions
The very first WhatsApp automated campaign template you need to put to work is broadcast for promotions. As an online business, you're probably running a few discounts, deals and sales, or have launched a new collection of products/ services. Make sure they get noticed without having to manually send out a message to each of your customers.
Using a WhatsApp marketing tool that leverages the official WhatsApp Business API, you can set up a broadcast message for promotions in minutes. It also enables you to personalize fields such as the customer name at scale so that your messages don't look overly salesy. With tools like Interakt, you can start with a limit of 1000 customers per 24 hours (extendable to 1 lakh)!
Hey Alex, 
We have a new collection of sweatshirts live on our store, and are giving a 20% off on the first 100 orders. Grab your favourite hoodie today using FIRST100.  
Hurry, you don't want to miss this! 
Shop now
2. WhatsApp order confirmation
Online shoppers expect receiving an order confirmation as soon as they complete a purchase. Make sure you set up a WhatsApp automated campaign template that does just that. Keep the message absolutely clear, crisp and to the point. Also make sure you let them know how you will keep them updated about the shipping status as well so that they know what to expect.
Hey Jane, 
Your order for the red hoodie is confirmed. We will be packing order no. #0011 with utmost love and care, and update you once it is shipped out. 
If you have any questions, feel free to reach out to us. 
Call us
3. Get COD orders confirmed
According to a recent study, online businesses see 60% of customers reject COD orders at the point of delivery. A survey found that 20 or more packages were returned daily, leading to businesses incurring reverse logistics costs that eat into the revenue they earn. This is where WhatsApp automated campaign templates can help. Send campaigns for COD confirmation that will help you verify the order before shipping it out.
Hey Susan, 
We just received your order for the Glass Vase. Your order number is #0011 and your payment mode is Cash on Delivery. Please reply to this message to confirm the order. 
4. Shipping updates
Post-purchase anxiety is real and most customers would like to get shipping updates proactively instead of having to track orders themselves. To also reduce your WISMO emails and calls, it is a good idea to use WhatsApp automated campaign templates for sending out shipping updates.
Hey Lara, 
Your order for XYZ Charger is packed and shipped through our delivery partners. We will be updating you with a tracking number and link so you can keep watch on the order! 
Until then, thank you for shopping with us. 
_______________
Hey Lara, 
Your order for XYZ Charger is successfully shipped and our delivery partners are getting it to you quickly. You can track your order here: tracking-url.com/order
_______________
Hey Lara, 
Your order for XYZ Charger is in your city! Our delivery partners will be reaching you in the next 2-3 working days. Please keep your cash on delivery amount of INR 450 ready to be shared with the delivery agent. 
You can track your order here: tracking-url.com/order
_______________
Hey Lara, 
Your order for XYZ Charger is out for delivery. Please ensure you have the cash on delivery amount ready to be shared with the delivery agent. 
Please ask the delivery agent for an OTP while receiving the order and making the payment. 
Thank you for shopping with us! 
_______________
Hey Lara, 
Your order for XYZ Charger has been delivered. Thank you for being our customers! 
If there's any feedback you'd like to share, please let us know: shop-name.com/feedback 
Until then, we hope to see you shop from us soon! 
5. Abandoned cart recovery
The average cart abandonment rate experienced by online businesses ranges from 69% to a whopping 80% in some industries. While the reasons for cart abandonment are plenty, you can use abandoned cart recovery with WhatsApp to remind shoppers of what they have left behind and bring them back to complete the purchase.
Hey Jane, 
Looks like you have left behind an awesome 25% discount on our premium black hoodie in your cart. We have kept the cart reserved for you for the next 24 hours. 
Come back and complete the purchase before someone else gets their hands on it! 
Shop now
_______________
Hey Jane, 
This is just a reminder of the black hoodie you have left behind in the cart. The product is running out fast and we wanted to make sure you don't miss it. 
Complete the order now to avail an exclusive 10% off on the cart total: 
Shop now 
6. Request product review and feedback
Another way to use WhatsApp automated campaign templates is to request product reviews, ratings and feedback on the purchases made from your store. This will help you understand if the customer is satisfied with the purchase, and how you can further improve their experience in the coming time.
Hey Alex, 
You recently purchased the XYZ Charger from our store. We hope you like the product! 
Would you like to share a review with us? It will help us make sure the products we launch keep up to your expectations: shop-name.com/review 
7. Customer support
There are going to be times when a buyer needs some customer support before making a purchase to address some queries and concerns regarding a product. You can use WhatsApp Business for Customer support to tackle the same efficiently!
Hey Jane, 
Thanks for reaching out to us and don't worry, we're going to help you make the right purchase. 
Here's a link to our sizing guide for topwear: shop-name.com/topwear-sizes 
If you're looking for bottom wear as well, you can check out the size guide over here: shop-name.com/bottomwear-size
In case you need help with anything else, you can reach out to us. Simply hit reply to this message for support!  
As you can see, there are a number of ways in which you can use WhatsApp business templates. You just need to identify the objective of your communication with the customer and plan out a strategic campaign that doesn't feel too salesy, adds value to the customer and makes them want to come back to you to make a purchase.
Get started with WhatsApp automated campaign templates
WhatsApp offers an untapped opportunity to DTC businesses to both engage their customers and drive more sales. But it all begins with choosing the right WhatsApp marketing tool for your business; one that uses the official WhatsApp Business API and let's you set up automated marketing campaigns that target different stages of the customer journey.
But the trick here is to also monitor campaign performance to make them more effective in an ongoing way. So the tool you pick needs to also provide you with insights that can be turned into actionables for driving more conversions.
Ready to create a WhatsApp automated campaign? Sign up on Interakt today.