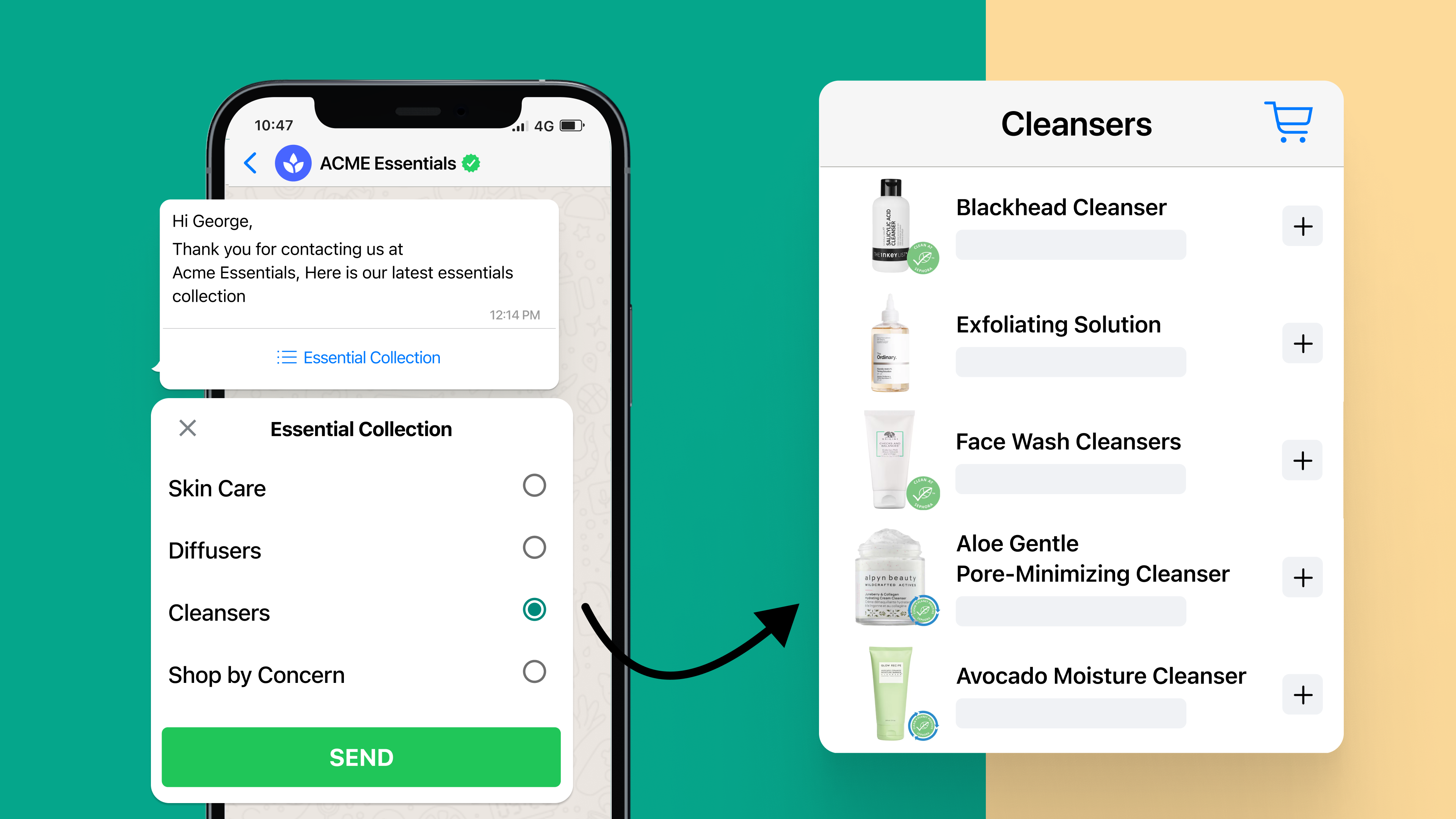 WhatsApp Collections: Step by step guide to manage your WhatsApp catalog through WhatsApp collection
WhatsApp is an excellent channel for businesses to market their products effectively.
However, it goes beyond just marketing; with the smart features offered by WhatsApp Business, it becomes a powerful platform for direct selling.
One such feature is the "WhatsApp collection," which allows businesses to enhance their selling capabilities on the messaging platform.
In this blog, we'll explore how to maximize the potential of WhatsApp collections to boost sales with WhatsApp Business.

What is a WhatsApp collection?
The WhatsApp collection is a new feature that enables businesses to categorize items in their catalogs, simplifying the shopping experience for users. Customers can easily find and browse through specific categories, add items to their carts, and send orders directly to the business, enhancing the platform's eCommerce capabilities.
WhatsApp carefully reviews collections to ensure they comply with the WhatsApp Commerce Policy. Once approved, these collections become accessible to customers within 24 hours, providing a streamlined and safe shopping experience on the platform.
How to create a WhatsApp collection?
To set up a WhatsApp business collection, start by adding items to your WhatsApp catalog. After uploading items into your WhatsApp catalog, follow the instructions below to create collections and organize your catalog items efficiently: 
• Go to the Chats tab
• Tap
> Business tools > Catalog
• Tap
> Collections > Add a new collection
• Enter a name for your collection.
• Tap NEXT
• Select the catalog items that you'd like to include in this collection
• Tap DONE
Once you have created WhatsApp collections, they will be reviewed by the messaging platform. This process should take no more than 24 hours. Once it's approved, your customers will see the collections in your catalog.
How to remove items from the WhatsApp collection?
As you start to sell on WhatsApp, you may need to remove some items from the collections. Keep your collection up to date by editing its details from the WhatsApp collections menu. To add or remove items from a collection, follow these simple steps: 
• From the Collections menu, tap the collection you'd like to update 
• Tap (edit).
• Select or unselect the catalog items you'd like to add or remove from the collection
How to reorder items from the WhatsApp collection?
If you want to organize the items in your WhatsApp collection based on the products you're promoting or what's trending, you can reorder/ rearrange the way items are displayed. Follow these steps to reorder items:
• From the Chats tab, tap > Business tools > Catalog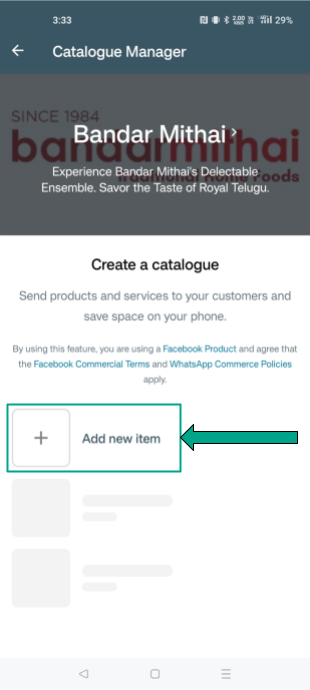 • Tap > Collections 
• Tap > Reorder
• Tap and hold. Then, drag the collection to a new place in the list. Repeat this step with any collections you want to reorder
• Tap SAVE 
How to rename a WhatsApp collection?
If you're creating multiple collections on WhatsApp, you may want to name them based on what they include. This can also make it simpler for customers to browse through items. Here are the steps you need to follow for renaming a WhatsApp collection: 
From the Collections menu, tap the collection you'd like to rename
• Tap > Rename
• Enter the new name for the collection 
• Tap SAVE 
How to delete a WhatsApp collection?
If a range of products go out of stock or your promotional strategy changes, you may want to delete a WhatsApp collection. Here's what you need to do to delete a collection from your WhatsApp Business account: 
From the Collections menu, tap and hold the collection you'd like to delete
• Tap > DELETE
Also, here's a comprehensive video guide to help you through the WhatsApp collection process
How can businesses use WhatsApp collections? 
While there are many ways in which businesses can use WhatsApp collections to enhance their customer shopping experience during shopping, here are some of our favorite use cases: 
1. Categorize products for easy browsing on the messaging app
Collection on WhatsApp allows businesses to organize their products into different categories, making it convenient for customers to browse through their offerings. 
For instance, a restaurant can create collections for appetizers, entrees, and desserts, while a clothing store can have collections for men's clothes, women's clothes, shirts, pants, etc.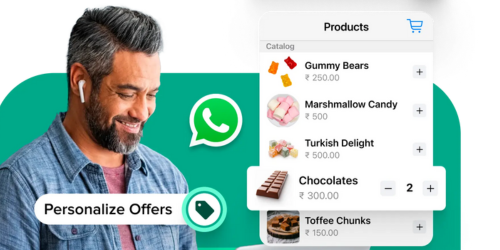 Customers can easily explore these collections, select the items they want, and add them to their carts. Once they finalize their order, they can send it directly to the business through WhatsApp.
2. Highlight best-sellers and trending products 
A separate WhatsApp collection featuring the best-selling products across various categories can be created. This collection showcases popular items, which can attract more attention from potential buyers. 
The ease of adding these top-sellers to the cart and making a purchase immediately on WhatsApp, further helps boost the sales on this range of products. 
3. Highlight products available on a discount
By creating a separate collection for discounted items across different categories, businesses can attract price-conscious customers looking for deals. 
WhatsApp collections can make it easy for customers to find discounted products without searching through the entire catalog or having to browse through endless pages on the website. Promoting discounts on . 
4. Promote products you're running in a flash sale (time-sensitive deals) 
Flash sales are time-limited offers that can drive excitement and urgency among customers. However, some customers may miss out on these deals if they can't find the discounted products in time. 
By creating a dedicated WhatsApp business collection for flash sale items and updating it regularly, for example, daily or every 24 hours, businesses can ensure that customers have easy access to the latest discounted products during the flash sale period. This increases the chances of customers making quick purchases and capitalizing on the limited-time offers.
To further ensure the WhatsApp collection doesn't go unnoticed, you can use a WhatsApp business to improve your ROI. 
Conclusion 
WhatsApp Collections represent another significant step towards simplifying shopping on the messaging platform. 
With the ability to organize items by category and make updates easily, businesses can offer a seamless and user-friendly shopping journey for their customers. 
Embracing this feature can lead to more efficient and enjoyable eCommerce interactions on WhatsApp. 
Want to learn more about setting up WhatsApp collections and creating marketing campaigns that boost sales? 
Book a WhatsApp Business API demo today with Interakt
What is a WhatsApp collection?
WhatsApp Collections are a new feature launched by WhatsApp for businesses to organize the products added to their WhatsApp catalog. The feature enables buyers to easily browse through products based on different categories created.  
How do I create a collection on WhatsApp?
To create a collection on WhatsApp, you need to: 
• Go to the WhatsApp Business App 
• Tap > Business tools > Catalog 
• Tap > Collections > Add new collection 
• Enter a name for your collection 
• Select the catalog items you want to include in the collection 
• Tap done 
Can we create collections for WhatsApp Business Account?
Yes, you can. Companies can upload up to 500 products in their WhatsApp catalog and organize them into collections. To upload more products, you will need to use a WhatsApp Business API provider like Interakt. 
How can I use WhatsApp Collections for my status and messages?
To share your WhatsApp collections, you need to follow these steps: 
• Open the WhatsApp Business app
• Tap More options > Business tools > Catalog 
• Select the product or service you want to share from the Catalog Manager
• Share the item with your contacts or potential buyers
How often are new WhatsApp Collections added?
You can update your WhatsApp Collections frequently based on product availability, the items/ services you want to promote, etc. But keep in mind that the approval process can take up to 24 hours for every change you make. We recommend consolidating your changes/ updates and making them once.