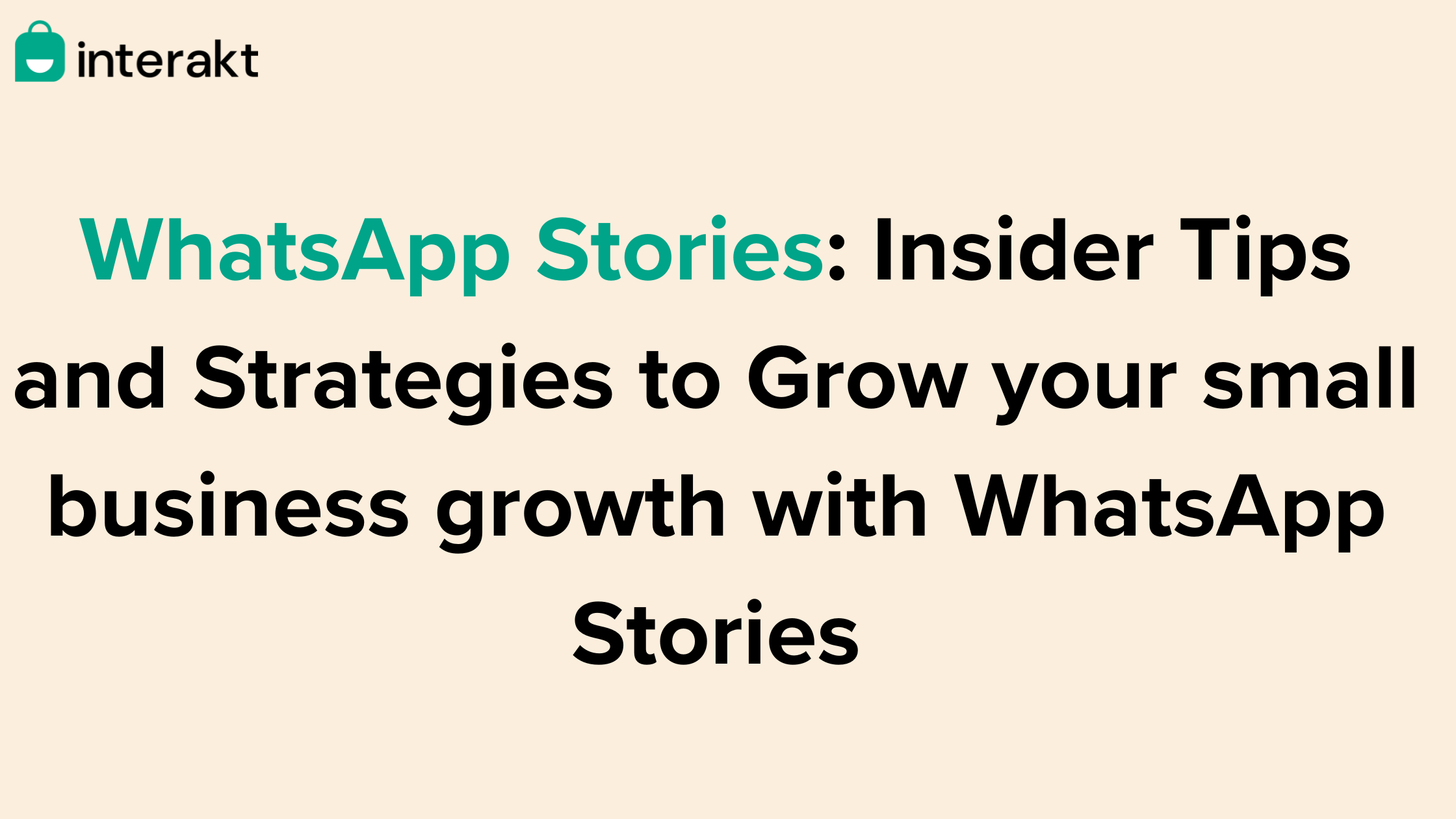 WhatsApp Stories: Insider Tips and Strategies to grow your small business growth with WhatsApp stories
WhatsApp has undoubtedly become a go-to channel for businesses to market their products, deals, discounts, and offers, and engage customers on a one-on-one basis. While you can see them exploring WhatsApp broadcasts for the same, there are other features of the app that often go unused but have the potential to further boost up the numbers. 
Case in point – WhatsApp Stories!  
In this post, we're going to walk you through some of the ways in which brands can use WhatsApp Business Stories to drive more engagement in their campaigns. 
What are WhatsApp Business Stories?
WhatsApp Stories, also known as Whatsapp Status, is a feature of the WhatsApp application that allows users to share photos, videos, and text-based updates for 24 hours. When a user posts a story, it appears on a separate tab within the app's interface. Contacts with the WhatsApp user's phone number can view them. The stories are displayed chronologically, with the most recent updates at the top. 
When it comes to small businesses, WhatsApp Stories can be a valuable tool for reaching and engaging with customers when they are not actively checking the messages in their inboxes. 
From sharing behind the scenes to time-sensitive deals and discounts or launching new products, brands can use WhatsApp Business Stories to engage their subscribers – and even drive them to check the messages sent as WhatsApp broadcasts. 
How do WhatsApp Stories work?
WhatsApp Stories work in a much similar way as Stories on Instagram do. Here are the steps you need to follow: 
• Open WhatsApp and go to the Status Tab. 
• Tap the Add to My Status button, represented by a + or camera icon on your screen. 
• Your camera interface will open. Capture a photo, record a short video, or select an existing image/video from your gallery. 
• Add text, emojis, and filters to enhance your uploaded content. 
• Click the link icon and enter the URL to add a link to the WhatsApp story. The link will direct users to the concerned webpage.
Once you include all relevant information, click the Share or Send button to upload your story. Your story will be visible to your selected contacts or those who have connected with your business on WhatsApp. 
As you upload your WhatsApp Stories, here are a few things to know: 
• Remember that WhatsApp Stories are visible only to those with your phone number saved in their contacts or connected with your business on WhatsApp. They will appear in the Status tab of these selected individuals.
• Viewers can quickly respond to your WhatsApp stories by tapping the Reply button or swiping up if it's the latest version. This enhances direct communication and engagement as they can easily enquire through a private message. 
• Keep in mind that WhatsApp stories automatically disappear 24 hours after the time of posting. However, it's crucial to note that you can see the list of people who view your WhatsApp stories during this period. 
How to use WhatsApp Stories for business?
WhatsApp stories can be used in as many creative ways as social media stories. Let's look at some of our favorite tactics being used by brands: 
1. Give a sneak peek into new launches 
Use WhatsApp Business Stories to upload a photo or short video giving a teaser of an upcoming product or service. Such stories work great at creating curiosity among your audience. 
For instance, if you are launching a new smartphone model, create a story asking customers to guess the enhanced features you are about to introduce. It will not only generate curiosity but also increase your WhatsApp engagement. Just ensure that you're uploading captivating visuals! 
2. Announce a new discount or offer 
Create a visually appealing image with details of a new discount or limited-period offer. Remember that WhatsApp Business stories are perfect for sharing time-sensitive deals. 
For example, identify your best-selling items and create a 20% off weekend sale on those select items. Or running a flash sale for 24 hours that perfectly fits how long WhatsApp Stories live for as well! 
3. Launch an exclusive offer for your WhatsApp list  
Provide an exclusive offer or discounts on the most-loved products specifically for your WhatsApp contacts. It will make them feel valued and create a sense of exclusivity, giving them a reason to stay subscribed to your WhatsApp list. 
For example, you can provide a discount code like "WHATSAPP20" for a 20% discount exclusively for WhatsApp subscribers. 
4. Showcase a product 
Use a short and engaging video to show a product from different angles or highlight its unique selling points in your WhatsApp Stories. This can nudge your subscribers to contact you on the messaging app itself if they're interested in knowing more about it. 
For instance, if you're promoting a bag, create a short video that rotates it, giving viewers a complete view of its design and features. You can also include a link to a video or the product page on your site. 
5. Ask questions 
WhatsApp Stories are also excellent for asking questions about your business, product, or services. Ask for opinions, feedback, or suggestions on specific aspects that can help you improve. Ensure you invite them in with phrases like "We would love to have your opinion" or "Tell us what you think." 
When you start getting responses, engage in a conversation that shows you value their opinions. 
6. Promote content 
Share links to your latest blog posts, media mentions, videos, or any other content that provides value to your audience. Add the link to your WhatsApp Business Story and give a glimpse of the content to entice viewers to click on it for the full story, blog, video, etc. 
What are the best practices for writing WhatsApp stories?
WhatsApp Stories can add to the engagement and sales of your drive from the messaging platform – but only when you use them the right way. Here are some best practices to keep in mind:  
1. Don't spam your customers with too many Stories
When it comes to sharing WhatsApp Business Stories, it's essential to strike a balance between engaging your customers and overwhelming them with excessive content. While stories can effectively connect with your audience, bombarding them with too many stories will annoy them. 
So, instead of flooding your audience with multiple stories throughout the day, capture attention with high-quality and relevant content. 
2. Have a clear goal assigned to WhatsApp Stories 
Clearly define what you want to achieve with each story you share. Whether you aim to boost engagement, drive traffic to your website, or encourage customers to place an order, it's crucial to specify your objective. With a clear goal, you can tailor your story content and CTA accordingly.

For example, if your goal is to drive traffic to your website, include a strong CTA that directs users to the specific landing page, blog post, product page, or other relevant content. 
3. Use captivating visuals 
Visual content, such as images or videos, is more engaging and memorable than plain text. When creating your Stories, prioritize using high-quality visuals that align with your brand and message. Then complement them with a line or two of text to provide additional context. 
Instead of simply sharing information, ask thought-provoking questions, encourage users to share their opinions, or invite them for a poll or quiz. You can also use the power of storytelling to craft a narrative that strikes the audience emotionally. 
4. Start a conversation 
Starting a conversation with your audience is an excellent way to boost engagement. One effective strategy is adding a line or two to the visuals to encourage them to take action. To prompt users to initiate a conversation, use the following ideas: 
• Have a question? Shoot us a message, and we'll help you right away!
• Ready to get started? Drop us a message, and let's begin!
• Looking for personalized advice? Message us, and we'll help you out!
• Curious about our new collection? Message us for a sneak peek!
• Join the conversation! Send us a message and be part of the discussion!
Use these prompts for inspiration, or create your own to encourage users to engage with you. These conversations will help you establish a personal connection and provide tailored assistance to your audience. 
5. Set up automation
Setting up automation is crucial when it comes to managing responses on your WhatsApp Business Stories. It's important not to leave your audience hanging when they reply to your story with a query. 
With WhatsApp Business API providers like Interakt, you can automate all your responses, ensuring timely replies to those who engage. You can personalize these responses to different types of inquiries. 
For example, you can create auto responses that thank users for their messages and provide answers to frequently asked questions. With automation, you can save time, provide a positive user experience, and maintain a consistent communication channel. 
Ready to boost engagement with WhatsApp Stories? 
In conclusion, WhatsApp Business Stories are a great way to get noticed by your audience. 
Eye-catching visuals and interactive content help you stand out and easily engage your audience – especially as more and more brands start to run campaigns on the messaging platform. 
But remember, if the idea is to engage your customers, ensure it is two-way in nature and you never fall behind in conversing proactively. 
Ready to boost customer engagement on WhatsApp?