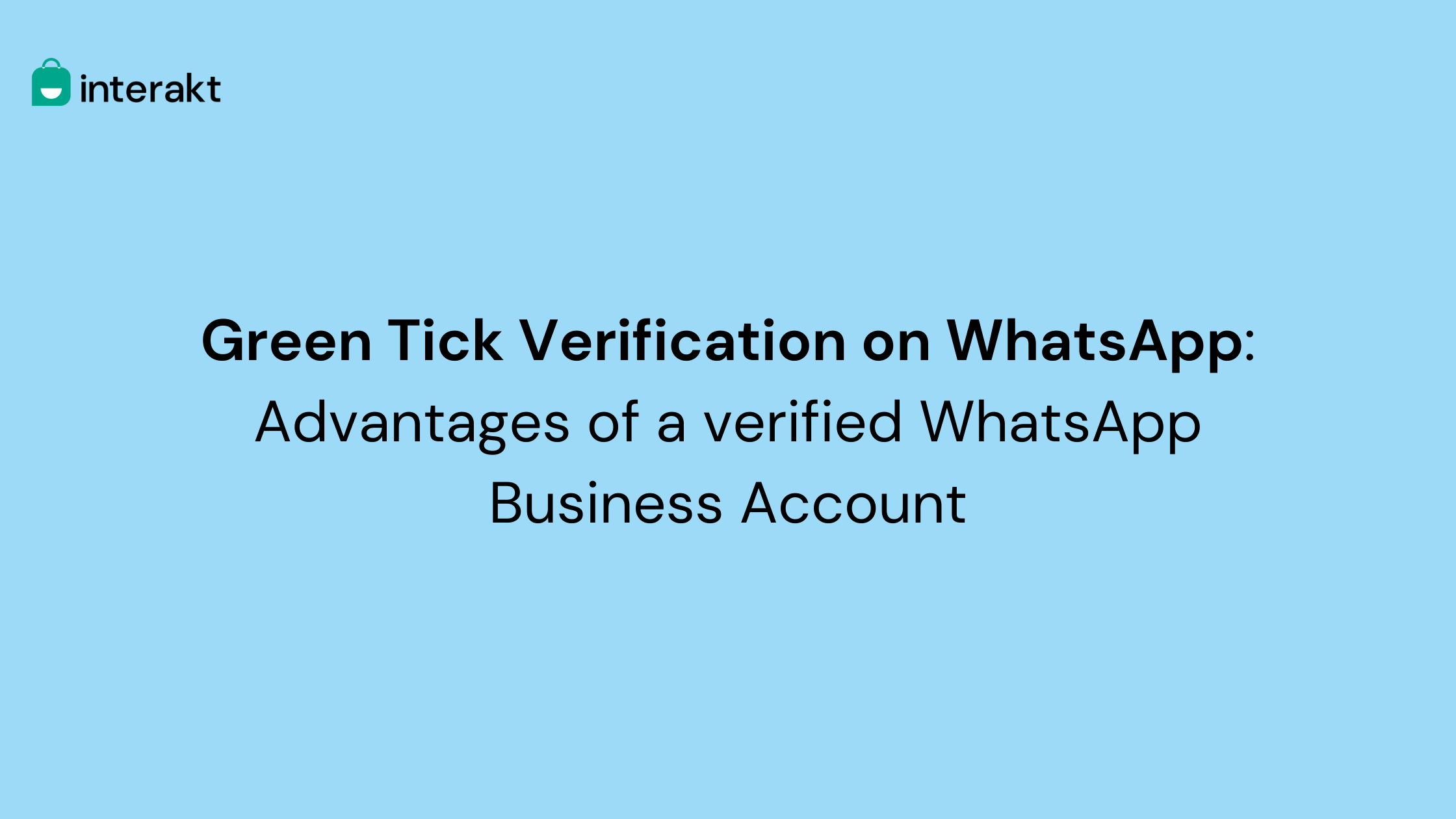 Green Tick Verification on WhatsApp: Advantages of a verified WhatsApp Business Account
More than 2 billion people use WhatsApp every month and 100 billion messages get exchanged on the platform every day making it the most popular channel for instant messaging. Businesses too are using the platform to connect with their customers and many SMBs are curious about how they can get the WhatsApp green tick verification. In this post, we give you the lowdown on the importance of a verified WhatsApp Business Account and much more. Let's get started.
What is the WhatsApp green tick verification?
WhatsApp is always looking to ensure that customers get a sense of trust and reliability when they associate with a brand on the platform. The green tick verification does exactly that— it adds credibility to your business. This verified badge lets customers know that they are talking to a reliable WhatsApp for Business account.
Before applying for the WhatsApp green tick, you need to complete the verification process on the Facebook Business Manager and create your WhatsApp Business API account. However, this does not mean that your business gets the green tick verification beside its name, immediately. WhatsApp is cautious when it comes to granting the green tick to businesses and it usually gives it to the highly reputed brands.
What are the advantages of getting the WhatsApp green tick verification for your business?
WhatsApp is making API integration available to more companies now than ever. Many companies stand a chance at getting the green tick verification with the WhatsApp API integration.
Some of the benefits of having the verified badge against your business name are –
1 Your business will be perceived as being a trustworthy entity.
2. The green checkmark next to your business name confirms that it is an authentic and reliable business account.
3. It opens up a host of opportunities for your business in terms of customer engagement and improving conversion rates.
4. Customers feel secure when they interact with a brand that is deemed credible.
5. It gives you access to enjoy all the top-notch features of WhatsApp API integration like the shared team inbox, automated notifications, third-party integrations and a lot more.
How to get a WhatsApp Business Account verified?
Here are the steps to get a WhatsApp Green tick verification for your business-
Step 1. Approach a WhatsApp Business Solution Provider (BSP)
First and foremost you need to approach a WhatsApp Business solution provider such as Interakt for WhatsApp API access. Such platforms are authorized by WhatsApp to carry out all the necessary checks on the legality of your business.
Step 2. Create a Facebook Business Manager Account
Next up, you need to create a Business Manager account on Facebook. This is an important step to getting your account verified on WhatsApp. You need to add your name, your Business's name, email address and other details about your business.
Step 3. Share your Business Manager ID with the BSP
To go ahead and verify your WhatsApp Business Account, your BSP will require the 16 digit Business Manager ID and you need to share this piece of information with them.
Step 4. Let your BSP send messages on your behalf
This is the fourth step in the process where the BSP will need your permission to message customers on your behalf. You will receive a "messaging on behalf of" request through email and the Business Manager account. To approve the request, go to the Business Setting, followed by Requests, click on Approve.
Step 5. Verify your business, policy and the display name
After approving the request sent by your BSP, you will have to verify your business name and policy so that WhatsApp can certify that you are a genuine entity. For this go to Business Settings, followed by Security Center. Under verification, click on Start Verification. 
To get the WhatsApp Green Tick, your business name should be in line with WhatsApp Commerce and Business policies and needs to adhere to the guidelines set by the platform. Once you have registered your business under a certain name on WhatsApp, it is not possible to change it unless you are willing to forgo the newly acquired WhatsApp green tick checkmark.
To obtain the Green tick verification, type out your business details, select your business type and enter your phone number. You will then receive a verification code. Enter it to get your account verified and to send the first message through your WhatsApp Business Solution Provider.
Get your business the WhatsApp green tick verification it deserves!
All you need to do is reach out to our support team at Interakt who will then help you with the application for the Green Tick. Leave no stone unturned, get your business the credibility it deserves. Sign up on Interakt today.