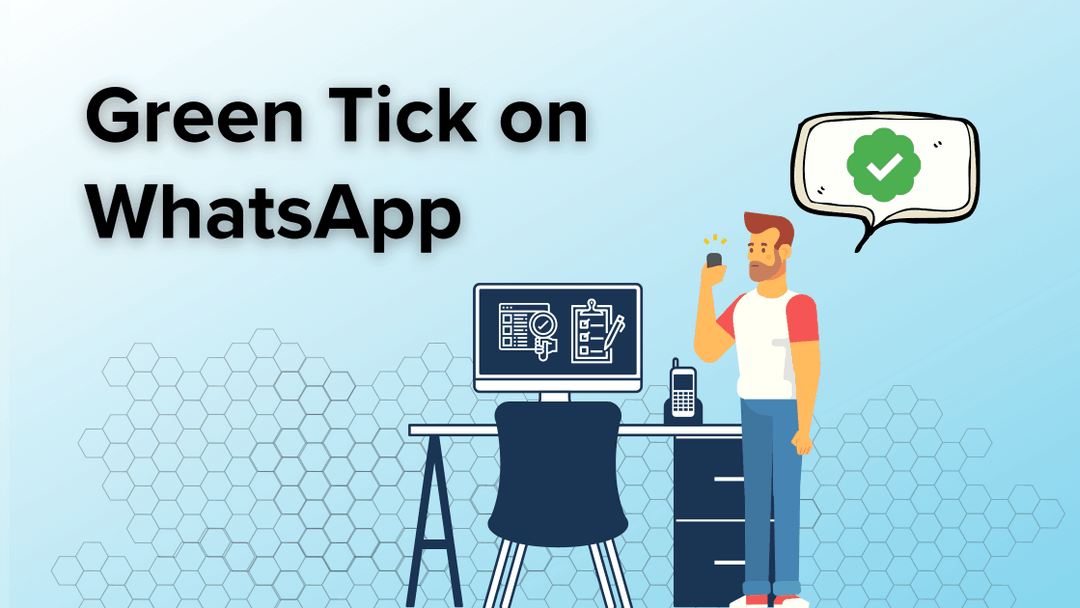 How to apply and get green tick on WhatsApp business account?
You're not alone if you are mistaking the "Green Tick" on WhatsApp next to your business name with the verification process required by Facebook for the approval of WhatsApp Business API! We're here to help you understand the difference. We're also going to walk you through the steps you need to take to get this badge for your business on WhatsApp!‍
What is the 'green tick' on WhatsApp or verified badge?
Green tick on WhatsApp business account is an official green checkmark that WhatsApp offers to demonstrate the Brand's legitimacy and reliability. It's a clear indication from WhatsApp that the company trusts the name! Green Tick-equipped accounts are referred to as official WhatsApp Verified Accounts.
First things first – it is absolutely necessary for your business to complete the verification process on Facebook Business Manager to set up your WhatsApp Business  account.
However, just getting your business verified does not mean your business gets a green tick next to its name on WhatsApp. WhatsApp is always looking for ways to enhance the sense of reliability for customers that are communicating with businesses on WhatsApp. This verified badge allows customers to know that they are communicating with the verified, official account of a business.
If you're still confused, this is the green tick for WhatsApp business account or the verified badge on WhatsApp we're talking about: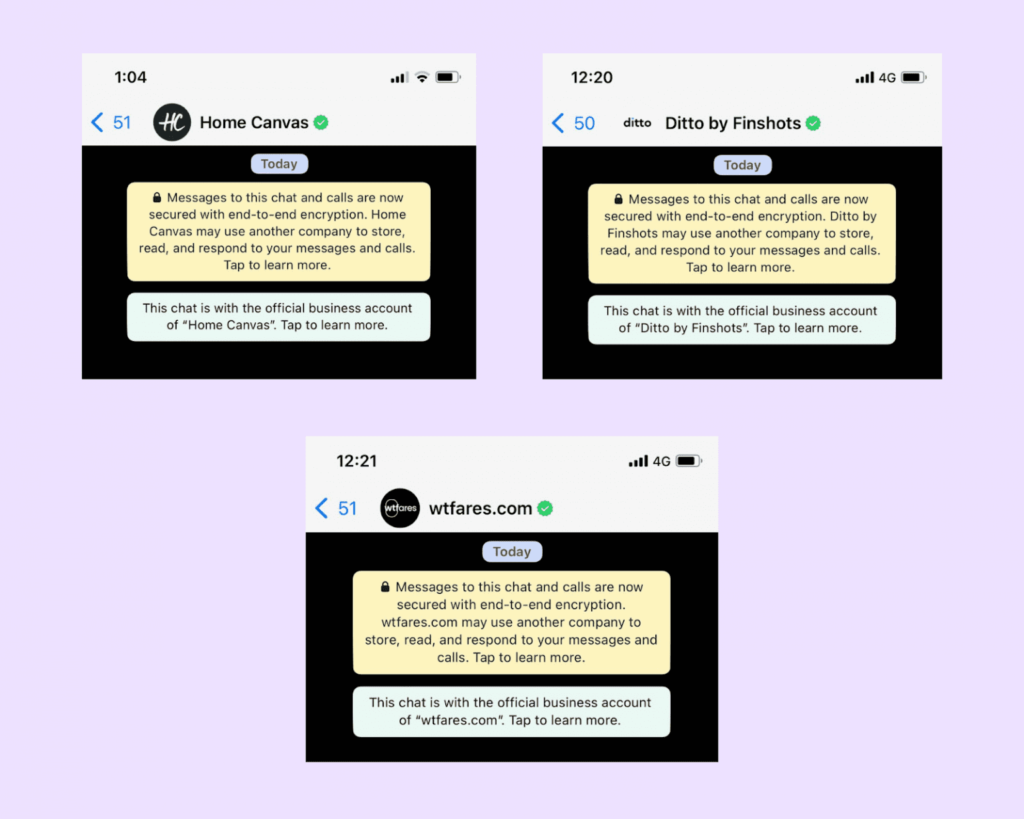 WhatsApp is very particular about which business gets this green tick, and it is typically granted to highly reputed brands.
Another thing that you should notice is the disclaimer that WhatsApp provides – mentioning that this is the "Official Business Account" of the business. This brings us to the next section – the different types of business accounts! ‍
What are the types of WhatsApp Business Accounts
There are essentially 2 types of WhatsApp Business accounts:
Official Business Account
• If you receive a message from an Official Business Account, it means that WhatsApp has verified that an authentic, notable brand owns this account
• As a user, you will be able to see the name of this business even if you haven't saved their number in your address book
• Businesses cannot pay to get an official business account on WhatsApp
• Only OBA (Official Business Accounts) will have the "green tick" or "verified badge" next to its business name on WhatsApp
‍
Business Account 
• Any business that uses the WhatsApp Business App is a business account
• If a business opts to integrate with WhatsApp Business API, it needs to complete the Facebook Business Verification process in order to validate its authenticity
What is the eligibility for a Green Tick on WhatsApp‍ Business?
–You must have your business integrated with WhatsApp Business API – to do this, you can reach out to solution providers like Interakt
–The facebook business verification should be completed on your FB Business Manager
–It is highly recommended that your business is in a Tier 2 or above messaging level
–WhatsApp typically allows highly reputed and notable brands to get the verified badge
What can be the reasons of non-eligibility for a Green Tick on WhatsApp‍ Business account?
Here's something that you need to keep in mind – if your business is dealing with any of the following products/services, you are not eligible to integrate your business with WhatsApp Business API. That's right, this means you would not be allowed to even apply for the Green Tick on WhatsApp.
• Drugs
• Tobacco Items
• Gambling Businesses
• Alcohol Brands
• Weapons & Ammunition Businesses
• Live Animals
• Adult Product/Services
• Medical & Healthcare Products
• Dating Services
• Cryptocurrencies
How to get green tick verified on WhatsApp business account?
In order to apply for the green tick verified WhatsApp Business account, you need to first have your business integrated with WhatsApp Business API. Post that, your API provider will help you with the application for a green tick.
If you choose to get on board with Interakt – we will simplify this process for you! Once you have supported 50+ users on WhatsApp via Interakt, you can easily apply for a Green Tick verified WhatsApp Business account.
However, please note that Interakt doesn't have any influence on WhatsApp's decision on approving the green tick application for your business. In such cases, WhatsApp's decision of approving/rejecting your application will be final.‍
What are the benefits of green tick on WhatsApp business account?
The WhatsApp Green Tick provides a stamp of authenticity to your brand identity. When consumers receive messages from your brand on WhatsApp with a green tick verified WhatsApp Business account, they can instantly recognize the credibility and trustworthiness of your brand.

Additionally, the Green Tick also helps to clearly identify your brand name to the user, as it will be displayed as the brand's WhatsApp Business name on the user's screen, even if the user has not saved your brand's contact information in their device. This helps in building a more personal connection of your brand with your customers and enhances the user's perception.
‍Key Takeaways‍
We'll let you in on some inside scoop – from what we've seen, multiple factors such as brand credibility, your following on social media and your domain ranking can influence your green tick approval.
Once your request for the green tick is approved by WhatsApp, your number will automatically have a green tick displayed next to your business name when you communicate with your customers. The decision for your Green Tick application normally takes about 1-2 business days. In rare cases, it may take up to a week.
We're here to get you up to speed and worry not, even if your application for the green tick is rejected – it does not impact your ability to use Interakt or WhatsApp for your business.

To start your 14-day free trial with Interakt & get a free green tick verified account now, click here.