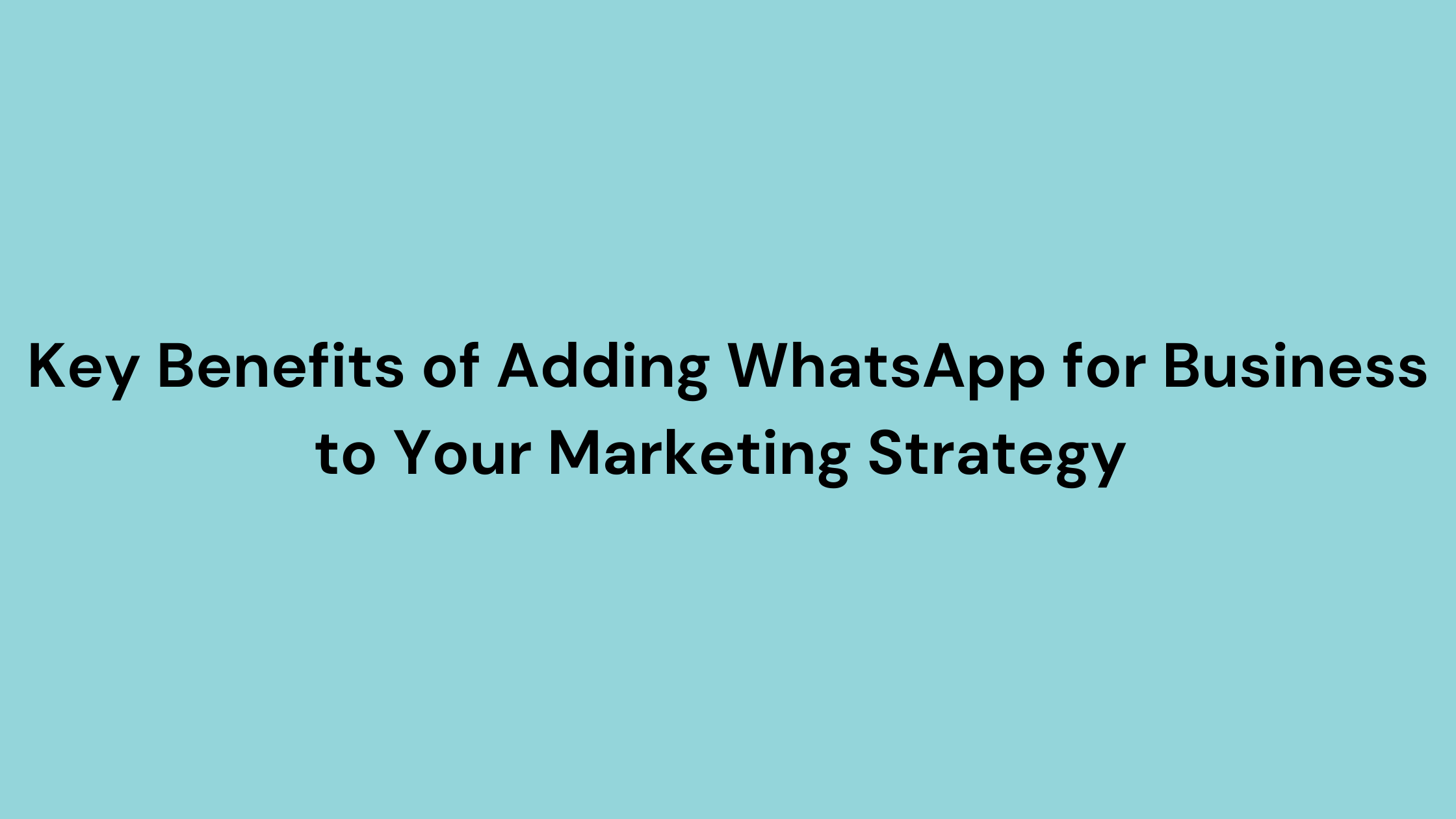 Key Benefits of Adding WhatsApp for Business to Your Marketing Strategy
In this day and age, there isn't anyone who hasn't heard of WhatsApp. It's a channel that is being used by people of all ages to stay in touch with their friends and family.
But as a business, have you ever considered the fact that WhatsApp can act as a game-changer if it is included in your marketing strategy?
Whether you are a large or a small business unit, WhatsApp for Business has tremendous power to help you succeed in this competitive world. In this blog, we will look at how a WhatsApp marketing campaign is a vital component of your marketing arsenal.
If you are a business owner looking to connect with your customers on a one-on-one basis, the WhatsApp Business App is ideal for your business needs. However, if you're unable to manage the customer interactions on your own and have a team for customer support, then you should consider implementing the WhatsApp Business API which is meant for growing businesses that are looking to streamline their communication.
Both the WhatsApp Business Accounts help you engage with customers via the world's most popular instant messaging platform — WhatsApp. The WhatsApp Business platform will help you automate your customer interactions, improve your brand loyalty and streamline your workflows. The best part— it is cost-effective and easy to set up.
What is WhatsApp marketing?
It is a marketing activity meant to promote your products through WhatsApp. All kinds of businesses irrespective of their size can reach out to target audiences, win customers over, build strong relationships and drive sales by using WhatsApp.
You may ask, Why WhatsApp? 
Due to its widespread global acceptance and its rich media sharing capabilities, WhatsApp can do a lot more than a mere messaging app. The app is loved by its users. It is one of the most convenient means of communication, making it an effective marketing tool.
Let's go over some of the benefits of implementing a marketing strategy through WhatsApp for Business.
Top benefits of including WhatsApp in your marketing strategy
1. Data privacy and security 
Customers are in dire need of secure platforms where there is no threat to their data. Thanks to WhatsApp's end-to-end encryption, it is one of the safest and most secure platforms out there for data sharing.
This simply means that when you chat with someone, only you and the person you are chatting with have access to the messages. The conversation doesn't get shared with a third party. The best part — unlike other channels, WhatsApp is free of Ads making it a secure and non-intrusive platform for customers to interact with your business.
2.  Supports real-time customer service 
Another benefit of adding WhatsApp for Business to your marketing strategy is the fact that it helps you offer real-time customer support allowing you to manage customer requests and queries quickly and efficiently.
WhatsApp lets you share real-time alerts and notifications to keep your customers up to date on the status of their orders or upcoming events. If customers need urgent help with something they can always reach out to you on WhatsApp and get their problems resolved directly and on time.
3. Set automated responses and quick replies 
WhatsApp for Business helps you deliver quick and seamless customer service through auto-reply messages and quick replies. Here are the messages you can set.
If a customer has reached out to you during non-working hours, you can send away or out of office messages to inform them that you will attend to their request at the earliest possible time.
Besides that, with the 'quick replies' feature, you can easily respond to frequently asked customer questions. These are pre-set messages that can be saved and reused, where your agents don't have to spend time typing out the same responses over and over again.
Greeting messages can be sent to welcome and introduce your business to new visitors.
If you are unable to attend to a customer message immediately, send out a 'delayed message' to let them know that you have received their message and will get back to them shortly.
WhatsApp for Business is a highly engaging platform that allows you to set automated notifications for feedback gathering, payment reminders and sending out surveys.
4. Quick and seamless Integrations 
The WhatsApp Business platform on Interakt allows seamless integrations with third-party solutions such as Google Sheets, Hubspot, Woocommerce, Google Sheets, Zoho, BigCommerce, and Shopify etc. The WhatsApp API integration with your existing CRM or e-store will help you automate and manage your tasks with ease.
For example, if you are storing customer data on Google sheets, you can send automated WhatsApp notifications from Google Sheets via Interakt to customers, each time a new row is added.
Power your marketing strategy with WhatsApp for Business
WhatsApp marketing campaigns are a great way to form meaningful connections with your target audience. Get access to the WhatsApp Business platform on Interakt and enhance your customer experiences like never before. Sign up today to get a 14-day free trial.