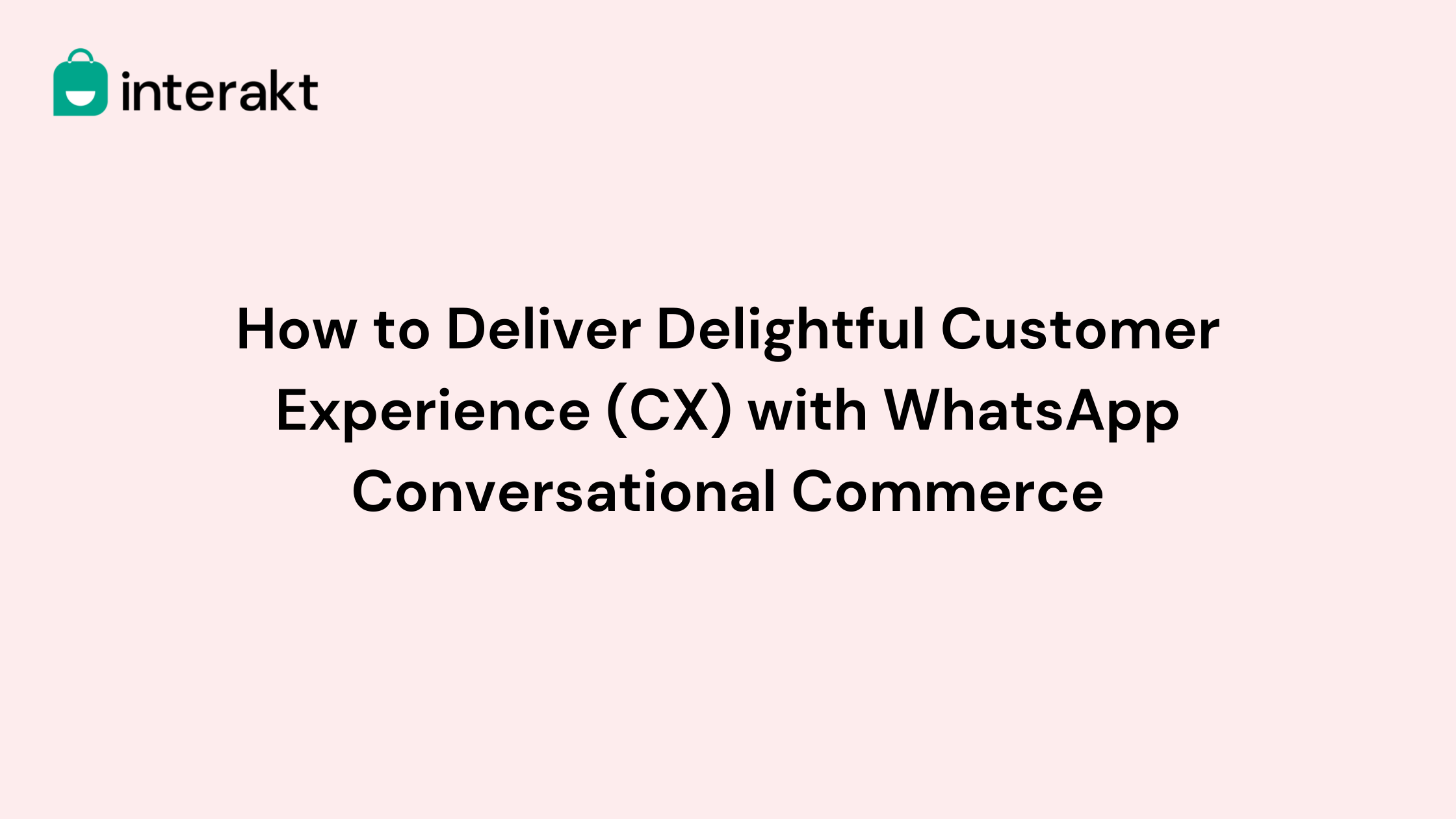 How to deliver Delightful Customer Experience (CX) with WhatsApp Conversational Commerce?
In an era where the ecommerce industry is growing by the day, consumers are no longer satisfied with just product quality and the discounts available on them. They're seeking experiences with the brands they engage with, and that's where conversational marketing channels like WhatsApp are coming into play. From enabling brands to offer WhatsApp customer support on the messaging app to sending out proactive discount updates, order status alerts and more, the WhatsApp Business API is opening new doors for customer delight.
What is customer delight?
Customer delight refers to the moment when you as a business have surpassed their expectations as a consumer, to deliver a positive shopping experience with your brand. This includes all the touchpoints that may have been a part of their shopping journey, including their interactions with you for customer support and service.
For example, when you reach out to a brand on WhatsApp, seeking an order confirmation and they respond to you immediately, along with product recommendations based on what you like, they surpass your basic expectations.
The personalized product recommendation they send, makes you feel cared for and valued, delighting you in the end.
Why is customer delight important?
In times when an online shopper has more than one brand to choose from when making a purchase online, customer delight is what makes them remember you and come back to buy from you again.
Let's take a look at some statistics that prove the same:
• 42% of B2C customers purchased more after a good customer service encounter.
• 52% of consumers have purchased more from a company after having a positive customer service experience.
• 82% of consumers have stopped doing business with a company because of one bad experience.
• After building a relationship, customer spend grows alongside trust. Eventually, loyal customers spend 67% more than new ones. ‍
Simply put, customer delight is your true hack to growing your business sustainably in a highly competitive market.
But how can you deliver customer delight on WhatsApp?
With the help of a WhatsApp Business API solution provider, you can leverage the messaging app's interactive features and automations to tap into a buyer's journey before, during and after a purchase to deliver a delightful customer experience.
How to ensure customer delight on WhatsApp?
1. Guarantee a privacy of information 
Owing to the increase in online frauds, consumers are becoming skeptical about interacting with businesses or sharing their information over channels like social media. But to be able to ensure customer delight, you need to know them better.
WhatsApp offers a higher degree of encryption, and it follows the same privacy policies when a consumer is interacting with a business. This makes the engagement over the messaging app much more trustworthy, forming a concrete base for customer delight.
A business is also required to complete verifications and checks before using the WhatsApp Business API. This adds another layer of security from a consumer's standpoint as well!
2. Offer seamless customer support and service

When consumers are making a purchase online and need help with information, they typically need to reach out to the brand on email, call or social media to get assistance. They then have to wait for an average of 24-48 hours to get their query resolved.
But with the WhatsApp Business API, you can automate upto 70% of your customer support queries. You can leverage WhatsApp list messages and custom replies to address frequently asked questions with a faster response time, and also use the opportunity to strike more meaningful conversations with the customers throughout the buying journey.
3. Be proactive at order alerts

Most online stores use traditional channels like email and SMS to send out order status alerts. But with the increase in the number of promotional messaging hitting our inboxes every day, and the ability of service providers to categorize promotions, there is a higher chance of your alerts getting missed.
With the help of WhatsApp Business API, you can automate order status alerts right from the time an order gets placed on the site up to the point of delivery. Since the message gets delivered straight to one inbox, your alerts never get missed and the ability to keep track of their orders ensures customer delight.
4. Ensure a good post-purchase experience

As a brand you should not just be bothered with a customer before they make a purchase; or during; the after experience is as important when it comes to customer delight.
This means leveraging the WhatsApp Business API for your post-purchase communication as well. A post-purchase strategy typically includes requesting customer feedback on purchase experience or delivery, product reviews and ratings, and asking for insights on what you can do better.
The idea here is to not lose the consumer's interest in your brand after a product has been purchased. You should use the opportunity to build a stronger relationship with them, that makes them want to come back to your store.
‍5. Send personalized promotional messages

WhatsApp is more of a personal platform; and just like emails, you need to personalize how you run promotions on it too if you want to guarantee customer delight.
With the help of a WhatsApp Business API solution provider, you can personalize your broadcast campaigns as well. You should ideally segment your customer lists based on their last interaction with your brand to send out contextual promotions based on the buyer's journey.
For example, if someone has just subscribed to your list, you should send them a promotion focused on a first-purchase discount. But if someone has bought from you repeatedly, sending the same message may hamper your relationship – you should be sending them something that talks about your loyalty program instead, for instance.
6. Include visuals and emojis to make messages more engaging

WhatsApp gives you the ability to add media to your promotions and the visual aspect of your campaign can have a big impact on how it performs.
Leverage this feature of WhatsApp and ensure that you include visuals in your WhatsApp marketing campaigns. These could be banners that summarize the message you're sending across, product pictures and videos, and similar. Spend time making these visuals look as appealing as you would when you plan out your storefront's banner images!
At the same time, also use the ability to add emojis to make your messages appear more conversational. WhatsApp is an app mostly used for personal communication, blend in!
‍7. Make it easy to take an action on your message

When you receive an SMS from a brand, it usually comes with a link that you need to use to visit the website; it's very impersonal and monotonous. And let's face facts, not all of us trust the links sent to us.
With the WhatsApp Business API, you get the ability to include interactive CTA buttons to your messages. This adds an element of intuitiveness to the message you're sending across – be it an abandoned cart reminder, a broadcast promoting your sale or an order tracking notification. It also encourages more engagement from your messages, driving better ROI from your campaigns.
Conclusion
WhatsApp Business API is giving businesses an opportunity to be where their customers are. It's time for businesses to now use its features and capabilities to ensure they make their natural use of the messaging app a part of their marketing, sales and support strategies throughout a buyer's journey.
This is where having a WhatsApp Business API solution provider like Interakt comes into play, helping you leverage all the features to their maximum potential, and delight customers like never before!
Ready to use WhatsApp for customer delight? Explore Interakt today.