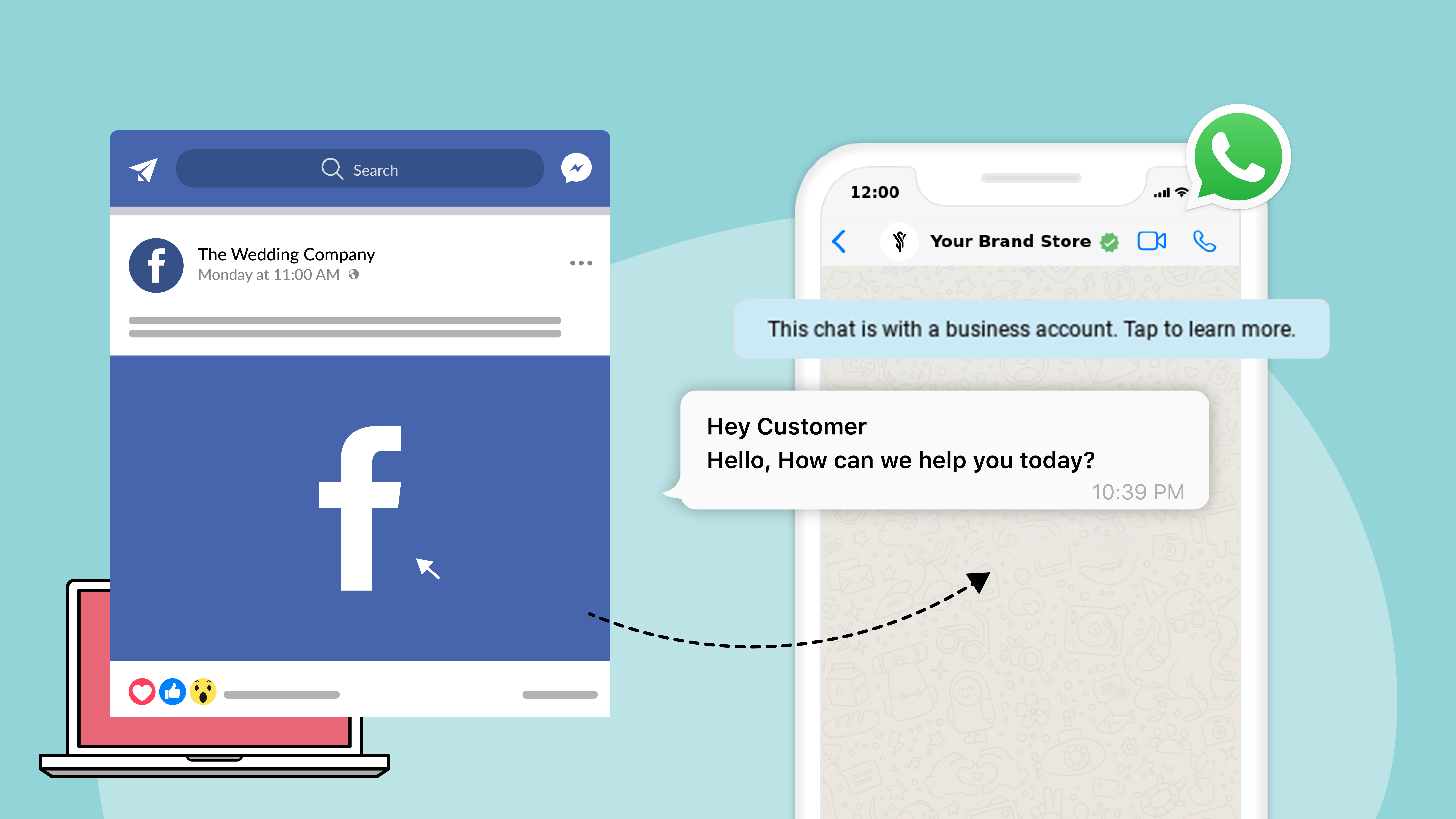 WhatsApp button on Facebook page: Step-by-Step Guide on how to add WhatsApp button on a Facebook page?
With over 2.89 billion users worldwide, Facebook is today, the largest social media network. Every other person you know has an account on Facebook. It is not only a platform where people can stay in touch with one another but it is also a place where businesses connect with customers, target specific audiences and grow their online base.
Having a Facebook Business Page will help you offer customers key information about your business, products and services. You can also post updates about upcoming events and activities. Facebook lets you create and run Ads, allowing you to target specific audiences through paid campaigns.
‍The WhatsApp-Facebook Connect 
Facebook advertising allows you to communicate with your audience in unique ways. It lets you start a conversation on Facebook and carry it on to other Facebook-owned platforms such as WhatsApp.
In other words, you can create Ads on Facebook and convert the traffic that you generate to conversations on WhatsApp.
According to a report released by Facebook Insights, 53% of shoppers are more likely to shop with a business they can easily message.
How to add a WhatsApp button on Facebook page?
There are 2 ways to add a WhatsApp button on Facebook posts and Ads using Interakt.
‍
a) Promote an existing post on your page and add a WhatsApp button to it
If you have an existing post on your page that you would like to promote, here are the steps to follow:
1. Go to your Facebook page, select the post that you want to promote and click on the 'Boost Post' button.
2. On the left-hand side menu, you will see the Posts button, tap on it and select 'Send WhatsApp Message'. This will add a CTA to your post. You will also get to see a preview of your promoted post on the right.
3. Add the rest of your Ad parameters such as the audience that you would like to reach, the Ad duration and your budget.
4. Now click on Boost to run your Ad.
Customers can now view the WhatsApp button which is added to your post and reach out to start a conversation with your business.
‍
b) Create a new Ad in the Ads Manager and add a WhatsApp button to it
Follow these steps to create a new Ad in the Facebook Ad Manager:
1.Go to the Facebook Ads Manager and click on the create button in the 'Ads' Tab.
2. Choose your Objective under 'Create New Campaign'. (Note: Only Ads with the traffic, conversions, messages, brand awareness, reach, engagement and video views can connect users to WhatsApp)
3. Add the budget for your Ad campaign and click on 'Continue'.
The next step in the process will depend on the Objective you have picked:
‍ If your Objective is traffic, conversion, or messages-
1. Go to 'Ad Set' on the menu on the left and then select WhatsApp.
2. Click Confirm to publish your Ad.
‍If your Objective is reach, brand awareness, engagement or video views-
1. Head to 'Text & Links' under 'Ad'.
2. Add a website URL which is a compulsory field. This will direct you to add a Call to Action (CTA) button.
3. Select 'Send WhatsApp Message' under Call to Action.
4. Add the rest of your Ad parameters such as Audience, placements and Ad duration.
5. Click on 'Confirm' to publish the Ad.
‍With this, you have successfully added the WhatsApp button on Facebook page allowing customers to start a WhatsApp chat with just a click of the button.
‍What are the benefits of adding a WhatsApp button on Facebook page?
By adding a WhatsApp button on Facebook page:
-You are giving customers a chance to message your business directly.
-You are also creating a channel to garner more leads for your business and you have the opportunity to convert these leads into customers through WhatsApp conversations.
-You can offer excellent customer support, address customer queries and share relevant information to shoppers on their most preferred messaging app.
‍Before you create Ads on Facebook or connect WhatsApp number to Facebook page, you will have to set up a Business Account. You can download the App and create your account on it or integrate with the WhatsApp API. To gain access to the latter you will need to connect with an official WhatsApp Business Service Provider like Interakt and our team will guide you through the onboarding process.
‍Now you will need to link your WhatsApp Business Account to your Facebook Page. Check out the – How to Connect your WhatsApp Business Number to your Facebook Page for this a step-by-step walkthrough of the entire process.
‍
How to share Facebook Page links on WhatsApp? 
Let's now look at how you can share your Facebook page's link to your WhatsApp contacts. Here are the steps that you can follow:
a) Head to the Product Page on Facebook and tap on more options.
b) Tap the WhatsApp icon that you see.
c) Next, select the person or group that you wish to share the Facebook Page with.
d) Then, tap the Send button or click on Next to draft a message.
e) Type out your message. The link to the Facebook page will be attached to your message.
f) Once you are ready, tap the Send button to share the link.
‍Conclusion
If you are a business owner looking to expand your business operations then understanding how to add a WhatsApp button to your Facebook posts and Ads will help you generate more leads and grow your audiences.
Delight your customers by offering excellent customer service.
Sign up for WhatsApp Business API integration via Interakt and get a 14-day free trial.