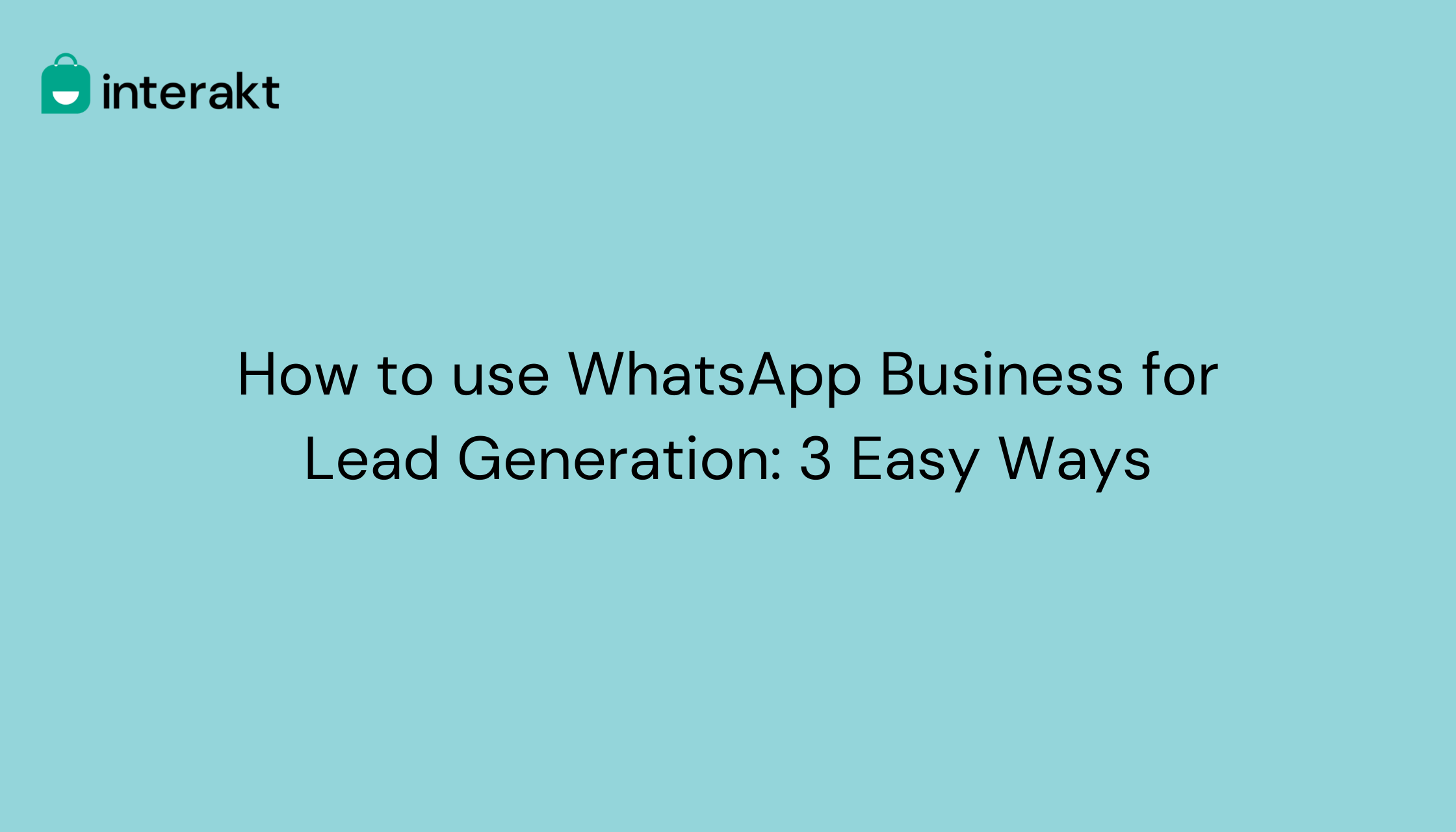 How to use WhatsApp Business for Lead Generation: 3 Easy Ways
Has it ever occurred to you that WhatsApp could be a tool for lead generation? As strange as it may sound, it is true. Integration with WhatsApp Business API can work as a powerful lead generator for your business. WhatsApp is not a mere messaging platform alone. It has a lot more to offer. A few companies have tapped into its vast potential, and these are companies who have been successful in making the most of the platform to increase leads and drive sales.
If you are still contemplating the idea of adding WhatsApp to your business development strategy, it's time to put thought into action and start using WhatsApp for lead generation. In this blog, we will take you through some of the best lead generation strategies you can implement through WhatsApp. Let's get straight to it.
What is WhatsApp lead generation? 
In simple words, WhatsApp lead generation refers to the act of getting consumers interested and drawn to the products and services of your company. If you are unable to identify who your potential customers are, WhatsApp can help you to create significant leads and turn them into customers.
‍
Which app is best for WhatsApp lead generation? 
You may ask, why WhatsApp? This is a fairly good question because there are hundreds of platforms out there that are considered to be good lead generators. However, WhatsApp tops our list because of the sheer comfort and flexibility it offers to its users. As a business owner, you must be available on the channel where your consumers feel the most comfortable communicating. And WhatsApp fits the bill perfectly! It is the most preferred channel for communication with over 2 billion active users worldwide.
WhatsApp is not only a platform for customer convenience but it can be used as a channel for gaining better knowledge about customer preferences and offering solutions to solve their problems.
‍
How to get WhatsApp Business leads?
When it comes to generating leads, you cannot straightway start sending messages to customers. There are rules laid out by WhatsApp intended to protect users from spam messages. And so you have to tread carefully. By that, we mean that you should work at creating interest in your target audience and then draw them to connect with your business. This simply means that customers need to take the first step to contact you.
The rules are pretty clear- if a customer has sent a message to your business, you may respond to them within 24 hours, free of cost. If for some reason you are unable to reply within the stipulated window, you can only send template messages to customers. These are messages which have to be pre-approved by WhatsApp. If you want to send alerts, updates or notifications, you must have your customers' prior permission to do so.
These measures are taken to protect users from being bombarded with messages containing marketing content. WhatsApp is very clear on the rules laid out and they expect users to follow it.
‍
What are the strategies for WhatsApp lead generation? 
It's important to maximize every conversation initiated by new prospective customers. To make this possible, there are different ways that you can use to encourage shoppers to connect with your business. Here are 3 tried and tested methods to use WhatsApp Business for lead generation.
1) How to get WhatsApp Business leads through your website? 
The simplest way to get more people to start a conversation with your business is to make sure that they can easily start chatting with your business with just a click of the button, all while they are checking out your website.
People who visit your online store do so for many reasons. They may be interested in purchasing some of your products or may be looking for more information. Some may just be browsing. Irrespective of their reason for being there, you have a golden opportunity at hand to reach out to them.
The best way to engage with your customers is to add a WhatsApp business chat button on your website. By clicking the chat button, customers can easily get in touch with your team who can then offer them the solutions they came looking for. As you start a conversation on WhatsApp you will immediately get the customer's phone number which can be used for further communication.
2) How to generate new leads through social networks like Facebook? 
Social networking sites are a great way to get more leads. When posting content on Facebook or Instagram don't forget to add a WhatsApp chat button on Facebook along with information about your company and its products. This allows customers to start a conversation with your team who can lead them to a sale.
3) How to create new leads through paid Ads?
This third method deals with creating paid Ads that include a CTA (call to action) to start a chat. Directing potential customers from a paid Ad to a WhatsApp chat can encourage them to move down the sales funnel and get closer to a conversion.
Amplify your reach with WhatsApp Business API on Interakt
Interakt's incredible features will power your business communication to generate new leads.
Sign up today to get a 14-day free trial program.