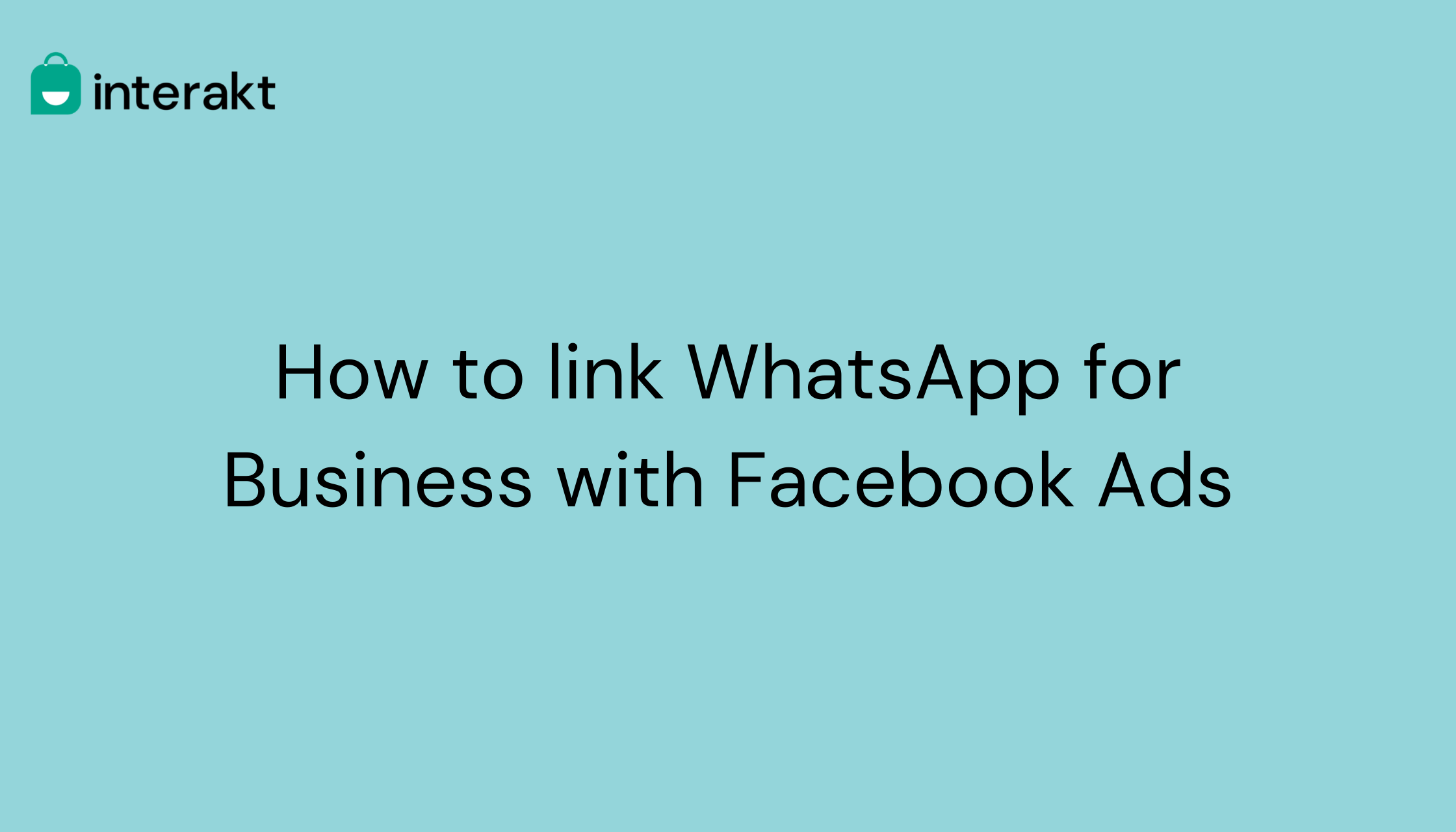 How to link WhatsApp for Business with Facebook Ads
WhatsApp is the preferred channel of communication for individuals and companies alike. Today, it boasts of more than 2 billion users and nearly 100 billion messages are sent on the platform every day!
In this post, we will take a look at how you can link WhatsApp for Business with Facebook Ads. But before that, let's explore if WhatsApp can be used for marketing.
Can you use WhatsApp Business for Marketing?
WhatsApp marketing is all about getting into a conversation with people on WhatsApp and converting them into customers. There are many ways you can establish a connection with your target audience. We have listed out a few-
1. Install a chat widget on your website, like Interakt's chat widget.
2. Add a WhatsApp chat button on your Facebook page.
3. Use WhatsApp QR codes.
4. Create Facebook Ads that click on WhatsApp.
You can choose to implement any of the above methods and Voila! you are on your way to using WhatsApp as a channel for marketing your business.
‍
How to promote your business with WhatsApp? 
All you have to do is let people know that you are available to chat. This should get you leads for your business. From there on, allow store visitors to start a conversation with you on WhatsApp and you have the chance to convert these potential leads into real customers.
That's not all, you can promote and sell your products through WhatsApp as well.
If you are using the WhatsApp Business App, the product catalogs feature lets you showcase your products and services to customers. They can browse through your catalog, enquire about their favorite products and even place orders.
Apart from that, you may set automated transactional messages to send back-in-stock product alerts, inform customers of recent product launches or share discounts, offers, and a lot more.
But to activate this feature, you will first need access to WhatsApp Business API. A service provider like Interakt will help you get on board. WhatsApp Business API has incredible features to offer that will set your business up for success.
If you ask, what's the best method to reach out to customers? It comes down to where your customers spend most of their time. Are they spending most of their time on social media channels like Facebook? 
If that's the case then creating Facebook Ads that click- to-WhatsApp is a great way to widen your reach.
‍
What are Facebook Ads that click- to-WhatsApp? 
Facebook is one among the most popular social media platform around. It is not only a network that people use to stay in touch with one another but it's a place where companies target specific audiences to improve their online customer base.
Facebook lets you communicate with prospective customers in unique ways. It lets you create and manage Ads to increase conversion through paid campaigns.
Facebook Ads that click- to-WhatsApp are Ads that are run on Facebook with a click -to- WhatsApp Call to Action (CTA) displayed on it that allows users to start a conversation with your business on Facebook and take it forward on WhatsApp. This is a great way to convert the traffic that you generate on Facebook to conversations on WhatsApp.
Advantages of the WhatsApp Business Integration with Facebook ads
Adding a WhatsApp chat button to your Facebook Ads has the following benefits-
• It directs users from the News Feed to WhatsApp making your business more visible and accessible
• It leads your customers to WhatsApp which is a more convenient channel for personalized real-time communication. Also, you don't have to log in to read or respond to messages on WhatsApp.
• It gives you an advantage over your competitors who are not engaging with customers on their preferred channels.
• Integrating WhatsApp with Facebook can help you reach audiences that your competition isn't targeting.
• Through WhatsApp, you can offer delightful customer support, attend to customer requests and provide useful information to build customer satisfaction and loyalty.
‍
How to connect Facebook and WhatsApp Business? 
Before you create a Facebook Ad with a WhatsApp chat button added to it, you must download the WhatsApp Business App and link your WhatsApp account to your Facebook page. Follow these simple steps to establish the WhatsApp Facebook connect-
• Head to your Facebook Business Page and click on Settings.
• Click on WhatsApp which appears on the left-hand side menu
• Now, select your country code
• Next up, feed in your WhatsApp number and click on Send Code
• Enter the code and click Confirm.
With this, you have successfully linked Facebook and WhatsApp businesses.
‍
How to link WhatsApp for Business with Facebook Ads? 
There are two ways to add a WhatsApp chat button to Facebook Ads-
1. Promote an existing post on your Facebook page and add a WhatsApp button to it.
2. Create a new Ad in the Ads Manager and add the WhatsApp chat button to it.
‍
Know the step-by-step process to add a WhatsApp chat button to your Facebook Ads and posts.
Integrate WhatsApp Business with Facebook today!
If you are looking to expand your reach then creating Facebook Ads that click to WhatsApp will generate more leads for your business. Harness the power of WhatsApp Business API and offer consistent customer support. Sign up on Interakt and get a 14-day free trial.