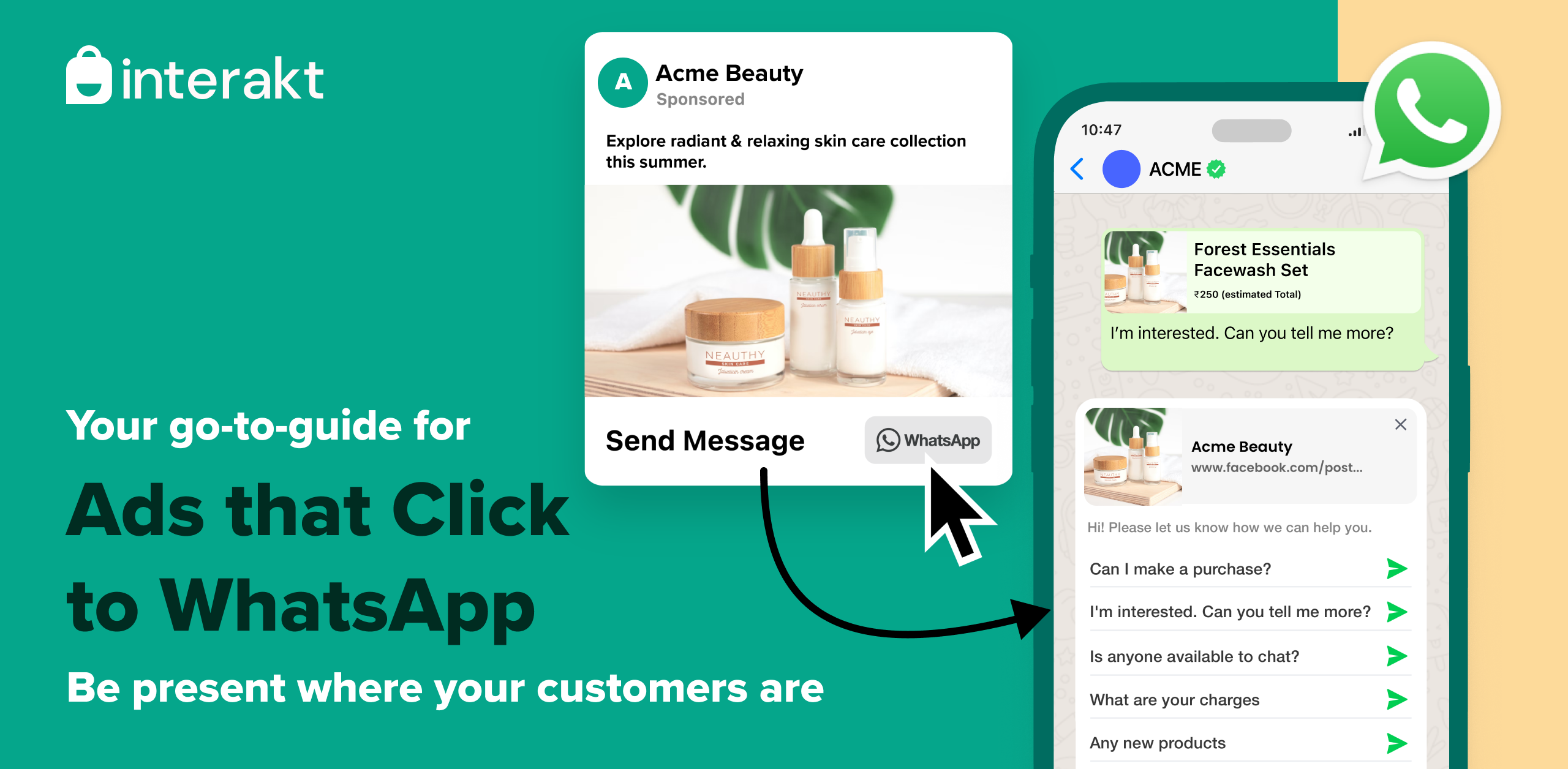 Complete Guide to Understanding Click to WhatsApp Ads and How to Use Them to Increase Sales
WhatsApp has over 2 billion users across the globe. And these users spend almost 19 hours every month using the platform. 
Mind you, this is not some regular engagement that comes from scrolling through the feed mindlessly. Users spend these 19 hours reading each message they receive. 
This gives companies an opportunity to build a direct and valuable relationship with their customers. 
The ease with which brands can use WhatsApp Business API has made this platform a go-to channel for marketing, sales and customer support strategies for many businesses. But the real challenge is getting consumers who seek you out on social media to initiate a conversation on the messaging platform. 
This is where Click to WhatsApp ads come in. 
In this guide, we're going to detail out what Click to WhatsApp ads are, why they are important and how they are beneficial, and how you can use them to drive better customer engagement, conversions and sales. 
What are Click to WhatsApp Ads? 
Click to WhatsApp ads are an advertising format on Facebook and Instagram that uses the best of both the social media and messaging platform's capabilities. To connect the two, these ads have a "WhatsApp" button as the call-to-action, instead of the traditional website link. 
This brand new way of advertising on the social media platforms is turning promotional campaigns more conversational, leading to higher engagement rates owing to the ease of how it works. 
Click to WhatsApp ads are distributed in a similar way as other social media advertising campaigns. But in this case, when a prospect clicks on the CTA button, they get redirected to the chat window on WhatsApp where they are greeted with a pre-configured reply.

These pre-configured replies (Called Icebreakers) are a great way to give users a focused channel to start a conversation. They also help in reducing friction for relevant conversations.
Why should you explore Click to WhatsApp Ads? 
Now, you might be thinking that you already use WhatsApp for sending broadcasts and notifications to your existing customers. And your ads are well sorted on social media platforms. So why combine the two? 
Here are some amazing reasons why you should create Click to WhatsApp ads: 
1. Creates a Cross-Promotional Potential for Your Business 
When you create an ad on Facebook and set "Click to WhatsApp" as your CTA, anyone who clicks the button will be redirected to your WhatsApp chat. And same goes for the Instagram audience because the two platforms are connected. 
Now, when you send these customers on a landing page, they don't get to engage with you before having to make a purchase decision. And according to a report by Google, customers like to have a chat with businesses before they buy something from them. 
And compared to social media platforms, WhatsApp enjoys a higher open rate (almost 99%) for its messages because of how regularly people use it. Moreover, your drop-off rate will also reduce because your customers can reach out to you without any hassle. 
So let your customers discover you via social media ads and drive them to your WhatsApp channel to ensure that they make a positive purchase decision. 
2. Increases Conversion Rate With Immediate Engagement 
When customers see an ad, they hesitate to reach out to brands on their social media accounts, thinking that they'll probably never receive a reply. But WhatsApp being a conversational platform, they are certain that they'll get a reply. 
On WhatsApp, you can automate instant responses so that you can engage your prospects and get their doubts cleared as soon as they land. By automating the whole sales process, you can drive your leads in the right direction and convert them eventually. 
3. Simple Way to Promote Products/Services 
WhatsApp Business Platform allows you to showcase up to 500 products and services on your catalog. And attach details like price, description, website link, and product code. 
Customers can browse through the catalog to learn more about the product they are interested in. If there's any query about a certain product, they can reach out to you instantly on the messaging platform itself. 
While you are selling products and services via the Ads that Click to WhatsApp, what's really interesting is that they provide you with user information such as their phone number and email. This means you are acquiring high intent customers at the top of the funnel at a much lower cost compared to other ads. You can also retarget these customers within 24 hours which would be free since this falls within the 24 hour window.
According to a report by Invesp, 38% of consumers are more likely to make a purchase after chatting with the business. So the sooner you clear their queries, the more likely they'll be to convert. 
4. Connect With Customers Where They Spend Most of Their Time 
An average user opens WhatsApp around 25 times a day. And 80% of the messages are read within five minutes. It's one of the platforms where users spend most of their time chatting. 
What are the other social media channels where people are most active? Facebook and Instagram. So when you create an ad, it's placed across both these platforms. You can place them on Facebook Feeds, Facebook Marketplace, Instagram Feed, and Stories. 
When you combine these powerful social media platforms with WhatsApp, you can leverage the power of conversational commerce and connect better with your customers. 
How can you use Click to WhatsApp Ads? 
There are countless ways to use Click to WhatsApp ads. If you provide a product or service that requires a little hand-holding, conversation, or persuasion to get sold, then Click to WhatsApp ads are best for you. 
Ads to click on WhatsApp ads make the purchase route shorter for your consumers. And the shorter the process, the more your conversions. 
Here are some ways to use Ads to click on WhatsApp: 
1. Get Your Orders and Bookings on WhatsApp 
When you use WhatsApp Business, you can add your products and services to your profile using the catalog feature. Your customers can browse through these products and purchase them directly from your WhatsApp profile. 
Moreover, you can share your catalog on Facebook and Instagram as well through Ads to click on WhatsApp ads to get more consumer queries. Leveraging automations with the help of the WhatsApp Business API, you can then also take orders on the messaging platform with the help of add to cart and checkout link features. 
2. Secure Pre-Bookings and Pre-Orders 
If you're launching a new product or taking a new batch for your services, you can secure pre-orders/bookings using Ads to click on WhatsApp. On your ads, you can promise them a discount if they pre-book your products/services. It's a great way to capture customer intent and estimate the demand for your upcoming products, collections and services. 
3. Offer Shopping Assistance 
As we already mentioned, some products and services need a little bit of hand-holding and guiding before the customers are ready to get them. And there's no better way to guide your customer than a chat on WhatsApp. 
When you send your prospect directly to your website, they have to make every decision themselves. And when they are not sure of something, they drop off! So, it is far better to get them on WhatsApp chat and assist them. This works well as a retargeting ad campaign as well! 
4. Recover Abandoned Carts 
If a customer abandons the cart at any stage, what do you think is a better way to convince them to make the purchase — sending them to the same page again or identifying why they abandoned it? 
Sending them to the same page again by retargeting ads will not solve the issue. Customers will be in the same situation again and make the same decision. But with Ads to click on WhatsApp, you can chat with them to identify why they didn't purchase the product and provide them with a solution. 
5. Take Customization Orders 
For businesses that print on demand or offer product customization, talking to the customers is the most effective to convert them. Instead of just driving them to your website and having them figure out the best option, you can have them on your WhatsApp and understand their requirements. 
When you know what they need, you can share product recommendations so that customers are not overwhelmed with the available options. You can then also secure the sale after noting the requirements using checkout links. 
What are the prerequisites for setting up Ads to click on WhatsApp on Facebook and Instagram? 
Now Click to WhatsApp ads can be used in a number of ways and are beneficial owing to their conversational nature. But before you can actually get started, you need to fulfill some prerequisites set by Meta for the set up.  
Choosing the Right Whatsapp Business Solution 
The first you need to do is get a WhatsApp business account. Depending on your business requirements, you can create it by either downloading the WhatsApp business app or integrating the WhatsApp business API. 
If you're a solo entrepreneur or a micro-business and don't need any external apps, then the WhatsApp business app should be enough for you. But for businesses of small to large sizes, running multiple campaigns, we recommend making use of the WhatsApp business API instead. 
To set up your WhatsApp business API, you'll need the help of official API providers like Interakt. But once you have it, you can use it on multiple devices simultaneously, integrate your CRM, automated and personalized communication, and much more. 
Connecting Your Whatsapp Account to the Facebook Page 
Once you've chosen your WhatsApp business solution, you need to connect your WhatsApp business account to your Facebook Page. 
First, make yourself the admin of the page. Only admins have access to connect the two accounts. Once you are the admin, follow the steps given below: 
Open your Facebook business page and go to "Settings."

On the left-hand navigation tab, click "WhatsApp." 

A drop-down menu will appear. Select your country code. 

Enter your contact number and hit continue. 

Enter the OTP you received and click "Confirm." 
Once you've set this up, you are all set to start your first Click to WhatsApp ad campaign. 
We also recommend that you go through the WhatsApp Commerce policy in detail to ensure you're meeting all rules and regulations set by Meta. 
How to set up a click to WhatsApp Ad? 
Now that you know why it's essential to set up Ads to click on WhatsApp and have all the prerequisites in place,  let's see how you can set up your first Click to WhatsApp ad campaign in seven simple steps:  
1. Open Facebook Ads Manager 
To get started, open your Facebook Ads Manager and click on "Create" under the campaign section. 
2. Create a New Campaign and Set "Engagement" as the Campaign Objective 
When you hit the create button, you'll be redirected to the campaign page where first you have to set the name for the campaign. 
In case you're setting a campaign for a special category like credit, employment, or housing, select the category. 
Under the "Campaign details" section, set the buying type as Auction and the campaign objective as engagement. It's important to select these settings. Otherwise, you might not see the option to drive traffic via "Click to WhatsApp." 
3. Set Campaign Budget 
Once you've set the objective of the campaign, you need to set its daily or lifetime budget. You can also choose bid strategy options based on your campaign's objective. 
Here's a Facebook documentation if you want to know more about bid strategy. 
Once you've set the budget and bid strategy, hit "Next." 
4. Select Conversion Location and Ad Type 
In the ad set section, we need to set the location of the conversion where we want to drive engagement. Selection "Messaging Apps" as the conversion location. And move to the next section — Ad type. 
In the ad type, because you want to receive messages from the prospects, select "Click to message." 
Now, Meta supports three types of messaging apps — Messenger, Instagram, and WhatsApp. And because we want to receive messages on WhatsApp, select "WhatsApp" in the messaging apps section. 
5. Choose Your Audience, Placements, Budget, and Schedule 
After selecting WhatsApp as the destination, you need to define the budget and schedule the start and end of the campaign. 
Once the schedule is sorted, you have to define the target audience for the conversion campaign. To define your target audience, you can use metrics like user location, age bracket, gender, languages, and connections. 
On the right side of your screen, you can see what the estimated size of your target audience is and how broadly or specifically they are targeted. 
After defining the audience, you have to set the placement for your ad. You can either do it manually or the Advantage+ placements where Meta optimized where your ads should appear and when. 
While setting up the placement, give preference to mobile properties over others because the user experience is at its best on mobile phones. Once this is done, you're almost set for publishing the ad. 
6. Set Up Your Ad Format and Creative 
When you are done selecting the placement, you have to select the format for your ad in the "Ad Setup" section. It can be a single image/video or a carousel. 
We recommend that you highlight the discounts and offers that you're currently running. You can also share if you provide "free shipping" and "cash on delivery," especially during the festive season. 
Then upload the ad creative and preview how they'll appear in front of your target audience. When you've successfully uploaded the creatives, add the primary text. You must not skip it because, based on this text, users decide to engage with your ads. 
Set the CTA as "Send WhatsApp Message" and scroll to the next section. 
7. Create a Welcome Message Template 
After people tap on your ad, you want them to send you a message instantly. Therefore, you should set a welcome message template so that they don't have to put a lot of thought into what to text. 
In the "Message Template" section, click "Create new" and customize the greeting text and question option suggestions according to your business. 
Check the "Save Template" box to save the template for all your future campaigns. And lastly, click on "Save and Finish." 
8. Publish Your Ad 
Once you're done with all the above-mentioned steps, you're ready to publish the ad. The ad will be first reviewed by Facebook. And once approved, it'll go live. 
We recommend monitoring your ad reach continually to optimize it for maximum results; similar to the traditional social media ad campaigns. 
What are the best practices for Click to WhatsApp Ads? 
1. Set the Chat Attribution 
When you have set the chat attribution correctly, measuring the success of your Click to WhatsApp ad campaign becomes easy. Your marketing team and the BSP can attribute the conversations started via ads and can also track how many of them actually converted. 
Now, you can set the attribute on the message options that you give to your users. But, this method comes with a risk. If the user decides to send their own message, the attribute won't be able to track them. 
You can go for the risk-free method, using the Referral Object in API Webhooks integration to read the "Source_Id." 
2. Optimize the Bot Journey 
How well your bot handles the customers determines if they are going to convert or not. So, the first thing you need to ensure is that the bot journey starts irrespective of the text sent by your prospects. 
You can set relevant ice-breakers to set the context and guide customers in the right direction. Moreover, the bot journey should be engaging. Don't bore customers with long texts and irrelevant questions. 
And it's important to keep in mind that you'll need human intervention in some cases when the bot is unable to give the right solution. In such cases, you should initiate live agent hand-off without wasting any time. 
3. Leverage WhatsApp Automation 
To never miss out on a conversation, it's essential that you set up WhatsApp Business API automation. You can create custom workflows that help customers explore the available products, understand policies, explore offers, check order status, and much more. 
When you have set up automation, it will be easy for you to tackle the leads coming via your Click to WhatsApp ads. With WhatsApp Business API solutions like Interakt, you get access to automation workflows to tap into the pre, during and post purchase journey of online shoppers. 
4. Keep Tracking the Performance of Your Ads to click on WhatsApp
Your work is not over after you create Click to WhatsApp ads. You need to track the campaign's performance consistently and see how it helps your business goals. 
If you see something's missing or the result is not as great as you expected, then you need to optimize your ads. You can start by tracking metrics like the number of conversations initiated, average conversation length, conversation-to-conversion rate, and actual sales. 
We do recommend revisiting your ad graphics and ad copy on a weekly or biweekly basis, based on your target audience. This will help you prevent ad exhaustion and engage your audience more proactively.
How can different industries use ads to click on WhatsApp Feature? 
Businesses from every industry and of all sizes can leverage Click to WhatsApp ads to make more sales. Let's have a look! 
Education industry
Many parents are randomly scrolling on social media and you know what catches their attention the most? When they see something that can benefit their kids. And what is more beneficial than something related to education? 
If your business is a part of the education industry, you can target parents with Ads to click on WhatsApp and get them on your WhatsApp. Set up the bot to get their kid's details and share available timings. You can allow them to book demo classes, get their feedback, and enroll the student. 
Insurance industry
Insurance is hard to sell. People find it hard to trust insurance companies, but it's nothing that a good conversation can't fix. You can assure your customers how easy it is to get a claim via your Ads to click on WhatsApp. And then, you can use WhatsApp to build trust with the prospects. 
Once they are satisfied and have all their queries answered, you can sell them insurance on WhatsApp itself. Using automation, the whole process can be simplified — your bot can ask them questions, and they send answers and relevant documents. 
Later, you can reach out to these customers with more add-ons to increase your average order value. 
Retail/eCommerce industry
If there's one industry that must leverage the Ads to click on WhatsApp feature, it's the eCommerce industry. You can run Ads to click on WhatsApp ads promoting your discounted products. And can also tell your target audience that they can avail of the "free shipping" and "pay on delivery" options by reaching out to you on WhatsApp. 
You can also add your products to the catalog to allow customers to make purchases directly on WhatsApp. This will make the process short, leading to more conversions. 
Moreover, when they have made the purchase, they can get all the shipping updates on WhatsApp. And you can ask for a review when the order is delivered. Ads to click on WhatsApp makes shopping hassle-free for customers. 
These were just a few examples. The list of industries that can leverage Ads to click on WhatsApp to sell more goes on and on! 
Increase Sales Using Click to WhatsApp Ads 
Click to WhatsApp ads is still relatively new in the marketing world. It's an untapped and promising opportunity for businesses that are looking to up their conversion rates. 
But using it on the WhatsApp Business app can only take you so far. If you want to use it to its fullest potential, you need to leverage the WhatsApp Business API features. And you'll need a service provider for that — Interakt. 
Interakt will help you create a more engaging WhatsApp ads experience for your customers. From setting up automated responses to answering FAQs, this tool takes care of everything.