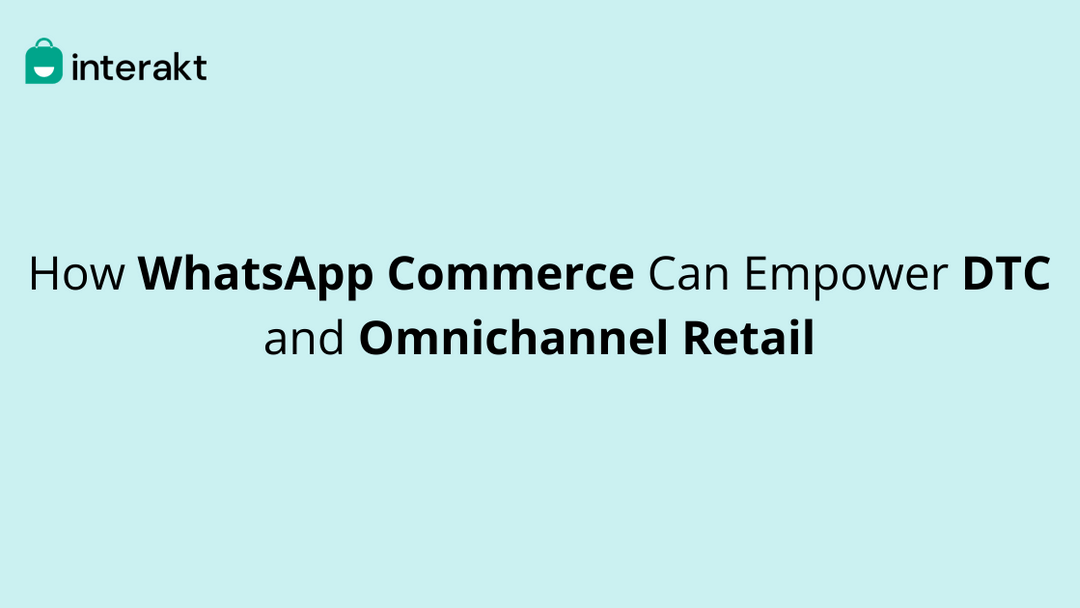 How WhatsApp Commerce Can Empower DTC and Omnichannel Retail
With over 2 billion users, WhatsApp is one of the leading messaging platforms across the globe. But it's only recently, with the launch of the WhatsApp Business app and WhatsApp Business API, that businesses have started to uncover the opportunities it offers – to improve customer experience and step up their marketing efforts.
This especially holds true for omnichannel retailers who want to establish a consistent customer experience across all platforms, while maintaining coherent communication. That's where WhatsApp comes in.
How to use WhatsApp commerce to empower omnichannel retail
The WhatsApp Business app and WhatsApp API integration with ecommerce platforms is enabling stores to add the messaging platform into their omnichannel marketing and sales app seamlessly. Here's how leading stores are using WhatsApp for Business with the same:
1. Connected social media campaigns 
With click-to-WhatsApp ads on social media, leading retailers are focusing on driving more conversions through conversations. With the help of WhatsApp Business API, you can also set up custom flows to take orders on the chat or equip the interested buyer with more information around the product.
2. Promotional broadcast messages 
With WhatsApp Business API, businesses can now send promotional messages based on consumer's onsite and offsite activity. No matter what channel you're using to sell, you can use WhatsApp broadcasts to promote the deals and discounts you're running, to get them noticed almost instantly.
3. Keeping customers engaged 
No matter which channel a consumer uses to convert on a promotion, use WhatsApp to keep them engaged post-purchase. You can leverage broadcasts with the help of the WhatsApp Business API to also share educational content that helps this newly acquired customer make the most out of the purchase made. For example, if they've purchased a piece of DIY furniture, you can send across a how-to on assembling it after the order is dispatched.
You can also integrate WhatsApp for Business with your loyalty program. With the same, you can send proactive updates around rewards available, how to earn them or how to spend them, subtly nudging customers to interact with you.
4. Recover abandoned carts 
While omnichannel retailing enables you to reach more consumers, it does not really help with preventing cart abandonment. Owing to the distractions on each platform, cart abandonment is very common – using the same platform to recover the cart can be tedious and sometimes, expensive. This is where omnichannel retailers can put WhatsApp for Business to work by automating abandoned cart reminders.
5. Promote in-store walk-ins 
Omnichannel retailers can also use WhatsApp marketing campaigns to promote discounts and deals exclusive to their physical stores. But more importantly, they can use the conversational marketing channel to encourage these walk-ins by addressing consumer concerns proactively and sharing product availability at the 'nearest stores'. For example, a customer can reach out on WhatsApp to request a product recommendation. You can answer the same on the chat app, but also use the opportunity to ask them to step in and 'try' the product by visiting your store.
6. Collecting customer feedback 
Omni Channel selling has its benefits for sure. But keeping up with all the customers you drive in, can be overwhelming. With WhatsApp API integration to your storefront, you can run automated campaigns to collect product reviews and feedback from repeat buyers. All you need to do is segment your customer lists to run campaigns that are contextual and sent to only those who have bought from you in the past. You can then further use the conversation to understand their expectations from your brand, the products they are currently seeking and how you could offer a better shopping experience to them.
7. Instant customer support 
Omnichannel retailers also need to ensure they stay on top of customer support requests. More often than not, online shoppers are seeking to speak to the brand before making a purchase to ensure they're buying the right product or fully understand the purchase policies. With the WhatsApp Business API integrated to your store, you can actually offer instant customer support at scale with multi-staff login. No matter where the buyer sends a request from, you can use WhatsApp Business Platform to streamline conversations and address them proactively.
8. Send proactive transactional and shipping updates 
Imagine making a purchase from social media but not getting an order confirmation instantly – this can create purchase anxiety real quick. That's where using WhatsApp for Business comes in handy for omnichannel retailers. With the WhatsApp Business API integration to your store and logistics provider, you can set up automated order and shipping updates.
If you're saving incoming customer orders/appointments/feedback etc in a Google Sheet, you can leverage WhatsApp Google Sheet integration to send notifications whenever a row gets added for better management of conversations, and incoming requests.
9. Automate restock alerts 
When you sell omnichannel, there are chances your products go out of stock but consumer interest in them does not. That's where restock alerts come into play and with the help of WhatsApp Business API, you can automate these alerts as well. This can bring back high purchase intent buyers in no time!
Conclusion
If you're an omnichannel retailer that wants to enable customer engagement by delivering similar experiences across your online store, marketplaces, physical store and social channels, it's time to bring the same approach to how you communicate with customers too.
It's time for your omnichannel retail business to start leveraging the WhatsApp Business API. Sign-up for Interakt today.