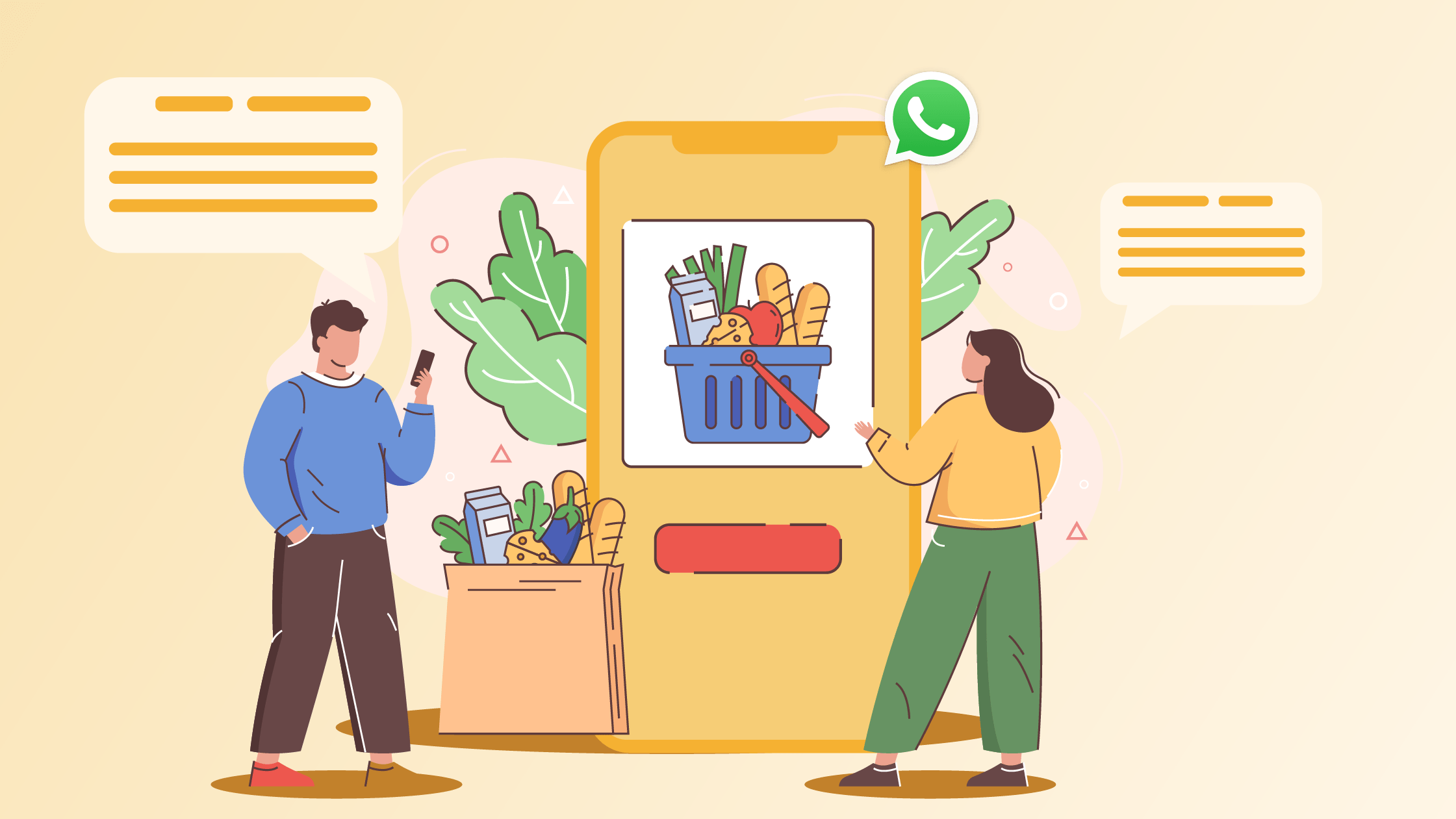 WhatsApp Broadcast Ideas And Templates For Food And Beverage Ecommerce Stores
WhatsApp broadcast is one of the best ways to run marketing campaigns and engage customers, boost sales and get closer to your business goals.
No matter the type of your business and your products, you can creatively use WhatsApp broadcasts. However, you should remember to make the marketing campaigns relevant to your business.
In this lesson, we've put together ideas and WhatsApp broadcast templates that work wonders for food and beverage businesses.
WhatsApp broadcast ideas and templates for F&B ecommerce stores
Before you start sending out any broadcast message, remember you should have the customers' opt-ins. Customers should have signed up for your WhatsApp updates. And you can use a WhatsApp Broadcast API solutions provider – Interakt – to build your list. Then, it's all about keeping your broadcast campaigns ready.
1. New opt-in
It's a must to have opt-ins, meaning customers' permission to be able to send WhatsApp messages to them. Customers would either opt-in when they make their first purchase from your site or simply sign up for updates. You should have a welcome or thank you campaign ready.
Example 1
Hey Patrick,
We're glad you've joined us on WhatsApp. We'll be sending you updates on new product launches, discounts, updates on your orders, recipes, and more. Stay tuned!
To opt out, click here.
Team CheerFood
‍
Example 2
Hello Jeena,
Welcome to FoodForYou!
We'll be sending you updates on sales, discounts, new products, recipes, and more.
In the meantime, checkout our seasonal section for this Summer's best deals – fresh fruit crush, mango magic, mango cake home baking kit, and fruit-based goodies for kids.
Check seasonal section I Shop all
2. New product launch
The food and beverage industry is extremely competitive with new products launched almost every day! To keep your products section up to date, you'd be adding new products to your site. And that's when you can use WhatsApp broadcasts to boost sales.
Example 1
Hiya Ben!
Have you tried the new range of gourmet chocolates on YummyTummyFoods?
We're running an introductory offer – Buy any 2 and get 10% off.
Buy now
‍
Example 2
Buy our newest addition – Green Apple Biscotti.
Everyone's loving it and you will too!
Buy now I Shop all store
3. Abandoned cart recovery
More than half the shoppers on online stores end up abandoning carts. It's a common occurrence and that's where WhatsApp broadcast campaigns come handy. And when abandoned cart recovery WhatsApp messages are personalized, they work even better. Let's look at some templates.
Example 1
It seems you've forgotten some items in your cart, Mary.
Would you like to complete the purchase now? There's a 10% discount running across the site today.
Go to cart I Buy now
‍
Example 2
Hey Pamela,
The items you left in your cart are getting sold out fast. Grab them now before it's too late.
Shipping's on us!
Buy now
4. Sale/ discount
Food and beverage are perishable items with a short shelf life. That's why it helps to run discounts and sales to make sure your products sell out in time before the expiry date. Here are a few WhatsApp broadcast marketing ideas to get you started.
Example 1
Hey Mia,
It's your favorite time of the year – YummyFoods month-long annual sale is now live!
We have a specially curated sale section we think you'll love.
Subscribe to our special sale newsletter to get more updates.
Would you like to sign up?
Yes, sign me up! I Shop sale!
‍
Example 2
1.10.22 – Mark your calendars, Peter!
We're prepping for our annual sale. Products up to 30% discounts.
You could even make your pre-sale selection and add it to your wishlist before the sale begins.
Would you like to explore products?
Yes, take me to your site.
5. Seasonal goodies
Seasonal food and beverages are popular among consumers. They want to make the most of the season, and so do food and beverage ecommerce stores. Here's how you can run WhatsApp broadcast campaigns to promote seasonal goodies.
Example 1
It's time for a berrylicious treat, Mayson!
If you haven't yet tried our seasonal berry cakes, cookies, and beverages, you're missing out on something berry yum.
Explore the range and try some before the season's over.
Try now
‍
Example 2
It's party season, Peter!
Have you stocked up on party snacks, beverages, and treats?
We're running a flash sale on our party foods section. For two days only.
Buy worth $300 and get 10% off
Buy worth $500 and get 20% off
Hurry! Items are running out.
Get the party started!
Explore now
6. Restock notifications
Food and beverage items have a short shelf life and may get sold out. Moreover, if items don't get sold until their expiry date, you have to take them off your inventory. And restocking them might take some time. Try these broadcast messages.
Example 1
Hola Jerome!
It's here! The Strawberry Vanilla Crush mix that was out of stock is now restocked.
But the weather's hot and sultry and it's selling out fast.
Should we reserve your favorite drink mix for you?
Yes, reserve I Buy now
‍
Example 2
Hey Leela,
The organic chia seed cookies that you were waiting for are back in stock.
Thank you for waiting so long. Take a 5% off on your order. Use code: 5COOKIE
Buy now
7. Content promotion
One of the best ways for food and beverage brands to engage customers is by sharing informative and educational content such as recipes, blogs, etc. And to promote the content, what better than WhatsApp broadcast campaigns?
Example 1
Hey Monica,
Looking for unique recipes? We're sure you'd love to try out these yummilicious dishes we've just put together on our blog.
Read blog here I Explore ingredients section
‍
Example 2
We know you've been waiting for our new blog post for a while, Samantha.
The wait's over. Head to our blog to read recipes, blogs on how-to-use-ingredients, and what's new on our site.
Read now
8. Survey/ poll
Want to add a new product on your site? Wondering if customers are liking a certain product? What more could you add to your site? The best way to find out is to run surveys or polls via WhatsApp broadcasts.
Example 1
Hey Maya,
Thanks for always shopping from our site.
We'd love to know what more you'd like to see on our site. Choose from below:
• Gourmet foods
• Gluten-free foods
• Organic snacks
‍
Example 2
Hey Jasmine,
Please take a few seconds to respond to our survey.
Which product section on our site is your favorite?
• Fresh produce – veggies and fruits
• Organic grains
• Healthy snacks
• Beverage and drink mix
Your response will help us serve you better.
9. Re-engagement
Customers have many options of ecommerce stores to buy from. And hence, it's possible that at times they might stop visiting your store. That is why you need to re-engage customers from time-to-time. Here's how to do it.
Example 1
Hola!
We haven't seen you for a while. You're missing out on all the new sweet treats we've added on FunFoods — cookies, pastries, and sweets.
Oh! And don't miss out on our new recipes section.
PS. Enjoy shopping with 10% off on your next order. Use code SWEET10
Shop products I Go to recipes
‍
Example 2
Hey Rose,
It's strawberry season and you definitely don't want to miss out on our seasonal goodies — strawberry crush, fresh preserves, jam, cookies, and much more.
Buy today and avail 15% discount on your order.
Buy now I Explore site
10. Incentives on special days
Another great way to use the instantaneous power of WhatsApp broadcast campaigns is to run marketing campaigns on special days – Mother's Day, customers birthday and anniversary, Father's Day, etc. This is a good opportunity to send personalized messages, too.
Example 1
Mother's Day is around the corner, Susan.
Have you thought of how you'd surprise your mother? We have some ideas for you.
Check out the gift baskets and hampers section on FreshmillFoods.
Get 15% off if you buy it before or on Mother's Day.
Unlock discount & buy now
‍
Example 2
It's your birthday week, Matty!
We're excited and want to make it a memorable one for you. And so, we've added surprise store credits to your account, which you can use to buy anything you like from our store.
Check out store credits I Shop now
Are you ready with your WhatsApp broadcast campaigns?
You can use WhatsApp broadcast campaigns in a number of ways to cover your customers shopping journey.
But remember to first have them opt-in to your WhatsApp list. If you don't have a WhatsApp list yet, reach out to Interakt to get started.
‍Interakt is an efficient WhatsApp Business API solution provider that can help you build a list, set up broadcast campaigns, and automate broadcast marketing for your Shopify store, so you can focus on the more strategic goals of your business.