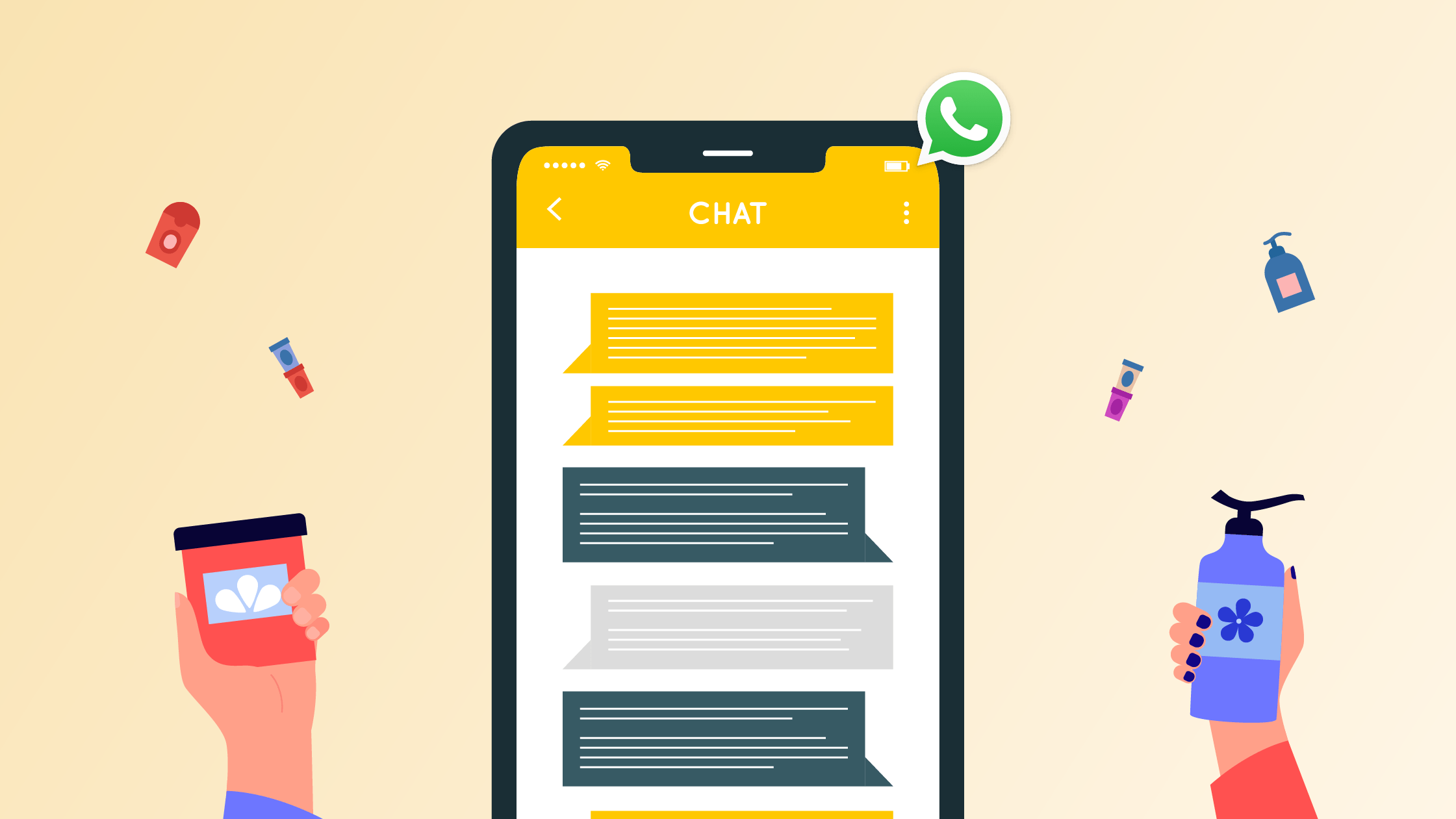 WhatsApp Broadcast Ideas and Templates For Beauty & Cosmetics Ecommerce Stores
The beauty and cosmetics ecommerce market is growing by leaps and bounds. There's a lot that online stores have to do to keep customers engaged. Moreover, as a brand into a trendy business, you have to make sure you're constantly reinventing your marketing campaigns and staying relevant to your customers.
In this lesson, we'll learn some ideas to build WhatsApp broadcast campaigns for beauty and cosmetics ecommerce stores.
WhatsApp broadcast ideas and templates for beauty and cosmetics stores
First things first – WhatsApp broadcasts can be sent when customers have opted-in to your list. If you don't have a WhatsApp list, we recommend working with a WhatsApp Business API solution provider like Interakt to get started.
1. To engage new customers after opt-in
New subscribers may sign up either when they make a purchase or simply subscribe through one of your marketing campaigns. As soon as you have a new opt-in, you should send out a WhatsApp broadcast message.
Example 1
Hey Lorrie,
Thank you for signing up.
We'll keep sharing updates on our new arrivals, discounts, deals, and more so that you're always up to date with what's new on your favorite site.
Check out what's new now!
‍
Example 2
Hey Summer,
Were so thrilled you signed up for our WhatsApp updates.
We'll make sure you never miss out on sales, discounts, deals, and what's new.
For now, we're running a site-wide 5% off all through this month.
Unlock discount now!
2. To drive repeat sales
People tend to use up cosmetics fast. It has a short shelf life and it's something that customers order repeatedly. One way you could WhatsApp Broadcast messaging is to drive these repeat sales. Here are some templates:
Example 1
Hey Suzy,
It's been a while and maybe it's time to replenish your vanity box with cosmetics.
The shades you purchased a while back are still available. Plus there are new additions.
Check out the options here: (link)
‍
Example 2
Hey Gen,
We've missed you. Do check the expiry dates on your cosmetics that you purchased from us a while back. Is it time to buy them again?
We're running an upto 25% discount.
Unlock discounts now!
3. To notify customers when an item is restocked
It's possible that some items may run out. So, when you restock an out of stock product, you must inform your customers, especially those who signed up for restock alerts over WhatsApp.
Example 1
Hey Gen,
At BeautyNOW, we always keep our promise.
We've just restocked your favorite lip colors.
Grab them now at 5% off. Use code 5NOW
Shop now.
‍
Example 2
Hey Samantha,
The party season's just around the corner and we know what you like to have in your vanity case.
We've restocked all your favorites. Head to the store today to buy them before they're gone.
Shop now.
4. To request for feedback
Most shoppers look at ratings and reviews before they make a purchase. And so, collecting feedback is extremely important for ecommerce stores.
Example 1
Hey Tessy,
Thank you for purchasing from Beauty&Style.
Please spare a few seconds to rate your experience.
5   – Excellent
4   – Good
3   – Nice
2   – Bad
1   – Horrible
0   – Skip
‍
Example 2
Hi Ella,
Thank you for your recent purchase. We'd love to know if you enjoyed your shopping experience.
Please share your feedback below and unlock a discount code for your next purchase.
5   – Excellent
4   – Good
3   – Nice
2   – Bad
1   – Horrible
Click to unlock your discount code.
5. To re-engage customers
There's fierce competition in the online market space. And if you don't engage customers often, they might forget about your store. But once they've opted-in for your WhatsApp updates, there are many ways to re-engage them.
Example 1
You loved our last collection, Priya.
And so, we're introducing new Summer shades – Current Crush.
A rainbow of new shades. Much more fun!
Explore Current Crush.
Shop All.
‍
Example 2
Hiya!
We've missed seeing you on Beauty&Glam.com
We've just updated our site with trendy new shades.
Check out now.
Also, we've added 200 credit points to your account.
Use them on your next purchase.
Log in now.
6. To promote content – tutorials/ blogs
Beauty and cosmetics online brands can have an active presence on their blogs, YouTube channels, etc. by putting out makeup and beauty tutorials and how-to articles. But good content is useless if you don't promote it.
Example 1
Hey Samantha,
Our latest makeup tutorials are now live.
Watch:
• Morning skincare routine
• Top 5 makeup products to have
• Glam look using products in your budget
Stay pretty!
Go to all tutorials.
‍
Example 2
Looking for new styling tips, Corrie?
We've got just what you're looking for – celebrity makeup looks, hairstyling tips, and more
Read our latest blog I Watch video tutorials
7. To promote just arrived items
When you stock your inventory with new products, you'd want them to start selling fast. For that, you'll have to promote the products. Here are some WhatsApp broadcast campaign ideas that can come handy.
Example 1
Pinks, reds, browns, and nudes, you're going to want to buy all of it from our new additions.
There's a shade for every occasion and time of the day.
Catch them while you can because these super awesome shades won't hang about.
Shop now
‍
Example 2
Hola Mary!
15 new shades of foundation, a line of 10 fresh shades for lips, and much more.
This new collection is inspired by the colors of fresh flowers.
They might sell out in a flash, so start shopping.
Ready. Set. Shop.
8. To understand customer needs better
Beauty and cosmetics is a competitive industry. There are new innovations and product launches almost every day – from vegan cosmetics to organic to new brands. To get a pulse on what your customers want, you can run WhatsApp Broadcast campaigns.
Example 1
Hey Monica,
Thank you for shopping with us over the years.
To make your shopping experience better, we'd like to know what you would like to see more of on our site?
Choose from below:
• Organic cosmetics
• Vegan cosmetics
• Cruelty-free cosmetics
• Don't care about the type
Have a suggestion?
Write to us now.
‍
Example 2
Hey Sheena,
Help us make your shopping experience better. Please spare a minute and respond to our question below.
What offers do you like most on our site?
• Discounts
• Free shipping
• Reward points
• Buy 1 Get 1
• Gift coupons
Thank you!
9. Limited time deals
During slow sales periods, you might want to run a surprise sale or a flash sale for a limited period. There's no better way to reach your customers instantly than through WhatsApp broadcast. So here are the campaigns you could run.
Example 1
Unlock the best beauty deals, Tess!
There's a massive price drop across our site on all cosmetics.
But the offers last only for 2 days. July 12 – July 14. Up to 50% OFF.
Grab them now!
‍
Example 2
Hey Joyce, Summer's here and so is our hottest sale!
Choose makeup, skincare, fragrance, haircare, or bath & body.
Everything's at 15% off until midnight.
Hurry, just a few hours left to shop.
Let's shop.
10. On customer's birthday/ anniversary
Ecommerce is all about building a long-term relationship with your customers. One simple but sweet way to do this is to wish customers on their special days – birthdays and anniversaries.
Example 1
Hey Gloria,
Happy Birthday To You and Happy Savings!
Get 15% OFF everything on Color&Pop today!
Shop now.
‍
Example 2
It's not a party until you put on your best makeup and fragrance.
So here's a special discount on our range of makeup and fragrance, for you and your loved one.
Unlock discount.
Shop now.
All set to send out your first WhatsApp broadcast?
WhatsApp broadcasts can be used in a number of ways for different segments of your consumer base – new subscribers, new customers, loyal customers, engaged or inactive buyers, and more. Just remember, before you actually start sending them broadcasts, you should have their opt-in. However, to be able to send WhatsApp broadcasts at regular intervals to drive more customer engagement, you need a WhatsApp Business API solution provider. From helping you set up broadcast message templates to automating their schedule and monitoring campaign performance, platforms like Interakt can do it all.
If you don't have access to the WhatsApp Business API,  sign up on Interakt today.
Looking for WhatsApp broadcast campaign inspiration in other industries? Head over to our next lesson.