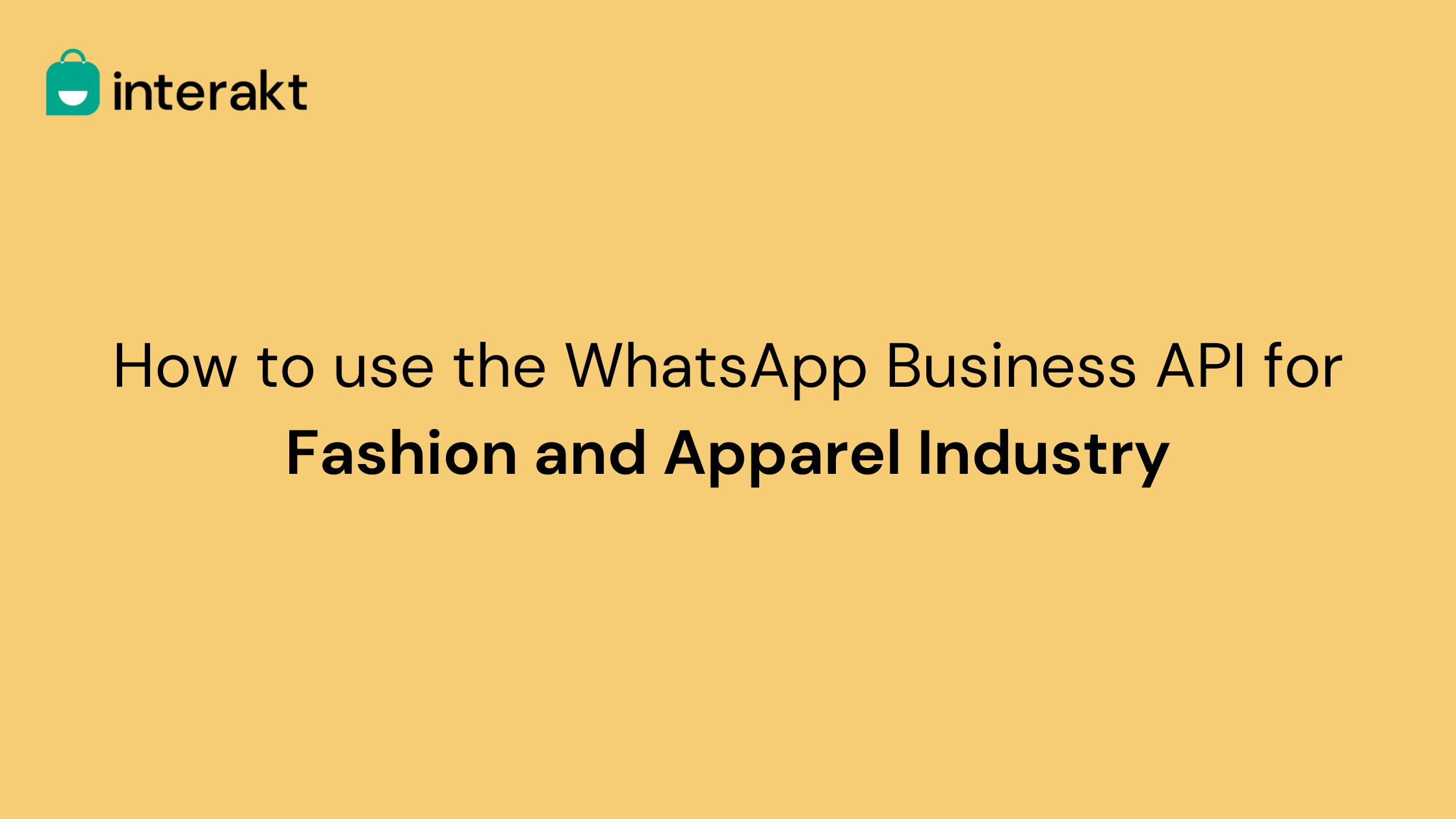 How to use WhatsApp Business API for Fashion and Apparel Industry?
Even with a hard-hitting pandemic, the fashion and apparel industry remains one of the fastest growing eCommerce sectors today. In 2021 the revenue in the fashion industry reached $1.5 trillion which is expected to reach $2 trillion by 2026.
Such level of growth in the industry means that the competition in the fashion eCommerce sector is at its peak. Even the most established brands are struggling to maintain customer relationships.
In such a competitive climate, your brand needs to be where the customers already are. And beyond that, your brand's success will depend on how well you can keep your audiences engaged.
This is where WhatsApp Business Platform can work its magic for you.
How are Fashion giants using WhatsApp?
Some of the biggest players in the fashion and apparel industry have been using WhatsApp business to effectively strengthen customer relationships, having an upper-hand over brands dependent on traditional channels.
1. Adidas, one of largest sports brands, has been employing WhatsApp to respond to customer queries since 2015. Recently they have been trying new things with the channel like, amateur teams being able to pitch a single game with professional athletes, connecting via WhatsApp Groups.
2. Zara, the Spanish fashion giant, provides an instant solution for simple customer queries related to product size, coloring, order details, material type etc. via WhatsApp.
3. Tokopedia, Indonesia's largest online marketplace, saw a 10% increase in authentication success rate while using WhatsApp to send out One Time Passwords.
4. Brands like Agent Provocateur have been using WhatsApp experimentally and, very effectively in providing 'discreet' customer service.
5, Hustlemad has been using Interakt as a WhatsApp Business solution provider to effectively build a proactive channel to communicate with the customers. Using Interakt they can further leverage the platform with its Shared Inbox, Templates and live notifications.
‍
Why WhatsApp is The Right Choice for the Fashion Industry
The WhatsApp Business API opens up doorways to great varieties of integrations allowing for an automated shopping experience.
1. Re-define product discovery
Oftentimes customer experiences in the online apparel market can be summed up as overwhelming. With WhatsApp Business API, brands can bring a different level of personalization into their customer service and product recommendation tactics to tailor buying journeys.
‍
2. Creating visual purchase journeys with rich media
Visualization, beyond mere texts and emoji, play a very essential role in the fashion and apparel industry. WhatsApp lets you help customers visualize your products with lively images, videos and pdfs, ultimately bringing down product return rates and drive conversion.
‍
3. Addressing frequently asked queries  
Queries around purchasing fashion and apparel products online are often repetitive in nature. By employing the WhatsApp Business API, you can set up auto-replies for frequently asked questions to resolve customer queries faster without the need of live agents stepping into conversations.
‍
4. Bring back conversations into shopping
WhatsApp opens up a way for businesses to happen online organically like it would in a brick-and-mortar store offline. Conversations between businesses and teir customers become more natural and this way it will positively improve customer relationships.
How To Use WhatsApp Business API in the Apparel Industry?
1. Offering support
Brands can use WhatsApp to offer personalized and instant customer support to address various issues and queries a customer might have. Here's an example:
"Dear [NAME]. It seems that you are having issues with completing the payment. Please wait till we resolve the issue. Feel free to reach out with further queries."
‍
2. Abandoned cart recovery
In the fashion industry on average 88% of products in the cart don't reach the purchase stage. With WhatsApp you can address this issue by sending out Cart recovery alerts to your customers. have a look at this:
"Dear [NAME]. Your product is waiting for you in the cart. Here's an additional 10% off for you to complete the purchase! "
‍
3. Order status alerts 
Consumers love to stay updated about their orders and as a business, you are expected to meet this demand. Using WhatsApp send out updates related to the order status so buyers can set their minds at ease. Here are some examples of the same:
"Hey [Name], thank you for placing an order with us. Your order is confirmed and will be shipped out in 48 hours!" 
"Hi [Name], your order for [product name] has been shipped. We will send you the order tracking link in 24 hours." 
‍
4. Promotional broadcasts 
Apparel and fashion brands often run sales and discounts and they can leverage WhatsApp Business API to run these promotions on the messaging platform. Since the platform is frequently used by its users, your message stands a higher chance of being noticed!
"Hi [NAME]! We're running a 35% off sitewide for the next 7 days. Grab your favorites today with the code GRAB35." 
‍
5. Request product reviews
Reviews have the power to improve how well a product performs since most fashion and apparel shoppers seek reviews related to product sizing, material etc. Using WhatsApp Business API, you can automate review requests post-purchase.
"Hi, there! Hope you loved our product. We would appreciate it if you could leave a review on it."
‍
6. Request customer feedback
Your brand needs genuine feedback to grow. Ask your buyers what products they would like to see or what changes they'd like to suggest. Here too you can employ WhatsApp to ask for feedback.
"Hey [NAME]! You recently purchased [product name] from us. Our team would love to know how you feel about the texture of the material we used. Your feedback is appreciated!" 
Conclusion
There are a number of ways in which fashion and apparel stores can use the WhatsApp Business API for marketing, sales, and support, building stronger customer relationships at each stage.
Come, explore the power of WhatsApp marketing for fashion and apparel businesses with Interakt. Sign up for Interakt today!