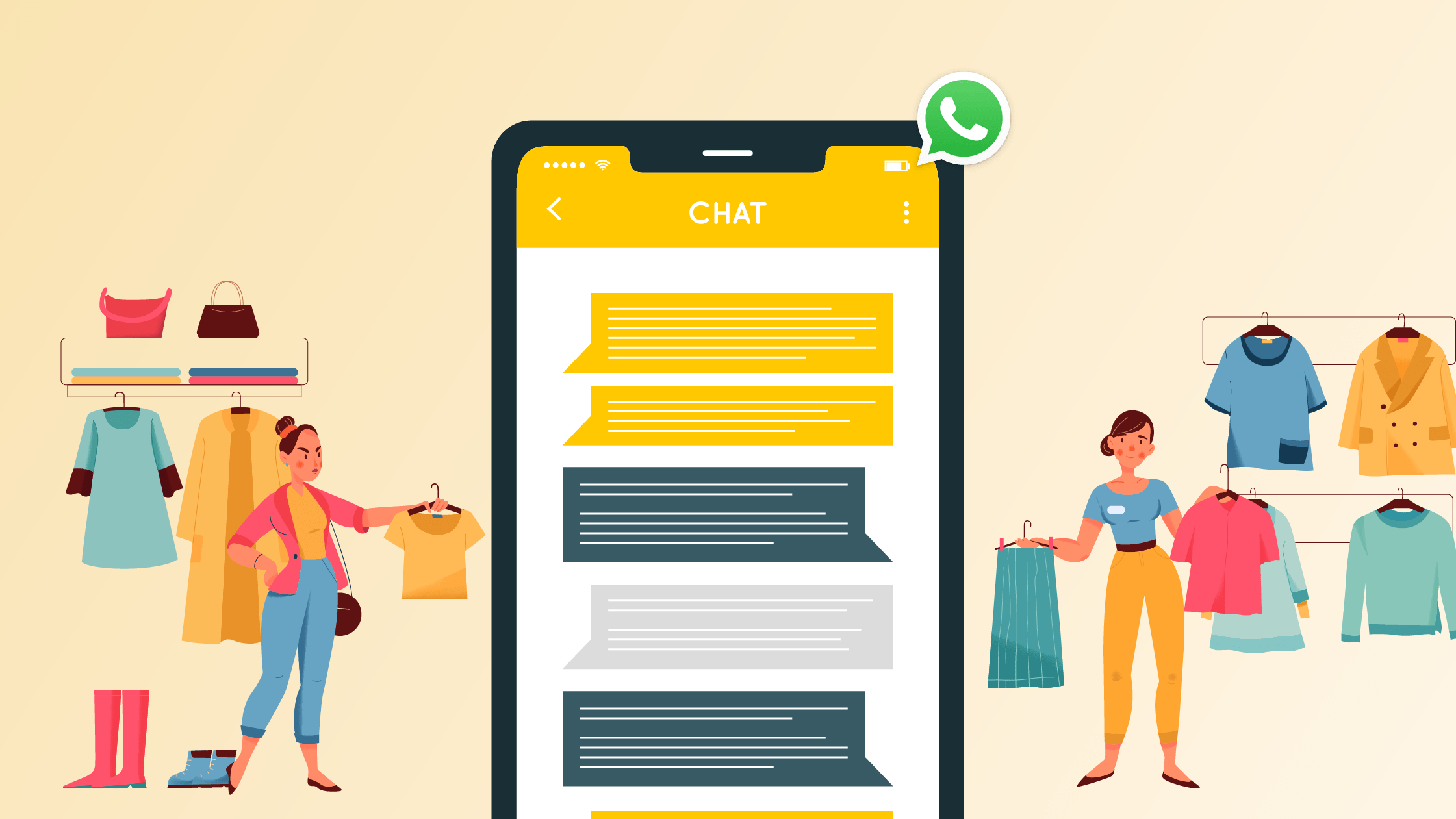 WhatsApp Broadcast Ideas And Templates For Fashion And Apparel Ecommerce Stores
In our previous lessons, we have been talking all about using broadcast messages as a way to engage and sell to your WhatsApp opt-ins and existing customers. But if you're someone looking for ideas or need inspiration for your campaign before sending one, this lesson is for you.
This lesson includes a few WhatsApp broadcast ideas and templates you can make use of for your fashion and apparel store.
WhatsApp broadcast ideas and templates for fashion and apparel stores
Before you start browsing through the templates below, please remember that to set up WhatsApp broadcasts, you will need a WhatsApp Business API solution provider like Interakt. If you already have an account, let's take a look at some of the ideas:
1. New opt-in
Once you get a consumer to opt-in to your WhatsApp – be it via making a purchase or simply subscribing through one of your campaigns, make sure you have a broadcast campaign ready to keep them engaged.
Example
Hey Jenna,
Welcome to BuzzFasion!
We will be sending you updates on ongoing and upcoming sales, deals and discounts here every week so that you don't miss keeping up with your favorite celebrities!
PS. There's a 25% off running on our new arrivals.
Check them out today!
2. New customer account sign up
Most eCommerce stores have a customer account sign-up option. When customers sign up, you can send them a welcome or thank you for a message via broadcast. Here are two examples:
Example 1
Hey Myra,
Welcome to BuzzFashion!
You have successfully signed up for a customer account on BuzzFashion.com.
You can log in at any time and enjoy shopping. Don't forget to check out our sales section.
To unsubscribe, reply 'STOP' to this message.
Thank you
Team BuzzFashion
‍
Example 2
Hi Pavlov,
We're thrilled you signed up on Buzz Fashion!
We've added 100 reward points to your account.
Avail 10% off on your first purchase.
Use code: 10BF
Enjoy!
www.buzzfashion.com
3. New collection launch
Fashion and apparel brands launch new collections many times during the year. One of the best ways to promote collections, pre-launch them and generate a buzz around them is via WhatsApp broadcast. Here are some examples:
Example 1
Hola Gen,
You're in! We're so excited to give you a peek into our new collection.
We love it and we know you'll love it too.
Launching 20-10-2022
Check out this link to see the first pieces.
‍
Example 2
Hey Pamela,
Summers are here and we're pretty sure the outdoors feel sultry.
But we're here to make it easy and breezy!
You'll love our new Summer collection – florals, pastels, breezy silhouettes, and fun designs.
Check it out: www.shop.com
Happy shopping!
4. Upselling
Let's say a shopper checked out a digital watch on your site for a long time but didn't buy it. You could prompt them to buy that watch or offer them better options. That's what upselling is all about – to offer something of more value to customers.
Example 1
Hello Greg,
The digital watch you liked is still available. And we have some better options too, which we think you might like.
You can also speak to one of our experts to get help!
Explore now.
Speak to our experts.
‍
Example 2
Hey Tina,
We noticed you've bought a couple of (Brand name) bags lately. It's time to upgrade your collection with the latest designer bags from (Another brand name).
Shop now: (link)
5. Cross-selling
When customers buy an item, it's an opportunity for you to sell them something else that compliments their purchase. For example, if a customer buys pants, recommend belts to go with them.
Example 1
Hey Ian,
Thank you for your recent purchase of running shoes. We have a range of socks to go with it – ankle, short crew, and over the calf.
Would you like to check out socks?
Complete the look!
‍
Example 2
Complete the look, Lina!
We hope you like your new pink top.
Now check out the perfect jackets to go with it.
Here's an exclusive offer on jackets especially for you.
Click below to unlock your offer.
Unlock offer.
6. Abandoned cart
Abandoned carts are common occurrences. Retailers have to bring back customers through promotions and incentives. One of the easiest ways to get customers to do so – is through WhatsApp broadcast. Here are two templates:
Example 1
Hey Gen,
The items you left in your cart last time are on discount for the next 2 hours. And they're running out fast!
Would you like to avail the discounts and shop now?
Head over to your cart!
‍
Example 2
Hey Frank,
If you're still interested in purchasing the XD Black Smart Watch in your cart, now's the time!
Get free shipping—only today.
Buy now!
7. Sale/ discounts
Before you launch any sale, you can build hype around it through WhatsApp broadcast. For instance, send 'save the date', reminders, and count down messages. Here are some examples:
Example 1
Hey Eva,
It's that time of the year again — ShopTop's Annual Sale starts on October 1.
To know our real deals and discounts, subscribe to our special sale newsletter.
Would you like to sign up?
Yes, sign me up!
‍
Example 2
20.11.2022 — Mark your calendars! Our Annual Sale begins in 20 days. Massive discounts up to 60%. Make your pre-sale selections and save your favorites.
Do you want to start exploring products?
Yes, take me to your site.
8. Trending items
Fashion is all about trends. And as a fashion store, you should make the most of trends. If you have trending items in your store, it's a good opportunity to run WhatsApp Broadcast campaigns.
Example
Hiya Lola!
Everyone's going crazy over neon stilettos this Summer.
Grab a pair before it's gone!
Use code: 10Neon for 10% off
Shop now.
9. Restock alerts
Since fashion and apparel is an industry where products are fast-selling and can run out of stock, you should definitely put in place a restock alerts strategy. Here's how you can send restock alerts via WhatsApp broadcasts:
Example 1
Hey Carla,
We kept our promise! You're the first to know that the Red Glory Bag is back in stock!
It's selling out fast. Should we reserve one for you right away?
Reserve for me | Buy now!
‍
Example 2
Hey Jim,
Thank you for waiting for the Gem Leather Jacket. We admire your patience and so, here's a 15% off on the jacket if purchased today.
Grab it now!
10. Feedback
Did you know that 90% of consumers check ratings and reviews before they buy products from online stores? To gather social proof for your Shopify store, always ask your customers for feedback. Here's how.
Example 1
Hey Ella,
Thank you for purchasing from Fashion.co
Please spare a few seconds to rate your experience.
5   Excellent
4   Good
3   Nice
2   Bad
1   Horrible
0   Skip
‍
Example 2
Hi Ella,
Thank you for your feedback. To make your future shopping experience more enjoyable here's 10% off on your next order.
Use promo code 10Reward
Have a good day!
11. Content/ blog promotion
Blogs and other content such as articles on styling, tips, and fashion trends are a must-have. And to ensure your content reaches the maximum number of people, you'll have to promote it. You can use WhatsApp broadcast for that, too.
Example 1
Hey Sam,
We've been quiet on our blog lately, that's cause we were putting together some fabulous articles on fashion and styling tips.
Our blog is ready in its new avatar.
Read here | Explore lookbooks
‍
Example 2
Hiya Max,
Looking for new styling tips?
Head to our blog. Our latest posts cover men's casual and formal wear trends in detail.
Read now | Explore celebrity looks
12. Survey/ poll
Whether you want to add a new fashion vertical or want to get insights into your customers' preferences, one of the best ways to go about it is to conduct surveys and polls and find out directly from your customers. Here's how.
Example 1
Hey Leela,
Thanks for shopping from our site over the years.
We'd like to know what more you want to see in our store. Choose from the options below.
• Eyewear
• Footwear
• Jewelry
• Bags
• Sportswear
Thank you!
‍
Example 2
Hi Sam,
Please take a few minutes to respond to our survey.
Which is the feature you most enjoy using on our site?
• Reward points
• Easy EMI payment
• Curbside pick-up
• 1-day delivery
Your response will help us understand your preference better.
13. Re-engagement
At times, you'd have to bring back customers to your site, engage them, and spark their interest in your brand and products again. Here's how to do that:
Example 1
Hola!
We've missed seeing you on YouShopHere.com
We've just added 200 credit points to your account.
Use them the next time you shop on our site.
Do you want to check out what's new in our store now?
Explore Site Now
‍
Example 2
Hi Pamela,
You're missing out on all the season's trends.
Log in to your account on YouShopHere and find a surprise shopping voucher.
Valid for 2 days only.
Log in Now!
Ready to send out your first WhatsApp broadcast?
WhatsApp broadcasts can be used in a number of ways for different segments of your consumer base – new subscribers, new customers, loyal customers, engaged or inactive buyers, and more.
Just remember, that before you actually start sending them broadcasts, you have their opt-in in place.
This is where using a WhatsApp Business Platform comes in -from setting up calls to actions to get you opt-ins to automating your broadcasts, platforms like Interakt can do it all.
If you don't have an account yet, sign up on Interakt today.
Looking for more inspiration? Head over to our next lesson to check out how other industries can use WhatsApp broadcasts.