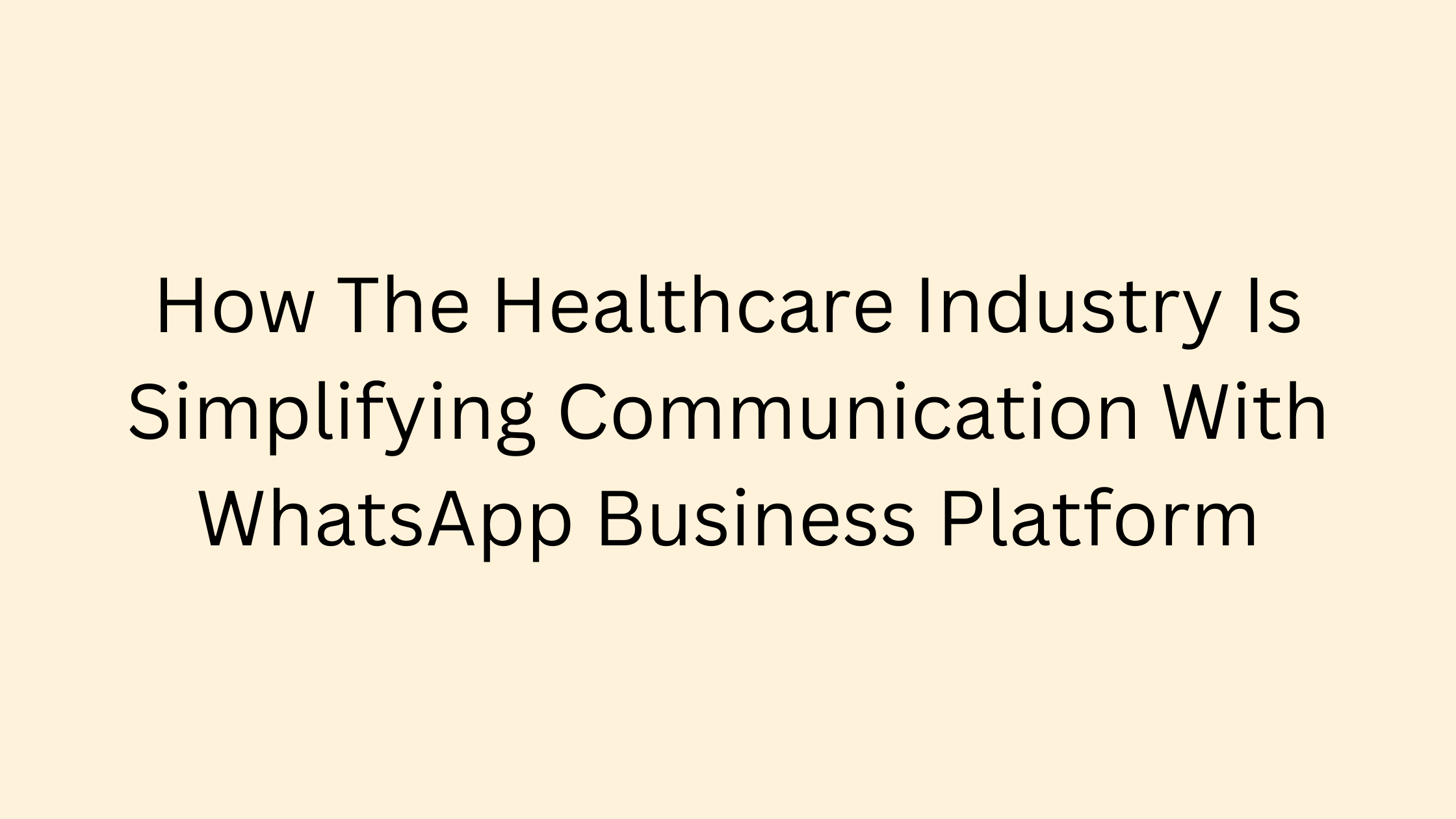 How The Healthcare Industry Is Simplifying Communication With WhatsApp Business API | Interakt
The healthcare and medical industry aren't far behind in adapting to technology, as the world changes and evolves. Healthcare eCommerce has been rapidly growing over the past few years, with the global market size expected to grow from $261.25 Billion in 2021 to 613.94 billion by 2026, at a CAGR of 18.7%.
As the industry continues its move toward digitizing its communication, WhatsApp is increasingly becoming a channel of preference amongst healthcare organizations, professionals, and even consumers.
Why is WhatsApp Picking Up in the Healthcare Sector?
For an industry like healthcare, where simple and effective communication is of critical importance, WhatsApp brings a lot of value to the table. These are some of the key benefits of using WhatsApp in the healthcare sector:
– Encryption: WhatsApp messages are end-to-end encrypted, meaning that it is a safe and secure channel for sharing medical information.
– Accessibility and Comfort: WhatsApp is one of the largest messenger apps out there, with more than 2 billion users globally. With it, healthcare organizations can reach patients from a channel where they will feel at ease.
– Automation: Using the WhatsApp Business API healthcare companies can set up smart chatbot automation to deal with queries and lighten the load on human staff.
– Patient and Judgment-free communication: Chatbots are impartial and designed to be polite to patients.
– Personalized Attention: WhatsApp will let you provide a hands-on, personalized experience where each patient gets unique attention.
– 24/7 Availability: In the healthcare industry, where rapid communication must be guaranteed round the clock WhatsApp is an ideal communication channel with 24/7 availability.
– Ability to send rich media: Healthcare professionals often need to share prescriptions, videos, and similar educational content with patients; the same holds true for organizations. With WhatsApp, you can include videos, images, and PDFs in your broadcasts with ease.
How to Use WhatsApp in the Healthcare Industry?
WhatsApp is catching on quickly in the healthcare sector primarily as a cost-effective, popular channel for communication. Let's look at a few ways in which the WhatsApp Business API is being used across the healthcare industry:
Scheduling Appointments:
One of the best and most obvious ways to leverage WhatsApp is by using chatbots to schedule and manage appointments. Chatbots allow patients to easily book appointments, cancel appointments, reschedule or check on any upcoming bookings they have.
"Hello, Bob! For your upcoming dentist's appointment tomorrow, the time slots of 10:00 AM- 10:30 AM and 03:00 PM-03:30 PM are available for booking. When can we expect you?"
Appointment Reminders:
After a customer successfully books an appointment, you now need a system that sends reminders to your patients about upcoming appointments. And WhatsApp being a channel that patients are likely to check daily, you can alert them and lower the chances of a missed appointment.
"Hello, Carl. This is a reminder from HealthScan about your Ultrasound Scan booked for tomorrow, 24th September at 10:30 AM. See you then!"
Access to Patient Health Records:
A patient's medical history is very important for healthcare professionals to understand the patient's condition and provide appropriate treatment. With WhatsApp, patients can share their medical records and medical history securely through a chatbot, before their appointments.
"Hey, Brianne. You can share your previous medical records in pdf or jpeg format here, to be referred to by your doctor."
FAQs and Quick Answers to Patient Queries:
FAQs are one of the most obvious ways in which WhatsApp chatbots can be used and in the healthcare sector, there can be a lot of such commonly asked medical queries. With WhatsApp bots, provide quick real-time support to patients. For more complex queries, the bot can assess and forward the data to your team of professional medical support agents.
"Hey, Sheela. Thanks for reaching out to us! Your query is being forwarded to our medical professionals, who will contact you shortly."
Lab Result Notifications:
You can use WhatsApp as an alternative to email when sending out lab results to your patients. This is straightforward and simpler than having to log in to complicated portals to access lab reports.
"Good afternoon, Rahul. Your blood test result from Medihub Lab is here. You can contact our healthcare professional for further medical advice."
Symptom Evaluation:
WhatsApp chatbots can also be employed for providing patients with automated symptom evaluations. The bot can assess symptoms, give preliminary advice to help with the symptoms, and in complex cases, can direct patients toward appropriate medical attention.
"Hey, max. Thanks for reaching out to us. We would like you to answer a few questions for an initial symptom evaluation before recommending the right medical professional for you."
Prescription Management:
WhatsApp can also be used to send out prescription slips, update on any changes in previous prescriptions, reminders to take medication, and ask for feedback on medication (results, side effects etc.).
"Hey, Josh. Here is your prescription slip from Dr. Wayne. You can get the prescribed medication from your nearest Prima Medicare Store."
Remote Counseling:
You can use WhatsApp, to provide cost-effective message-based counseling sessions, making mental health care more accessible to patients who might not be able to access a face-to-face form of therapy.
"Hey, Nick! We are glad that you reached out to us! We are happy to help. Would you like to talk to one of our professional mental health counselors?"
Medical Research:
WhatsApp can also be used to collect medical data, identify patterns from patients and send questionnaires to people for conducting research.
"Hello, Sid. Do you have a couple of minutes to answer our research questionnaire about mental health?"
Health Insurance Guidance:
Many patients are bound to be confused when dealing with health insurance, and questions are bound to come up. You can employ WhatsApp chatbots to answer these insurance-related FAQs, collect documentation from patients to process their claims etc.
"Hello, Sayed. Welcome to FutureCare Co.'s WhatsApp customer support experience. For health insurance-related queries reply '1'. For info on your Health ID type '2'."
Payments:
You can process payments, and send out purchase receipts and outstanding invoices, on WhatsApp. (Note that you cannot use WhatsApp to promote and sell medicinal drugs.)
"Good afternoon, Ashwin. Here is your purchase receipt from Bio Health Pharma."
Feedback from Patients:
Having a solid patient feedback system, like in any other industry, is essential for a healthcare organization to improve. WhatsApp automation makes both requesting feedback from patients and submitting feedback to healthcare organizations extremely simple.
"Hello, Roshni. Your feedback allows our organization to constantly grow and provide a better healthcare experience. Could you take a moment to give us brief feedback on your experience with us?"
Start Using WhatsApp for Healthcare!
The healthcare industry is all about timeliness and punctuality, as a lot is at stake. Healthcare organizations constantly need to look for faster ways of communicating with patients and find better channels that allow for quicker responses. WhatsApp is certainly an ideal channel but there is more that needs to be done.
Being timely and efficient requires automation, sequential drips, and follow-ups to connect with patients. These features can only happen by unlocking WhatsApp's full potential with the WhatsApp Business API.
With Interakt, you will be able to make use of the WhatsApp Business API to set up smart automation, enabling highly responsive and efficient communication.