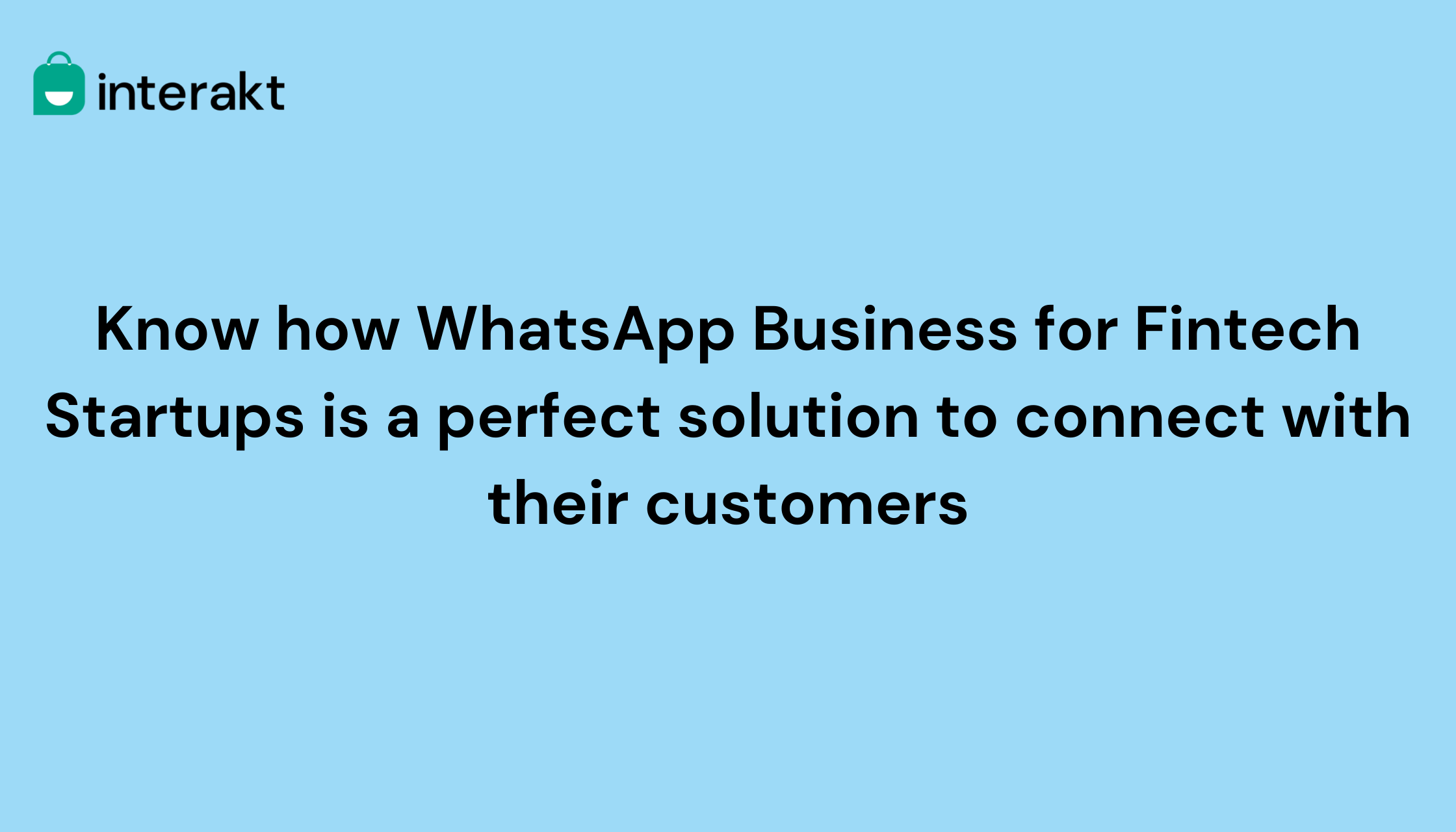 Know how WhatsApp Business for Fintech Startups is a perfect solution to connect with their customers
WhatsApp was launched more than a decade ago, and no one knew back then that it would become an indispensable part of our lives and businesses. Today  WhatsApp is empowering many small and growing businesses all across the globe. For several SMBs, WhatsApp is the go-to platform for customer interactions and businesses in the Fintech startups are no exception.
Is WhatsApp for Business the right solution for Fintech startups? 
There are more reasons than one why Fintech startups should use WhatsApp for Business.
WhatsApp with its incredible features serves as the perfect solution for connecting with your customers. It is a two-way communication channel with personalization at its core-something that most customers crave. To keep up with the growing customer expectations, you have to step up your game. You need to offer quick and personalized services which is something that WhatsApp is capable of providing.
Most of your clients are users of the app, so why not connect with them on their favourite channel? 
Moreover, WhatsApp messages have a high open-rate. They are read within the first 5 minutes of it hitting your recipient's phone. So any communication sent through WhatsApp will not go unnoticed. Therefore, it is pretty clear that WhatsApp Business is the right channel to boost sales and engagement for your business.
Let's now take a look at how Fintech startups can make the most of the WhatsApp Business platform to offer delightful customer services.
How can Fintech startups use WhatsApp Business better?
Here is a rundown of the use cases of WhatsApp Business for Fintech startups.
1. WhatsApp as a lead generator
WhatsApp Business is an ideal tool for lead generation. Apart from acquiring new leads, WhatsApp can be used as a remarketing tool as well to reach out to cold or inactive leads. If you have access to WhatsApp Business API, you can use Facebook Ads that click to WhatsApp to start a conversation with potential leads.
Here is how Fintech startups can use WhatsApp Business for lead generation-
• Establish quick contact with leads
• Automatically get a hold of client contact details
• Follow up with potential customers
• Target inactive or dormant users
• Maintain a good rapport with customers and leads
2. WhatsApp as a tool for customer support
Fintech startups need a superior chat platform to offer the best customer service. If you are receiving more customer requests than you can single-handedly manage, it's time to look at the WhatsApp Business API. To access the advanced version of the WhatsApp Business you will need to approach a service provider like Interakt.
With Interakt's top-notch features, Fintech managers can not only connect with their customers but offer instant support to them.
One feature on Interakt that Fintech managers can use is the WhatsApp chat widget which when added to your website or app gives your customers a chance to reach out to you instantly and start talking to your team in just a click. The shared inbox on Interakt is another important feature that allows you to manage all your customer requests from a unified platform.
Integration with WhatsApp Business API will save your business a lot of time and effort. You can use the quick replies feature to take care of frequently asked customer questions and your team can then focus on more important tasks.
Here is how WhatsApp Business can help you offer better customer support-
• Quick and responsive customer support
• Utmost data privacy and safety, thanks to end-to-end encryption on all WhatsApp conversations.
• Ability to use automated replies and greetings
• Customer satisfaction tracking and reporting analytics with WhatsApp Business API
‍
3. WhatsApp as a tool for marketing 
Fintech companies can use WhatsApp for Business as a tool for promoting their products and services. The WhatsApp Business account allows you to send promotional messages to opted-in customers. This is a great way to market your products and increase sales. WhatsApp supports the sharing of rich media in the form of images, audio and video files which can be used to run a variety of marketing initiatives.
Fintechs can use WhatsApp for Business to –
• Send promotional messages and alerts
• Share automated bulk messages to a large number of contacts
• Initiate video marketing campaigns
‍
4. WhatsApp for Self Service 
Today, many customers want to find answers to their queries on their own. So, it helps if you make the effort to invest in self-service options like a knowledge base with answers to FAQs that can give customers instant answers and solutions to their problems. This will not only add value to the customer journey but help
you gain a competitive edge in the Fintech sector.
With WhatsApp Business, you can –
• Set canned responses
• Send automated messages
• Share quick information with a resource centre
WhatsApp Business API for Fintech Companies
Get started with the WhatsApp Business platform and offer personalized and instant services to delight your clients. Sign up today to avail of the 14-day free trial.