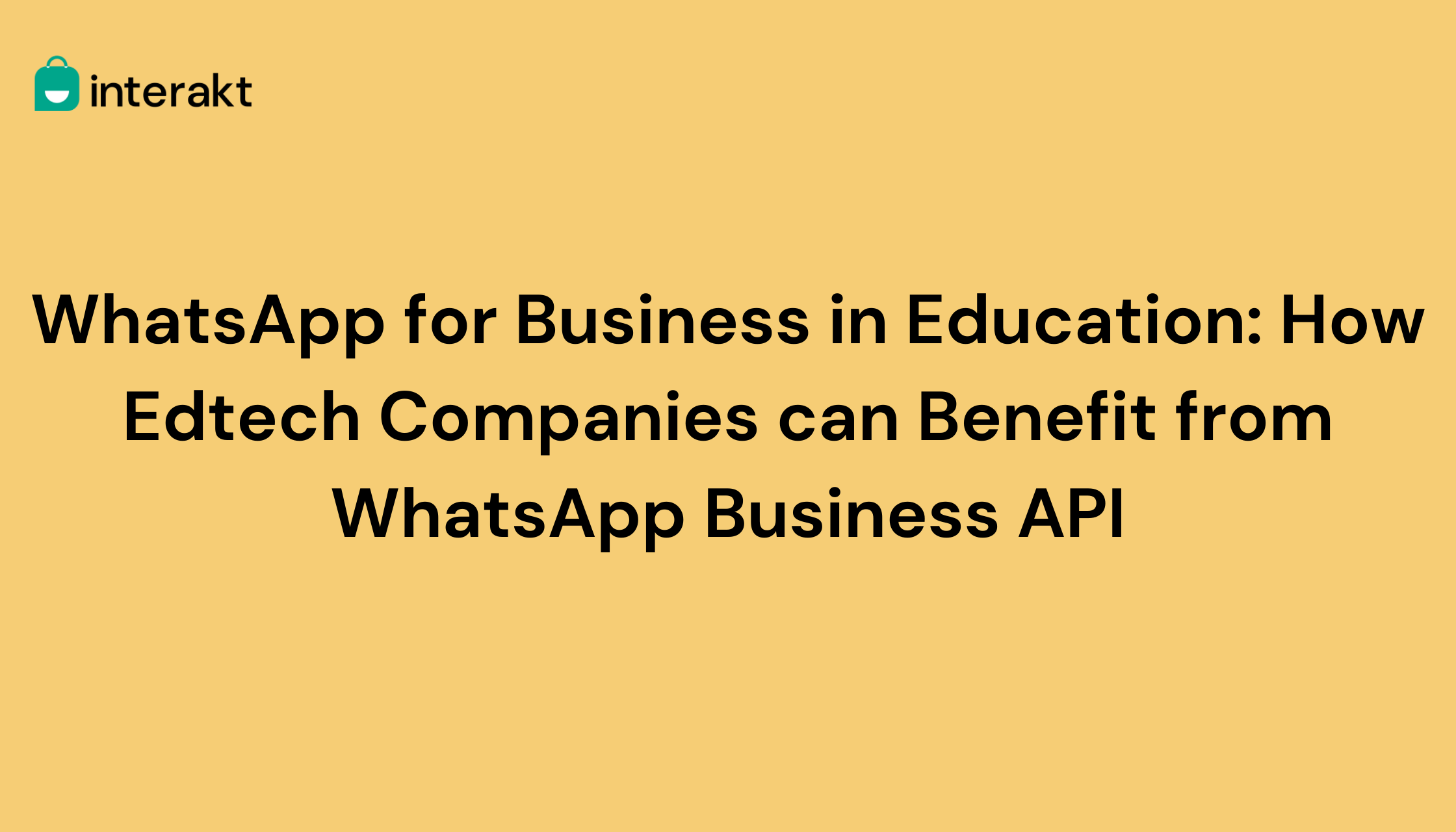 WhatsApp for Business in Education: How Edtech Companies can Benefit from WhatsApp Business API
Even before the Pandemic could strike, the education industry was under financial pressure. The pandemic added to the woes and sent shockwaves to the education system when schools were forced to shut down due to the nationwide lockdowns that were imposed. Public and private schools were faced with severe challenges with the increasing number of dropouts, reduced student enrollment and high learning losses. However, the Covid-19 also paved the way for digital adoption in the school system, with the sector opening up to new and innovative ways of learning.
Messaging apps like WhatsApp became the go-to channel for educational institutions across the globe. With over 2 billion users worldwide, WhatsApp is the world's most popular instant messaging platform. This huge user base means that educational institutions can leverage the channel where most of their students are active and provide a wide range of personalized digital services that are best suited to a mobile-savvy generation.
Countless students all over the world are turning to WhatsApp to meet their education needs- to connect with teachers and peers, to learn remotely and boost their knowledge and skills. Online sessions through WhatsApp ensures that the quality of education is not compromised while helping students continue their learning despite the trying times.
Benefits of using WhatsApp in the Edtech sector
The use of WhatsApp in education is becoming popular, here are the reasons why-
• WhatsApp offers seamless real-time communication between teachers and students and teachers and parents.
• It is the ideal tool to use in low connectivity locations where digital resources to support online learning are scarce.
• WhatsApp has a user-friendly interface and is easy to use. Teachers who do not have access to video conferencing tools can use WhatsApp to conduct classes.
• WhatsApp is more dynamic and facilitates proactive interactions. Students can not only listen in but watch, learn and communicate with teachers from wherever they are located.
• To equip students and enhance their learning experience teachers can provide audio, video clips, notes, PPTs and other educational resources using WhatsApp.
• WhatsApp also facilitates teamwork and collaboration between students to help them learn better.
‍
Use cases of Whatsapp Business API for Edtech companies
Marketing efforts for educational institutions are getting more competitive by the day. Due to budget constraints, university marketing campaigns are often played down. To top it all, they have to target an entirely new set of students and parent audiences each passing year.
When the academic year is about to begin, you will see a large number of students and parents alike going through every piece of information they can find online from official websites to social media pages to public reviews. With most institutions having a strong presence online, how do you stand out? The answer lies in WhatsApp Business API. WhatsApp Business API provides you with a communication channel like no other. Here are the popular use cases of WhatsApp Business API in the ed-tech sector:
‍
1. Offer instant replies 
Allow students to connect with you and get more information about your institution on WhatsApp and delight them with instant responses.
‍
2. Engage deeply with automated notification templates 
Have students started filling out forms to enroll at your institute? How about sending them personalized WhatsApp messages to capture their interest with useful information about your institution?
‍
3. Create new leads
Students and parents are flooded with marketing content on the internet and are yearning for human connections to help them make the right choice. Instead of trying to generate leads through online ads or landing pages, you can redirect users to WhatsApp and engage in direct two way conversations. Such conversations allow you to share relevant information and follow up with interested candidates to increase enrollment.
‍
4. Initiate engagement campaigns 
At times potential candidates are not quite convinced to convert yet. However, you shouldn't give up on these leads. Use WhatsApp messages to pique their interest by sharing regular updates, news, announcements and notifications. This serves as an opportunity for you to re-engage your prospects in a creative and personalized way.
‍
5. Simplify the application process 
The application process can be quite demanding for your staff and students. A lot of paperwork and manual processes make it time-consuming and tedious for all those who are involved. With WhatsApp Business API you can keep candidates informed about the status of their application, schedule one on one interviews, handle FAQs and any issues that the students may have.
‍
6. Share class schedules 
Preparing timetables is one of the biggest challenges for educators. The timetable has to work for students, teachers and if the study takes place offline you will have to organize the place for it. WhatsApp is not only a great platform to share class schedules but also to send quick updates about changes, cancellations or rescheduling of classes.
‍
7. Gather student feedback 
Feedback is an excellent way to gauge user satisfaction and identify the areas that need improvement. With WhatsApp Business API you can gather productive feedback from students on the quality of the courses and tutorials, the faculty experience and much more.
‍
Ways to promote WhatsApp among students 
Here are 3 ways you can deploy to make sure students know that they can reach out to your institution on WhatsApp-
1. WhatsApp chat button – Adding a WhatsApp chat button to the key pages of your website will allow students to start a conversation on WhatsApp with just a click!
2. Click-to-chat- A WhatsApp click to chat button added to your Facebook Ad will instantly connect prospective leads to your institution when clicked.
3. QR codes- QR codes can be scanned from print ads, brochures or leaflets to automatically open a WhatsApp chat.
Why go for WhatsApp Business API?
By partnering with the official WhatsApp Business API providers like Interakt you can take the benefits of WhatsApp beyond a single classroom and use the platform for marketing your courses at scale. Get access to Whatsapp Business API and simplify the admission process, enhance student engagement and streamline the learning process. The WhatsApp Business API pricing in India varies from one service provider to another. However, at Interakt you can gain access to WhatsApp Business API for a reasonable fee of Rs. 999/- per month. Sign up today to enjoy a 14-day free trial.