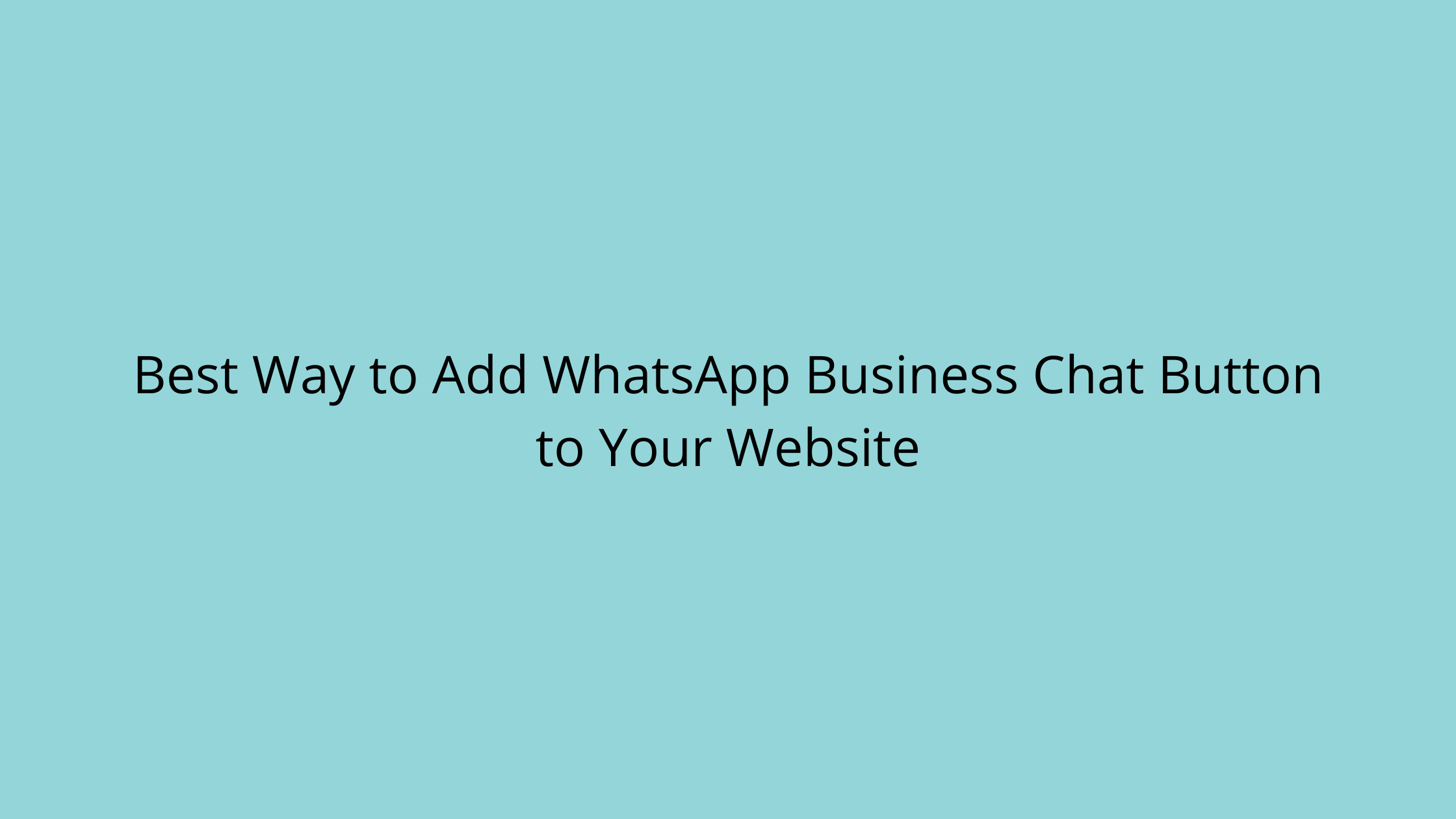 Best Way to Add WhatsApp Business Chat Button to Your Website
All over the world, people and businesses use WhatsApp to connect. In 2018, WhatsApp introduced the WhatsApp Business App to help small businesses streamline their business communication. Today, more than 5 million businesses use the WhatsApp Business App. WhatsApp went on to develop a solution for businesses that needed advanced tools for communication called the WhatsApp Business API. The WhatsApp Business API is made available through WhatsApp Business Solutions Providers like Interakt.
With WhatsApp Business API you can connect with people who start a conversation with your business or who opt-in to receive notifications and information from you via WhatsApp.
When customers message your business, you can use WhatsApp Business API to respond to them for free within 24 hours. Any messages sent beyond the 24-hour window will be charged a marginal fee.
Can your customers connect with your business with just a few taps on their phones? If your answer is "no" then you can change that by including WhatsApp Business API in your communication channels. By doing so, you allow your customers to chat with your customer support agents just like they talk to their friends and family.
‍Adding WhatsApp chat on business websites 
People visit your website for several reasons. Probably, they are interested in your products and are planning to buy from you, or they need help with a product or service purchased on an earlier visit or they might just be browsing. Irrespective of why they are there, you have a great opportunity to connect with them and improve their shopping experience by adding WhatsApp chat on your business website.
Adding a WhatsApp Business chat button to your website allows your customers to easily reach out to your business to find solutions to their problems. It's a great way to build trust and confidence in your business.
‍
What is a business chat?  
Ever since the creation of the internet, chats have been around. From chatrooms to live chat, they are an integral part of our virtual lives. So much so that businesses have had to include live chats and messaging in their communication strategy to engage with customers.
But wait, aren't messaging and live chats the same? Though they overlap in some ways, they are two completely different chat mediums offering different levels of service.
Messaging apps allow customers to interact with a customer service agent online. But unlike live chats, these conversations are not held in real-time. In other words, there is no promise of immediate assistance. Whereas a live chat widget supports real-time conversations. The customer types out a message in the chat window and the live chat agent on the other end receives the message instantly and offers an immediate response to the comment or question posed.
‍
How does the business chat work? 
A live chat widget is a small window that appears in the lower right corner of a website allowing visitors to instantly connect with your business by just clicking the button. Customers can choose to click or tap on the WhatsApp chat button when they have a question they want an immediate answer to.
By adding the WhatsApp Business chat button to your website, you can reduce the number of calls that your representatives attend on any given day. It also presents you with an opportunity to overcome any sales objections that customers may have and lead them to make the buying decision.
With Interakt you can install a WhatsApp live chat widget that's customizable. You can choose the layout, colour, text and image that you want to include in the widget. You can add engaging messages and choose where you want to position the chat widget on your website.
So, if you are looking to offer great customer service and drive sales, we highly recommend adding the WhatsApp Business chat button on your website. ‍
How to add a chat button to your website? 
Interakt's chat widget makes it extremely easy for users to connect with you while they are on your website. The chat widget will redirect customers to a WhatsApp messenger window on which they can start a conversation with your team in real-time.
To install the chat widget to your website, head to the 'install tab' as shown in the below image.
You will see that there are 3 options available to add the chat widget to your website. All you have to do is copy and paste the code (either the Javascript code or the HTML code) to your website to install the WhatsApp Business chat button.
Most businesses prefer adding the chat widget to the homepage considering the high volume of incoming traffic on the homepage. Additionally you may add the chat widget to any other page where you are likely to receive a higher volume of traffic.
If you are a Shopify store owner, integrate with WhatsApp by adding the WhatsApp live chat widget on your store's website. A live chat widget will allow your customers to connect with your team instantly and engage in real-time conversations.
‍What are the benefits of WhatsApp chat on business websites 
According to a recent study, 79% of businesses say that adding live chat has improved sales, revenue and customer loyalty. Here are the top reasons why you should consider adding a WhatsApp Chat Widget to your website:
‍1. Stay in touch with your visitors even after they leave your store
When a website visitor connects with you on live chat, you can't continue the conversation once they leave your website. With very little patience, and in need of quick answers, customers leave your website faster than you can imagine. Unless you have all the time in the world to instantly reply to each one of the messages.
But that's not the case with WhatsApp. When a customer clicks on the WhatsApp chat button, they need not stay on your website awaiting an answer from your end. The conversation can continue even after they leave the store – giving them a better shopping experience and giving you more time to reply.
‍2. Build a personal relationship with your customers 
WhatsApp is a platform that people use several times a day to stay in touch with their friends, family or peers. By positioning your business in that environment, you automatically create a more personal relationship with your customers. Especially if you can respond quickly and use the right informal tone that everybody uses on the platform.
‍3. Scope for creativity 
When customers reach out to you on the WhatsApp live chat widget, you can use many fun elements to keep your conversations lively and engaging such as emojis, images, videos and audio clips. You can also share product demo videos and user-generated content to educate customers and keep them updated on your latest offering.
Way to add a WhatsApp Business chat button to your website today!
The WhatsApp Business Integration has benefited countless commercial websites and businesses. Add the WhatsApp live chat widget to your website and unlock the benefits it delivers. Wait no more, get access to WhatsApp Business API and boost the power of conversational commerce. Sign up today and get started with a 14-day free trial.