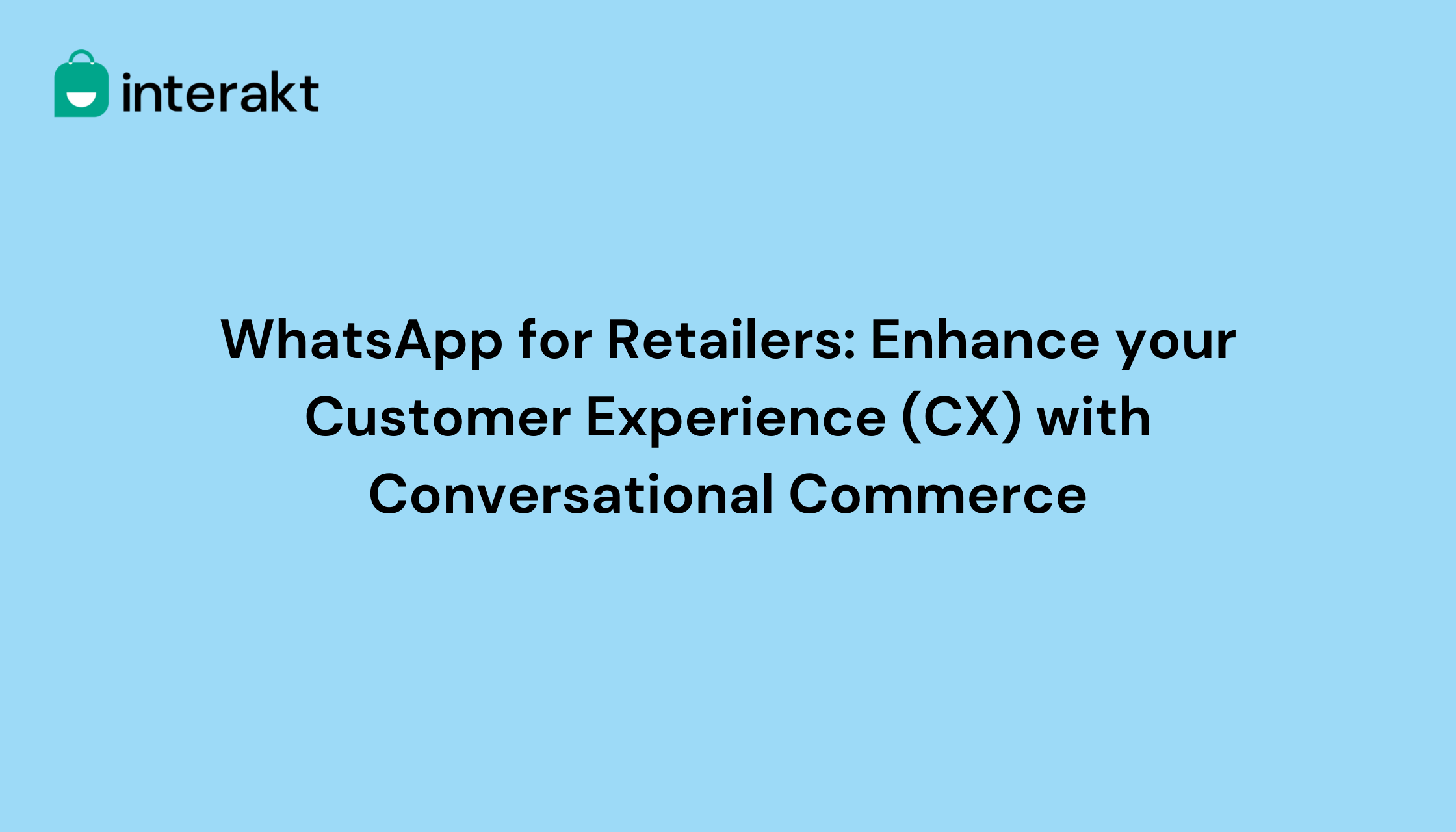 WhatsApp for Retailers: Enhance your Customer Experience (CX) with Conversational Commerce
With the increasing number of WhatsApp users, you have probably heard all about using the messaging app for marketing purposes. In fact, a number of businesses are already using the channel for promotional campaigns around their deals, discounts and offers.
But what if we tell you that WhatsApp holds the potential to do more than just marketing?
The conversational marketing channel has the capability to also enhance the customer experience (CX) you offer across their buying journey. Here's how!
How to use WhatsApp to enhance customer experience (CX)
‍1. It brings back conversations into ecommerce buying

Think of the last time you went into an online store site, and made a purchase. You looked for the product, read the description, viewed the product images and used your judgment to decide upon a product that will fit into your criteria before making the purchase.
This above scenario is as dry as can be with the whole process having zero human essence to it. But on WhatsApp, you can humanize the entire experience to reflect glimpses of what in-store shopping looked like.
With WhatsApp Business API in use, customers can reach out to businesses with questions and queries that can address their pre-purchase anxiety. From information about sizing guides to shipping and delivery policies and more, a business can set up automations for them all to and address queries in a more conversational, natural manner.
2. It enables personal guided shopping

Studies have shown that nearly 80% of consumers make a purchase decision based on their conversation with a brand.
With the WhatsApp Business API, you can actually not just up your customer support, but also provide product recommendations, confirm orders and take payments directly within the chat app. This makes the entire shopping experience more streamlined, quick to complete and personal, imitating a face-to-face transaction in brick and mortar stores. Digital guided shopping via chat is now a possibility! ‍
3. It helps address bad customer experiences 
As an online retailer, you cannot fool-proof how you ship out orders; especially when you're doing it at scale.
Now this may sometimes result in the wrong order reaching the wrong person. While it's human to make mistakes, the experience thereafter can sour the relationship between you and this customer.
Typically, returning a wrong order requires a customer to email, call or submit a request on the brand's website. But the process is time-consuming and often overwhelming.
With WhatsApp though, these customers can notify the business of a wrong order, share pictures and other information of the same, converse with them to explain the problem and get a resolution much faster.
If your business is using the WhatsApp Business API, you can even set up a streamlined automated workflow to handle these queries. Equip customers with information around your return/ refund/ exchange policies, and lay out the next steps with conversational chatbots.
4. It helps boost customer engagement and drive loyalty

The proactive communication that WhatsApp Business API enables, helps establish trust in your customers. Being available to assist them in making an informed purchase decision, is what wins hearts and makes them want to choose you even when there are at least ten other brands to buy from.
With automated WhatsApp marketing campaigns, you can encourage your customers to join your loyalty program, and also ensure they actively participate in it. You can automate alerts with WhatsApp message Templates, media files and interactive buttons to share information on the loyalty points available for the customer to redeem.
The more visible and easy to track your loyalty points are, the more likely the customer is to come back to your store for more! This helps give a boost to your customer lifetime value.
5. It helps ensure order fulfillment/ delivery

Online shopping after the pandemic has become the most dependable and favored way of shopping for most people, depending on product types and needs. But what people also expect with this ease of shopping, is the ability to know their order status.
Now most eCommerce businesses have automated order status emails set up. But with the number of messages hitting our inbox every day, there's a high chance that a consumer may miss out on a crucial update. For instance, in times when they need to change the order delivery date or time.
This is where WhatsApp for Business comes in. With the help of the WhatsApp Business API, you can set up automated order status alerts, enable customers to request or make changes for order delivery and more to ensure a great experience end-to-end.
The ease of post-purchase order delivery added to your storefront experience, is sure to get you more brownie points.
Is WhatsApp Good For Retail Businesses?
In a time of intense competition in the online marketing arena, you need a channel that can offer more than just dry and direct one way communication. You need something that can offer a more personal one-on-one conversational channel that will feel more natural to the buyers.
So yes, WhatsApp is definitely the right choice for your retail business. With the WhatsApp Business API available to all businesses, tapping into the potential of this channel is no longer a dream.
Brands are starting to use WhatsApp Business extensively and its popularity among marketers is nothing to be surprised about, given the great number of advantages it offers. Using WhatsApp for retail results in an enhanced customer experience and improves the overall functional efficiency of the business.
The easy accessibility and improved response times contribute to building a more than satisfactory customer experience.
WhatsApp marketing lets you provide an exceptional purchase experience, inspire trust and build brand loyalty all from one platform.
And with the WhatsApp Business API, you can unleash the app's potential and leverage smart automations to optimize customer experiences using solution providers like Interakt.
Ready to transform your customer experience? Sign up on Interakt today.