How to send messages to your customers in one click?
Welcome to Interakt's Contact Management guide. It is also known as the All-Users Tab. The All-users tab is your very own smart contact book where you and your team can create, update and manage your contacts on Interakt.
You can either do a bulk upload of the contacts or you can add them individually. You can also get an overview of all your business contacts in one dashboard – right from their basic contact details like name, contact number, or email ID to tags and any other information that you choose to specify as a customer detail. Interakt's contact management feature lets you easily apply filters in the All-Users dashboard and pull up user details based on specific criteria. You also have the option to export your entire contact list or a filtered set of contacts as a CSV file.
In this module, we will understand the process of sending customized single/bulk messages to your customers on WhatsApp using Interakt's WhatsApp CRM & Contact Management features.
Transcript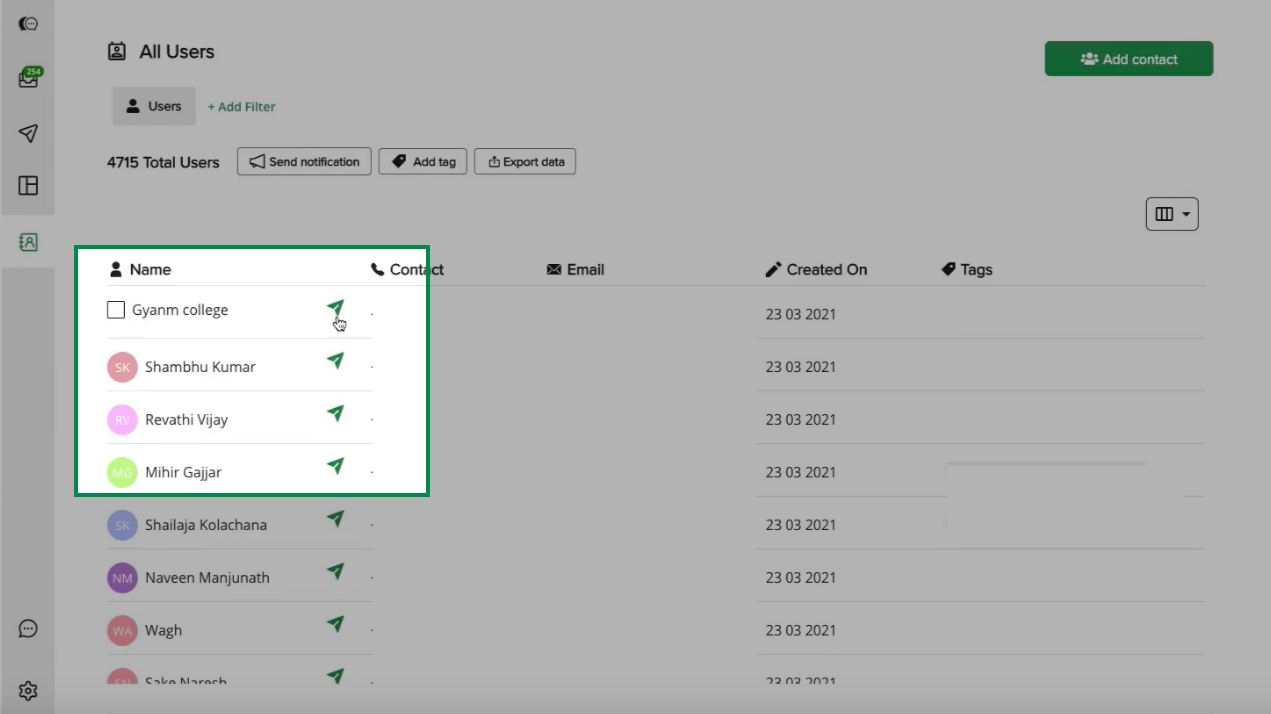 You can now initiate a conversation instantly with new customers or customers with whom you haven't spoken to recently, without setting up a notification campaign.

‍To be able to use this feature, you need to head to the All-Users section on Interakt. The green icon (with a 'Send Message' prompt) next to your contacts' name is the button you need to click to message your customer.
‍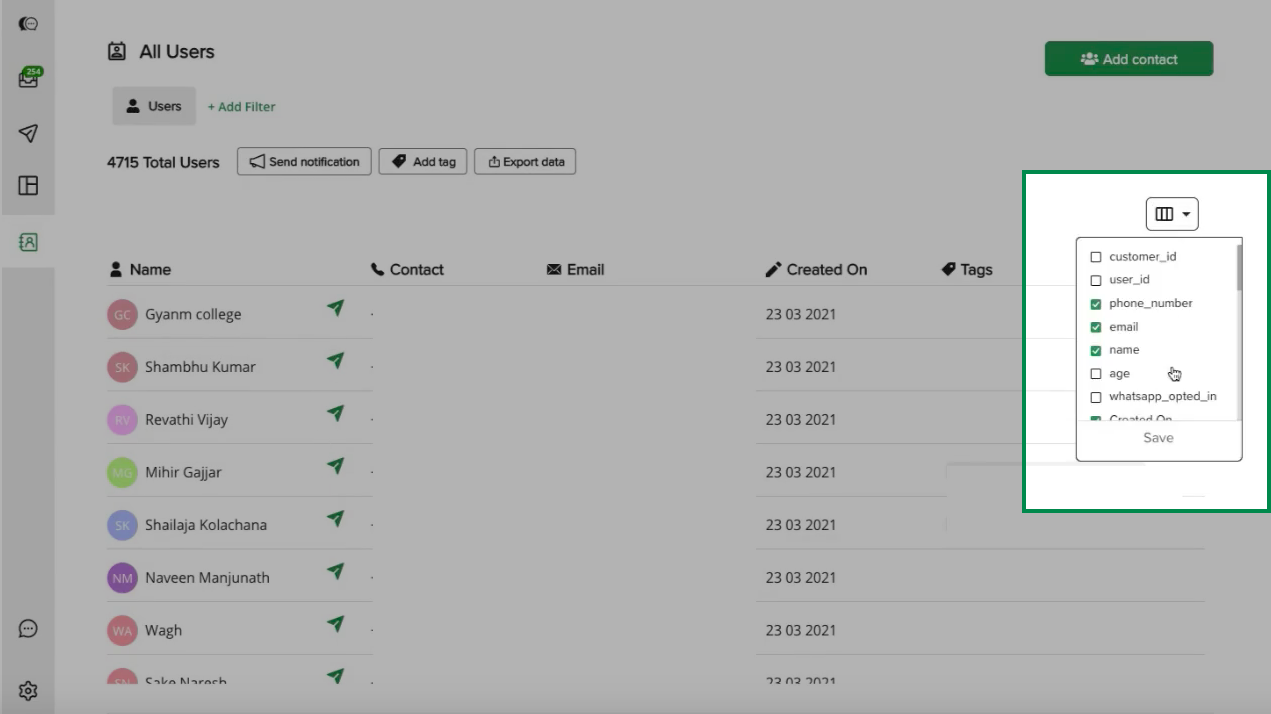 Even if you were to customize the view of this dashboard, this button will remain constant and appear next to your users' name.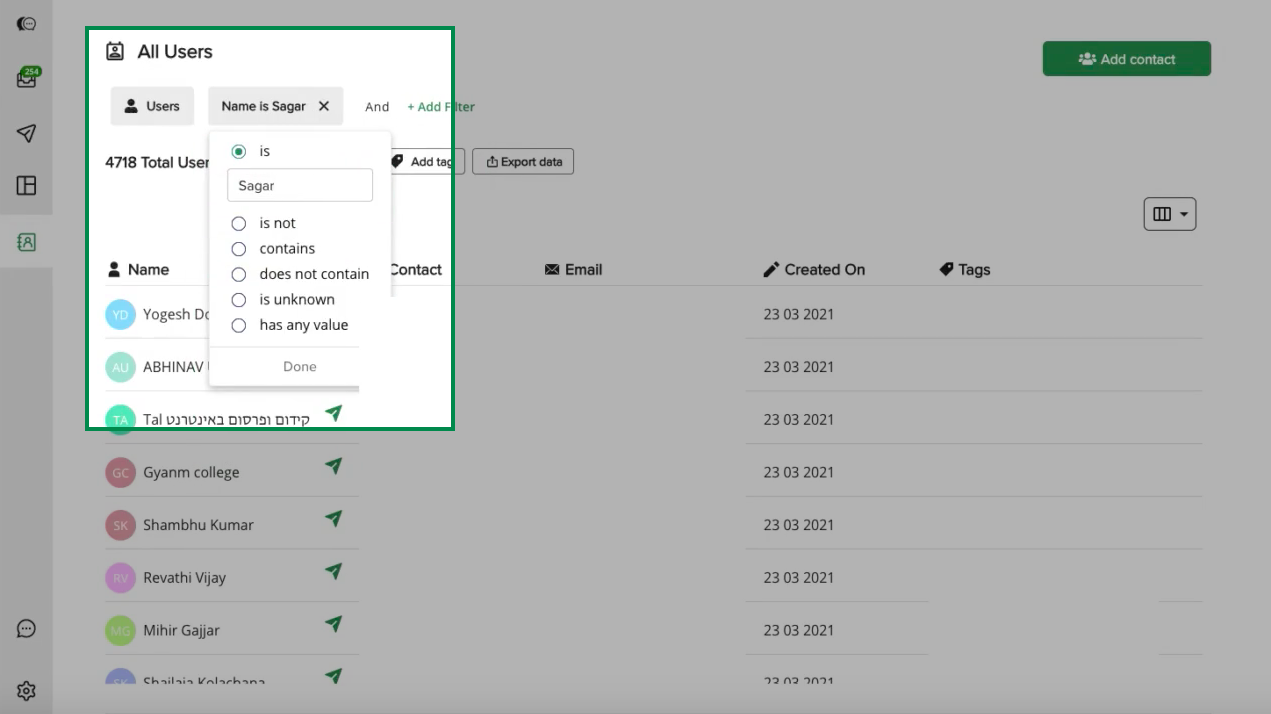 We'll help you understand this better with an example. We want to look up a customer named Sagar, whom we haven't spoken to recently.
‍
Finding Sagar would be quite a task prior to this feature as we would have to scroll through each conversation in the Shared Team Inbox section.
‍
All we have to do now is simply search for Sagar by using a name filter as shown above or we could even use any other user specific filter.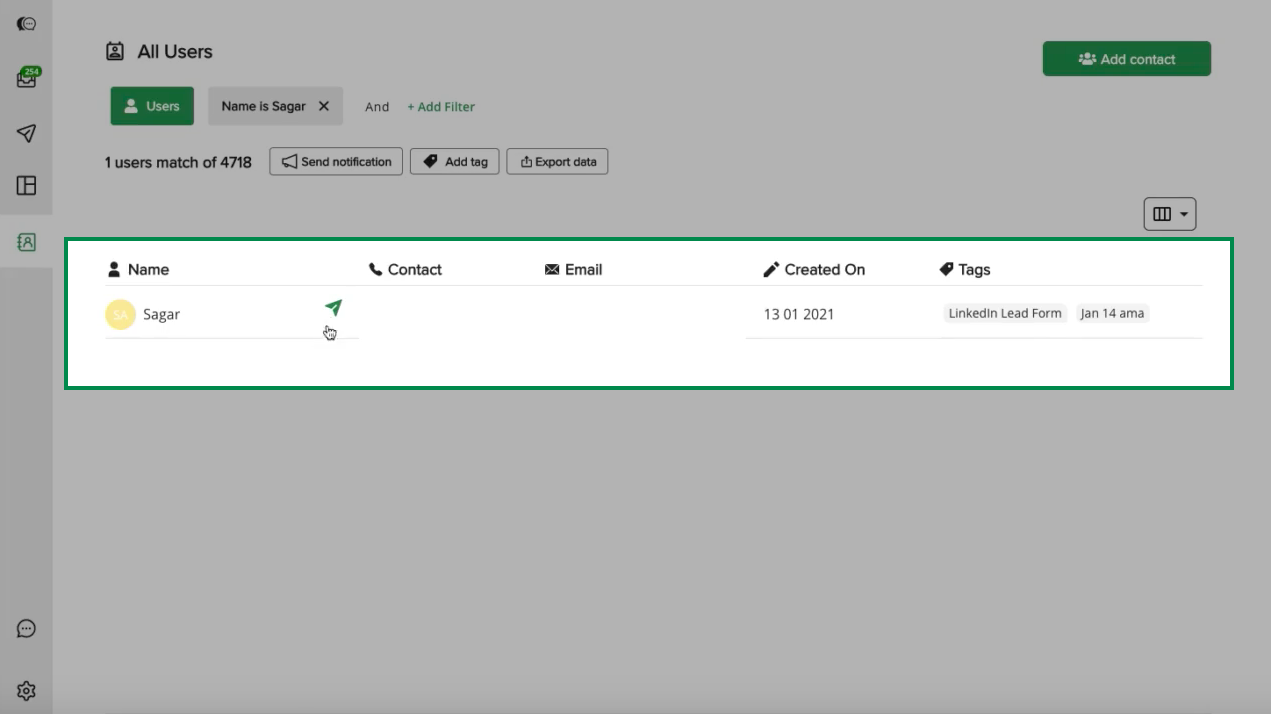 ‍
Once you have found the user that you want to message, you can simply click on this button which will then open up a new tab.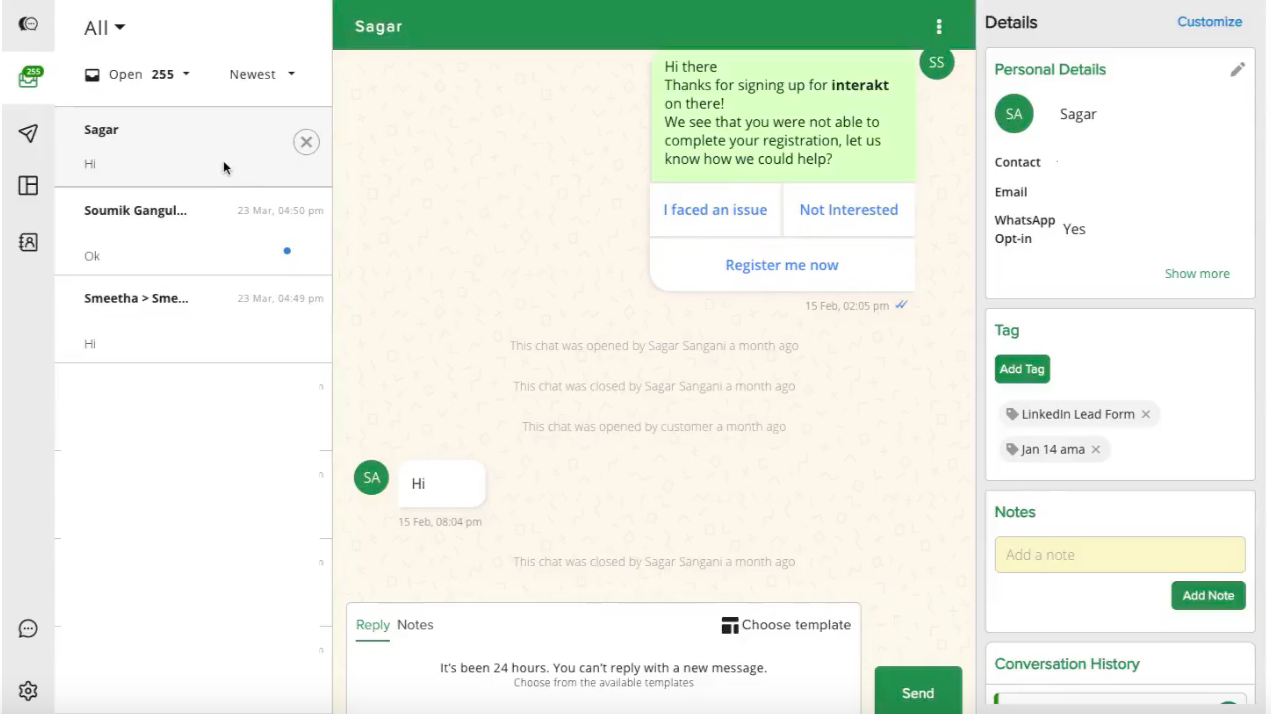 ‍
The new tab will have the chat head with Sagar opened up, right on top. Here you also get to see all the past conversations we have had with him including the notifications that were sent to him.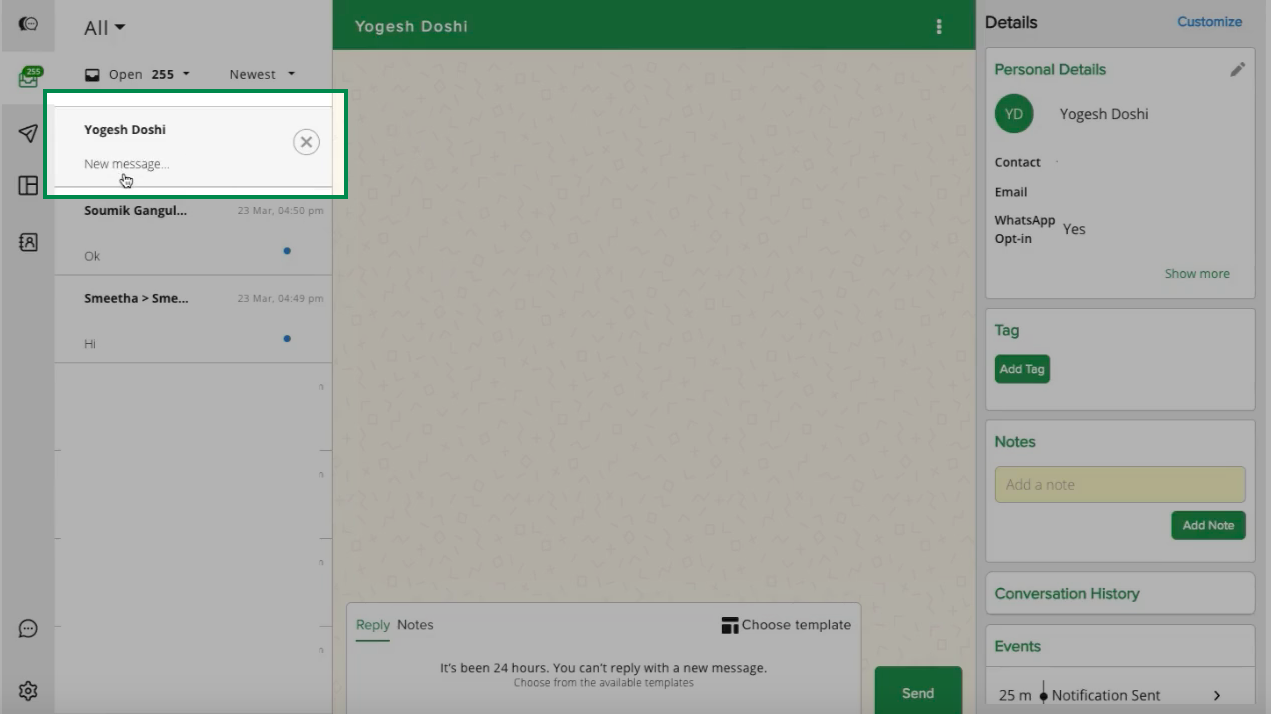 ‍
Now for instance, if there were no past conversations, the chat section then remains empty and the message reads "New message".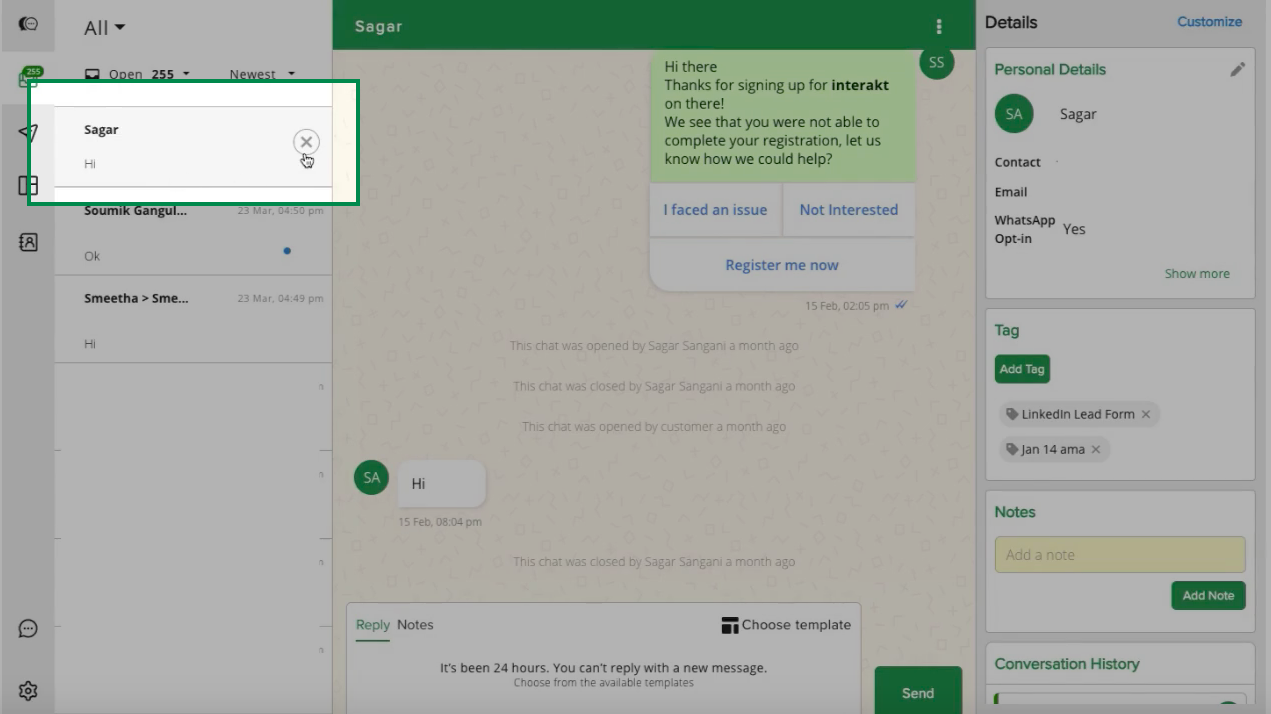 The conversation is always opened in a draft state, which means you can open older conversations as well and come back to the current one as you want to. If you wish to close the conversation in its draft state then you can do so by clicking the cross button.
‍
Once you've had the conversation with the user, it would automatically be updated in the Inbox section.
What are the advantages?
• Tracking, managing, and responding to customers becomes easier and faster with contact management.
• Sending timely & automated payments, orders & shipping notifications add value to end-customer experience.
• Instant responses to queries with rich-media files, quick replies & pre-approved WhatsApp templates simplifies the shopping journey for your customers.
Hope this article helped you understand how to get started with Interakt's contact management solution, how to update/manage existing contacts using the All Users tab, and what benefits does Interakt's platform solutions drive to your business growth.