How to auto-sync Shopify products & collections to WhatsApp?
You can install Interakt's WhatsApp Sales Channel App on Shopify Appstore to establish WhatsApp as a strong Sales Channel for your products.
Getting Started:
If you have already installed Interakt via our 1st app :
1. Go to Interakt's Commerce Settings:
2. In the 1st step, click on Install Sales Channel. 
(In case another catalog is already connected to your Interakt account:
• please disconnect that catalog from your Interakt account
• Also, if that catalog is connected to your WhatsApp Business Account, make sure you have disconnected it from there as well.)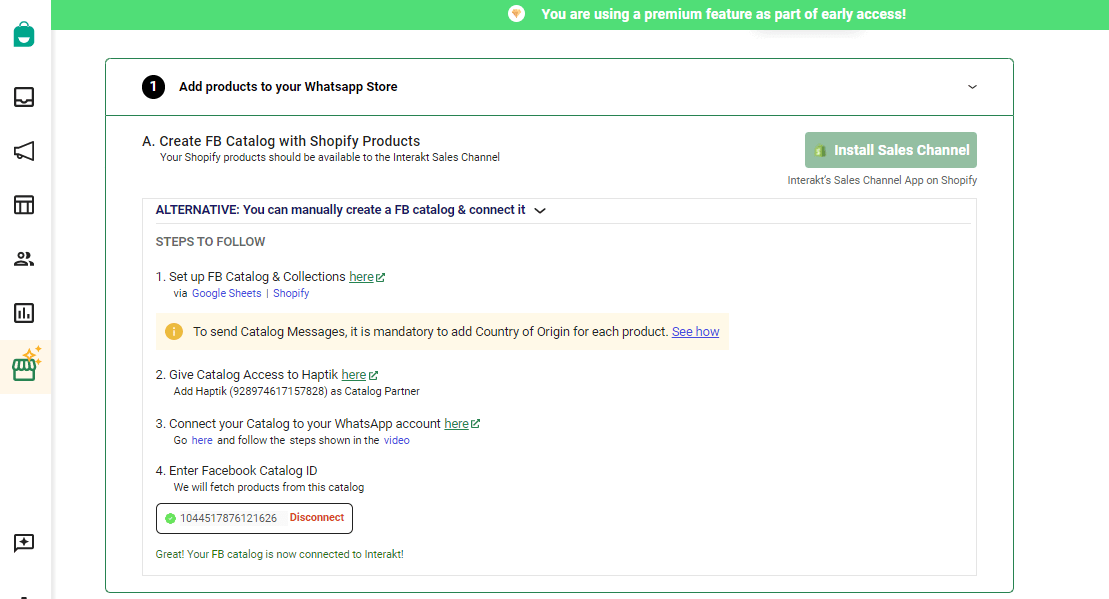 3. This will open the WhatsApp Sales Channel app on Shopify Appstore.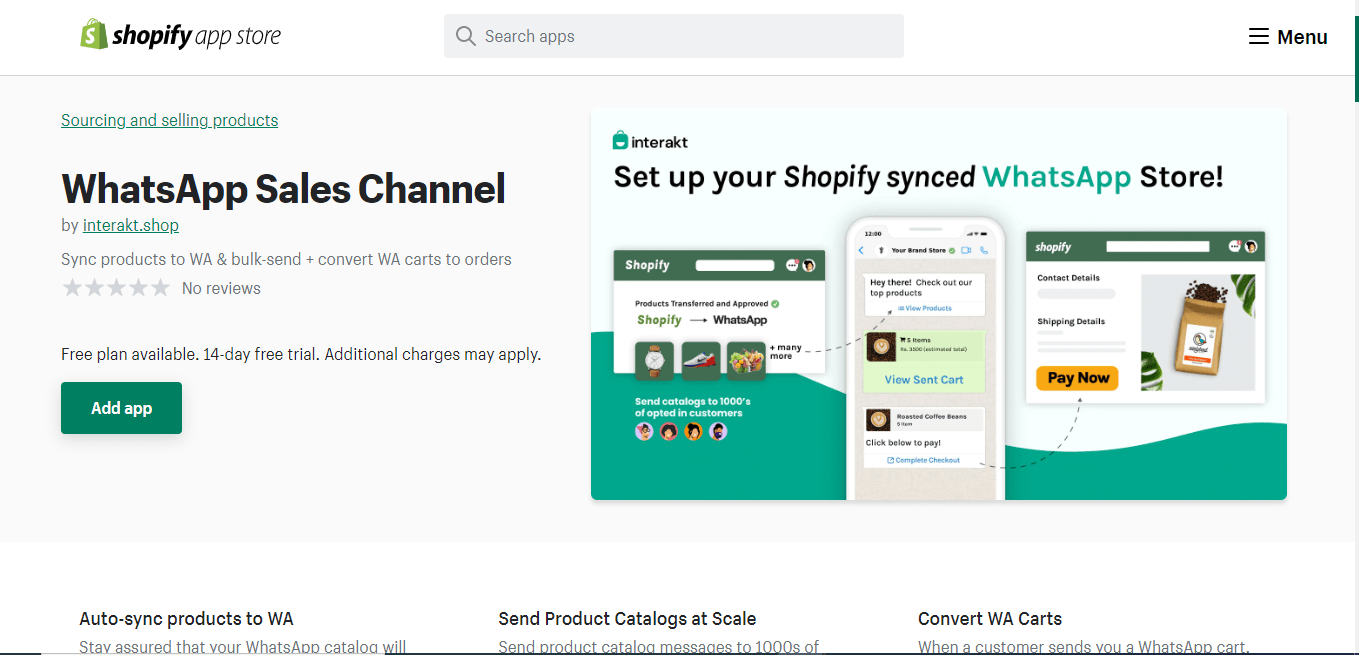 4. Click on 'Add App'.
‍
5. Click on 'Add Sales Channel'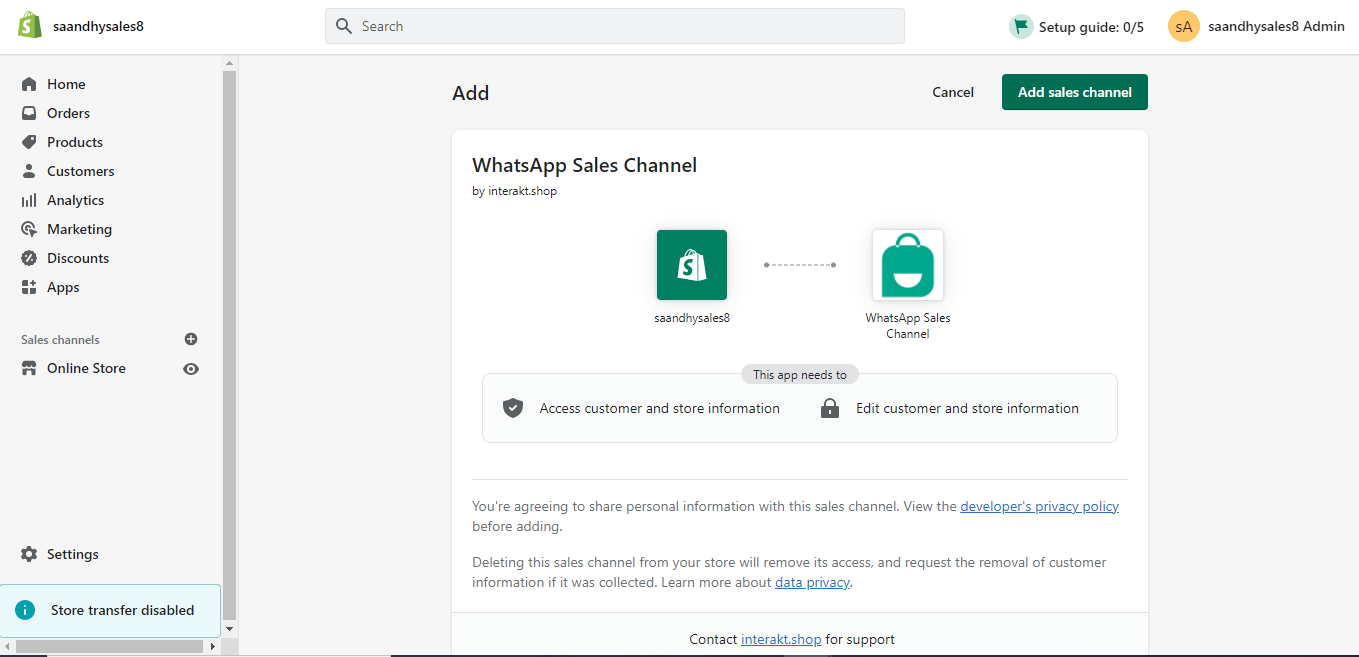 6. You might be required to fill your Business Address & Compliance Info in case you are using a +91 WhatsApp Number for your WhatsApp API account. (In case, you have already filled these in Interakt earlier, you won't be required to do this.)
7. Your Shopify products and collections will immediately start syncing to your Interakt account. You will need to wait for up to 30 minutes to see all products and collections in Interakt.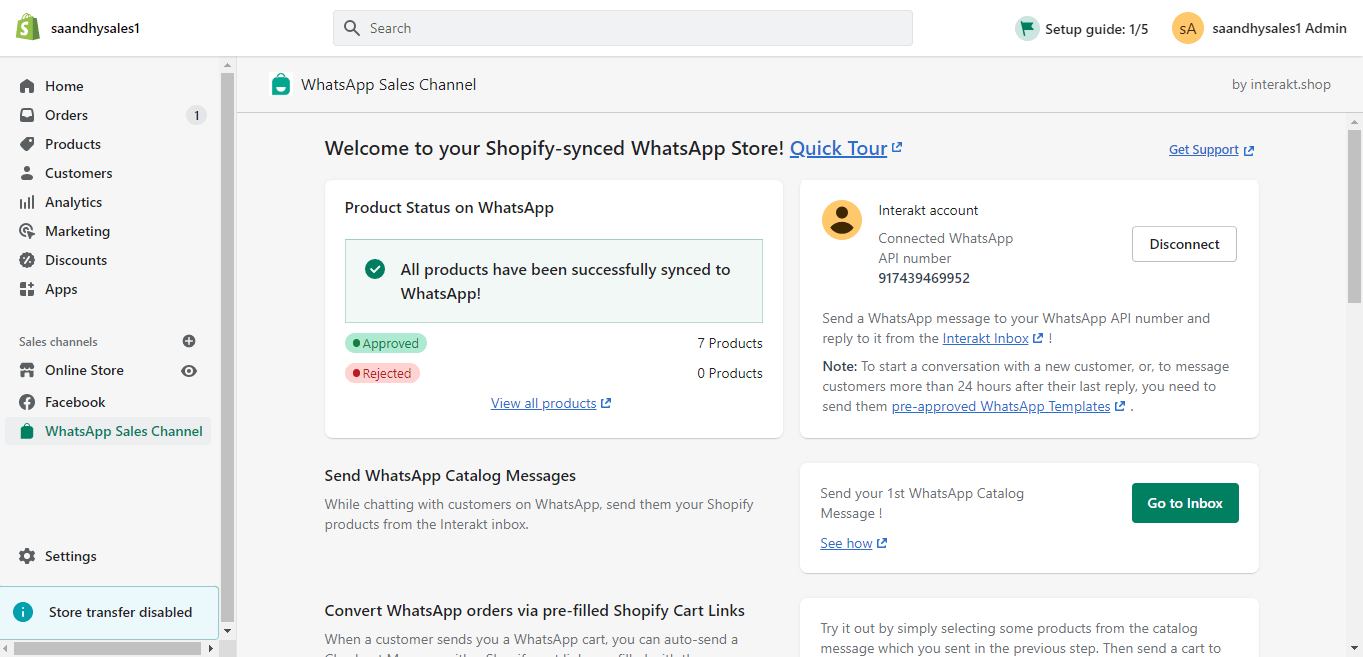 8. Once your products have synced, you can go to Interakt's Shared Team Inbox, select some products and send a Catalog Message to your personal WhatsApp number to see if the message gets sent. If it does get sent, it means that your sync was successful and you're ready to start selling on WhatsApp!
9. After receiving the Catalog message on your personal WhatsApp number, select some products from it and send a cart. You should immediately get the auto-checkout message with a link to a pre-filled Shopify cart!
10. By this time, your Shopify collections would have synced into Interakt. Go to the 2nd step in Interakt's Commerce Settings, select your top 10 collections and create your Product Collections List Message.
11. You can then send a WhatsApp campaign to your customers with your product collections!
12. You can also send product collections in your autoreplies (Welcome Messages, Out of Office Messages, Delayed Messages and Custom Auto Replies on Interakt).
If you are new to Interakt, watch this video to learn more about our Sales Channel App: