How to integrate WhatsApp Business API with WebEngage?
The Interakt-WebEngage integration enables you to add WhatsApp as a strong communication channel along with other channels like email, SMS, push notifications etc. Using Interakt you can now include WhatsApp messages in your WebEngage campaigns and journeys. Moreover, when customers reply to those campaigns, you can use Interakt's automation features & shared team inbox to efficiently manage your chats.
Who can leverage this integration?
Any business using WebEngage for reaching out to customers on various channels (like email / sms / push notifications) can leverage Interakt-WebEngage integration to also establish WhatsApp as a strong channel for customer communication, For businesses looking to automate their sales & support using WhatsApp Business API, WebEngage – Interakt integration can be a perfect choice.
All you need to integrate WhatsApp Business API with WebEngage
• A live WebEngage account
• A live Interakt account. In case, you haven't yet signed up for Interakt, please sign up from here.
• WebEngage Integration API key provided by Interakt.
• To obtain your WebEngage Integration API Key, you would have to raise a ticket on the Interakt platform by going to Settings -> Raise an Issue.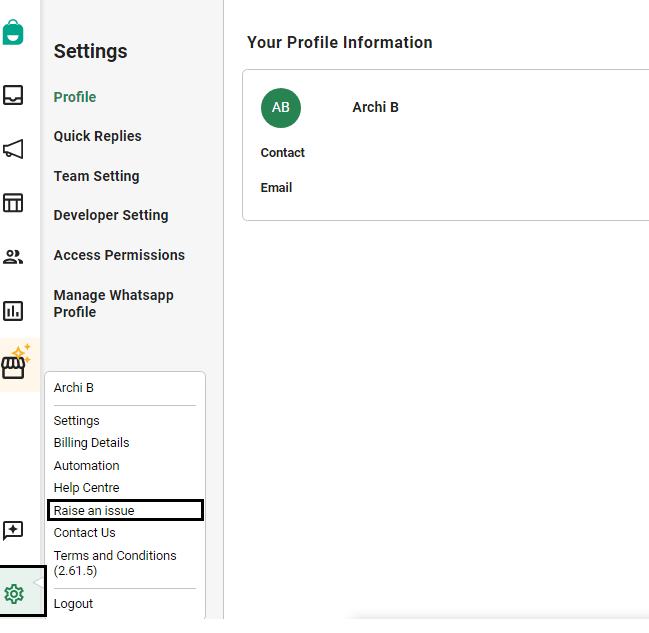 The API Key would then be provided to you via Email / WhatsApp.
• You would then have to enter that API Key in the WSP Configuration Popup on WebEngage (explained below).
• Email: [email protected] requesting for your account's API Rate Limit to be increased to 1000 messages/minute. (You will need to subscribe to Interakt's Advanced Plan to avail the increased rate limit.)
• In Webengage, keep throttling for your WhatsApp Channel at 1000 messages / per minute – follow the guide here.
Steps to integrate WhatsApp Business API with WebEngage
Step 1: In Interakt, create the templates that you want to send out in WebEngage campaigns/journeys.
Step 2: Next, go to WebEngage and do the following steps: Refer here for detailed steps
Step 3: Configure Interakt as a WhatsApp Service Provider in your WebEngage account. (Use the Api key obtained in previous steps)
Step 4: In WebEngage, add the same templates which you created in Interakt. Make sure that you specify the 'code name' of the template. As detailed in this documentation
Step 5: Obtain your server details from WebEngage (whether it's IN / US) and inform Interakt team about it. The Interakt team will take 1-2 working days to accordingly enable webhooks for your WebEngage account. What this means is that – once these webhooks are enabled, you will be able to see stats related to your campaigns (delivered count, read count, failed count) in your WebEngage dashboard itself.
Step 6: Then, in WebEngage, select any of the created templates in a campaign / journey and set it live! Check the stats of your campaign in WebEngage.
Benefits of integrating WhatsApp Business API with WebEngage
Using Interakt's integration with WebEngage, you can easily set up WhatsApp campaigns for your customers from within WebEngage itself. Moreover, you can also include WhatsApp messages at various points of the journeys that you might be creating on WebEngage.
Moreover, with an Interakt account you can then efficiently manage the customer conversations which result from those WhatsApp campaigns!
• You can use Interakt's Shared Team Inbox to manage customer replies to your campaigns.
• Moreover you can also leverage Interakt's Autoreplies to send automatic replies to customers when they message you.
• In case you are looking to configure an intelligent bot to take up the conversation when customers reply at scale, you can use a Haptik bot.
Hence this integration will help you scale up your WhatsApp reachouts and automate your customer communications on WhatsApp seamlessly.