How to setup Click to WhatsApp Ads (CTWA) campaigns using Interakt?
Click to WhatsApp ads are an advertising format on Facebook and Instagram that combines the strengths of both social media and WhatsApp messaging. These ads have a "WhatsApp" button as the call-to-action, rather than a conventional website link, to bridge the two together. In this article, you will learn:
1. How to set up auto-replies that will go with CTWA?
2. How to set up a CTWA campaign?
3. How to set up the funnel?
4. How to track campaign performance and make required adjustments?
How to set up auto-replies that will go with CTWA?
You can use Interakt's WhatsApp Automation feature to set up auto-replies that will go with your Click to WhatsApp Ads. Ideally, there are 2 ways of setting it up:
1. Custom Auto Reply:
This is where the users define the type of response they want to be triggered when the customer starts a conversation by clicking on the icebreakers.
Using Custom Auto Reply, Interakt users can set up 2 types of auto-replies for their Click to WhatsApp ads
(a). Custom Autoreply: Great to configure if you would like to share media buttons with the user as a next step.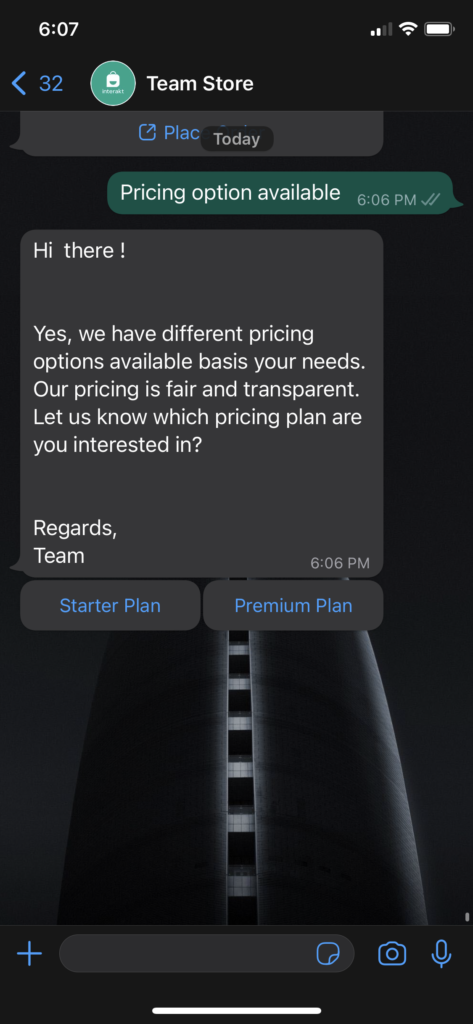 (b). Product Collection: Great to configure if your response to the CTWA ad is a product catalog.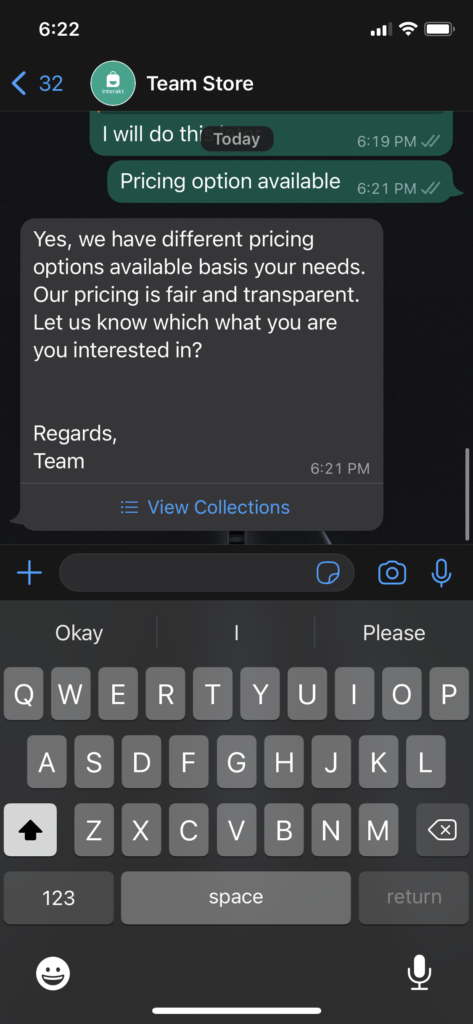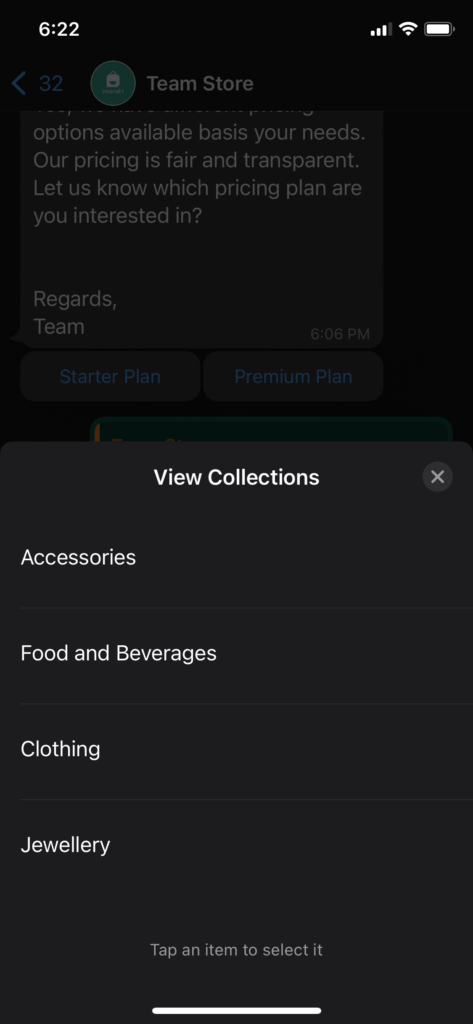 Before setting up a Product Collection, it is necessary to first configure it through the Commerce settings in the Settings module. This is how it will look on WhatsApp at the user's end.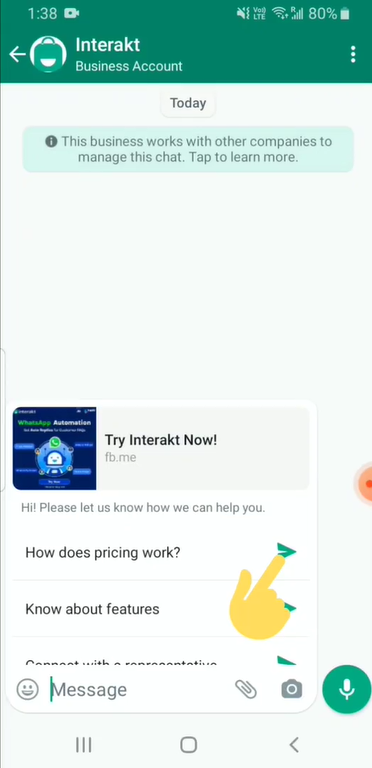 Step-by-step guide to set up custom auto replies using Interakt. Click here.
2. Interaktive List Messages
Interaktive List messages function on the same process and allow users to set up Custom Auto Replies in response to user input, via. List Messages in the form of Menu buttons. It can be done in a few simple steps:
Step 1: Click "Include new List Message."
Step 2: A pop-up will appear, where users need to select the input from the drop-down option for which the custom auto-reply will be triggered.
Step 3 (Optional): Users can also name the Interaktive List Message as desired, and this name will appear in the List Message when the custom auto-reply is triggered for the input.
Once saved, the Interaktive List message will appear in the queue of List Messages. The advantage of configuring a custom auto-reply through Interaktive List Messages is that it allows users to have multiple options in place.
What are the prerequisites before starting Click to WhatsApp Ads?
To get started with Click to WhatsApp (CTWA) advertisements on Facebook and Instagram, you need to fulfill certain prerequisites established by Facebook.
Get started with the right WhatsApp Business Solution: First, you need to create a WhatsApp Business account. This can be done by either downloading the WhatsApp Business app or integrating the WhatsApp Business API. If you're a solo entrepreneur or a small business, the WhatsApp Business app will suffice. However, for businesses of all sizes that are running multiple campaigns, the WhatsApp Business API platform like Interakt is recommended.

Connecting Your WhatsApp Account to Facebook Page: Once you've decided on your WhatsApp Business solution, you must connect it to your Facebook page. To do this, you must be an admin of the page. The following steps must be taken:
Step 1: Open your Facebook business page and go to "Settings."
Step 2: Click "WhatsApp" in the left-hand navigation tab.
Step 3: Select your country code from the drop-down menu.
Step 4: Enter your contact number and continue.
Step 5: Enter the OTP you receive and click "Confirm."
After completing these steps, you're ready to set up your first CTWA ad campaign.
How to setup CTWA campaigns using Interakt?
Now that you have all the prerequisites in place, let's see how you can set up your first Click to WhatsApp ad campaign via Interakt in a few simple steps:
Step 1. Open Facebook Ads Manager
To get started, open your Facebook Ads Manager and click on "Create" under the campaign section.
Step 2. Name your campaign, select the category and set campaign objective as "engagement"
When you hit the create button, you'll be redirected to the campaign page where first you have to set the name for the campaign. In case you're setting a campaign for a special category like credit, employment, or housing, select the category.
Under the "Campaign details" section, set the buying type as Auction and the campaign objective as engagement. It's important to select these settings. Otherwise, you might not see the option to drive traffic via "Click to WhatsApp."
Step 3. Set daily/lifetime budget and bid strategy
Once you've set the objective of the campaign, you need to set its daily or lifetime budget. You can also choose bid strategy options based on your campaign's objective.
Here's a Facebook documentation if you want to know more about bid strategy.
Once you've set the budget and bid strategy, hit "Next."
Step 4. Set conversion location to "Messaging Apps," & ad type to "Click to message.
In the ad set section, we need to set the location of the conversion where we want to drive engagement. Selection "Messaging Apps" as the conversion location. And move to the next section — Ad type.
In the ad type, because you want to receive messages from the prospects, select "Click to message."
Now, Meta supports three types of messaging apps — Messenger, Instagram, and WhatsApp. And because we want to receive messages on WhatsApp, select "WhatsApp" in the messaging apps section.
Step 5. Define target audience, placement, budget and schedule
After selecting WhatsApp as the destination, you need to define the budget and schedule the start and end of the campaign.
Once the schedule is sorted, you have to define the target audience for the conversion campaign. To define your target audience, you can use metrics like user location, age bracket, gender, languages, and connections.
On the right side of your screen, you can see what the estimated size of your target audience is and how broadly or specifically they are targeted.
After defining the audience, you have to set the placement for your ad. You can either do it manually or the Advantage+ placements where Meta optimized where your ads should appear and when.
While setting up the placement, give preference to mobile properties over others because the user experience is at its best on mobile phones. Once this is done, you're almost set for publishing the ad.
Step 6. Set Up Your Ad Format and Creative
When you are done selecting the placement, you have to select the format for your ad in the "Ad Setup" section. It can be a single image/video or a carousel.
We recommend that you highlight the discounts and offers that you're currently running. You can also share if you provide "free shipping" and "cash on delivery," especially during the festive season.
Then upload the ad creative and preview how they'll appear in front of your target audience. When you've successfully uploaded the creatives, add the primary text. You must not skip it because, based on this text, users decide to engage with your ads.
Set the CTA as "Send WhatsApp Message" and scroll to the next section.
Step 7. Create a Welcome Message Template
After people tap on your ad, you want them to send you a message instantly. Therefore, you should set a welcome message template so that they don't have to put a lot of thought into what to text.
In the "Message Template" section, click "Create new" and customize the greeting text and question option suggestions according to your business.
Check the "Save Template" box to save the template for all your future campaigns. And lastly, click on "Save and Finish."
Step 8. Publish the ad once reviewed by Facebook
Once you're done with all the above-mentioned steps, you're ready to publish the ad. The ad will be first reviewed by Facebook. And once approved, it'll go live.
We recommend monitoring your ad reach continually to optimize it for maximum results; similar to traditional social media ad campaigns.
Click here for a step-by-step guide on how to set up CTWA campaigns.
How to setup a funnel for CTWA campaigns?
Go to the Conversation Analytics of Interakt dashboard and click on "Ad Performance".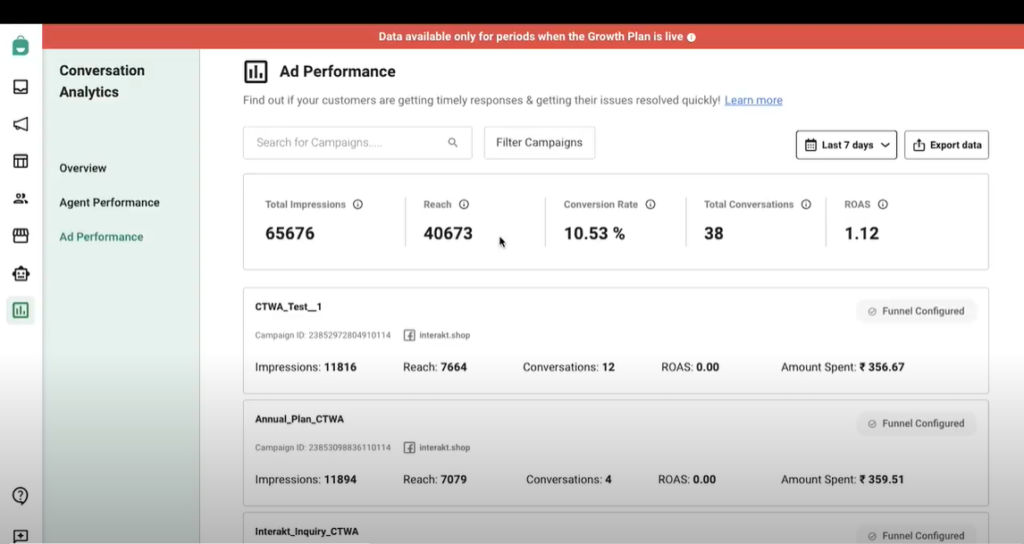 The Ad performance dashboard gives you a summary of all the CTWA campaigns that are active on your Facebook page. 
Click on the CTWA campaign for which you want to set up conversation funnels for your WhatsApp customers.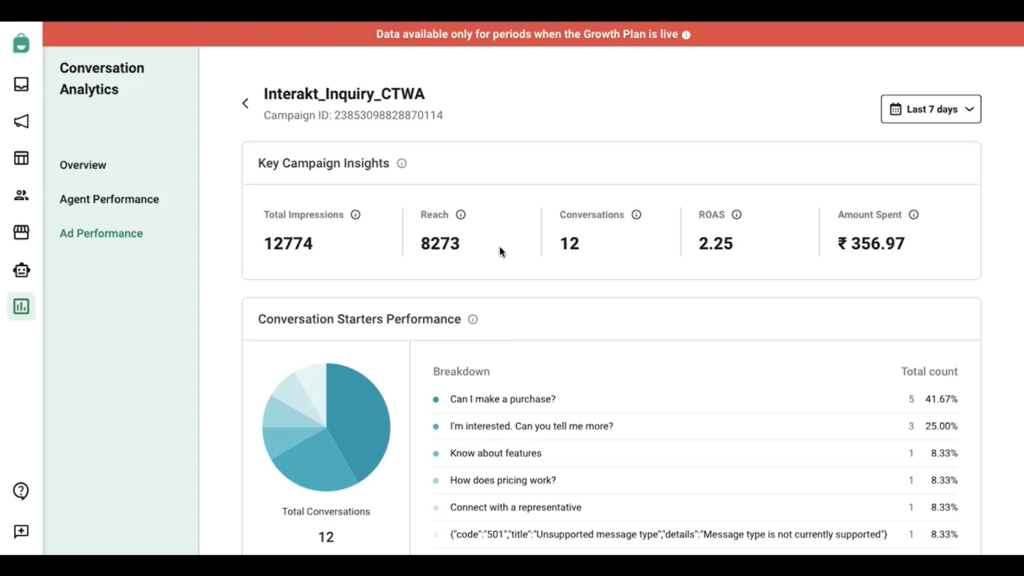 Here, you can monitor individual key campaign insights of your CTWA ad, in terms of total impressions, reach, conversations, Return on Ad Spends (ROAS), & average expense.
The next section, Conversation Starters Performance gives you a breakdown of icebreaker conversations that you can set up on WhatsApp to engage a user once he clicks on your CTWA ad. Here, you can easily monitor what conversations are doing well for your ads and which are not.
You can customize these conversations to set up funnels for your CTWA ads. Go to the next section i.e, Conversation Performance, and click on the conversation you want to edit.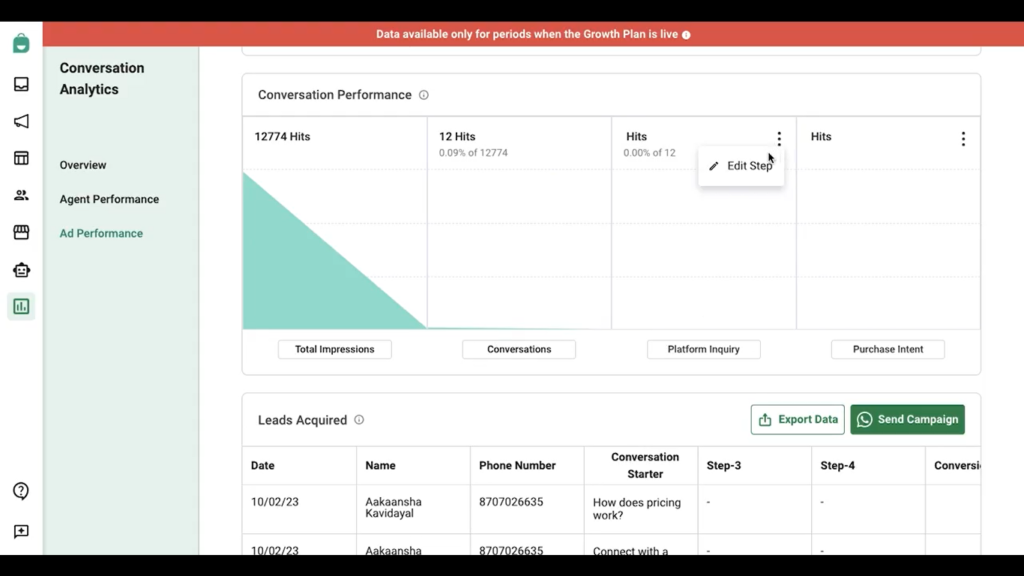 This will take you to edit the steps to the funnel you have created for your CTWA ad.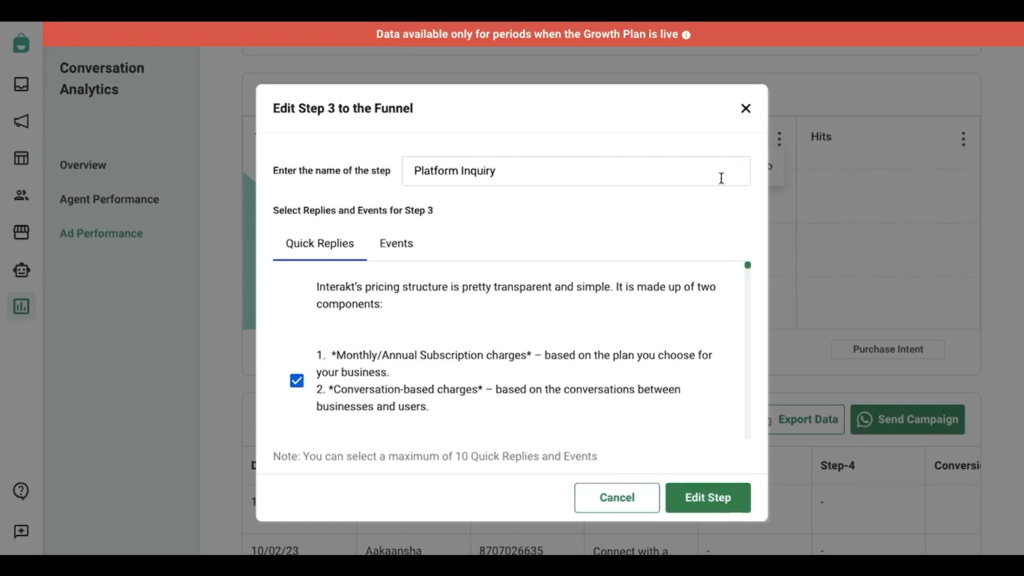 Here, you can edit the funnel name, and select quick replies and events that get triggered as an intermediate step during a conversation.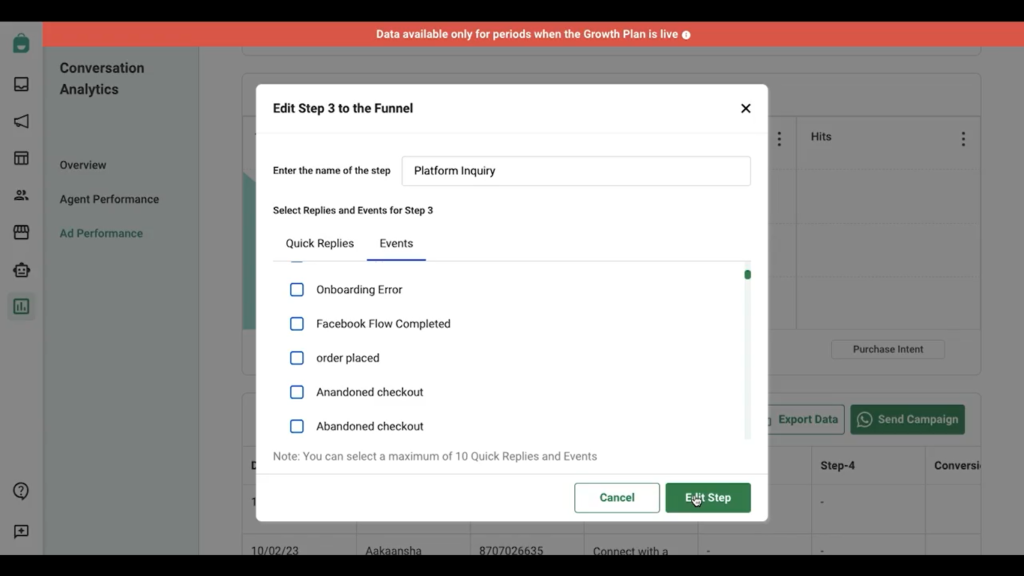 Once you have selected the quick replies and events to be triggered for the conversation, click on Edit Step to complete the funnel setup.
Similarly, edit the next step of the funnel to calculate the ROI of your running CTWA ads. Here, you will be asked to provide the cost per lead so that Interakt will share the final ROAS value including the cost of orders placed and leads acquired.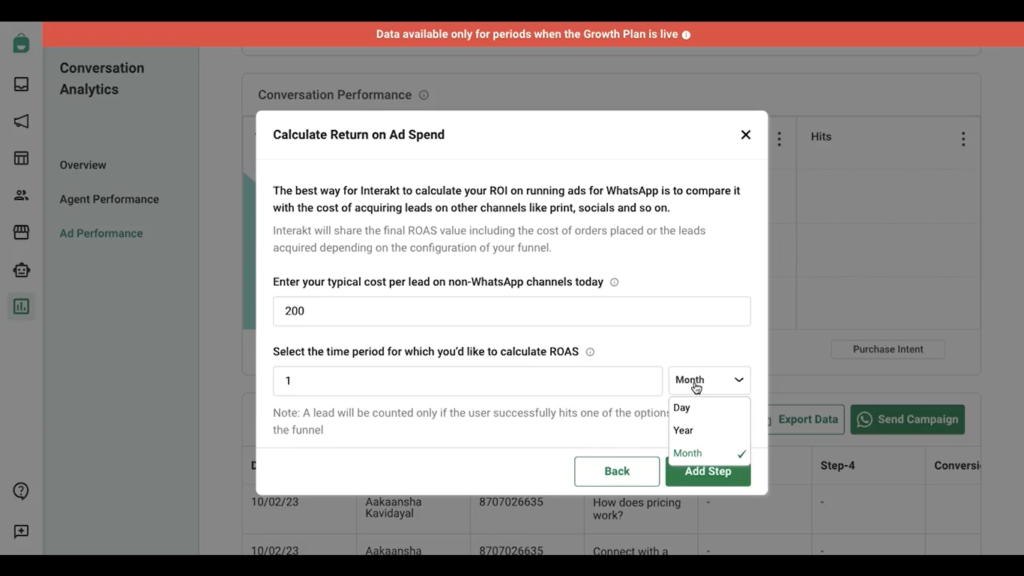 Select the time period for which you would like to calculate the ROAS.
Click on Add Step to complete your funnel setup. You're all set to track & monitor your CTWA ad performance.
Note: Your total ROAS calculation depends on how you configure your conversation funnel.
How to track campaign performance and make required adjustments?
Once you have completed your funnel setup, your campaigns will be tracked automatically every time a user initiates a conversation. You will be able to track the performance of each of your CTWA campaigns on the Ad Performance dashboard.
For every conversation, you also get the details in a tabular format on your campaign dashboard page.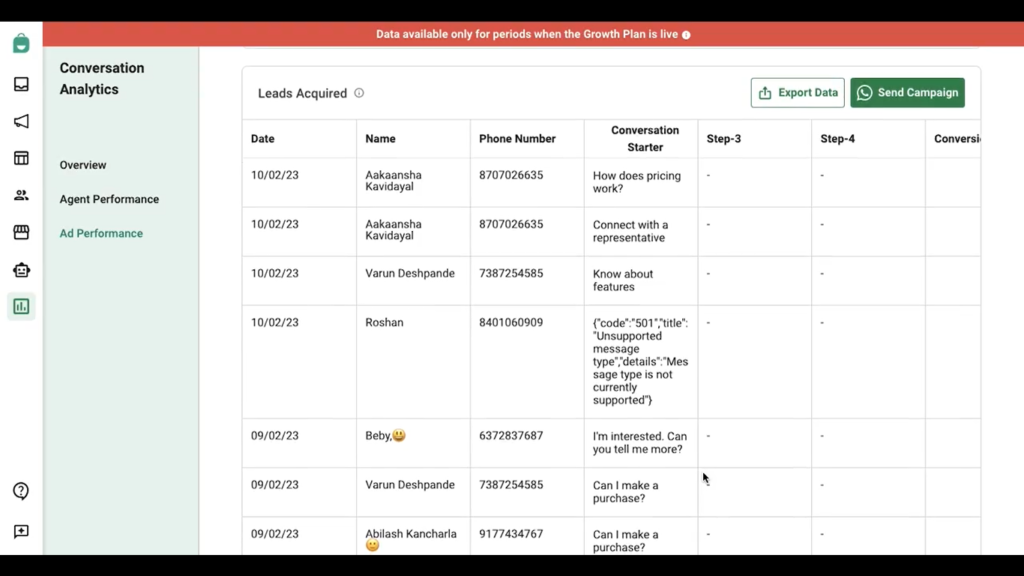 You can also export this table which will be emailed to your inbox. Click on Send Campaign button to send more personalized messages to your customers using pre-approved WhatsApp Business templates from Interakt's template library that will help you get more conversions on WhatsApp.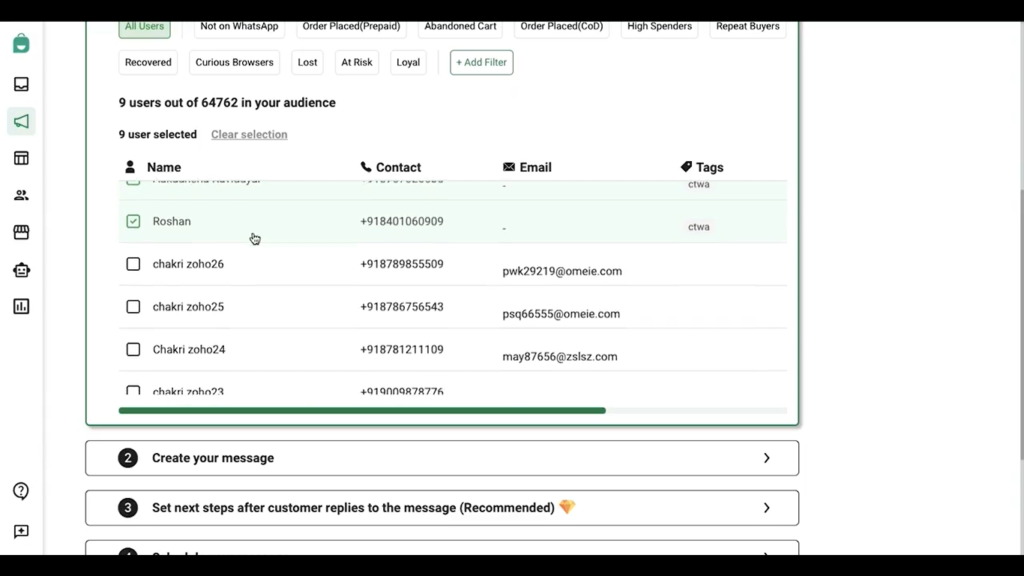 Learn how to use Interakt's Templates Library for WhatsApp campaigns. Click here.
FAQ
What is the difference between normal Facebook ads that click to WhatsApp and the new "Ads that Click to WhatsApp" feature which has been added to Interakt?
They are 2 different things — You cannot run Facebook ads that click to WhatsApp from Interakt. However, you can link your Facebook ad account from where you run the ads, to Interakt and perform certain engaging and re-targeting actions such as:-
1. Automated FAQ flows for faster conversions.
Set up automated FAQ (frequently asked questions) flows to enable quick query resolution with minimum agent involvement. Enable customers to make quick purchase decisions by providing commonly asked questions for them to choose from and letting Interakt's WhatsApp automation answer those questions within milliseconds.
2. Re-engage with cold leads
Have leads gone silent after the first conversation? Run WhatsApp campaigns from Interakt to re-engage especially with those leads with personalized messages and offers.
3. Dedicated dashboard for tracking end-to-end customer journeys
Track end-to-end customer journey including ROAS from your ads via Interakt's dashboard specially created for Ads that click to WhatsApp.