What is the use of Conversation Labels on Interakt?
Welcome to Interakt's WhatsApp CRM (Shared Team Inbox) guide. Shared Team Inbox helps you and your team to support your customers through a collaborative team inbox with a single WhatsApp Business Number. It is a consolidated inbox for all your customer conversations, where you can assign or reassign chats to your team members, add labels to chats and search them using filters, store all your customer details in the form of smart cards and also view your customers' conversation and order history. You can also add notes for internal communications, tags for grouping chats under each tag.
Moreover, Interakt's Shared Team Inbox feature enables you and your team to access, create, and send personalized WhatsApp messages with rich media, quick replies and CTA buttons while having a 360 degree view of your users.
In this module, we'll help you understand the concept of Conversation Labels and how can you use them during customer chats on WhatsApp.
There can be numerous reasons why end-customers reach out to businesses on WhatsApp. These could be support queries, feedback, general enquiry etc. to name a few. Interakt users can label conversations with end customers based on the context of a conversation.
To assign a conversation label, users need to open the customer chat. Beneath the user name on the center portion of the inbox i.e. the chat & composer section; click on the call out, "Add label to conversation".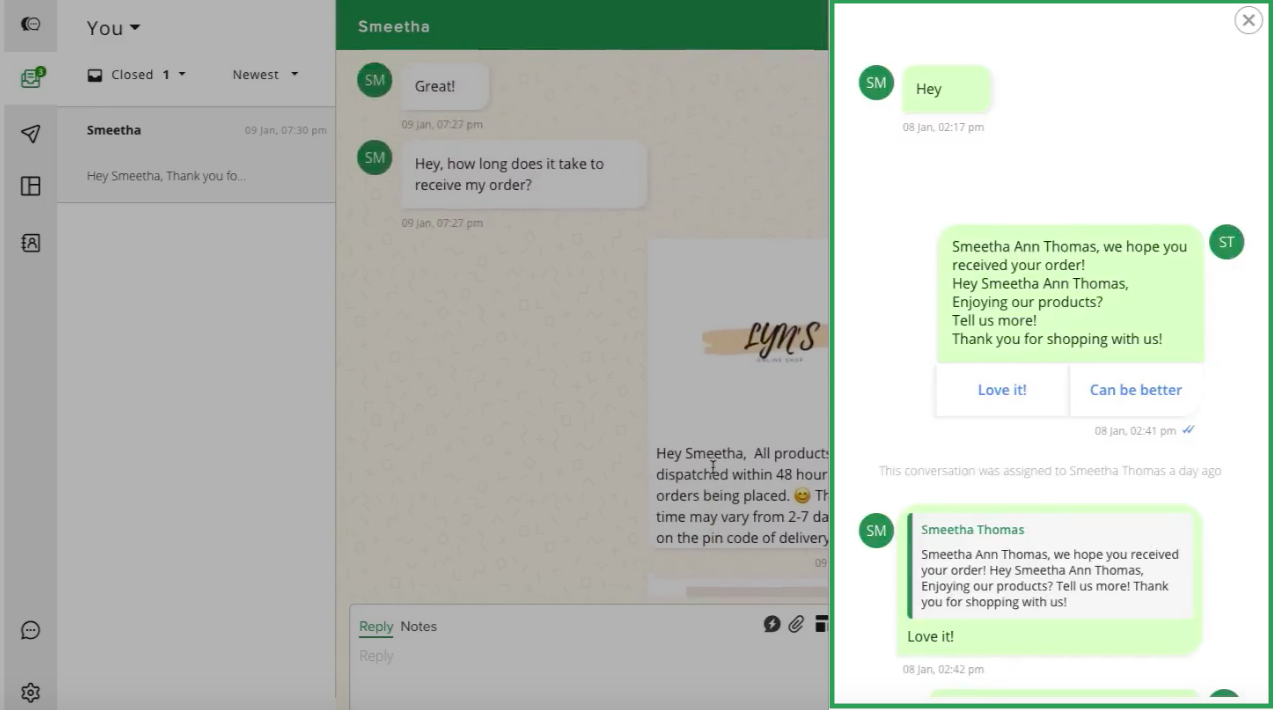 You will be able to type in the name. There is a 24 character limit on the label name with special characters not being allowed.
In case there are labels already created for other conversations within the organization, they will appear in the form of suggestions via. drop down column for Interakt users to choose from.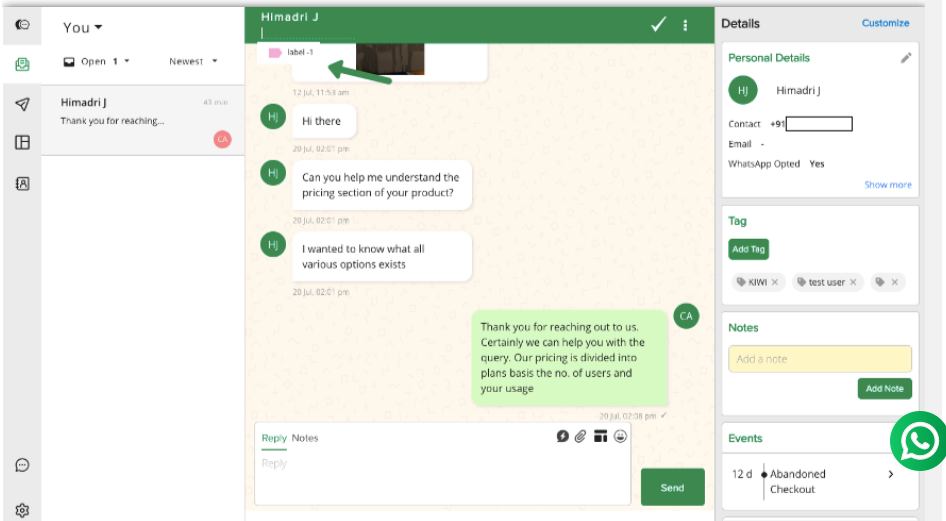 In case a new label needs to be created, just type in the label name and click on the drop down, "Creating new" as shown below.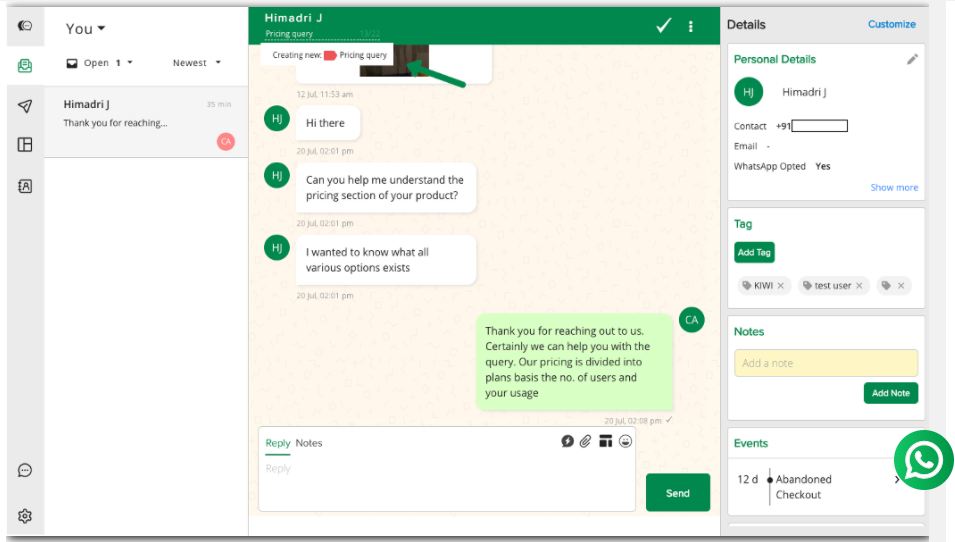 Once added, the conversation label can be seen beneath the user name on the center portion of the inbox as well as the chat loader section on the left.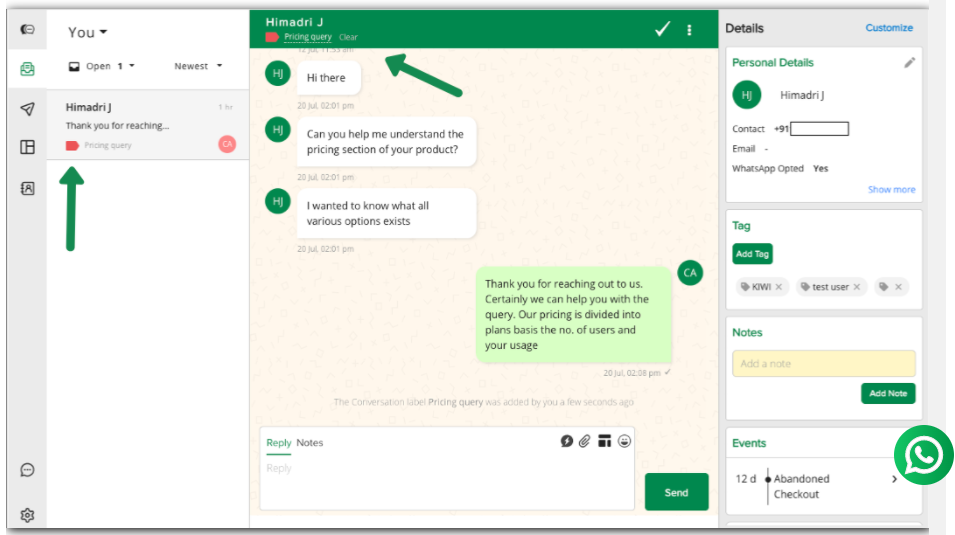 If users wish to remove the conversation label assigned. They can do so, by clicking on "Clear" which restores the zero state of conversation as it was prior to the addition of the conversation label.
Please note: The color assigned to the conversation label is at random but once assigned, it is the same color that appears every time the label is used within the org for a conversation. There is no limit to how any conversation labels can be created or assigned by an org.
This way, you can transform your customer support mechanism by adding conversational labels on chats so as to maintain a transparency across your team to deliver high-quality customer experience on WhatsApp.
What are the benefits of Interakt's WhatsApp CRM?
Recovering abandoned carts with automated reminders on WhatsApp
Sell more by sending product catalogs on WhatsApp
Tracking, managing, and responding to customers faster with the multi-agent shared team inbox
Confirming COD orders within a single click
Sending timely & automated payments, orders & shipping notifications
Respond to messages faster with rich-media files, quick replies & pre-approved WhatsApp templates… & much more.
Hope this article helped you understand how to get started with Interakt's WhatsApp CRM, how to assign/reassign chats using Shared Team Inbox, and what benefits does Interakt drive to your business.