How to open & close chats on Interakt?
Welcome to Interakt's WhatsApp CRM (Shared Team Inbox) guide.Shared Team Inboxhelps you and your team to support your customers through a collaborative team inbox with a single WhatsApp Business Number. It is a consolidated inbox for all your customer conversations, where you can assign or reassign chats to your team members, add labels to chats and search them using filters, store all your customer details in the form of smart cards and also view your customers' conversation and order history. You can also add notes for internal communications, tags for grouping chats under each tag.
Moreover, Interakt's Shared Team Inbox feature enables you and your team to access, create, and send personalized WhatsApp messages with rich media, quick replies and CTA buttons while having a 360 degree view of your users.
In this module, we'll help you understand the process of opening/closing customer chats on WhatsApp using Interakt's WhatsApp CRM i.e. Shared Team Inbox.
With Interakt you can easily mark your inactive conversations as Closed and keep only the active ones in your Open section.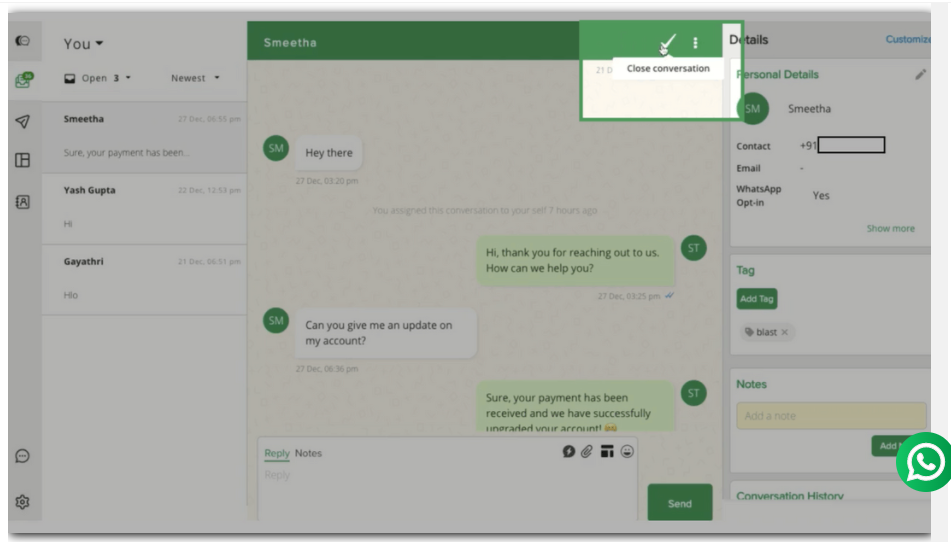 To mark a conversation as 'Closed' you can click on the 'Tick' icon on the chat screen. A 'Closed' chat is automatically made open if a user replies back or if you choose to message the user. This way, you can transform your customer support mechanism by opening/closing customer chats on time and have a transparency across your team to deliver high-quality customer experience on WhatsApp.
Why choose Interakt for WhatsApp CRM?
Because: Interakt is built on the official WhatsApp Business API, helping SMBs and D2C brands, grow their online sales, and improve customer experiences using powerful sales-enabling features. Interakt's powerful WhatsApp business platform helps them convert product inquiries on WhatsApp into paying customers, take orders on WhatsApp, help recover abandoned carts into sales, send order details and updates to customers and engage with them through multi-agent support.
With Interakt businesses can communicate with their customers using one dedicated WhatsApp Number. Interakt acts as an all-in-one CRM tool for WhatsApp Business communications, a cognitive campaign management solution, a powerful marketing automation tool, and a trending sales channel for D2C brands.
Interakt app is available on Google Play and the App Store to make it easy for businesses to speak to their customers on the go. Watch our brand video to know more about Interakt.
Interakt is currently trusted by more than 1000+ e-commerce businesses for customer engagement, including prominent D2C brands such as The Pillow Company, Bare Anatomy, Superbottoms, Flo Mattress, Sleepy Owl, Priyaasi, & more.
What are the benefits of Interakt's WhatsApp CRM?
– Recovering abandoned carts with automated reminders on WhatsApp
– Sell more by sending product catalogs on WhatsApp
– Tracking, managing, and responding to customers faster with the multi-agent shared team inbox
– Confirming COD orders within a single click
– Sending timely & automated payments, orders & shipping notifications
– Respond to messages faster with rich-media files, quick replies & pre-approved WhatsApp templates… & much more!
Hope this article helped you understand how to get started with Interakt's WhatsApp CRM, how to assign/reassign chats using Shared Team Inbox, and what benefits does Interakt drive to your business.