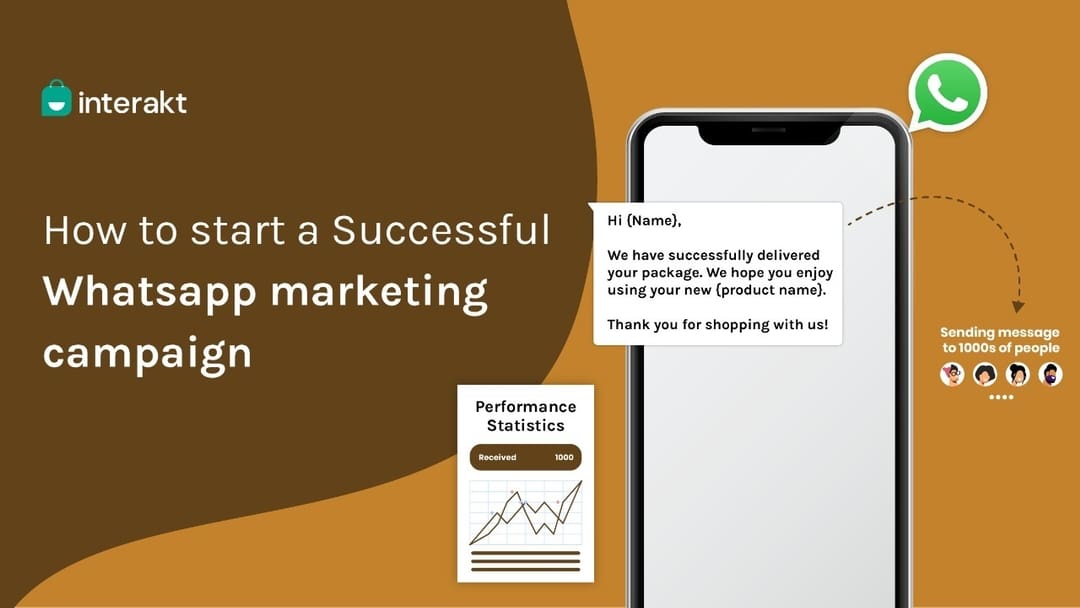 Step by step guide to set up a WhatsApp Marketing campaign
Are your customers on WhatsApp? With 2 billion active users worldwide, they obviously are.
Have you decided to leverage WhatsApp to market your eCommerce business? Even better.
As a business owner, it gives you an enormous opportunity to get into the most sacred space to advertise your product – your customer's WhatsApp chat.
But just like any other marketing campaign out there, WhatsApp campaigns has a few fundamental rules that you need to follow in order to make your WhatsApp marketing strategy succeed.
You need to learn a few tricks of the trade, and create a strategy in a systematic manner. In this article, we're going to walk you step-by-step towards creating a WhatsApp marketing strategy that gets you more sales.
‍
Step by step guide to start a WhatsApp marketing campaign
First things first, don't get overwhelmed by the new terms you learn here. From creating a WhatsApp Business profile, going through the verification process to bots and leveraging smart marketing automations, you can do it all with ease using an official WhatsApp Business API solution provider like Interakt.  Now, let's get started.
1. Identify your target audience and zoom into your offering
The first thing you need to do while you setup the WhatsApp Marketing Campaigns for your business is to identify the 'Who.' By the 'Who', we mean what kind of customers your business will interact with.
Do they reach out to you when they need the solution to a particular problem? Do one of your solutions entice them? What are their pain points? What do you want them to use the communication channel for?
Once you know whom you are talking to and what problems you are going to solve, you need to nail down the voice of your WhatsApp campaign.
With WhatsApp, you need to talk to your customer like you would to a friend. A personalized approach that is more informal than email marketing, you need to build your brand using your voice, and this will act as a North Star in all your marketing campaigns.
The most important thing to keep in mind at this stage is that you need to address their frequently asked questions and solve their problems when they reach out to you over WhatsApp, instead of redirecting them to your website.
2. Choose an official WhatsApp Business API solution partner
As the owner of a small business who is taking his eCommerce business to WhatsApp, there are a lot of things going on in your mind, and handling the technical aspects of setting up your WhatsApp Business account should not be one of them.
This means you should partner with an official WhatsApp API solution provider, who will help you out with the technical aspects such as data protection compliance that third-party service providers do not guarantee. As an added bonus, choosing an official solution provider also equips you with the following:
Makes it easy to set up WhatsApp Business profiles

Set up and send product catalogs to customers at scale on WhatsApp

Create auto-replies as part of campaigns

Elevate campaign performance with rich media (images, videos, PDFs, etc.) and interactive message templates like CTAs & Quick Reply buttons
3. Set up concrete goals for your WhatsApp marketing campaigns
Similar to other channels, you need to set some metrics to measure the success of your WhatsApp campaigns and WhatsApp marketing strategies. Clearly take note of what it is that you want to achieve from the communication over WhatsApp.
Do you want to make customer service more instantaneous or are you looking at driving more traffic to your store?
Or if you're looking at recovering abandoned carts on your store, you will need to measure the open as well as the click through rate on your reminders. And then follow it up with how many carts you were actually able to recover.
4. Create your WhatsApp marketing campaigns
You know who you're talking to, why you're talking to them and what you want to offer. The next step is to set up your marketing campaigns on WhatsApp using the official WhatsApp Business API solution provider you choose.
An eCommerce business can set up the following WhatsApp marketing automations to engage, retain and convert their subscribers and customers:
Discount and offer promotions

Back in stock alerts

COD confirmation messages
5. Develop a customer service strategy
Once you have started investing in your WhatsApp marketing strategy and the customers have started tickling in, you must move on to the next cornerstone of any successful business- stellar customer service.
An official WhatsApp Business API solution provider let's you also automate responses to frequently asked questions, letting you resolve most customer queries almost instantly. They leverage automations and FAQ bots to keep the flow conversational.
But at the same time, you should always keep a watch over the FAQ bot interactions to identify situations that may require you to step in. A human conversation will always help you understand your customer's perspective better; so ensure that you're notified of incoming queries in a shared inbox.
6. Continually grow your contact list
WhatsApp for Business has two types of communication: user-initiated and business initiated. At the moment, users can talk to your brand using an opt-in service for the WhatsApp business API, and you cannot gain access to promote your brand on the user's private phone number, unless they explicitly agree to do so.
A couple of ways to do this without looking too nosy is:
Offer a discount to those who subscribe to your phone list

Gently ask the customer if they would like to get their notifications via WhatsApp during checkout

Clearly explain all the benefits of using the WhatsApp for communication

Consistently promote your availability on WhatsApp across other channels
7. Stick to WhatsApp's rules
WhatsApp has issued strict guidelines that eCommerce providers must abide by, and it would be wise to go through these in detail before you begin engaging with your customers via WhatsApp.
All your WhatsApp message templates will go through a verification process, so sticking to these rules is important. A few unwritten rules include not sending huge PDF files to your customers, especially over a 3G connection, and making sure your WhatsApp image post size is 800 x 800 px.
‍
Parting words
Like any other channel for actively marketing and communicating with your customers, WhatsApp marketing strategies too should be an ongoing process of learning and optimization of campaigns.
Remember to keep a close watch on how your customers interact with the different types of messages you send on WhatsApp. A good strategy is to also use the channel to seek feedback from customers to understand their expectations better.
Ready to start & set up your first WhatsApp marketing campaign? Sign up on Interakt today.