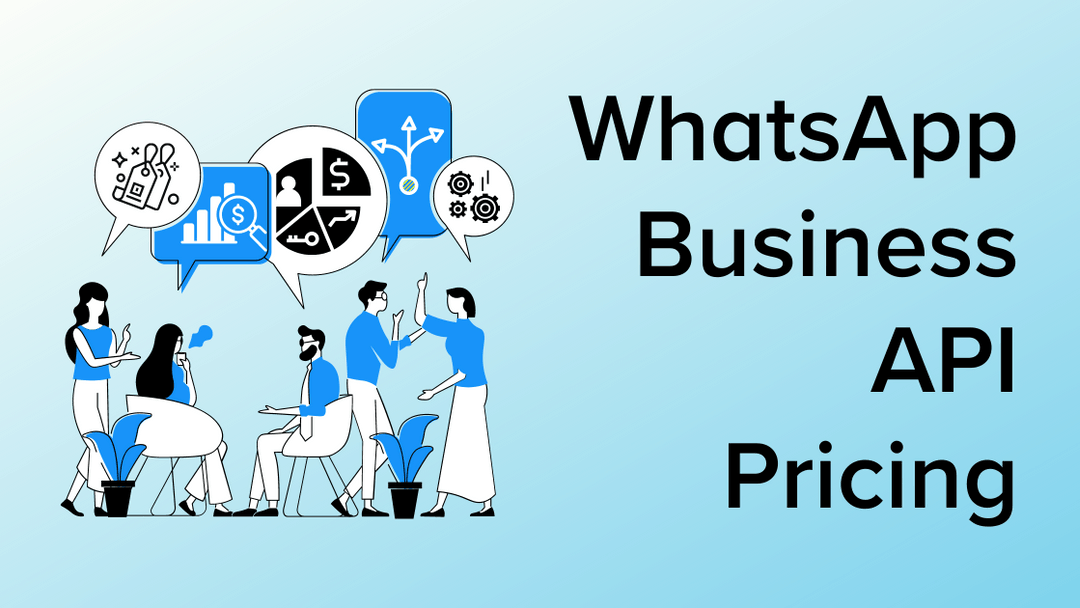 WhatsApp Business Solution Costing: Everything you need to know in 2023 | Interakt
Let's first backtrack a bit here – in one of our recent articles, we explained the need for a WhatsApp Business service provider and how you can effectively choose a business partner for this. One of the key points to remember while choosing a WhatsApp Business partner is to pick one based on the utility they offer, and at what price point it is being offered. Therefore, every small and medium business must have a clear understanding of the WhatsApp Business API pricing or WhatsApp Business solution costing offered by the WhatsApp business partners before implementing their solution.
The WhatsApp Business API pricing strategy is different from how other products and services are priced. Primarily, the WhatsApp Business solution costing differs across WhatsApp Business service providers. It also differs based on the country you are located in. Some partners charge companies on a per-message basis while others charge you based on the number of conversations.
How to choose a pricing model that's the right fit for your business?
Earlier, WhatsApp Business Partners offered different pricing models based on per monthly active user (MAU), or per message. In these earlier models, WhatsApp business service providers used to bill your business based on the number of messages you send in a particular month and your whatsapp api cost was based on the number of users you interacted with, within a month.

So, before choosing a WhatsApp business partner, make sure you have a clear understanding of the whatsapp business solution costing and how their WhatsApp API pricing model works. What's their monthly/yearly plan cost? How much is the setup cost? What are the costs per conversation? Let's discuss these costs in detail below.
What is the cost of WhatsApp Business App?
Be it the basic WhatsApp app that we use for our daily conversations, or the business version of it – both the apps are provided free of cost by WhatsApp. You can simply download it from the Google Play store or App Store, and create your business account for free.

However, the free version of WhatsApp Business app comes with limited features and it becomes challenging for small businesses to scale with the basic WhatsApp broadcast options only. And that's where WhatsApp Business API came into picture.

Unlike WhatsApp Business app, WhatsApp Business API comes with monthly costs that are charged by the service providers & costs per conversation that is charged by WhatsApp itself.
What is the cost of WhatsApp Business API?
As mentioned in the last section, there are two components of the WhatsApp Business API pricing model – the cost charged by the API service provider to the business known as subscription charges, and the cost charged by WhatsApp to the API service providers known as WhatsApp Conversation charges.
Subscription Plan charges
 Based on the plan you choose for your business. This is the subscription cost to access the WhatsApp Business platform which is charged by the API service provider.
WhatsApp conversation charges
Based on the conversations between your business and the user. This is charged by WhatsApp and the WhatsApp Business API service providers extend the same to you in your total monthly or annual bill.
The actual pricing of the Subscription plans may vary from one WhatsApp Business service provider to another however, the WhatsApp conversation charges charged by WhatsApp to them remains the same for everyone.
The set up costs for a WhatsApp Business API may vary among the API service providers. However, there are companies that offer free WhatsApp Business API set up for your business at no additional or hidden costs. Moreover, you also get a 14-day free trial with some of the preferred WhatsApp Business solution providers in the market.
The monthly costs for a WhatsApp Business API is its Subscription Plan Charges. These are the charges that a service provider levy to a business for using their platform features and solutions. Again, it may vary from one service provider to another however an efficient and affordable WhatsApp Business solution can cost you around INR 799/- to INR 3499/- per month, depending on the plan you choose as per your business need.
For every conversation that happens between a user and the business, WhatsApp charges some nominal amount to businesses for using the WhatsApp Business API. These costs per conversation are exactly displayed in your monthly invoice and are known as WhatsApp Conversation Charges. Let's discuss these charges in detail.
WhatsApp Conversation Charges: How much does WhatsApp charge?
WhatsApp charges these business partners for the notifications & broadcast capability offered. Every business has the need to send out customized WhatsApp business messages to their users in bulk. For that, WhatsApp charges a nominal cost per conversation for every conversation they start with their customers. This is called WhatsApp Conversation Charges.

WhatsApp has recently changed its billing model from MAU-based pricing to conversation-based pricing. Instead of being charged on the basis of monthly active users, businesses are now charged as per conversations they have with their users.
 A conversation is considered as a set of all the messages exchanged between the business and the user within a 24-hour period.
These conversations fall under 2 categories:
User-initiated conversations

like customer care or support queries from users

Business-initiated conversations

like post-purchase notifications or order updates.
Business-initiated conversations are charged when the conversation is initiated by the business itself. However, businesses can send unlimited messages in the 24-hour conversation period and it will be charged as one business-initiated conversation.
User-initiated conversations are charged when the business replies to a user-initiated conversation, and there is no limit on the number of messages exchanged within the 24-hour conversation period. You will still be charged for only one conversation.
These conversations are charged based on the country code of the recipient. However, the first 1,000 conversations will be free for businesses every month. These 1,000 free tier conversations can either be business-initiated or user-initiated conversations. Once you have used your free limit of 1000 conversations, then only the standard conversation charges will be applicable to your business account.
WhatsApp conversation charges may vary depending on the number of messages that are sent and the country of the recipient. For India, the charges start as low as 53 paise for a business-initiated conversation and 32 paise for a user-initiated conversation. Once you choose Interakt as your WhatsApp Business API partner, we will bill this on actuals and pass on the same cost to you.
How to calculate WhatsApp Business API Pricing?
Well, first and foremost, you will have to take the call to go with a WhatsApp Business service provider that suits your business the best.
Next up, you will have to make it past onboarding – which means the WhatsApp API approval process for your business has to turn out to be a success!
You can then move on to choose from the different pricing plans offered by the WhatsApp Business service provider (BSPs). Most partners have a monthly plan and a yearly plan on offer. While some of these might include all features, bear in mind that some business partners offer only specific features in one plan and all features as part of a higher pricing tier. It's important that you pick a provider who offers all the solutions at an affordable price.
At Interakt, there are 3 types of subscription plans for every business need.
WhatsApp Business API Subscription Plans| Interakt
Starter Plan
Consists of features such as the WhatsApp Commerce, Shared Team Inbox, Free API approval from Meta, Free integration with any one app, Automated Bulk Notifications, WhatsApp widget, Green Tick Verification, API Rate Limit up to 100 msgs/min, etc. The monthly subscription charge for the starter plan is INR 999/- that comes with 1000 free conversations/month with additional charges at 56 paise for BIC and 34 paise for UIC.
Growth Plan
Contains all of the starter plan features and additional functionalities such as free integration of up to 3 apps, Chat Automation, Conversation Analytics, API Rate Limit up to 300 msgs/min & much more.. The monthly subscription charge is Rs.2499 which comes with 1000 free conversations/month with additional charges at 54 paise for BIC and 33 paise for UIC.
Advanced Plan
Contains all of the Growth Plan features + unlimited external integrations, agent statistics, additional user segments, API Rate Limit up to 600 msgs/min, and more.  The monthly subscription charge is Rs.3499 which comes with 1000 free conversations/month with additional charges at 53 paise for BIC and 32 paise for UIC.
How does Interakt's pricing model work?
With Interakt, there are two components to the Whatsapp business pricing structure. The first one is the Monthly/Annual Subscription model. You can get started with Interakt at a nominal price of INR 999 per month. This includes all the currently available features and also grants access to the upcoming new features. The billing cycle will start only after the WhatsApp Business API approval process is completed. Interakt does not charge you any one-time setup fee!. 
What's more – you can take the platform for a spin and explore all the top-notch features for FREE during a 14-day trial. That's right, you get to access all the game-changing features right from the team inbox (with unlimited logins), bulk notifications, the ability to send and receive media files with no additional cost to a verified profile status (green tick), and much more!
As part of the monthly subscription plan, you get 1000 free conversations in a calendar month. Beyond 1000 conversations, the billing rates apply as explained on our Pricing page. The usage will be calculated based on the number of conversations you have with your contacts in a month.
The second component is the WhatsApp Conversation charges (explained in the previous section). There will be no surcharge on the template messaging charges. You will be billed exactly for what WhatsApp charges you. So, in short:
Your total WhatsApp Business API bill = Monthly/Annual Subscription Charges + WhatsApp Conversation charges which is summarized in the image below:
Ready to give WhatsApp Business API a shot?
You've reached this far and by now you should have a good idea of WhatsApp Business API pricing and how it works between different partners. If your business is looking for an effective WhatsApp Business tool packed with powerful features and at a flexible pricing model – say no more! Sign up for Interakt's 14 day free trial and gear up your sales strategy to win more & more customers on WhatsApp.
Hope this article helped you understand Interakt's monthly subscription plans, WhatsApp's standard conversation charges, and the complete pricing structure of getting started with this platform. For any other queries, simply send a WhatsApp text to our team, and we will be right there to help you out. Get started with Interakt today, and supercharge your business, by growing your online sales on WhatsApp.