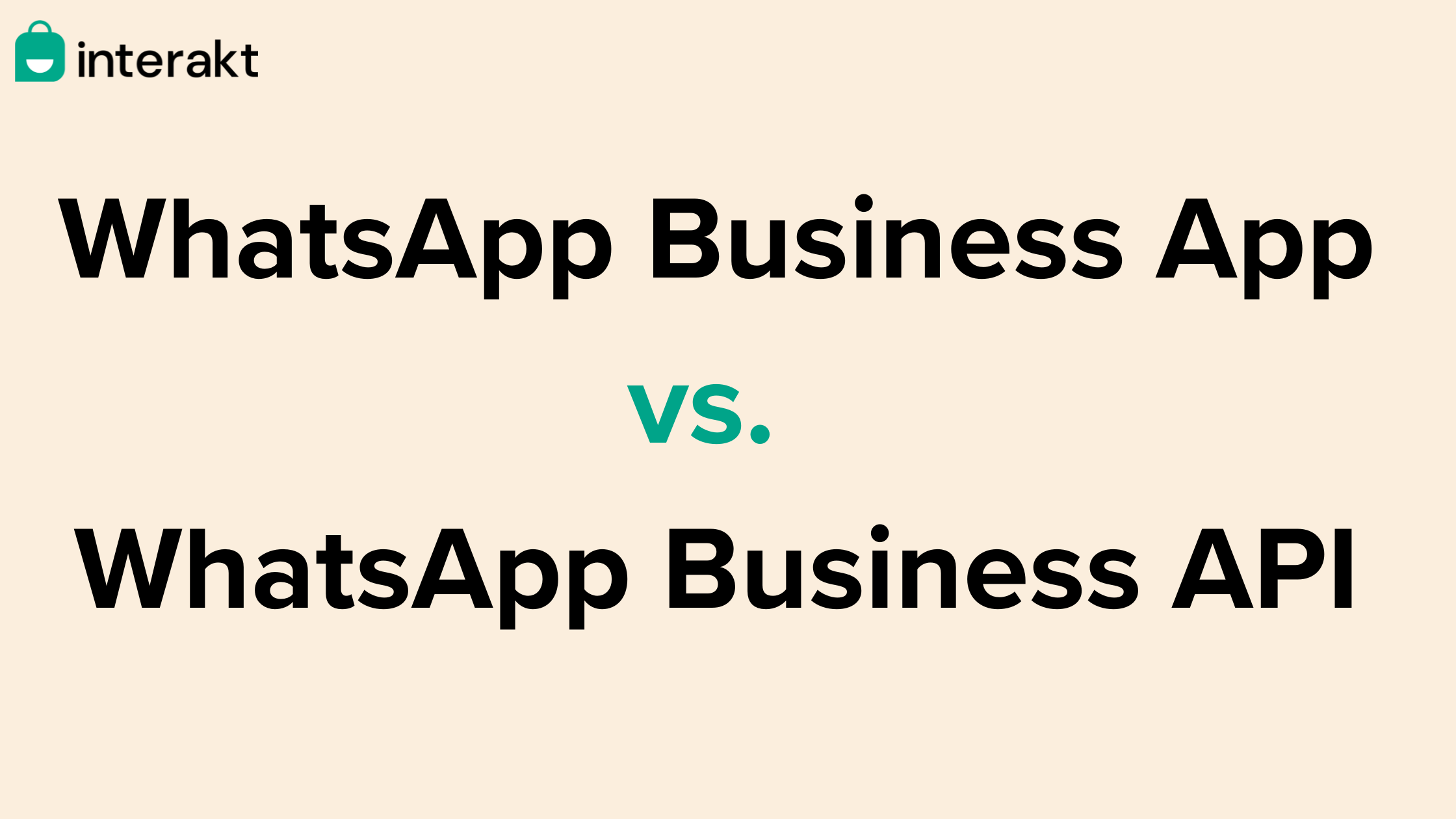 WhatsApp Business App vs WhatsApp Business API: Understanding the key differences and what it means for businesses
WhatsApp has been the talk of the town for a while now. But even as businesses become more welcoming to using the messaging platform to stay in touch with their potential and existing customers, there's still a little confusion about what is the best way to put the platform to work. So if you have been looking for a WhatsApp Business App vs WhatsApp Business API comparison, this blog is for you. 
Whether you're a business that has been using WhatsApp for a few campaigns or is someone wanting to get started, consider the following differences to ensure you start on the right foot to tap into the ROI potential that the messaging platform has to offer. 
WhatsApp Business App vs WhatsApp Business API 
Fundamentally, both WhatsApp Business App and WhatsApp Business API enable businesses to use the messaging app to communicate with their customers. So design and the platform is pretty much the same. But here is where the difference lies: 
1. Suitability 
The WhatsApp Business app is well suited for SMBs, while the WhatsApp Business API is designed to handle a more significant number of customers – making it more suitable for mid to large-scale businesses. So if you're someone just starting out an online business and have a handful of customers, the former is a good option to evaluate the channel for marketing and sales. But as you grow, you will need to sign up for a WhatsApp Business API account. 
2. Broadcasting limit 
One of the most common use cases of WhatsApp for business has been to broadcast promotions. The WhatsApp Business App gives you the ability to create and send bulk messages with WhatsApp broadcast campaigns for up to 256 contacts, which is a great starting point. But if you have a higher number of customers, the WhatsApp Business API allows you to send broadcast campaigns to up to 100,000 users a day.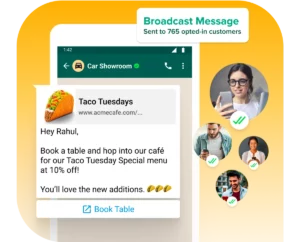 It is also important to note that in a WhatsApp Business App, your message will only reach those customers who have your number saved. On the other hand, the WhatsApp Business API sends your broadcast campaign to all the users – online shoppers who may have opted in at different stages in the buying process. 
3. User access 
If you're a one-man army and run a small business, the WhatsApp Business app will suffice some of your needs to manage incoming queries and messages from customers. It allows for a single device access only. But if your business receives anywhere from 50 messages and upwards, you may want to give access to a teammate to help you respond to customers in a timely way – this is where the WhatsApp Business API is more beneficial as it gives you the ability to share the WhatsApp account with multiple users. 
4. Green tick verification 
If you have a WhatsApp Business App account, green tick verification is not possible. But if you are using the WhatsApp Business API, you can work with a solution provider like Interakt to meet Meta's requirements for Whatsapp green tick verification. This can give your business an edge by adding more credibility to your account. 
5. Integrations
If you're running an online business, you may require setting up a few integrations to enable an easy flow of customer data to have meaningful conversations on WhatsApp. The WhatsApp Business app lacks integrations of CRM with WhatsApp Business with commonly used solutions like CMS, CRMs, ERPs, logistics service providers, Google Sheets, and others. On the other hand, a WhatsApp Business API platform like Interakt comes with seamless integrations with all popular business solutions to help with omnichannel selling.  This is a key aspect to consider because having to update data manually can result in errors that impact your business growth. Take, for instance, updating your inventory every time a product gets sold on WhatsApp. 
6. Automation and chatbots 
The WhatsApp Business App can help you set up a greeting message, away alert and quick replies to common queries. While this can serve the purpose of a business getting started on WhatsApp, it can quickly become limiting for fast-growing businesses where complex automation is required. The WhatsApp Business API platforms like Interakt come with automation workflows that address the entire customer journey – this allows businesses to automate messages for marketing, sales, reminders, abandoned cart recovery, transactions, customer support, and a lot more.
The same holds true for chatbots. The WhatsApp Business App does not allow the setting up of chatbots that can simplify functions like customer support. But a WhatsApp Business API platform simplifies the process of creating these chatbots. 
7. Complete commerce 
While the WhatsApp Business App does let you create a catalog to showcase your products and let customers add items to the cart, the journey ends right there for a consumer. To make the purchase, they require visiting the website. But when you're using the WhatsApp Business API, you can enhance these commerce features and provide easy checkout links on the messaging platform and even take payments for the same to quickly close the sale. This reduces drop-offs that often occur when a consumer is made to switch platforms. 
8. Analytics 
To know whether your customers want to get updates on WhatsApp, it is crucial to measure the performance of your campaigns. The WhatsApp Business App has a limited number of metrics that let you measure the number of messages sent, delivered, and opened. But if you want to look into how many people clicked through the site, bought an item from the catalog, or engaged with your business, WhatsApp Business API platforms like Interakt win. They come with in-depth analytics that highlights opportunities to engage customers better.