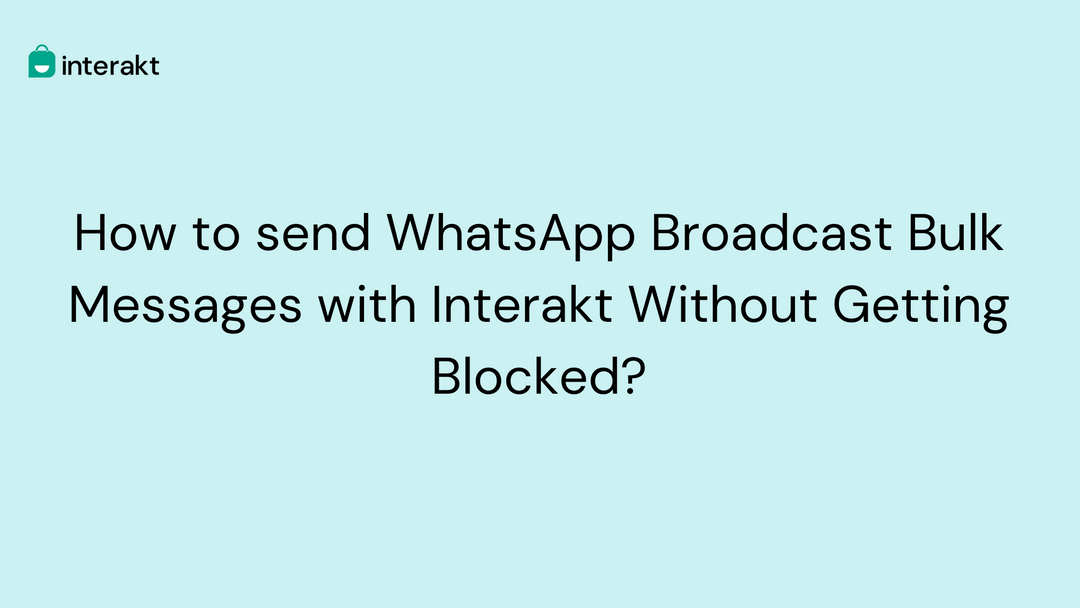 How to send WhatsApp Broadcast Bulk Messages with Interakt Without Getting Blocked?
If someone told us a few years ago that WhatsApp would be a game-changer that would evolve the way businesses work, we'd most probably be snickering in the corner. But it looks like the joke is on us now.
WhatsApp is an indispensable tool for brand visibility and communication, and businesses are here to harness that potential to their best. With the ultimate desire to revamp experiences by consistently engaging with your patrons aka customers; either to inform them about the discounts, yearly sales, webinars, new launches and so on, it's next to impossible to individually send in messages if you have a lot of customers, and here's where WhatsApp Bulk Messages comes into play.
Sending WhatsApp Bulk Messages with WhatsApp API, lets you reach out to a larger audience surpassing the limitation of 256 contacts per broadcast, enabling you to share from 1000 to 100,000 messages depending on your phone number tier. You can also schedule these messages. On WhatsApp API, companies are required to use the "Message Template" to send a Bulk Message, which complies with WhatsApp policies. A gross error in due compliance can lead to penal action and ends up in your number being blocked. So, you know you need to be mindful!

What does an ideal WhatsApp Bulk Message look like?
An ideal WhatsApp Bulk Message should have these pointers:
The message is to the point, neatly drafted and approved by WhatsApp before it's sent out.
Have placeholders – media header and Quick Reply buttons or call-to-action buttons.
‍
Things to remember before sending WhatsApp Bulk Messages
Messaging Tiers: The number of recipients you can send personalized bulk messages to depends on your messaging tier. The higher your phone number tier, the more contacts you can reach out to in a 24-hour period. You can increase your phone number tier based on the quality and volume of the messages you send in 24 hours.
Quality Rating: A quality rating is determined by a combination of factors; the number of blocks by the customer, frequency of outbound messages, and a response time. A good quality rating is ensured when you share high-quality & relevant messages which do not end up being blocked by the contact.
How can you reach out to 1000s of customers on WhatsApp?
It's easier than you might think! Only that they should be in compliance with WhatsApp's terms and policies. You also need to remember that WhatsApp was basically a private messaging app and it usually discourages anything that has the potential of being a "spam" message. So, ensure that the messages you intend to send out are high quality and relevant to your contact.
Here's how you can send in 1000 messages on WhatsApp:
Connect your WhatsApp number to a BSP (Business Service Provider) there's a myriad of BSPs in the market; choose the one that works for you, specifically a one that covers end-to-end service to benefit your business.
Create a WhatsApp Message Template and you can upload your content, data, image, or video and add a CTA button to it.
Send it out to all the intended recipients and wait for the message to be delivered.

How to send bulk messages without being banned on WhatsApp?
As covered earlier, WhatsApp is a platform that encourages private two-way conversations and discourages anything that is repetitive or has the potential of being marked as spam by users.
Here are a few more pointers to be mindful of while sending bulk messages to steer you clear of the danger zone:
Always send messages to contacts that have opted-in to receive your messages
Always try to send a message that elicits a response from the contact, either in the form of a call to action button or a reply. When there is a response generated, WhatsApp marks this as a safe conversation
Do not try to send messages to people who have blocked you
If the content guidelines are not followed, WhatsApp will restrict/lower your messaging limit. Suppose, if your messaging limit is 10k, it might get reduced to 1K, or if your messaging limit is 1K your account might be restricted for 24 hours.
Send acceptable messages as recommended by WhatsApp
Avoid sending customers too many messages a day
Use Bulk messages to reach out to 1000s of opted in customers
WhatsApp Bulk Messages is the best way to micromanage time and simultaneously be in the loop, updating and engaging contacts with valuable information. It becomes helpful when it is sent in with a particular purpose that serves both the sender and the recipient.
Lastly, have you tested the full potential of WhatsApp Bulk Messages yet? Get started with Interakt to create engaging bulk messaging campaigns. Sign up today and avail a 14-day free trial.
Check out Interakt's competitive WhatsApp Business API pricing for SMBs.