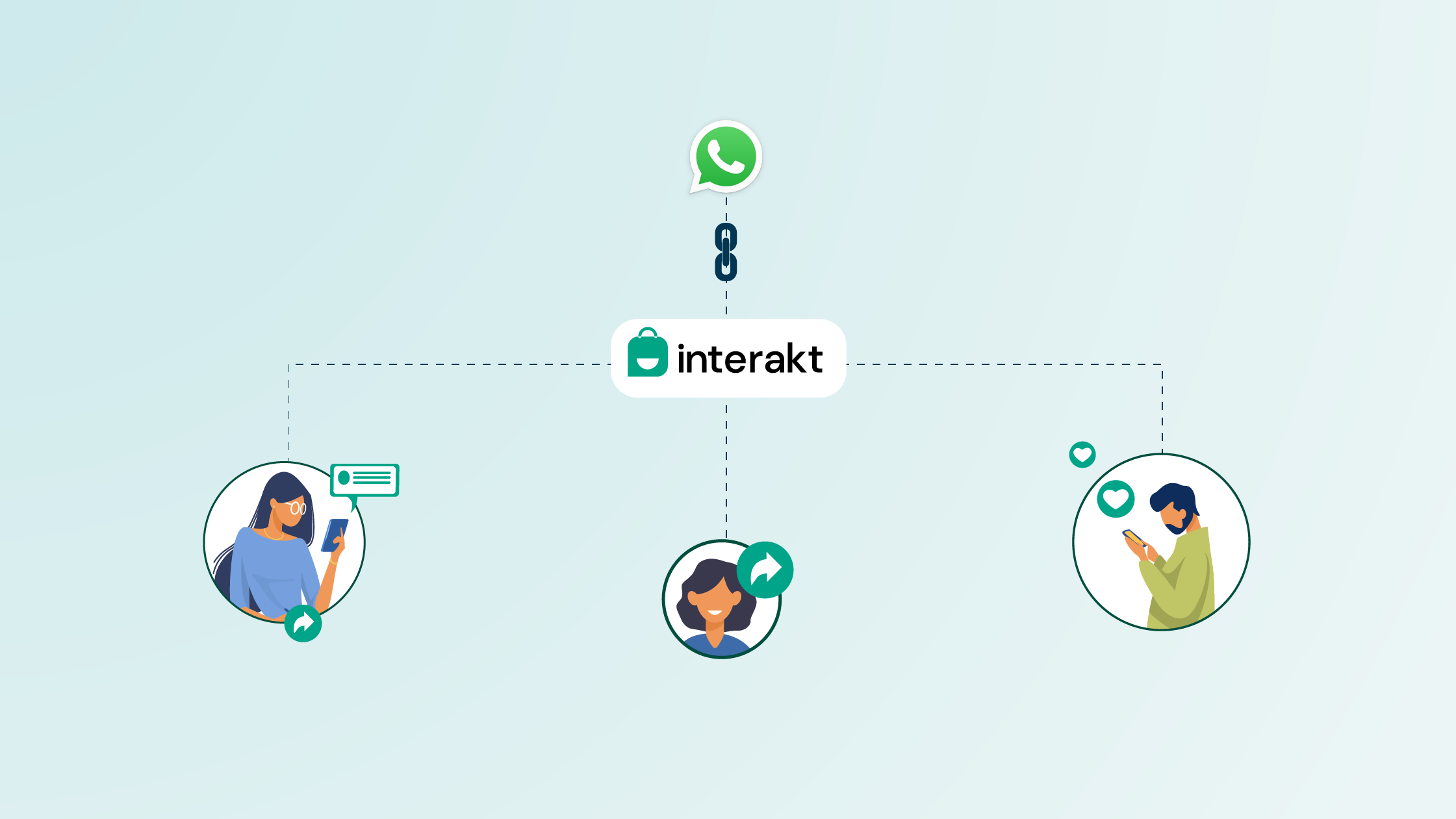 What are WhatsApp links and how to use them to start more conversations?
In our previous lesson, we discussed what WhatsApp opt-ins are and how you can get consumers to willingly subscribe to your list. Continuing on the same narrative of getting customers onto WhatsApp to get a chance to convert them into subscribers, this lesson speaks about WhatsApp links. This lesson will introduce you to what WhatsApp links are, how you can generate one and the different ways in which they can be used.
What are WhatsApp links?
The traditional approach to starting a conversation on WhatsApp typically involves sharing your phone number with someone, who then has to manually save your number to find you on the messaging platform to start chatting.
A WhatsApp link is basically a click-to-chat URL that can be used to simplify this entire process. Instead of the phone number being shared and then added to contacts, you can simply share a WhatsApp link. The consumer can then click on the link to be directed to a personal chat window on the messaging platform.
How to generate a WhatsApp link?
To standardize things, WhatsApp has given a specific structure to all the click-to-chat links. The standardization is also done to ensure easy recognition amongst users. This is what a WhatsApp link is structured as: https://wa.me/phone-number
For example, if your phone number is +91-99999, the WhatsApp link will be: https://wa.me/9199999
It is important to note that the phone number added in a WhatsApp link is always in its international format. You cannot include any zeroes, brackets or hyphens when adding the number.
How to customize a WhatsApp link?
Now, a WhatsApp link can be used in multiple ways to encourage consumers to start a chat with your business. You may add the link on social media platforms, in your email newsletter, on your website or even in your ads.
If you use the standardized WhatsApp link on all the channels, you may find it difficult to track where the conversations are stemming from. Simply put, you will not be able to monitor which of the platforms most of your WhatsApp conversations are starting from. This is where WhatsApp link customization comes in handy.
You can customize a WhatsApp link by adding pre-filled messages – which are basically extensions to your WhatsApp link that define or add more context to it. For instance, if a conversation stems from a product page, this customized link would have information about which product a consumer is interested in.
Use the text parameter within the WhatsApp URL and enter the description you want as a pre-filled message. The text you include in the URL must be encoded in ASCII characters, using %20 instead of spaces – this is pretty similar to how trackable URLs are created in general.
For example, if you have a web page on 'shipping details' that a consumer messages you from, your pre-filled text needs to be 'shipping details'. And this is how your WhatsApp URL will appear: https://wa.me/9199999?text=shipping%20details ‍
Now, when a consumer uses the above link to start a conversation, you know exactly what they're looking for.
Alternatively, you can also use the Google Tag Manager to add a pre-filled message to your WhatsApp URL. This may require you to learn more about conversion tracking before the set up, and can hence take longer to customize.
Now that you have everything in place, let's talk about the different ways in which you can make use of WhatsApp links.
How to use WhatsApp links?
There are a number of ways in which businesses are using WhatsApp URLs to establish a faster connection with consumers. Here's taking a look at some of them:
1. Social media profiles 
Instead of directing people to your online store or a website URL, you can choose to use conversations as a journey starter for consumers. Add the WhatsApp link to your social media profile bios letting people know you are available on the messaging platform to address any of their queries, concerns and orders.
WhatsApp Link in a Social Media Profile
2. Social media posts 
Similarly, you can also add the WhatsApp URL to your social media posts and stories to make them more actionable. For example, instead of linking out to web pages on your online store, add a WA link to your Instagram story instead.
Social Media Ad with a WhatsApp Link
3. Email newsletters 
If you have an active email newsletter, include the WA link to them with a call-to-action to start a conversation. It could be to avail a special deal or discount or get more information on a product shared in the newsletter – give the recipient a reason to talk to you on WhatsApp and make it easy with the links.
4. Social media ads (click to WhatsApp ads) 
You can also use your WA links in social media ads as a call-to-action. This basically nudges your targeted audience to click through the link and reach out to you regarding the deal, discount or promotion you're running. But to be able to do this, you will require a WhatsApp Business Platform like Interakt to set up the connection between the two platforms.
5. Promote with QR code 
This is especially important for those who have an offline presence or are running pop up stores to meet their consumers. Alongside your QR code, make sure you also add your WA link or are able to share the same at the point of sale. This is a great way to get an opportunity to convert a one-time physical store buyer into an active subscriber.
6. Add to your website 
You've seen how stores now have a WhatsApp widget added to encourage visitors to drop messages on the platform – what we covered in the previous lesson. But in addition to that, you can add your WA links for specific products, sale pages or policy pages to help visitors trigger a conversation.
For example, if someone is on a product available for pre-orders, you can add a WA link to encourage them to drop a message to book the item. This also helps you keep this customer engaged until the product finally gets delivered to them.
Don't wait, put your WhatsApp link to work!
WhatsApp links are quick to generate and easy to use. There are a number of ways in which you can use these URLs to start a conversation with existing and potential customers.
But at the same time, it is important to note that when a consumer messages you on WhatsApp using this URL, your response time matters. The faster you're able to engage this consumer in a contextual way, the higher are the conversions from the chat.
This is where using a WhatsApp Business API solution provider comes into play. Solutions like Interakt help you set up automations specific to product pages, offers, deals and discounts so that when someone clicks through a WhatsApp link, you're able to initiate a conversation almost instantly!
You can get started with using WhatsApp links for Business using Interakt today.
Alternatively, if you're planning on reaching out to a wider audience and getting them to chat with you on WhatsApp, head over to our next lesson on Click-to-WhatsApp ads!