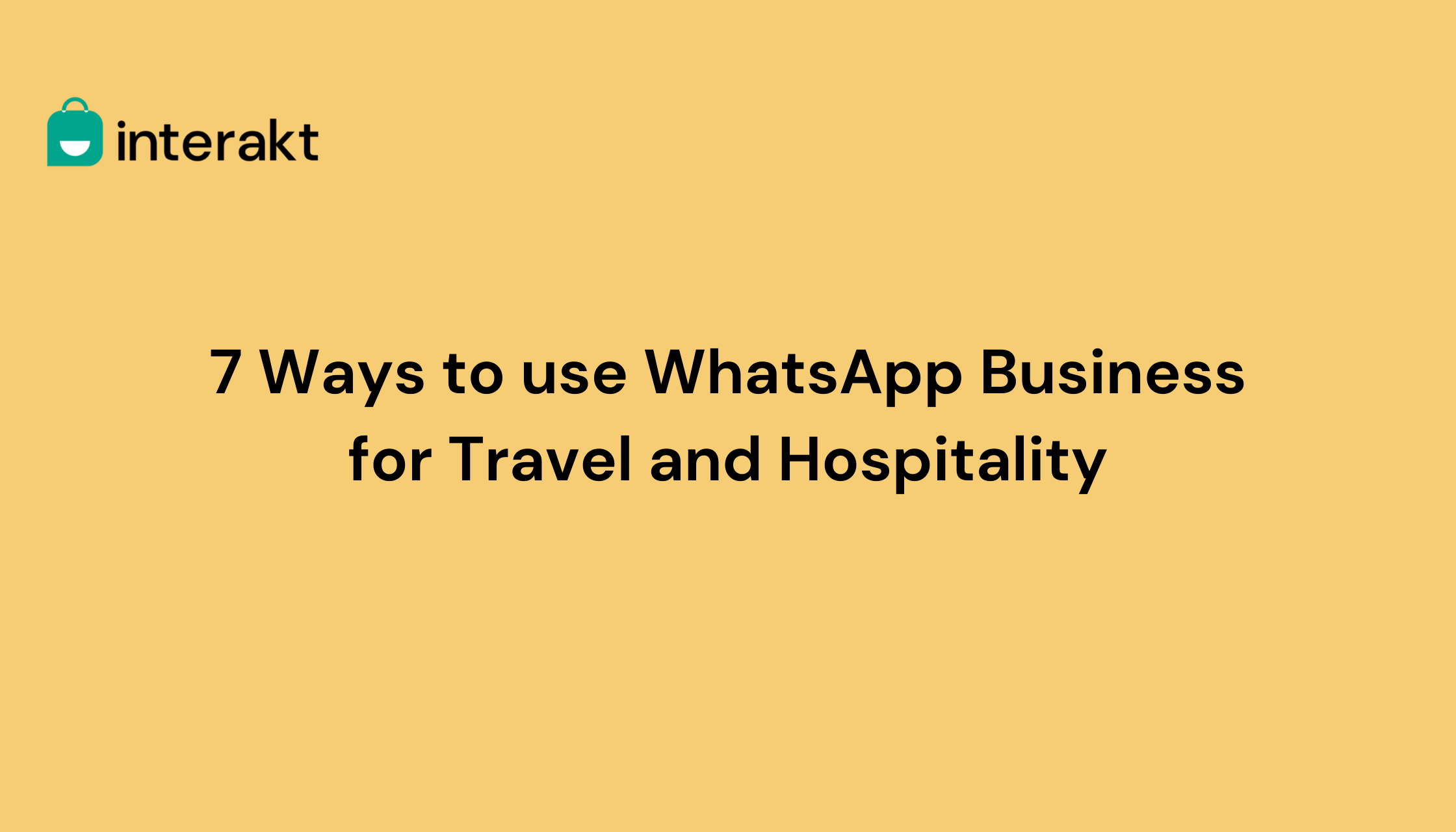 7 Ways to use WhatsApp Business for Travel and Hospitality
WhatsApp is the most popular chat app in the world with more than 2 billion users. With the launch of the WhatsApp Business accounts, it has become the go-to channel for businesses looking to interact with customers. In this post, we will take a look at the primary use cases of WhatsApp Business API for travel and hospitality companies. You may wonder if one can use WhatsApp Business for travel or hospitality? If you run a travel or hospitality company, incorporating the WhatsApp Business solution into your communication strategy will help you enhance the customer journey.
The travel and hospitality industries have undergone a digital transformation in recent years. As customer expectations have increased, many companies have realized the need to offer quick, reliable and personalized services. Companies that have kept up with the times and changed their ways have reaped many benefits. They make their customers happy and keep them coming back for more.
Despite the developments, there have been issues with customer interactions because whenever a problem crops up, passengers still have to reach out to the airline's call center. And that is where the user experience takes a hit. You may be well aware of the challenges in delivering a hassle-free omnichannel experience to customers especially in cases of unpleasant incidents. How seamlessly to use two-way communication and provide the right information in the shortest possible time has remained more in theory and seldom in practice.
Is WhatsApp for Business the right solution for travel? 
Incorporating the WhatsApp Business solution has spearheaded a transformation towards a more meaningful omnichannel customer experience. Since WhatsApp is an immensely popular channel it provides the perfect network effect that businesses need to bring all the customer workflows to a unified platform. With the use of WhatsApp Business for Travel, there is a perfect synergy between the back end and customer relationship systems.
The WhatsApp Business account offers utmost security to its users, with end-to-end encryption on all chats. It allows you to share rich media like booking confirmation, boarding passes and other important information making it convenient for travelers. Convenience in the hospitality sector means offering customized services, quick responses, real-time updates and many such factors for a seamless customer experience. And when these services are offered on a platform that's preferred by customers, there is nothing like it! Customers will love the experience. When they see the effort taken by you to enrich their experience, there is no doubt that customers will become loyal to you. With more loyal customers the retention rates and revenues are bound to increase.
Companies in the travel and hospitality sector work round the clock. WhatsApp Business API's automation will give you the ability to offer 24/7 customer support at lower costs, even as chatbots and notable features like quick replies, custom auto-replies, and template messages give human agents a breather.
How to make travel or hospitality better with WhatsApp Business? 
We have listed out the potential use cases of WhatsApp Business API for hospitality and travel.
‍
1. Quick Customer support 
Provide instant one-on-one conversational support to your customers on their most preferred app and resolve any questions that they may have instantly.
‍
2. Alerts & notifications 
Send out real-time alerts and notifications on bookings, payments, flight delays, cancellations, gate changes and other urgent information. Get your customers to opt-in and proactively engage with them in the future.
Notifications and alerts sent via WhatsApp have the power to encourage the customer to respond, in which case, your team must be prepared to share the updated itinerary or offer more information, should the travelers ask for it.
‍
3. Share personal documents and sensitive information 
WhatsApp is a highly secure platform providing end-to-end encryption on all conversations. This allows you to send bills, payment details and invoices. Customers may share their personal details including passport copies, identity cards, rental agreements and more.
‍
4. Set responses to FAQs 
You can use the WhatsApp Business platform to set quick automated replies to customer FAQs. At times giving travellers all the information they need at the tip of their fingers is the easiest way to keep them happy.
‍
5. Send quick reminders 
Owing to busy lifestyles, people often end up missing out on important dates and other travel-related things. Missing the travel date or forgetting to cancel a reservation despite knowing that they won't make it are quite common in the travel sector. However, businesses must leave no stone unturned but make the entire experience a breeze for customers.
When customers are on the move, communication becomes all the more difficult as they are not always checking their email or answering their phones. So what's the best way to reach them? Statistics prove that WhatsApp messages have a high open-rate of 98%. WhatsApp users check their phones frequently. So, you can use WhatsApp Business API for travel-related reminders about schedules and rules.
‍
6. Offer concierge services 
Until now concierge services were being offered by mobile apps that have low download and usage rates. Providing concierge services on an instant messaging App like WhatsApp — which your guests are already using, has the power to set your service apart!
Using WhatsApp Business for hospitality and travel can help you generate more revenues by offering the convenience that a lot of high-end travellers want.
For example, a WhatsApp chat can allow your guests to book various services effortlessly — be it local transport, wheelchair assistance, making restaurant reservations, calling for an extra bed or blanket in the hotel room and much more.
7. Boarding passes and e-tickets 
Airlines were among the first travel companies to use WhatsApp for Business.
WhatsApp is ideal for sending boarding passes, e-tickets and notifications to its clients.
The WhatsApp Business solution makes it easier for travelers to check in and receive their boarding passes. They can bypass the website and long queues at the airline counters to receive it right on WhatsApp.
‍
Get started with WhatsApp Business API for travel and unlock a host of benefits to serve your customers better. Elevate customers' experiences with the WhatsApp Business Solution on Interakt. Sign up for a 14- day free trial.