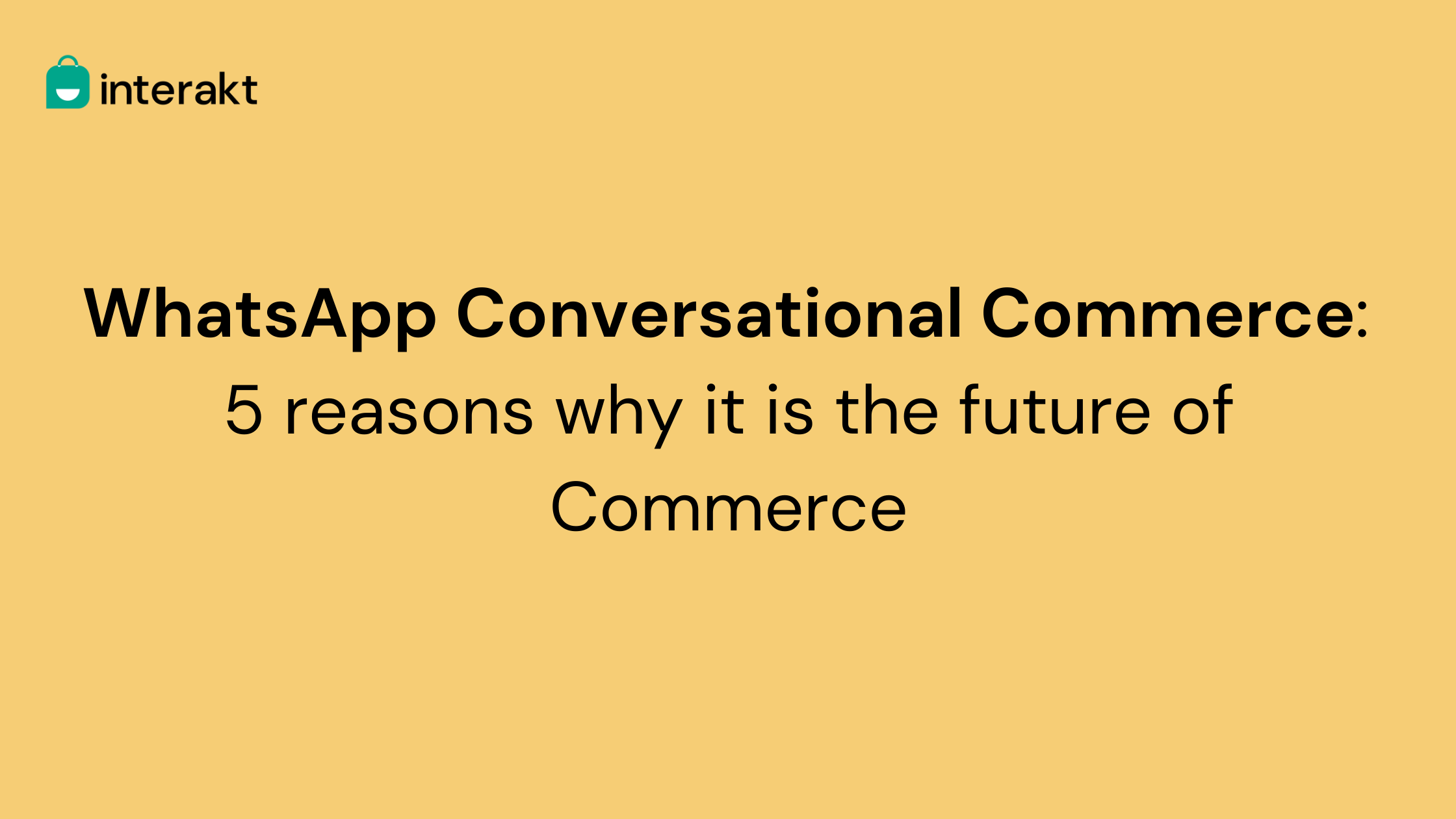 WhatsApp Conversational Commerce: 5 reasons why it is the future of Commerce
In the last couple of decades, few path-breaking inventions have completely transformed customer communication. It all began with the rise of emails in the late 90s, they became the go-to medium of customer communication for brands all over the world. And then instant messaging emerged.
Later on, push notifications came into the picture in the early 2010s and went on to become a popular customer communication channel. Today there is something similar happening with instant messaging Apps.
Interacting with customers on their most preferred app through business accounts is called Conversational commerce. This is a whole new way of engaging with customers involving a 1:1 personal dialogue.
It all began when WhatsApp was launched in 2009 spearheading a completely new form of communication with customers. From then on there was no looking back. WhatsApp quickly went on to become the messaging channel of choice for billions.
The introduction of WhatsApp Business Platform allowed SMBs to take charge of their customer interactions in a way that helped them establish stronger relationships with existing customers and effectively reach out to new ones. This eventually led to the rise of conversational commerce, through which businesses can make use of the WhatsApp Business Platform to promote their products and connect with customers on a 1:1 basis.
In this blog post, we will walk you through how conversational commerce on WhatsApp works and the benefits of WhatsApp for conversational commerce.
How can I use WhatsApp Business API for conversational commerce?
1. Offer a start to end shopping experience via WhatsApp
Conversational commerce on WhatsApp allows customers to talk to their favorite brands on a familiar platform for sales and support related queries and receive personalized product recommendations and important notifications and alerts.
Imagine a WhatsApp chat, where a customer can go through your catalogue, speak to one of your agents, pick their favorite items, add them to a shopping cart, share their order list, make payment via WhatsApp and get them delivered to their preferred location. Do all of this while still staying on the chat window.
‍2. Engage with customers in real-time forming strong brand connections

Conversational commerce on WhatsApp allows you to send messages in the form of alerts and notifications to customers in real-time on their favorite messages app. It also allows customers to reach out to you should they have any questions.
Such interactions are vital to share important information and notifications. WhatsApp also lets you reflect your brand's persona into customer conversations. You can get creative and add rich media like images, videos, documents and CTA buttons to make the conversations engaging.
‍3. Set quick replies and automated responses 
WhatsApp makes it possible for you to create message templates that can be sent to customers in response to frequently asked questions. Automated responses can take care of questions that are asked when you are unable to reply in person.
For example, if you are out of the office you can send an automated message to let the customer know that you are unavailable and you will attend to their request and send them a reply at the earliest possible time.
‍4. Deliver personalized messages 
WhatsApp is truly a 1:1 conversational platform enabling you to create and deliver personalized messages on the App. As much as WhatsApp is an incredible platform to send automated notifications and alerts on order status, re-stocked products, payment confirmation, appointments and travel bookings, it is also a channel that supports direct two way conversations.
Conversations like these usually take place at physical stores but WhatsApp makes it possible for its users to connect with businesses online. WhatsApp Business API providers like Interakt have advanced features for conversational commerce allowing to create vibrant customer experiences.
5. Initiate marketing campaigns using template messages 
WhatsApp has laid out policies that allow you to create message templates to drive conversion. Template messages have to be approved by WhatsApp. This is in the case of business initiated conversations. However if a customer sends you a message, you can respond within a 24-hour window. Within this time frame, you are allowed to send any type of message including promotional ones.
Empower your business through conversational commerce on WhatsApp
If yours is a fast-growing business looking to tap into the power of conversational commerce, get started with WhatsApp Business API on Interakt.
Interakt's top-notch features will help you offer quick, personalized and reliable services to your esteemed customers. Sign up today and get a 14-day free trial.