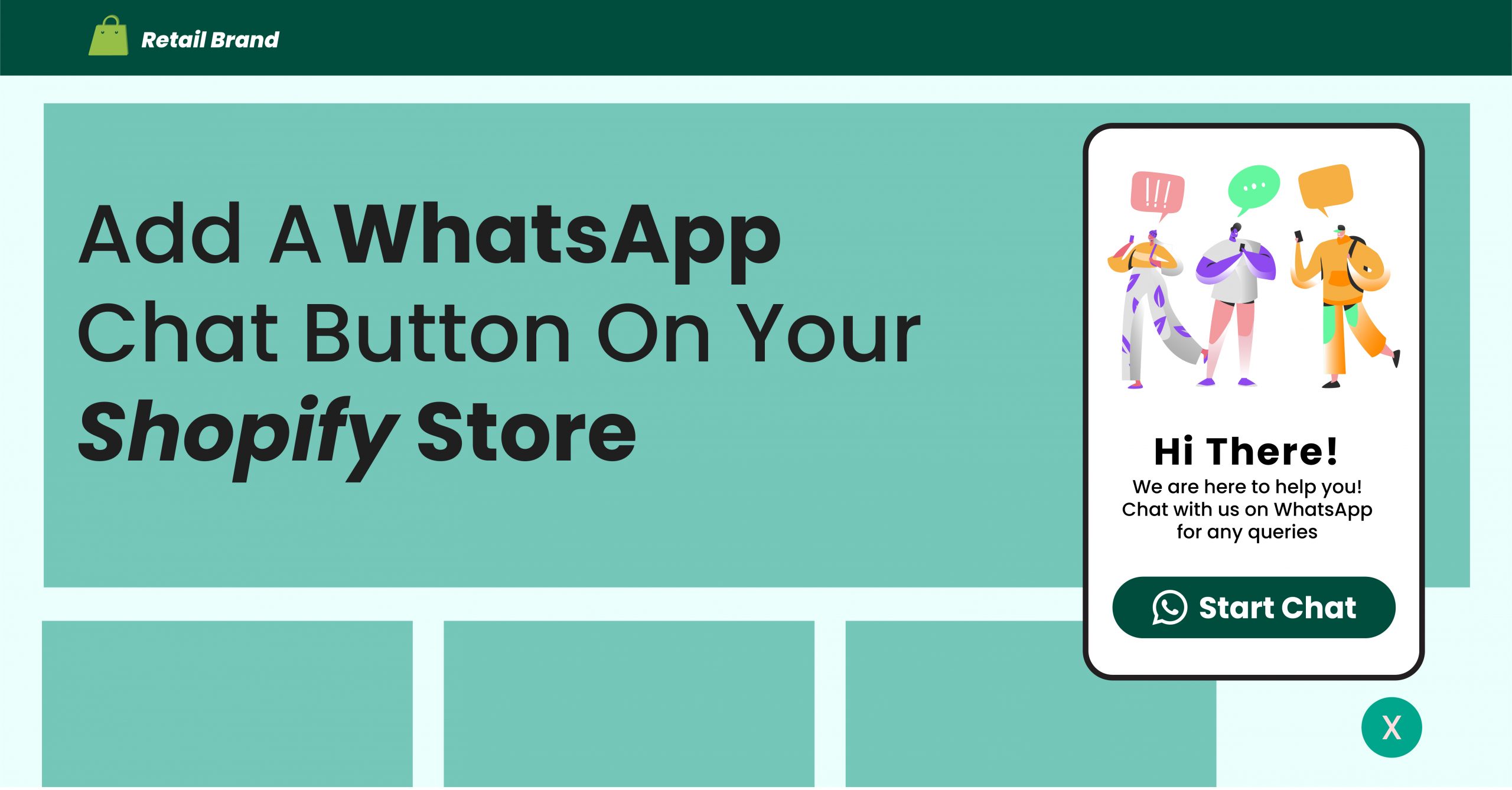 How to Add WhatsApp Chat Widget to Shopify Store: A Step-by-Step Guide in 2023
As a Shopify store owner, you're always on the lookout for the latest features to build better customer connections and increase your sales.
One way to ensure an excellent customer experience is by responding to customer queries in ways that are most convenient for them. This applies to potential customers as well. Customers always expect you to interact with them on their terms, for which you have to be in the right place, at the right time and with all the right answers.
A good way you can achieve this goal of creating a seamless customer experience is by adding a WhatsApp chat widget on your Shopify website.
What is WhatsApp chat widget?
A WhatsApp chat widget is a small window that appears on a website allowing visitors to talk to your customer service representatives or an AI-powered chatbot. WhatsApp chat widgets are usually located in the lower right corner of the website.
Activating a live chat button lets you talk to your customers on a real-time basis and provide instant replies to their questions.
Instead of choosing an unknown live chat widget, choose to integrate with WhatsApp and add a WhatsApp chat widget to Shopify store. Leverage WhatsApp Business API on Shopify to boost sales on Shopify.
WhatsApp is one of the most popular and preferred messaging Apps in the world today. By adding a WhatsApp chat button to Shopify store, you get to enjoy combined the benefits of two powerful platforms – Shopify and WhatsApp.
What are the steps to add WhatsApp chat widget to Shopify store?
Step 1: Install the WhatsApp live chat widget on your website. 
Step 2: Approach a WhatsApp business solution provider like Interakt to create and install a WhatsApp chat button on your Shopify webpage. Interakt allows you to add WhatsApp chat widget to Shopify store which will appear as a pop-up on your website. This chat widget is customizable. 
Step 3: You can style and customize the chat widget to include the color, text, layout, and image of your choice. 
Step 4: Write catchy messages and choose where you want to position the chat button.
Step 5: Select the type of button that you want to go with – a simple one with the WhatsApp logo or even a customised one with text added to it. 
Step 6: Set a colour & add an image to the chat widget to keep it in line with your brand's style guidelines.
What are the benefits of adding WhatsApp chat widget to Shopify store?
Now that we have seen what a chat widget is and how it can be styled and added to your store, let's take a look at some of the benefits of using a WhatsApp Business API while adding a WhatsApp chat widget to Shopify store.
Send automated messages to customers who abandon their shopping carts 
Research indicates that 70% of people abandon their shopping carts and this could be due to distractions like phone calls, messages, social media notifications, etc. Send automated WhatsApp messages to these customers on the channel of their choice and recover abandoned carts.
Send order confirmation messages
Customers really appreciate it when you keep them up to date on the status of their orders. Boost customer satisfaction and keep customers informed by sending out timely messages on orders placed, orders shipped, orders out for delivery, and orders delivered.
Generate more leads
Adding the chat widget to your Shopify store will help you directly engage in WhatsApp conversations with your customers. You can also drive offline traffic to your Shopify store by using WhatsApp QR codes.
Enable assisted selling using WhatsApp
Customers are sure to have doubts about the products or services they are interested in buying. With a live chat button, you can quickly respond to all their queries and close sales faster.
Track past conversations 
WhatsApp saves chat histories allowing you to track conversations with customers easily. Having a track of customer conversations will help you gain better insight into their preferences and equip you to meet their requirements leading to increased sales.
More than 15,000 stores use the WhatsApp live chat button on their Shopify websites, making it one of the most trusted widgets in Shopify. If you're a Shopify store owner, wait no more – sign up for WhatsApp Business today and add WhatsApp chat widget to Shopify store in no time.