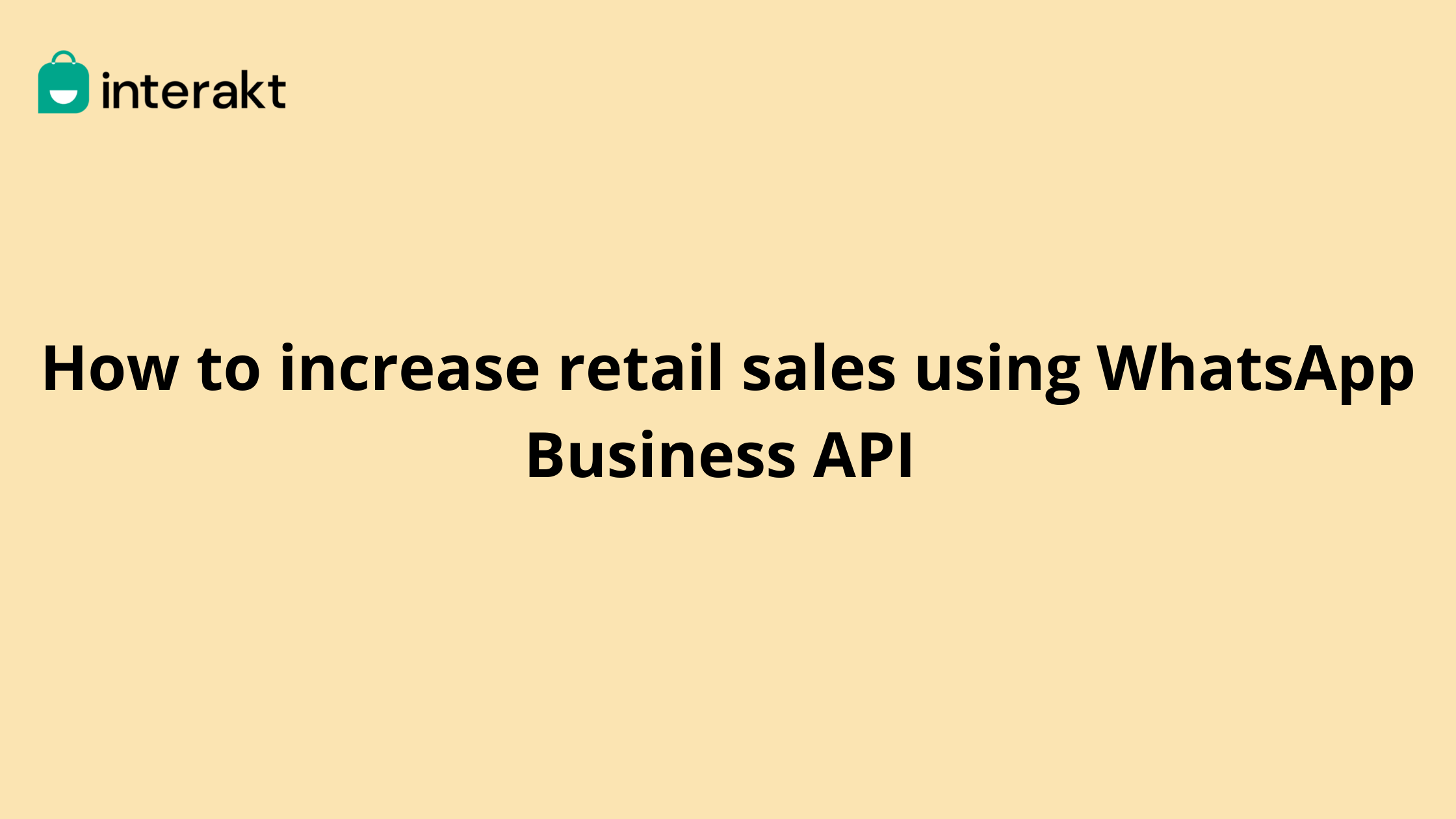 How to increase retail sales using WhatsApp Business API?
The way consumers make purchases has changed forever owing to the last couple of years. But as normalcy comes in, these changes are going to impact how they interact with physical retail stores as well, alongside the purchases they make online.
This is where retail stores will need to step up their customer experience strategy and adapt to the new ways of making purchases. Yes, we're talking about leveraging the best of both worlds – online and offline. And the one channel that lets you do that, is WhatsApp. In this article, we're going to share how to increase retail sales with WhatsApp Business API.
Ways to use WhatsApp Business API to increase retail sales
There are a number of ways in which a retail store can leverage WhatsApp for Business through the WhatsApp API integration. But following are some of the most effective use cases of conversational commerce we've seen so far:
1. Promote your store and sales 
If you're running a sale or an offer in your retail store, leverage WhatsApp for Business to promote it to your customers. Make sure you include all consumers – those who have bought from you online, and offline. WhatsApp broadcast messages have helped businesses reach their consumers faster, leading to higher number of conversions, sales and even in-store footfall.
‍
2. Offer customer support 
Consumers are still torn between online and offline shopping. Address their queries, concerns and questions around store timings, health and safety regulations being followed, product availability, and so on. You can also direct them to your online store if a physical retail location hasn't opened to full operations yet, preventing a loss of sale!
‍
3. Offer shopping assistance 
Similarly, you can also offer shopping assistance on WhatsApp. With the help of the WhatsApp Business API, you can set up auto-replies for frequently asked questions to address common queries like product sizing, return/ refund/ exchange policies, and so on. You can also leverage WhatsApp conversational commerce to make product recommendations, making consumers more likely to convert.
‍
4. Securing orders and reorders 
Consumers seek ease of shopping. That means if they can skip a series of steps to place an order or make a purchase by simply dropping a message, they'd choose the latter. With the help of conversational commerce, you can use WhatsApp for sales to take orders and reorders from existing customers. The WhatsApp Business API integration with your online store backend, will enable you to sync customer and order data seamlessly, helping you manage it all seamlessly.
‍
5. Send order and delivery updates 
If you take an order using WhatsApp for Business, make sure you also close the loop with post-purchase communication. Whether they're placing an order from your offline or online store, you can use WhatsApp to send transactional updates like order confirmation, and delivery updates to keep the customer up-to-date with their purchases. If you're using the WhatsApp Business API, you will be able to automate these updates easily.
‍
6. Keeping customers engaged 
If you're still running a physical retail store alongside your online storefront, you need to keep customers actively engaged. This means frequently communicating with them to stay on top of their minds. With the help of the WhatsApp Business API, you can set up automated newsletter-like campaigns that include your recent content, look-books, in-store offers and policies, and so on.
Conclusion
Many businesses are still new to using WhatsApp Business and the WhatsApp Business API. With distinct features and functionalities that the two enable, businesses can create a consistent platform for communicating with their customers actively. With smart automations and a human touch, WhatsApp is slowly diminishing the boundaries between physical retail stores and online stores with a consumer's need to continually and easily converse.
Is your retail store leveraging WhatsApp for Business yet? It's time to leverage conversational commerce to increase your retail sales. Book a demo with Interakt today.