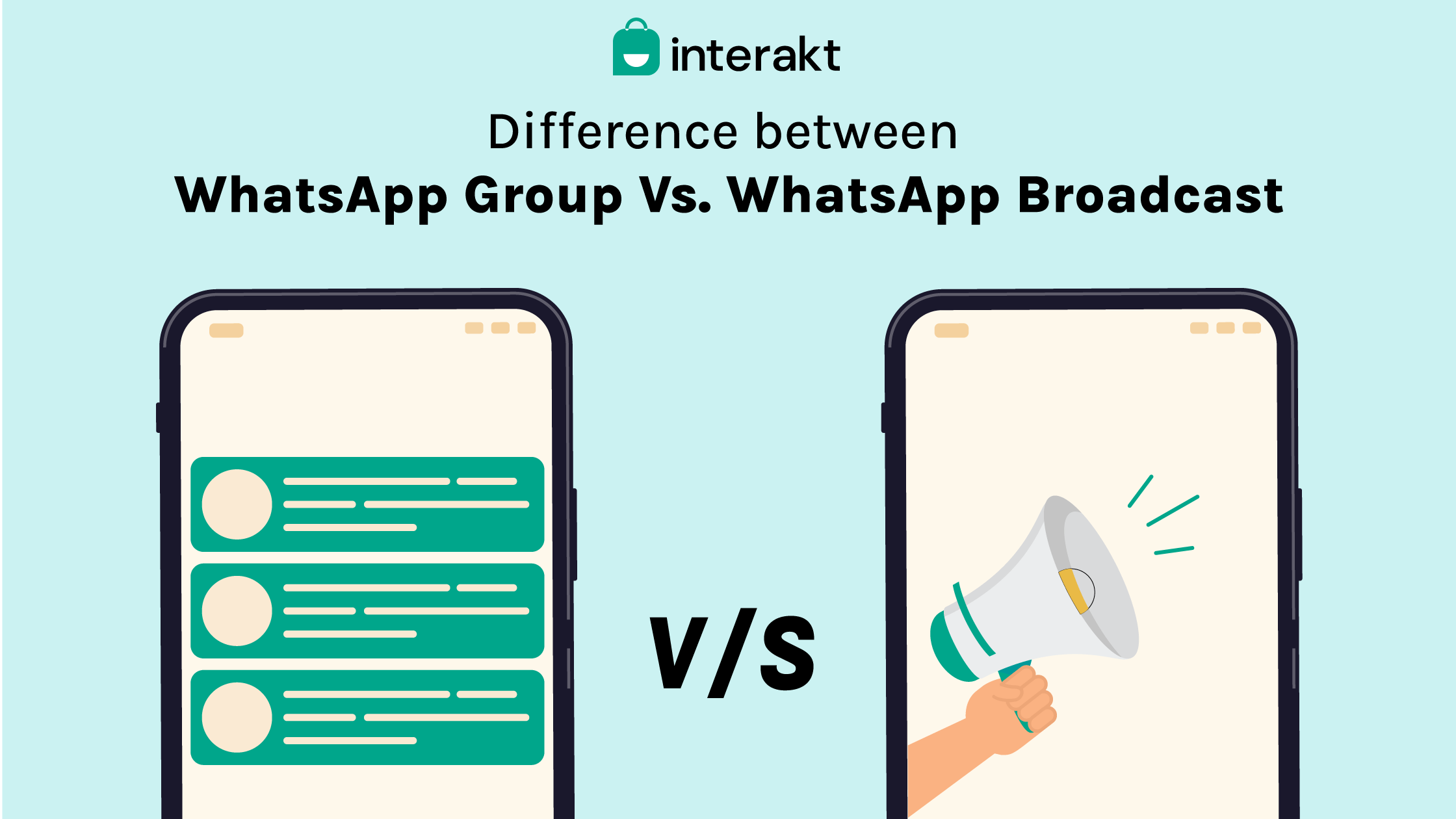 WhatsApp Broadcast Vs. WhatsApp Group : How to choose and the benefits of them | Interakt
WhatsApp is known for the convenience and effectiveness it brings to personal chats and business communication. It's an app that everyone is familiar with. The business version of the app is used by millions of businesses around the world where they connect and engage with their customers, promote their products and services and drive sales.
Two important features of WhatsApp include the WhatsApp Group and WhatsApp business broadcast. In this post, we are going to look at the WhatsApp broadcast vs. WhatsApp group differences and how best we can utilize them?
‍
What is a WhatsApp group?
A WhatsApp group operates much like a chat room. It is a two-way communication feature where group members can chat with one another without any barriers. Users who belong to a group can share images, videos and important information with one another. The feature comes in handy when you need to communicate the same piece of information with many people.
WhatsApp groups are ideal for making plans (birthdays, events, dinners, travel etc), to hold discussions and interactions. Businesses use it for employees to connect and work together. However, the platform is not suitable for personal conversations as every message you send to the group will be received and viewed by every other group member. A group administrator controls and oversees the activities in a group.
‍
What is WhatsApp Broadcast?
WhatsApp Broadcast is a one-way communication feature that allows you to send private messages to a selected group of people. Through this feature, you can share photos, videos, information or location with friends, family or customers. All you have to do is create a broadcast list on WhatsApp, select the group of people you want to share the message with, type out your message, add an attachment and tap on send. It's done!
With WhatsApp Business API you can send broadcast messages to 1000s of customers who have opted-in to receive messages from your business. The WhatsApp Business API allows you to manage all your customer chats effortlessly with its 'shared team inbox' and share 'product catalogs' at scale through automated messages and a whole lot more.
What is the difference between WhatsApp group and WhatsApp broadcast?
The significant difference between the WhatsApp group and WhatsApp broadcast is that the prior has privacy of the recipients intact. Any message sent through the WhatsApp business broadcast will be received as a private message by the recipient. Likewise, it will appear in your private chats with the recipients.
People on the broadcast list are unaware of who else is on the list. However, in a WhatsApp group, you will know who else is a part of the group.
‍
What are the advantages of WhatsApp broadcast groups?
Here are the top benefits of broadcast group in WhatsApp:
1. It is extremely useful in sharing information with a large number of people
WhatsApp business account broadcast helps you better your WhatsApp customer service by allowing you to send the same message to multiple customers at one go while making it seems as though the message was personally sent to each recipient. In other words, the broadcasted message will appear as an individual sent a message in your private chats.
2. WhatsApp business broadcasts are great to send notifications/ alerts about upcoming events, promotions or order status.
The beauty about WhatsApp Business Broadcast is that all the contacts chosen by you will receive the same message without you having to manually send it to each one of them.‍
3. A broadcast group is an excellent marketing tool
With it you can promote your products and services and interact with your customers at scale. All you need is the contact number of your customers and a well thought out business strategy.‍
Do people know they have been added to a broadcast list ?
No, they would never know because a WhatsApp business broadcast list does not inform the recipients that they have been added to a list.
How to create and send a WhatsApp broadcast list?
Creating a broadcast list on WhatsApp is pretty straightforward. Follow these simple steps to create one:
1. Open the WhatsApp app and tap on the 3 dots that appear on the top right-hand corner of your screen
2. Tap on New broadcast
3. Then, select the contacts you want to send the broadcast message to
4. Tap the green checkmark to successfully create your broadcast list
5. Lastly, type out your message and hit the send button
Regardless of which of the two features you decide to go with, remember to always be ethical and refrain from spamming your customers. It will only look bad on your business and brand. If you are keen on using the broadcast messaging feature, there are options available for WhatsApp Business API users as well. Click here to know more.
Interakt is the official WhatsApp Business API provider. Get access to Business API to boost your business communication with top-notch features like bulk notifications, a shared team inbox, contact management and much more. Sign up today to avail a 14- day free trial.
What is the main difference between WhatsApp Broadcast and WhatsApp Group?
WhatsApp Broadcast allows you to send a message to multiple recipients individually, while a WhatsApp Group is a chat where multiple members can engage in group discussions.
Can recipients see each other in WhatsApp Broadcast?
No, recipients in a WhatsApp Broadcast won't see each other's contact information. Messages are delivered individually, maintaining privacy.
How does engagement differ between WhatsApp Broadcast and WhatsApp Group?
In a WhatsApp Group, all members can interact and see each other's messages. In a Broadcast, interactions are limited to the individual sender & receiver, and recipients can only reply to the sender privately.
Which one is better for personalized communication: WhatsApp Broadcast or WhatsApp Group?
WhatsApp Broadcast is better for personalized communication as messages are sent individually, giving a more personalized feel. Groups are suited for discussions among members.