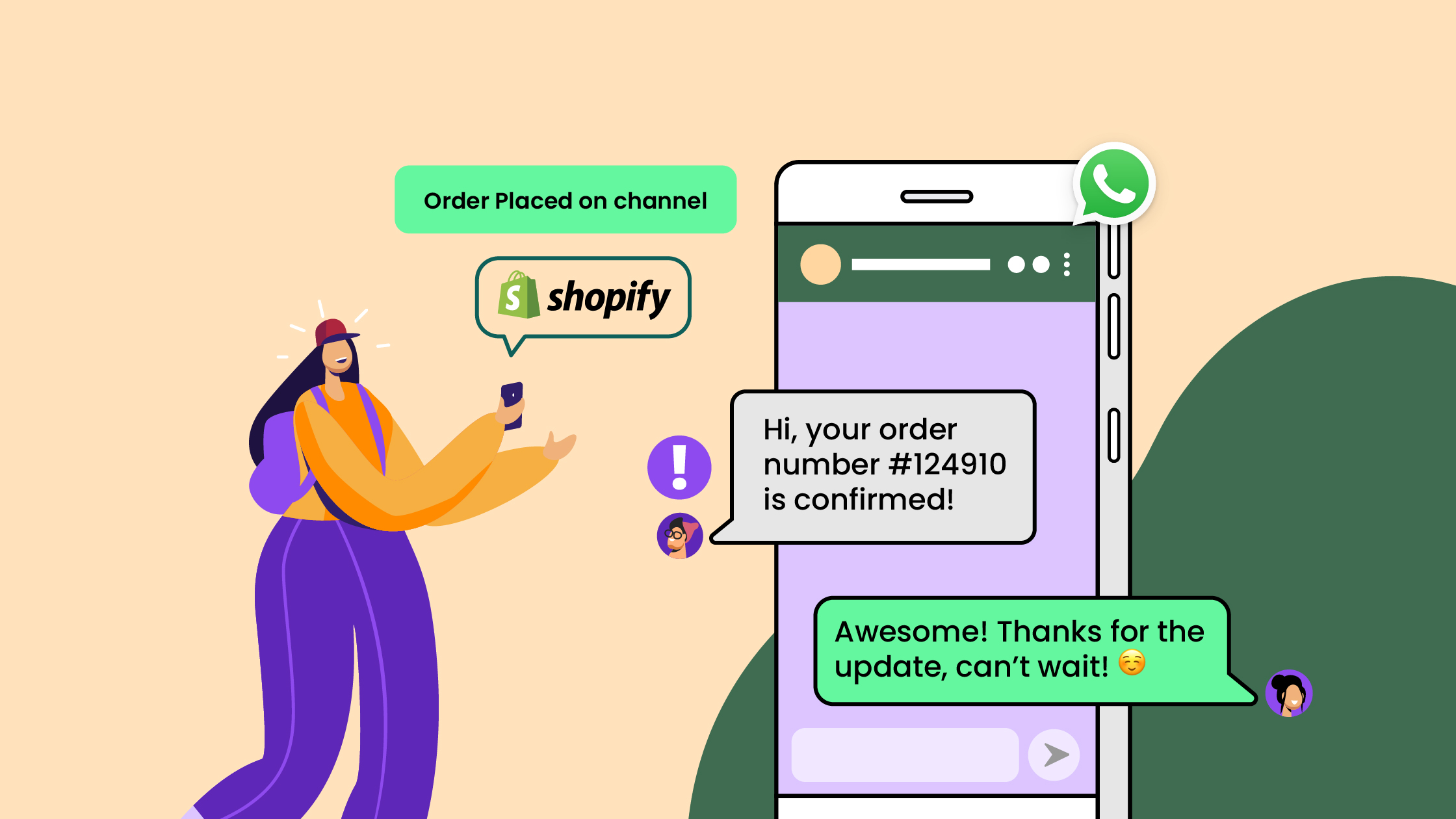 WhatsApp Business API on Shopify – Benefits, Use cases, and More!
As a Shopify store owner, by now you would know the magnitude of enabling real-time conversations with your customers. Sure, you can choose from a plethora of options from live chat tools to instant messaging apps – we'll get to that later, but the rising need for one can no longer be ignored!
When you're running an online store, converting your visitors into repeat customers is always on the top of your list. Facebook's recent survey states that 58% of the people surveyed globally pick convenience over price when they decide to shop. So what's it gonna take?
With little to no physical customer interaction, it's on you to make online conversations with your customers instant, easy and extremely engaging. That's right, leave no room for friction. Today, with conversational commerce businesses are raising the bar and delivering unique brand experiences. WhatsApp Business API is here to help you do all this and more, at scale!
‍
What are the main differences between WhatsApp and live chat tools?
If you are looking to explore conversational marketing you would have thought of integrating live chat into your website.
Integrating a live chat will not provide any long-term reliability to your communication strategy.
Let's take a look at the reasons why it is not a definitive solution:
1. Firstly, in a live chat, the user must be online to connect with an operator, limiting the communication to a webpage. WhatsApp on the other hand allows you to connect with your customers on their smartphones, anywhere, anytime, eliminating the communication barriers that surround live chats.
2. Moreover, with WhatsApp, chat history can be saved. You can have a record of every customer interaction and have all the relevant data available to help you improve future engagements.
3. Another key benefit of WhatsApp is that 80% of messages are read in under 5 minutes, which results in faster query resolutions and in turn, enhances the likelihood of a customer buying your products.
Whatsapp Business API and its use cases
WhatsApp Business API was designed to help you respond to customer queries in a quick, safe and secure way and proactively engage with them throughout their customer journey.
‍
Here are just a few of the many things that you can do with WhatsApp Business on Shopify:
• Get a branded business profile on WhatsApp – Along with your brand's logo, business name and other information like contact details and opening hours, you also get to display a verified badge on your business profile. This gives your business an identity, builds brand recall and gives your users a sense of reliability while engaging with your business.
• Programmatically send bulk and personalized notifications such as order confirmations, payment reminders and delivery updates to your customers
• Seamlessly manage large volumes of incoming messages
• With multi-login, you can add your teammates to operate and support customers from different devices at the same time
• Send automated responses and quick replies to your customers
• Gain better insights about your customers as by maintaining a record of past conversions, past purchases and other user traits
• Analyze customer behavior and efficiently serve your clients better
‍
Why should you integrate WhatsApp Business API on Shopify?
Still not convinced? Let's play out the benefits for you!
Integrating WhatsApp Business on Shopify will help your business to:‍
a. Gain new customers
b. Offer a great post-purchase experience to your customers
c. Reduce cart abandonment
Let's deep dive into each of these benefits.
‍
a. Gain new customers
Responsive chat widgets: WhatsApp Business Platform can help you acquire new leads through WhatsApp chat widgets. You can create a WhatsApp chat bubble on your website and get users to interact with you easily. Bots can also be designed to capture new leads and to help customers with the buying process.
b. Offer a great post-purchase experience to your customers 
WhatsApp has a powerful tool that you can take advantage of, which is its programmatic notifications feature. Once a customer has purchased from you and has your WhatsApp business opt-in to receive notifications, you can then offer them excellent post-purchase service through:
• Order updates: Traditionally order updates are sent via email or SMS, WhatsApp API has made it more convenient for shoppers to receive order updates on their favorite messaging app.
• Track deliveries: One of the most useful features of WhatsApp is live location sharing using GPS. Your customers can track and locate their deliveries using this feature.
• Personalized product recommendations: WhatsApp Business API allows you to send personalized product recommendations which is a great way to increase LTV (Lifetime Value) while positively interacting with customers.
• Collect direct feedback and enable loyalty programs: WhatsApp Business API can also be used to collect instant feedback from customers by reaching out to them on their preferred messaging app.
c. Reduce cart abandonment
With the WhatsApp Business on Shopify store you can tackle the issue of cart abandonment recovery. On the Shopify App, you can track all the details linked to the abandoned cart such as order number, order date, order time, item code, total amount, etc. You can have all of this data integrated with your WhatsApp business account using WhatsApp Business API. What you need to do next, is create top-notch personalized WhatsApp templates and send them out to customers urging them to complete their purchases.
‍
WhatsApp Business API allows businesses to reach new heights by enabling seamless integration with Shopify. Get direct access to WhatsApp Business API and build frictionless customer experiences. Sign up for Interakt's 14-day free trial program today!