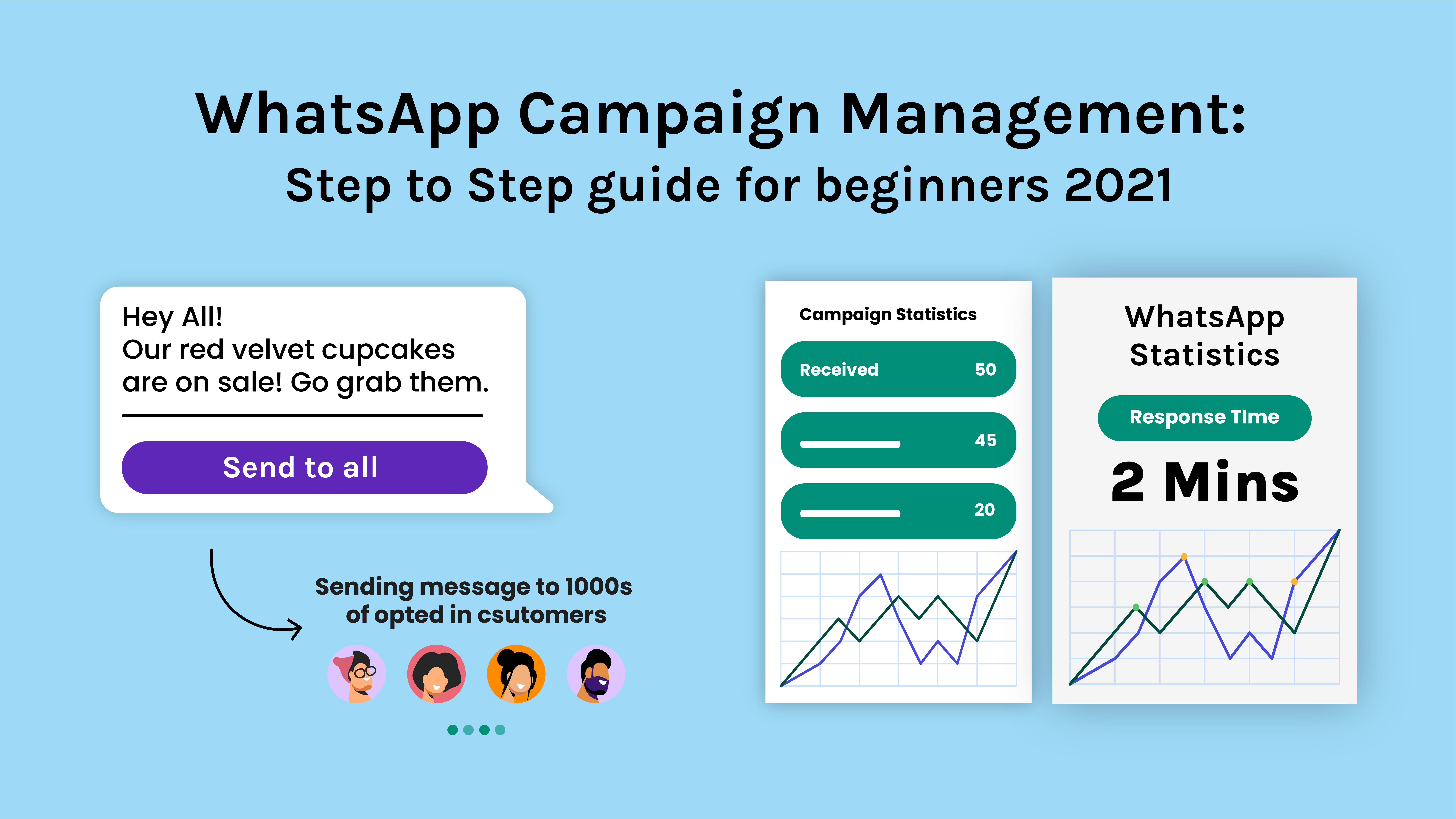 WhatsApp Campaign Management: Step to Step guide for beginners 2021
Running a WhatsApp marketing campaign on today's date is almost as important as being active on social media. You need to be where your customers are, but you also need to be able to manage it all well. That's where WhatsApp campaign management comes in.
While platforms like Interakt that use the official WhatsApp Business API make it simpler to run multiple campaigns like broadcasts, cart recovery, customer engagement and order status alerts, brand marketers still need to up their game at management.
By WhatsApp campaign management we mean keeping track of how campaigns are performing, identifying loopholes and opportunities, and optimizing their strategy in an ongoing manner to drive more engagement, conversions and eventually, sales.
So in this article, we're giving you a WhatsApp campaign management guide.
‍
The WhatsApp campaign management guide you need
While there is no one-size-fits-all approach to running WhatsApp marketing campaigns, monitoring and managing campaigns does come with a few best practices that everyone must follow.
‍
Step 1: Define and document your campaign objectives
No matter what campaign you're running on WhatsApp, ensure you have aligned it with defined goals and objectives.
For instance, are you trying to improve the customer engagement rate or are you trying to drive more traffic to a new collection you added to the store?
Even if it is a small metric, you need to ensure that you know how to measure the campaign's effectiveness – just as you do while running social media and email marketing campaigns.
Step 2: Work with an Official WhatsApp Business API solution provider
DTC businesses have been running one-way bulk message campaigns on WhatsApp using third-party service providers for some time now. But the truth is, taking that approach is ineffective. You're reaching out to customers from a number and profile they can't associate with your brand, and the messages are hardly even interactive.
This is where choosing an official WhatsApp Business API solution provider comes in. It not only enables you to unlock the WhatsApp Business API and set up powerful marketing automations to promote your business, but also helps you make sense of them all.
WhatsApp campaign management becomes much easier when you have all the campaigns running from one dashboard, and all the conversations reaching one inbox. This way you're measuring your campaigns closely and at the same time, responding to customer messages more promptly.
Step 3: Automate your WhatsApp marketing campaigns
Another way to ensure efficient WhatsApp campaign management is to leverage smart automations. Not everything requires you to manually send across messages to your customers and subscribers on WhatsApp.
For example, you can easily automate the following campaigns on WhatsApp:
• Abandoned cart reminders – Bring back shoppers who add product to cart but don't complete the purchase via WooCommerce abandoned cart recovery with WhatsApp
• Discount and offer notifications – Send out a broadcast to promote ongoing and upcoming discounts, deals, offers and sales
• Back-in-stock alerts – Notify customers of products that may have ran out earlier when they wanted to make a purchase
• Order and shipping updates – Keep your customers engaged by sending them timely order and shipping alerts
• Confirm COD orders – Use WhatsApp marketing automation to confirm your cash on delivery orders before shipping them out to reduce returns and frauds
• Customer feedback – Collect customer feedback, product reviews and ratings with smart automations that send out a message post order delivery
Step 4: Measure the performance of your WhatsApp campaigns
Just like other marketing channels, make sure you're measuring how your WhatsApp campaigns perform. When you leverage a tool like Interakt to run these campaigns instead of third-party bulk message providers, you get access to in-depth insights and analytics.
Keep track of how the numbers add up towards the goals and objectives you set in Step 1 with WhatsApp chat metrics. The goal is to identify your campaign shortcomings early on and improve them to get a better response from your customers, driving a better ROI on campaigns.
Step 5: Segment and clean your lists
If you really want to make your WhatsApp marketing campaigns convert, you need to ensure your customer list is healthy.
To be able to run personalized, high-context campaigns, you should segment your customer list based on their previous purchases, interactions, interests or similar parameters. For instance, segment and create a list of loyal customers who are consumers that purchased from your store at least twice in the last 30 days.
After segmentation, also make sure you're adding a layer of spring cleaning for better WhatsApp campaign management. This means taking out numbers from your list that haven't responded to your campaigns in the last 3-6 months. The goal here is to keep a healthy list, to which your messages are getting successfully delivered and are seeing some engagement on.
Step 6: Experiment with your campaigns strategically
As you start to see the results of WhatsApp marketing come in, you will want to experiment and run more campaigns. But be wary of running too many campaigns of the same kind in one go; that may result in over-messaging your list and not being able to measure the results in an effective way!
WhatsApp marketing is not just a campaign, but a commitment
Actively using WhatsApp is not about setting up that one campaign to promote your discounts. It only works when you consistently leverage the channel to engage your customers in a meaningful manner and use WhatsApp campaign management best practices to get better at it!
Ready to start your WhatsApp marketing campaign? Sign up for your 14-days free trial with Interakt.