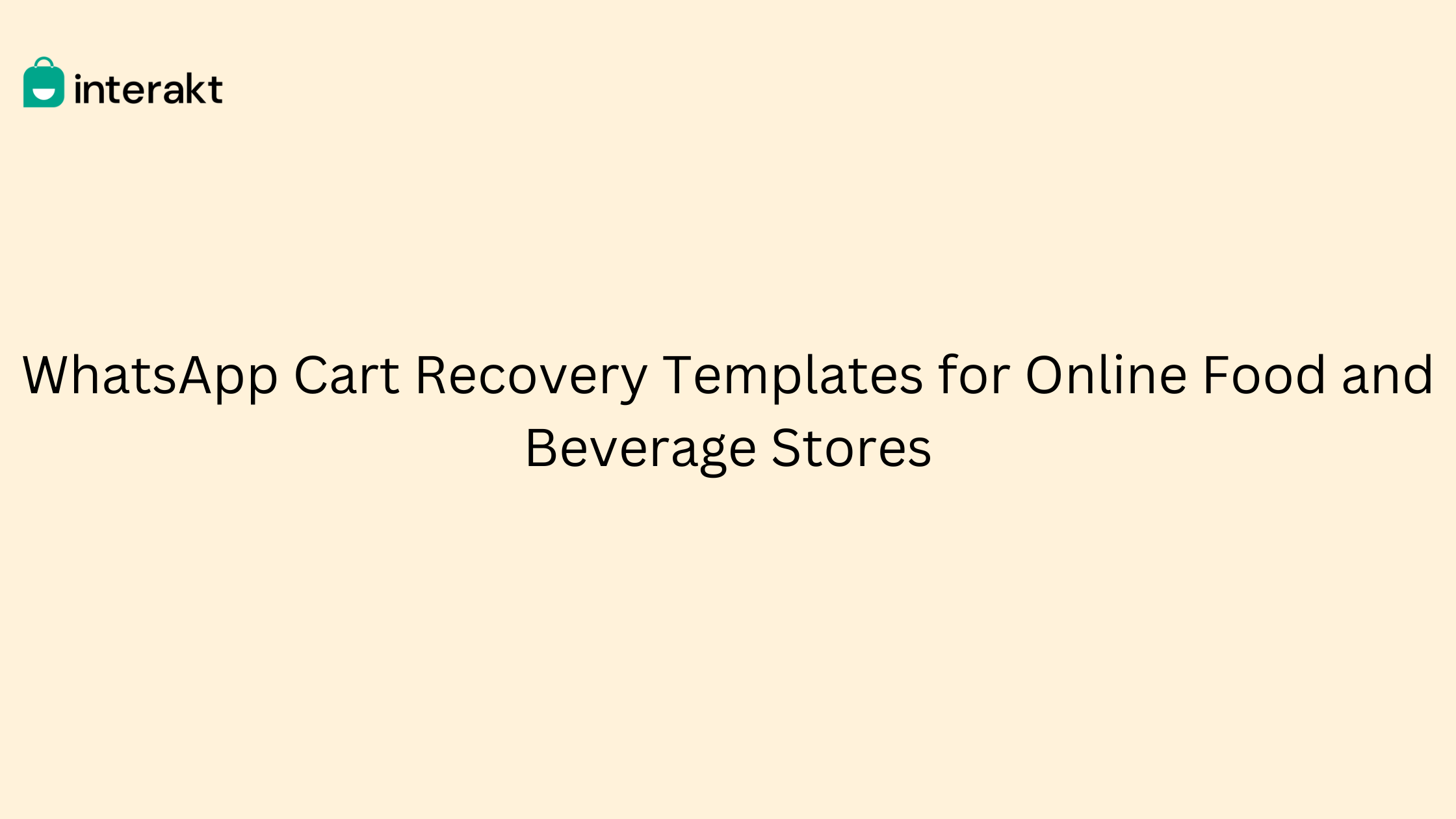 WhatsApp Cart Recovery Templates for Food and Beverage Brands
Since the pandemic, the rate at which the eCommerce food and beverage market has grown is simply staggering. The convenience provided by online food and beverage stores is a reason behind the industry's growth as the pandemic subsides.
Statistics show that the food and beverage e-commerce market is expected to grow from a market size of $46.72 billion in 2021 to $109.23 in 2026 at an annual growth rate of 17.6%.
The opportunities in this area increase with numbers like this, and so does competition. 
Customers shopping for food and beverages look for the finest and freshest options available for them, with no room for compromise.
This is leading to an increasing number of abandoned carts even in an industry where order fulfillment is expected to be comparatively higher, contributing to an average of 69.57% of carts getting abandoned.
Previously we have looked at the impact of using WhatsApp in recovering abandoned carts. Here we will provide you with some great WhatsApp cart recovery message templates that you can employ to win back sales from abandoned carts.
WhatsApp Cart Recovery Message Templates for the Online Food and Beverage Industry
In the food and beverage industry, customer preferences and expectations can vary as greatly as their tastes and likings can. So, the approaches should be case-sensitive and adapted to the target buyers. Try out these WhatsApp templates or try different combinations of them and see what works!
Send Out a Friendly Reminder:
Customers usually get distracted and step away from their shopping, completely forgetting about their carts being abandoned. This is very usual and dealing with this just might need a simple reminder to do the trick. It is wise to send them a reminder within a day so that they won't lose interest or appetite.
"Hey Soni, you left your pack of 3x Genuine Dark Chocolate in the cart. Now don't let anyone else snatch away your precious!"
"Hi George. Every day is cake day, so don't forget to complete the purchase of your quality Whipped Cream."
Create Urgency:
Urgency in the online food and beverage business can not only be about expiry dates. Show numbers and say how popular your products are. Creating FOMO in buyers about the products in their cart getting sold out or of it running out of stock, might turn out to be the right nudge they needed to get back to their unattended cart.
"Hey Kim. Our Caramel cupcakes are selling out like hotcakes. Hurry and complete the order before someone else does."
"Hello Arthur, we are facing a cheese enthusiast's invasion. Get to your cart soon or your sandwich will end up boring and cheese-less."
Provide Social Proof:
When it comes to food and drinks, people really trust the opinions of others like them. Leverage this to recover abandoned carts, by providing solid social proof that screams your products are exceptional. This solidifies your brand's image and trustworthiness among new sets of customers while working to re-calling disengaged customers to their carts.
"Hey Rita. 37 others are in love with our ketchup and we believe soon you will be too. Get to your cart and complete the purchase right away."
"Hello Rahul. We are proud to announce that more than 200 customers have come to us for every noodle need. Get to your cart and complete your purchase for our guaranteed goodness."
Offer Discounts:
Nothing is quite as tasty as a well-meaning discount. Try tempting your buyers to return to the cart with a juicy offer or a discount coupon on your WhatsApp cart recovery message. The value you give them on a purchase becomes more appealing and subsequently the chances of them completing a purchase left in their carts increase. A good discount on the cart total or the item can never go wrong! 
"Hey Yash. You seem to have a 6 pack of Premium non-alcoholic beer in your cart. Buy within 24 hours and get it for a discount of 30%. Hurry!"
"Great news, Ted! Buy the Nutrilion Breakfast cereal from your cart right away and get it for a 20% discount. Use code CODE20OFF"
"Hey Saurav! You have something left in your cart. Buy now and get a 25% discount! Offer ends by 12 AM."
Offer Assistance:
You could try providing shopping assistance to customers who might be having trouble with the purchase or who are struggling to find the right product. A friendly and responsible helping hand will seem quite appealing to customers.
"Hey, Mark! You seem to have left something in your cart. If you are in need of shopping assistance, feel free to contact us right away."
"Hello, Raj. We see that you have not yet purchased the hot sauce in your shopping cart. Need sauce advice? Talk to our experts."
Send How-tos and Recipes:
Send out interesting special recipes or informative 'how-to' instructions on certain products to engage with the customers in a more meaningful way. These are great ways to develop a better customer relationship and tackle your abandoned cart crisis, and maybe even trigger some cravings! 
"Hey, Neha. You still haven't purchased the 5-minute Dosa pack from your cart. While we are at it, here's a Chutney recipe so that you'll be loved by your South Indian friends."
"Good day Nick! Seems like your Hard Brew Coffee is still in the cart! Here are a few Coffee cocktail ideas you never would have thought about."
Use WhatsApp to Recover Abandoned Carts
Considering how big the food and beverage eCommerce industry is growing, it's natural that competition too will increase. Businesses have to actively work at engaging customers better and more effectively.
Using WhatsApp Business API businesses can battle the problem of abandoned carts and poorly engaged customers, more strategically. And getting the right WhatsApp business service provider can make all the difference
Signing up for a WhatsApp business Interakt account can make setting up strategies significantly easier for you.
Need more templates suited to your industry? Check out the other lessons from our academy.