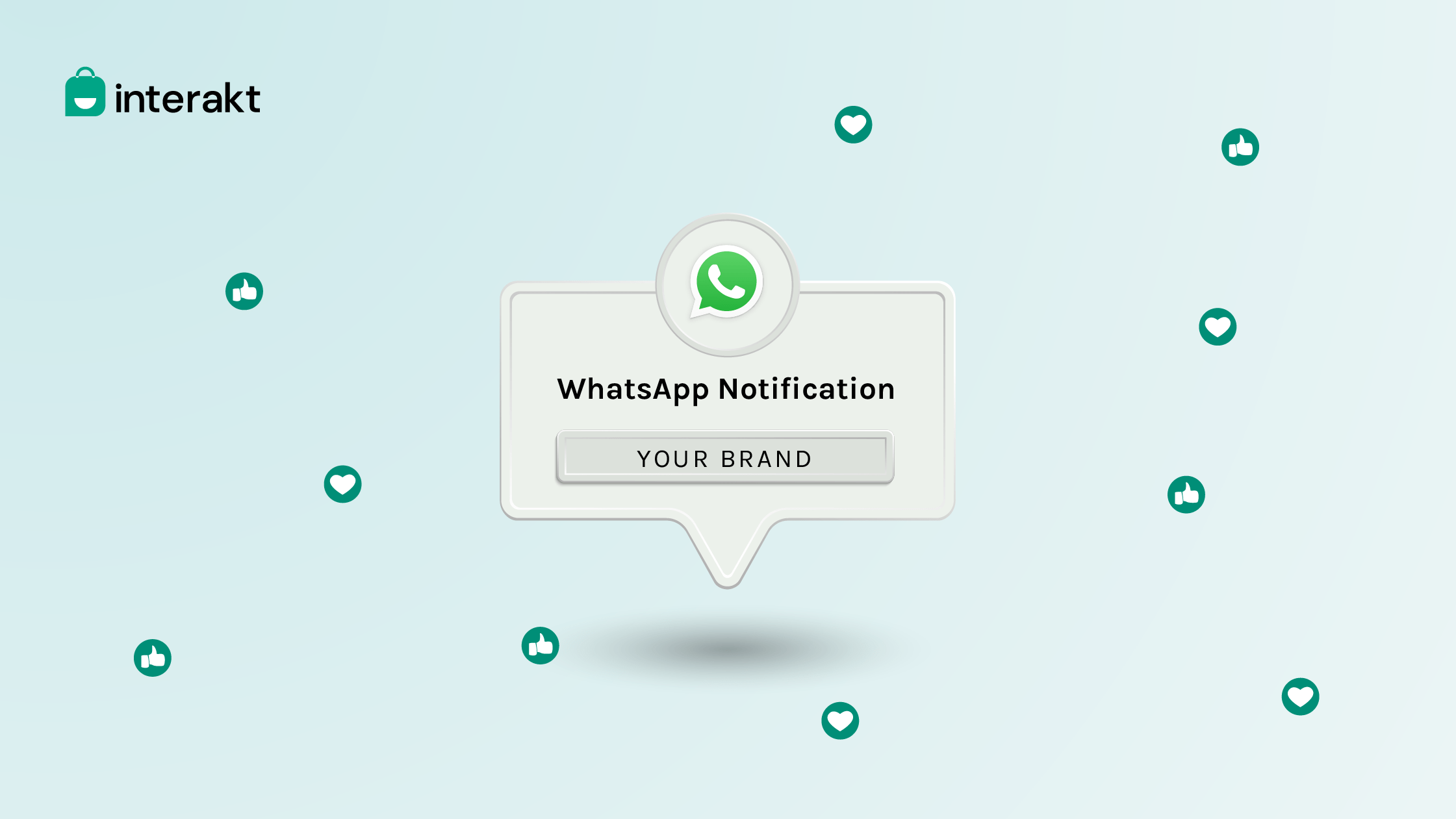 WhatsApp Business Opt-Ins: Best ways to collect from your customers
In our previous academy module, we walked you through everything you need to have in place before getting started with WhatsApp for Business. Now with all the basics in place, the next step is for you to get WhatsApp opt-ins to even begin with campaigns. To connect with customers on WhatsApp, you must obtain their prior consent to do so. It's one of the basic rules of WhatsApp Business communication.
As a business, you must ensure that your customers are only receiving what they agreed for. WhatsApp is very clear about its rules and expects users to abide by them, unlike most other channels out there. In this lesson, we are going to explore what WhatsApp opt-ins are and the best ways your business can collect them.
What is WhatsApp Business Opt-In?
An opt-in is a method of obtaining the permission of your users before you send them any type of proactive communication on WhatsApp. By opting-in customers give their consent to receive messages and notifications from your WhatsApp for Business. The opt-in must be collected via a third-party channel. By this we mean, any existing channel that you are already using to connect with customers like email, SMS, website, customer service call, etc.
Bear in mind the opt-in must be an 'active' one which means that the customer should actively indicate their consent by either entering/editing a phone number or checking a box. Your customers must know what they are signing up for. By this, we are referring to the kind of content you intend on sharing.
However, if a customer messages your business first, it is not considered an opt-in. If you have received a message from a customer you may respond within the 24-hour window. If you are unable to reply to your customer within this period, you can only send WhatsApp Template messages which have to be pre-approved by WhatsApp.
That said, if you wish to send alerts and notifications to customers, an opt-in is necessary.
What are the prerequisites?
The rules laid out by WhatsApp are pretty straightforward. The business should:
• Clearly indicate that the recipient is agreeing to receive messages from the business via WhatsApp
• State the name of the business that the receiver is choosing to receive messages from
• Adhere to the applicable laws
WhatsApp does not put any restrictions on how you should obtain opt-ins, so you can choose the method you see most fit. What's important is that customers should be clear on what messages they are agreeing to receive.
What are the best ways to collect WhatsApp Business opt-ins?
While there are a host of options out there – we're giving you the lowdown on the most preferred ways to receive opt-ins from your customers:
1. On your website 
Your website is a great place to start with. After all, that's where most customers head to learn about your business and the products or services it offers. There are 3 ways to collect Opt-ins using your website:
• Home Page – Use a pop-up to grab the attention of visitors and promote your opt-in.
• Banners – Use banners on your most popular pages to attract both existing and new customers to connect with you via WhatsApp.
• Landing pages – You can create a landing page for the sole purpose of announcing your new channel — WhatsApp. Customers can give their consent by sharing their phone numbers and clicking on your CTA.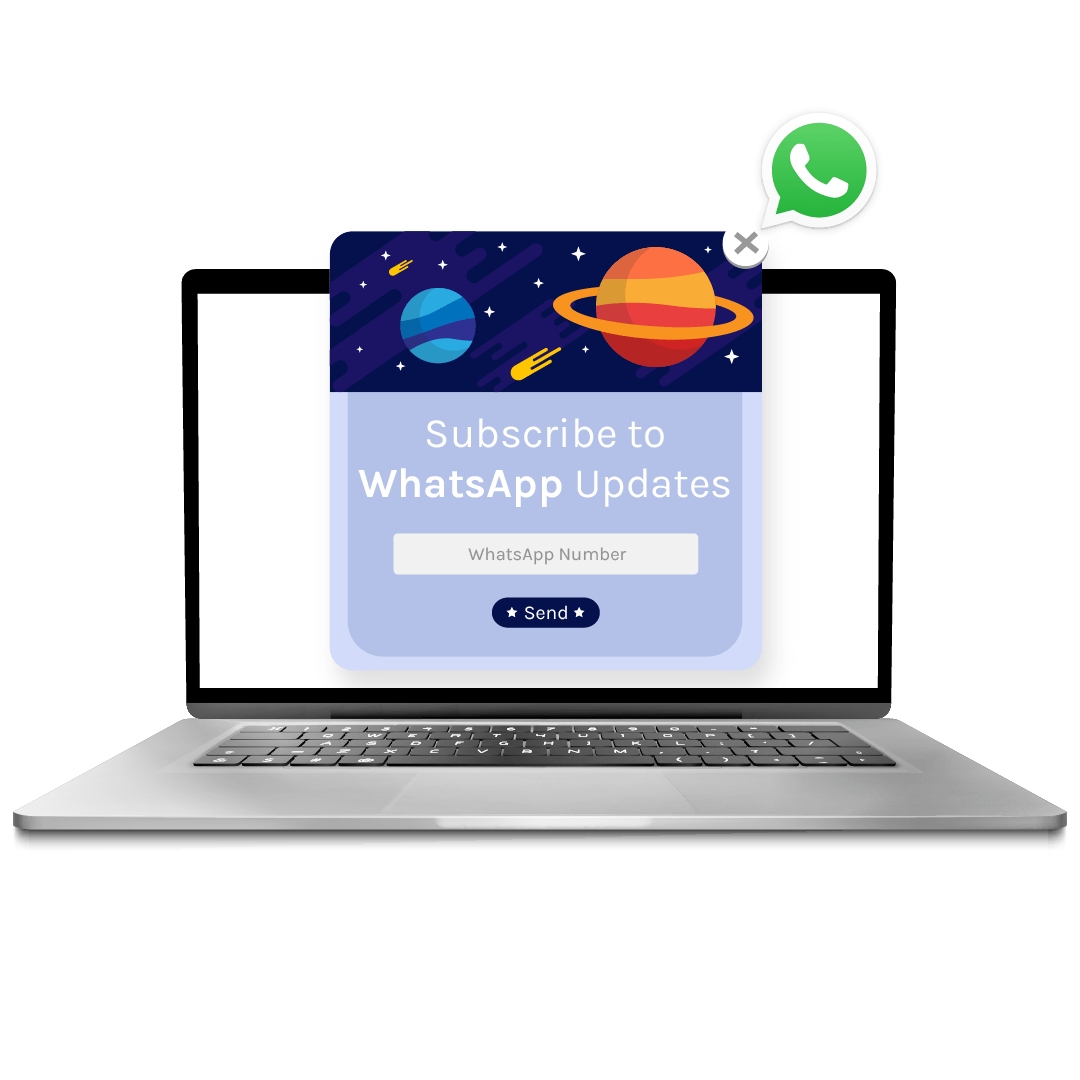 2. Leverage existing channels of communication 
Typically, the best way to spread the word to your customers is by leveraging the existing communication channels that you are already familiar with and use. If you are using SMS, email, or social media, let your customers know that you are now available on WhatsApp too. Don't forget to mention that WhatsApp is a more convenient channel to stay connected.
SMS & Email 
SMS and email are channels that have long been used by businesses to reach out to their customers. These channels can now be used for collecting Opt-ins too. All you need to do is include clickable links for customers to easily opt-in to stay contacted via WhatsApp.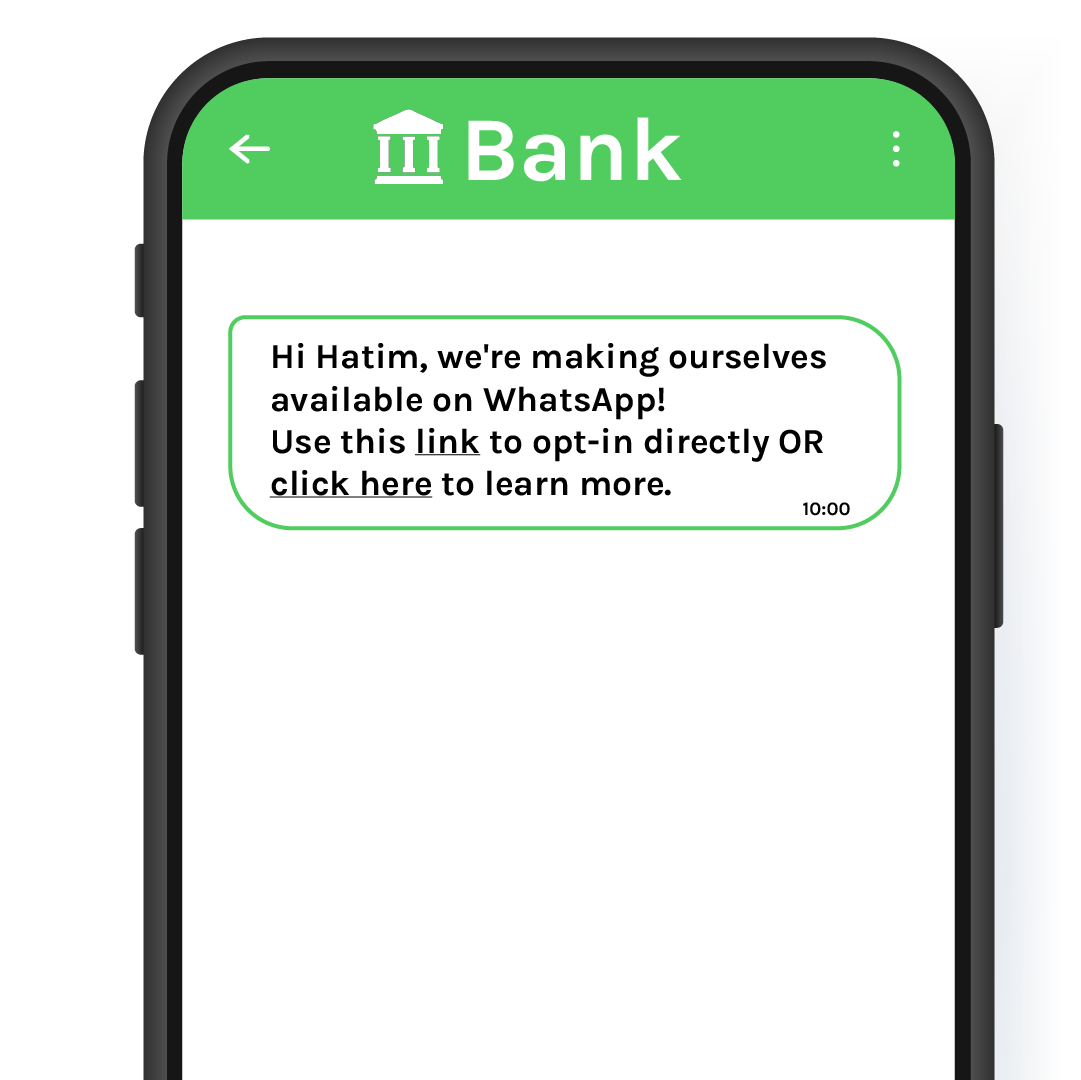 Social media 
Popular social media channels like Facebook, Instagram, and Twitter let you reach larger audiences. Use them as a medium to obtain opt-ins. Let customers know that they can reach you on WhatsApp by pinning it at the tip of your social media feeds. This way your customers don't have to voice their complaints in public but have a chance to get their problems resolved privately through WhatsApp Business.
3.  On WhatsApp 
Sometimes customers reach out to your business with a query or a request. Once you have successfully resolved their original query, you can seek their permission to send them WhatsApp messages and notifications in the future. Upon receiving customer consent, you can send them Interactive WhatsApp API promotional templates to pique their interest and increase engagement.
For instance, if you have recently launched a new product, share the exciting news with your customers through WhatsApp Business API platform promotional template messages. Let your customers know that the product is live on your website and up for grabs!
What can or can't you do once you have collected an opt-in?
Here is what you can do once you have obtained an opt-in:
• Respect customers' privacy or their 'DND (Do Not Disturb) hours and ensure that you message customers only when it is appropriate. This will help you win your customers' trust.
• Keep things transparent and make the customer experience your topmost priority — this way you are bound to succeed!
• Ensure you share engaging content that provides useful and actionable information to customers.
‍
Here is what you should avoid doing once you have obtained an opt-in:
WhatsApp Business API opt-ins are quite powerful. They allow you to step into one of the personal spaces of a customer's life – their Inbox. As the popular saying goes, 'with great power comes great responsibility.
WhatsApp opt-in guidelines are absolutely clear on what is not permitted on the platform. What you should refrain from doing is sending messages to customers too frequently as your messages will come across as spam. If you indulge in it, you run a risk of getting your business blocked or reported on WhatsApp.
Users may report your business if they think they didn't opt-in to receive your messages. User feedback is important as it affects the quality score of a business. Facebook keeps a tab on it and the ratings will drop if the quality score of a business is consistently low.
Adhering to the WhatsApp Business Policy will help you prevent users from blocking or reporting your business.
To wrap it up
Collecting WhatsApp opt-ins can be a tricky affair. However, as long as you follow the guidelines laid out by WhatsApp, your customers will be more than happy to engage with your business on a channel that they are most comfortable with.
Keep it simple, stick to the basics and use the platform wisely to improve customer engagement and satisfaction.
Continuing on the same, in our next lesson we will be sharing how you can make use of WhatsApp links to start more conversations on the messaging platform.