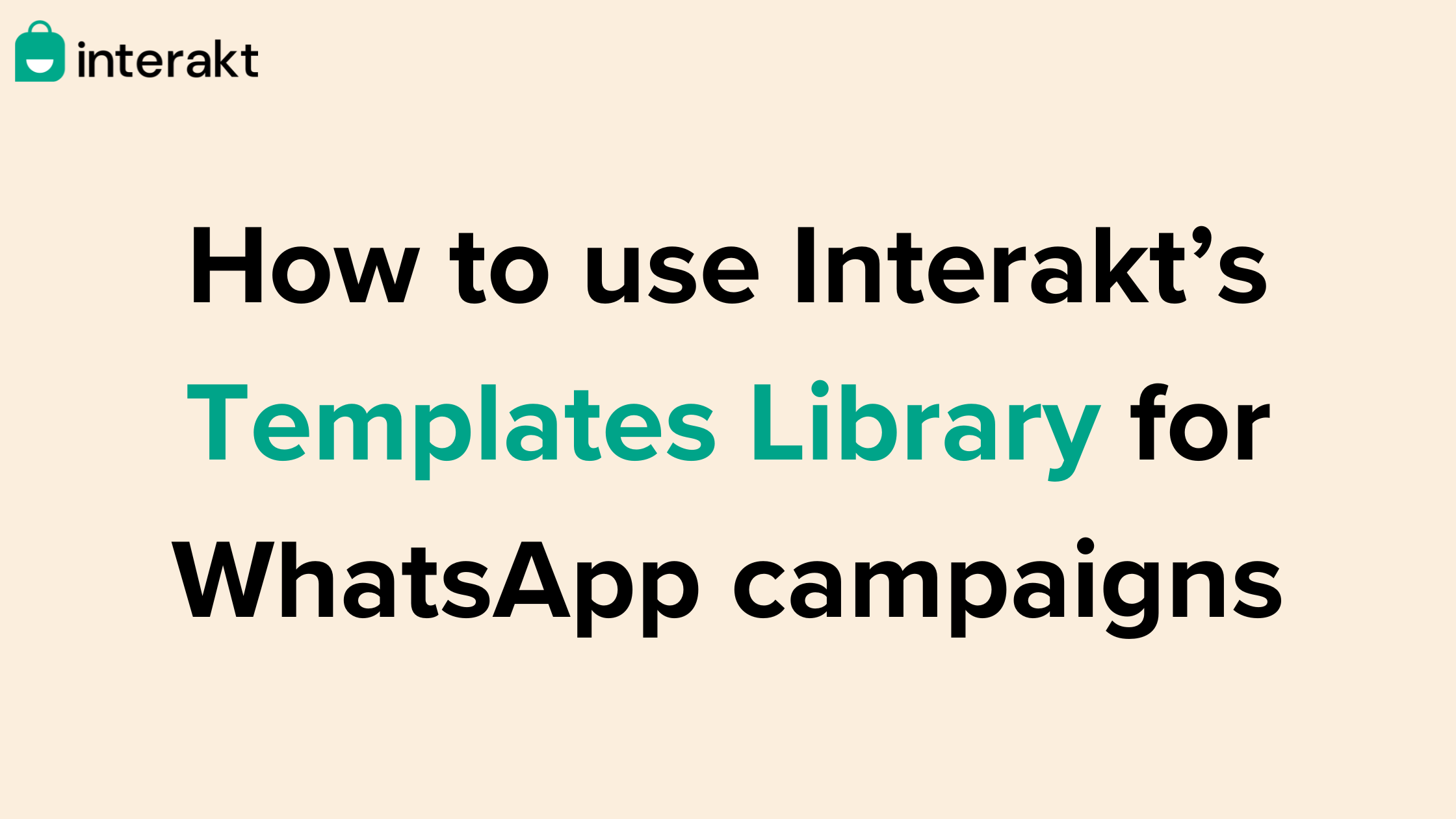 How to use Interakt's Templates Library for WhatsApp campaigns?
To protect the user's experience on a WhatsApp business platform like Interakt, WhatsApp enforces certain commerce policies. Navigating your way around WhatsApp notification template creation can be very tricky and often confusing, especially if you are trying this for the first time. To help businesses kickstart their journey, we are introducing the all new 'Templates Library'.
Templates Library is a collection of pre-approved templates across categories such as commerce, education, festivals, etc. that can be leveraged for setting up WhatsApp notification campaigns quickly. With this feature, Interakt enables an option to create a set of pre-built sample templates to set up your notification campaigns on the platform.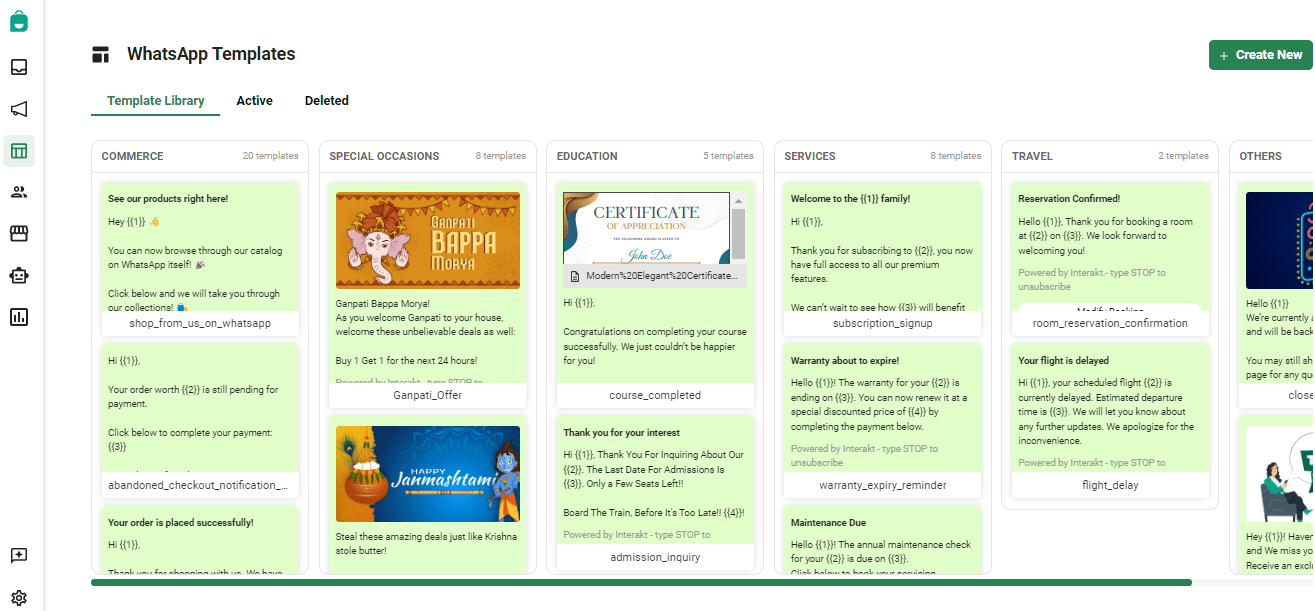 What is a Template Library? How does it work?
A template library is a set of 40+ WhatsApp notification templates ready for submission spread across 5 key domains. This library can be a great starting point for merchants to set up WhatsApp notification campaigns quickly. It serves as a frontline medium for support teams and existing merchants who don't understand the process of template creation and its approval.
Now, let us understand how to select, edit and create a WhatsApp notification template using Interakt's Template Library feature.
Step 1: Under the templates tab, you can access another tab called 'templates library' where you can create and save sample templates in the 'draft' state.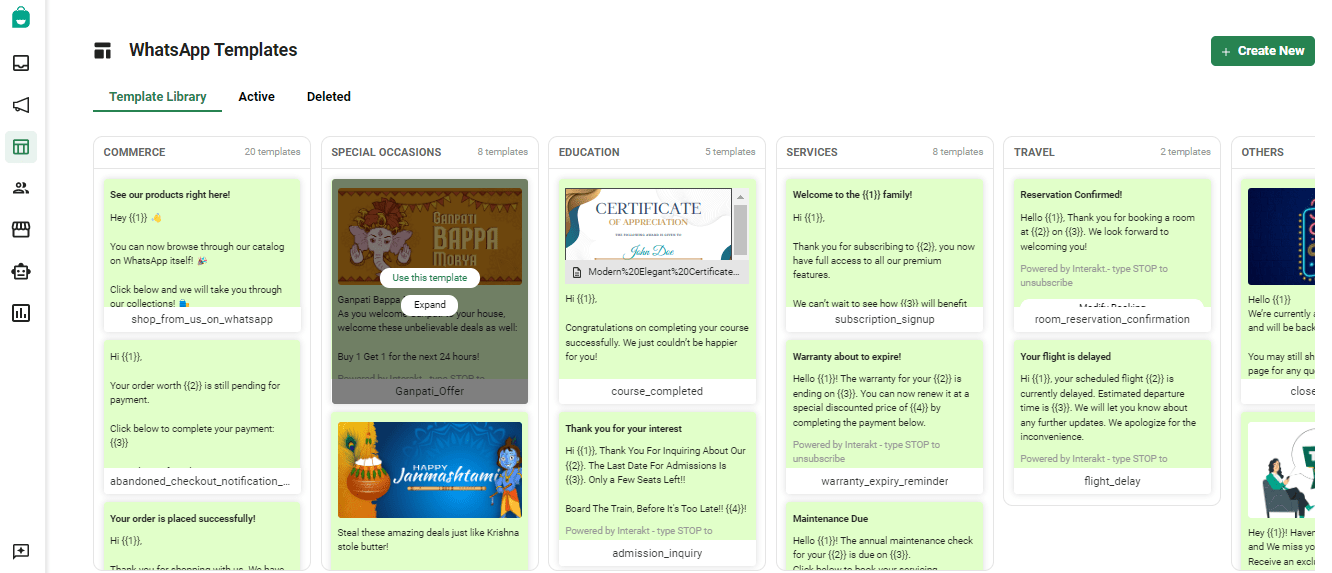 Step 2: Click on "Use this template" and your template is pre-filled with the message content. Here, you can edit the message text as per your business requirements.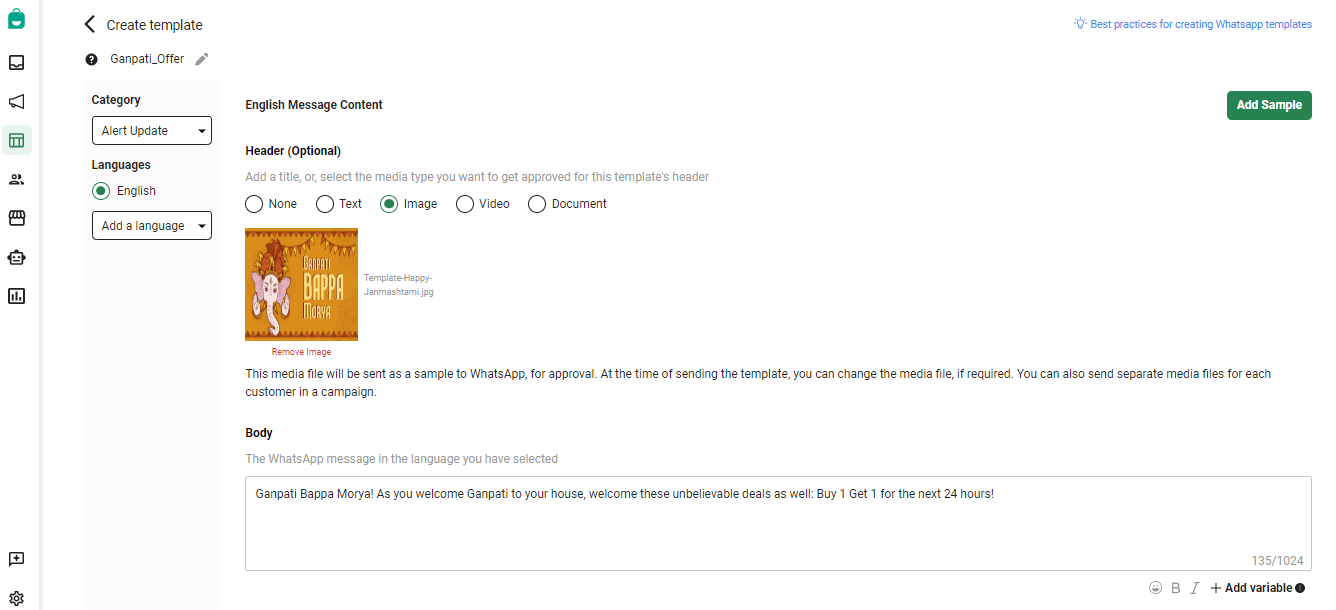 Step 3:  Once you have edited the template body, you can set/edit a footer message, add a CTA button and Click on "Submit" to send the created template to Meta for approval.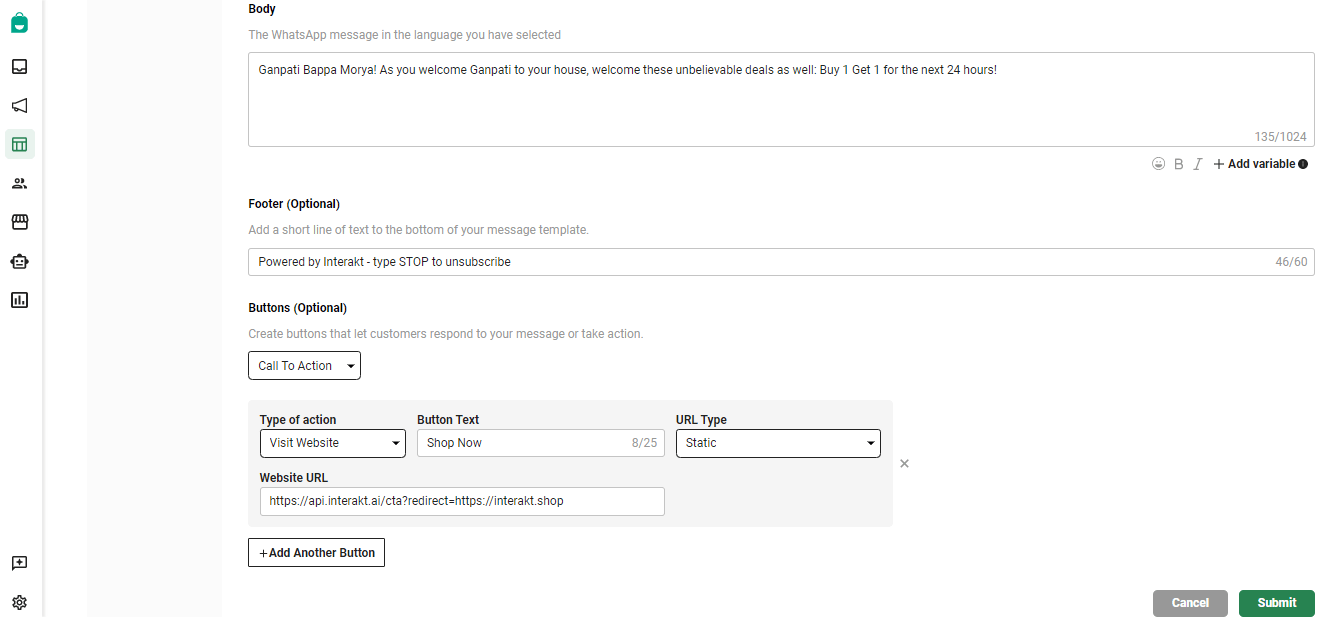 Once submitted, the template will be sent to Meta team for approval. For a template created via Templates Library, it usually takes less than 30 seconds to approve and get it ready to send as bulk notifications to your customers on WhatsApp.
Why is it important for merchants?
Templates Library is launched to simplify the process of template approval by Meta. It helps merchants in getting their WhatsApp Notification templates approved and also educate them on how WhatsApp template submission works.
Why do you need WhatsApp Notification Templates?
WhatsApp notification templates are a great way to send promotional offers that encourage shoppers to purchase from your e-store. Moreover, you can even reuse these pre-built templates without having to reinvent the wheel for every conversation.
Here are the benefits of using Interakt's Template Library as a business:
Save your precious business-hours by simply copy-pasting these ready-to-use WhatsApp notification templates.
Say goodbye to grammatical errors and typos
Respond to customer queries quickly with these templates
Personalization is the need of the hour and our templates library makes it quick and easy.
Increase your open and response rate on WhatsApp with these engaging WhatsApp notification templates.
Remove the hassle of going back and forth on template approvals. These templates are ready-to-submit and gets approved instantly.
Personalize your branding on top of acceptable guidelines; especially if your campaigns are time bound.