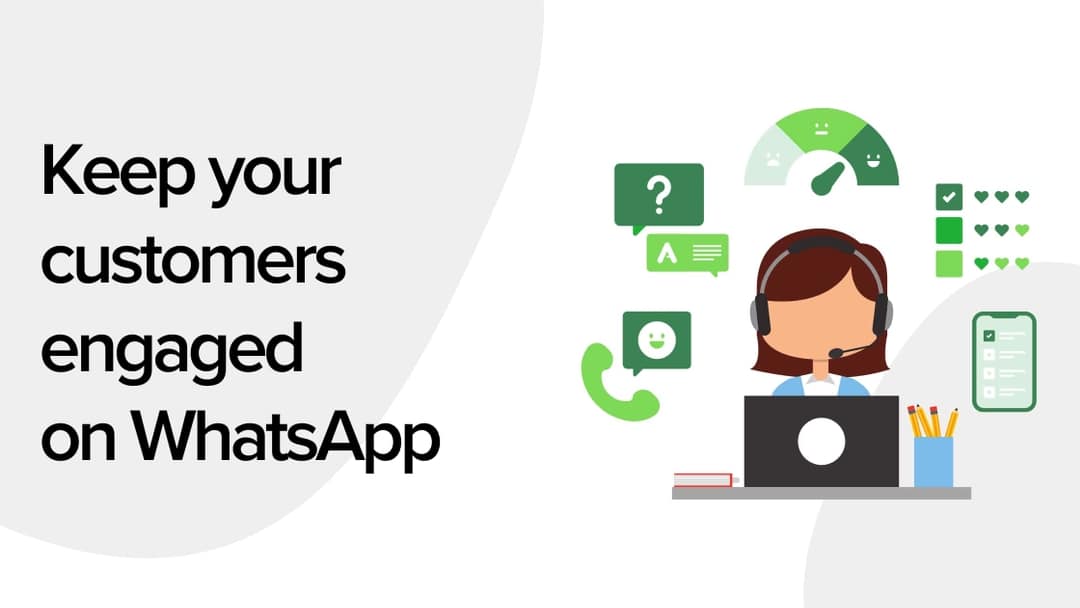 Leverage The Power Of WhatsApp To Boost Your Customer Engagement
Businesses need to have a clear strategy to stay in touch with their customers. Over the years, businesses have been consistently engaging customers on a variety of channels. In today's day and age, your customers need you to be quick and accessible. Keeping that in mind, it's time for fast-growing businesses like yours to step on the gas and find the most effective way to interact with your customers.
Over the past few years, WhatsApp has emerged to become the go-to messaging app. According to a report by Wall Street Journal (2020), more than 50 million businesses are using WhatsApp Business – the number increasing almost tenfold from the previous year. Given the convenience and ease of use, new-age businesses are now looking to launch and deploy WhatsApp based solutions to improve customer experiences.
If you are already using the WhatsApp Business app, you might probably know the basic features of using the app – such as a verified profile, product catalog, and so on. There is a lot more that WhatsApp has to offer with WhatsApp Business API.
In this article, we will list out a few of the many ways in which businesses like yours can use WhatsApp Business API to engage smarter with customers.
1. Add a responsive WhatsApp chat widget to your website
Now, one of the main reasons to use WhatsApp for customer engagement is because customers find it to be the most convenient channel to communicate with your business. Almost every smartphone user has WhatsApp installed on their phone. One straightforward way to get customers to reach out to you directly is to add a WhatsApp Chat Widget on the website. This is the easiest way for customers to reach out to your business and vice versa.
With interakt, you can easily create and customize the chat widget, and add it to your website. When your users interact with the chat widget, it will redirect them to the WhatsApp Messenger screen to start the conversation with your business.
That's not all!
With Interakt, you can style the WhatsApp Chat Widget to match your brand's identity, add an image to the chat button and set up a customized welcome message when users start interacting with you.
‍
‍
2. Send automated WhatsApp messages that deliver a personal touch
Customers love getting the personal touch from businesses. WhatsApp today, allows businesses to send messages in different formats like text, audio, images, documents, templates. Using these message formats will improve the engagement rates for branded content. Businesses can set up automated notifications for templated messages (such as welcome messages, offer messages and so on) to deliver personalized content.
You can also take advantage of WhatsApp Quick Replies, with Interakt to respond to frequently asked questions a lot faster.
The best part? You can customize these quick replies and ensure that they don't look automated. You've got the option to add media to make the message look more eye-catchy and you can also add variables to personalize information like name, email id, phone number, and so on.
During cases when the values are not available for the variable (for instance, the user name), you can use a fallback value (like 'Hi there') that will automatically be substituted in place of the variable.
‍
‍
3. Engage with your customers using interactive WhatsApp templates
Businesses are keen to build strong relationships with customers. Approximately 79% of the users in India say they feel more comfortable being able to message a business as it gives them confidence about the brand as per Facebook. There may be times when your support team cannot answer incoming customer queries. They may be engaged in dealing with other customer requests or worse, you might have customers reaching out to you during your non-business hours. To tackle these situations, it's handy to have pre-built responses that can be triggered to keep customers engaged throughout.
This is where interakt's WhatsApp Business Messaging Templates step in. Businesses can set up a bunch of standard auto-reply messages that can be automatically sent to customers. For example, these template messages are useful especially for payment updates, business alerts, flight delay notifications, shipping delivery updates, etc.
You can compose and format the message with text, media, images, call-to-action (CTA) buttons and quick replies.
‍
‍
4. Send bulk WhatsApp notifications
Over 2 Billion users around the world use WhatsApp for communication. Your business may have a host of reasons to engage with customers and sending messages individually to them could be a cumbersome process.
WhatsApp Business API enables businesses to send bulk messages, as well as schedule messages that will be sent at your preferred date and time. By using WhatsApp Business APIs, you can send bulk messages to your customers without taking the risk of being banned by WhatsApp. WhatsApp messages are encrypted end-to-end with two-factor authentication (2FA). Therefore, the messages are safe and secure. This also helps build the trust of your customers in your business.
interakt allows businesses to send automated WhatsApp notifications to customers in the form of bulk and personalized messages. These messages can be sent in the form of campaigns. You can send a single broadcast message to your users or set up a message trigger for every occurrence within the organization. For example, when a new user signs up on the business website or on your store, a welcome message can be triggered automatically to the user.
Notifications are also useful to send follow-up messages and important product announcements to customers. For example, if the customer has purchased a product, you can send them reminders of an expiring warranty and so on. As a result, it gives your business the opportunity to follow up with your customers and stay in touch with them.
‍
Drive customer engagement with WhatsApp Business API
WhatsApp Business API offers a complete package to interact effortlessly with your customers. There is no need to keep your customers waiting for responses to their queries. WhatsApp's two-way messaging capabilities help businesses to let customers stay updated and provide all the information they need, when they need it.
Interakt can help you leverage WhatsApp for your business and make a world of a difference in the way you engage with your customers. Sign up and get started with Interakt in just 5 minutes!