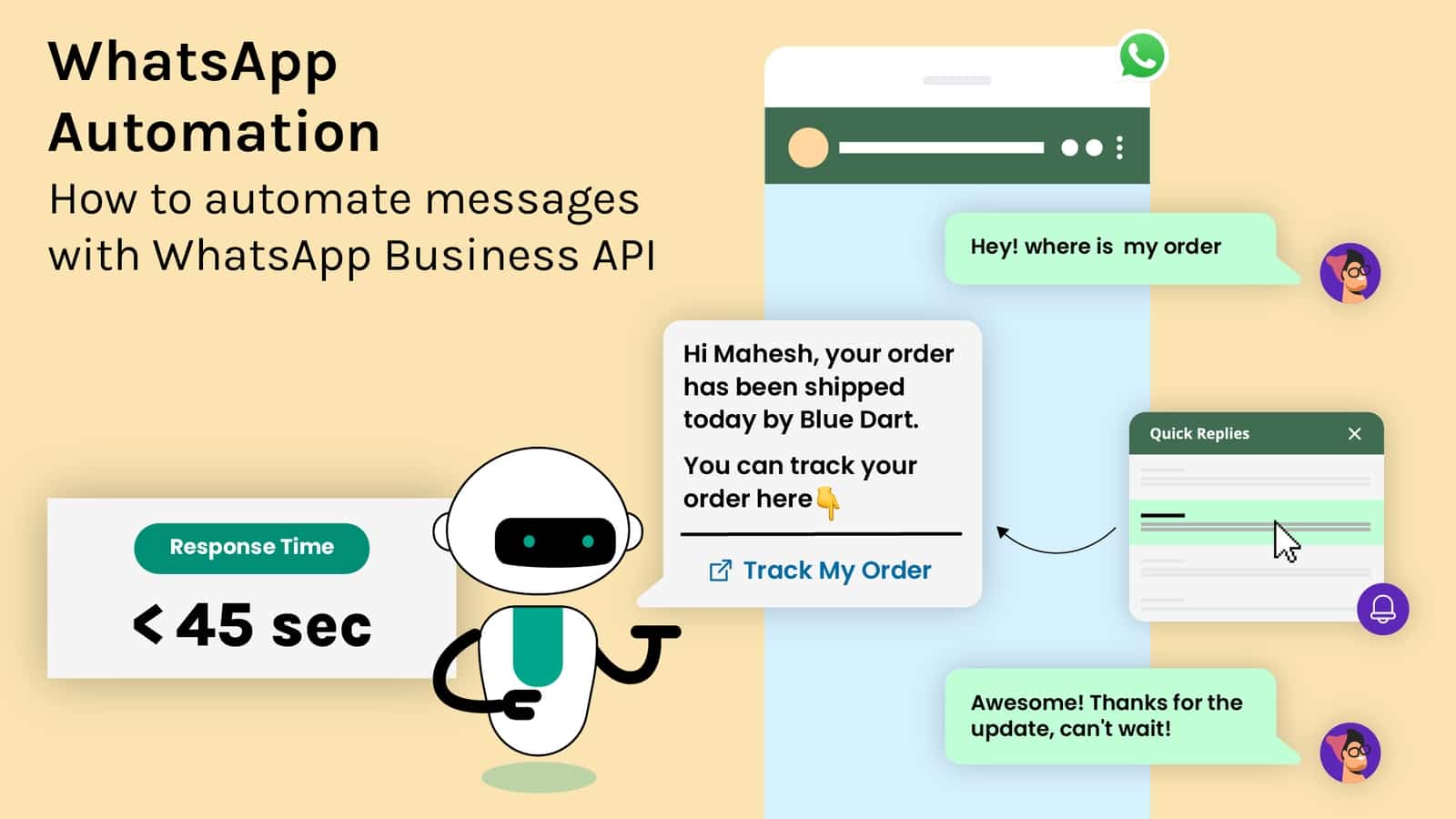 How to automate WhatsApp messages with WhatsApp Business API? | Interakt
Did you ever lose a potential lead because you couldn't reply to them on time, or it took too long for them to reach you?
If yes, you might know how expensive it can prove to your business. Attracting and engaging a new customer may cost you around 7X more than retaining the old ones. Lack of speed and efficiency in serving the customers is the biggest reason for customer frustration leading to a broken customer experience.‍
But the question is, ‍
• How can businesses avoid this churn?
• Is there a way to improve customer communication through WhatsApp?
• Can we provide immediate answers to customers' FAQs through WhatsApp?
‍Yes! The simplest way to avoid the nightmare is by using messaging apps to handle customer queries, services, or requests instantly.
Nowadays, WhatsApp is the most preferred messaging channel for businesses to communicate with customers. Other than that, WhatsApp has got the best business-friendly automation capabilities that improve the standards of customer service beyond conventional channels.
As a result, businesses are rapidly switching gears to get hold of their customers on their favorite messaging channel. With 175 million people sending messages to business accounts on WhatsApp, it becomes the need of the hour to start thinking about how can we leverage WhatsApp automation to improve the CX for our brand.
In this article, we will talk about the What/How/Why of WhatsApp automation and different ways to automate business messaging on WhatsApp.
‍What is WhatsApp automation and why is it important?
WhatsApp has emerged as one of the most powerful social media platforms around the world with around 2 billion users. With such a huge number, automating WhatsApp Business Notification messages becomes very crucial for businesses.
WhatsApp is an excellent tool for those who want to market their products and services to large numbers of people. The major benefit of this tool is that it saves a lot of time and money and you can do it with just a few clicks. Another benefit is that you do not require any coding experience to run WhatsApp automation and the implementation is very simple and easy. Also, WhatsApp automation helps businesses to send out auto replies to user messages whenever there is a query/request during the off hours. Businesses can set up automated replies like out of office messages, away messages, welcome messages, delayed messages, etc. for customers to acknowledge their requests if they try to contact outside your working hours. This improves the overall end-user experience and lets the customer know that they are heard and can expect a resolution soon.
Why should businesses leverage WhatsApp automation?
Today, businesses are under increasing pressure to be more efficient, provide better service, and offer a better experience to customers. The only way to achieve this is through automation. Automation makes it easier for businesses to deliver what customers want and when. It allows businesses to serve their customers in a better, faster, and more personalized way even in case of multiple conversations – something that is still beyond human capabilities. Here are a few more reasons why businesses should plan to adopt automation on WhatsApp:‍
• It helps them to perform better in a tough, competitive environment, where fast, agile responses to market changes are critical to staying ahead of the competition.
• Automation provides a powerful way to improve speed, accuracy, and adapt to changing market conditions quickly and efficiently.
• It is the best way for businesses to scale their operations. By leveraging automation, your business can grow without having to add new staff, improve your bottom line and give your business the scalable infrastructure it needs to grow.
• With the new WhatsApp Business API, your business can automate marketing campaigns with WhatsApp. You just need to connect your WhatsApp business account to our platform, and you are able to send WhatsApp messages without manual intervention. The API is available for any type of business: B2B, B2C, professional use, education, or even for personal use.‍
How to setup automated replies on WhatsApp using Interakt? 
The features of automation can vary in the WhatsApp Business App and WhatsApp API. WhatsApp Business App uses basic automation features whereas, the API has got a lot of advanced messaging automation capabilities. In some scenarios, FAQ bots can also be easily integrated with the app by using WhatsApp Business API which will help customers get instant answers to their queries.‍
Chat automation is a vital part of the online shopping experience. There are many different ways chat automation can be used. 
For example: Using FAQ bots to answer customers' frequently asked questions, sending automated messages when the service is busy or not available. Chat automation is a great way to ensure that customers get the best experience possible while interacting with your business. Once a customer purchases your product, the receipt is delivered instantly to him via WhatsApp. Customers also get notified about their order and shipment status right from the warehouse to their doorstep in the same chatbox. Businesses can customize these notifications and messages using a variety of rules and filters as per their needs and use cases.
The rules can also be used to deliver a welcome message to a new customer, to send out a message when your product is being processed, or to send them a delayed message when you're not available to receive messages.‍


What are the types of automated WhatsApp Business messages?
• Welcome messages:
‍Using the welcome message feature, businesses can trigger an automated response to their customers as soon as they are onboard or start their first conversation. This not only initiates quick assistance but also lets the customers feel the essence of personalized customer service. You can easily set this message from the business tool section in the WhatsApp Business App.
• Away messages:
‍Away messages are set to trigger when a customer tries to contact your business outside office hours. This feature also serves as an acknowledgment message so that the customer will know that their query has been addressed and they can expect a response soon. The best part of this feature is that it never lets your customer feel unattended.
• Delayed messages
:
When a customer reaches out to your business, there can be scenarios where you are unable to respond to their chat immediately. The delay in responding to customer messages/queries can be due to various reasons such as high traffic, downtime, bandwidth issues, increased workloads, etc. In such scenarios, automated delayed messages keep customers informed about the delay in service providing them a stipulated time for their resolution. Maintaining such transparency in business improved the end-user experience.
‍
Wrapping Up
WhatsApp messaging app is one of the widely-used communication channels for customer interaction these days. But your customers will likely rely on it in addition to using your website, mobile app, and other channels of business and support. This means it is essential to make sure your customers are attended to across channels seamlessly and without missing a beat.
Without a unified platform for collecting, addressing, and managing customer queries, your agents are likely to find themselves working in silos and endlessly toggling between channel-specific tools. This juggling between different apps will not only increase customer wait time but also reduce an agent's efficiency.
A cognitive solution like Interakt's WhatsApp Business API can help manage all your business communication through a single, unified, messaging interface on WhatsApp. Businesses can find the best way to communicate, respond and engage with their customers from a single point of contact that too on their favorite messaging channel, WhatsApp.
Interested to explore more about Interakt or want to try out your own WhatsApp Business API SignupWhatsApp Business API, start your free trial start your free trial today!