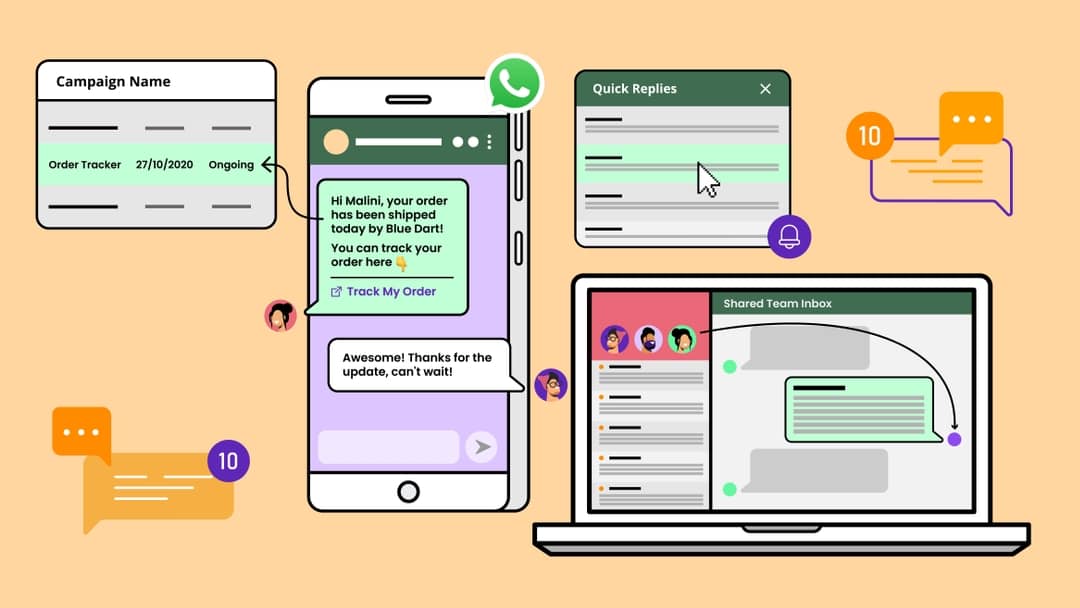 WhatsApp Business API Features: How WhatsApp Business API features helps your business
In recent years, WhatsApp has grown to become the preferred choice of messaging application. The launch of WhatsApp Business in 2018 has provided tremendous opportunities for businesses to expand their boundaries and reach out to their audience.
We've got some mind-boggling stats to back this up. Here's what we're talking about
More than 15 million businesses around the world use WhatsApp for their business purposes as per Freshworks

In India, businesses using WhatsApp Business API for e-commerce has witnessed an average spike of 113%

And get this – 56% of customers prefer messaging customer service rather than speaking over the phone
These numbers alone are a testament to the growing popularity of WhatsApp as the preferred messaging channel for customers and businesses alike.
So how can fast-growing businesses make the most of this channel?
Say hello to WhatsApp Business API – this end-to-end solution comes packed with features that cater to the growing needs and demands of your business. By the end of this article, you'll have a good idea of some of the most sought-after features of WhatsApp Business API features and how you can take leverage the same using Interakt.
What is WhatsApp Business API?
WhatsApp Business API is a messaging solution designed for businesses to communicate with their customers using WhatsApp. It is a paid version of WhatsApp Business and is meant for businesses or enterprises looking for a scalable solution to grow their business.
With the WhatsApp Business API, businesses can use features such as messaging templates, notification campaigns, provide automated customer service, and conduct several other marketing campaigns. The API also allows businesses to integrate WhatsApp into their existing CRM, customer service, or e-commerce platforms, providing a seamless customer experience.
However, it's worth noting that the WhatsApp Business API is only available with approved business solution providers and requires approval from WhatsApp before it can be used.
What are the core WhatsApp Business API features offered by Interakt?
WhatsApp Templates

Library

Contacts Management and Bulk Contact Upload
1. WhatsApp Marketing
Think of it more like a notifications engine. This WhatsApp business feature allows you to trigger automated, personalized messages in bulk to users, giving businesses like yours the perfect opportunity to add the much-needed personal touch to customer experiences.
As a business, you may have a multitude of reasons to send messages to users and triggering them manually can be a painstaking process. This is where Interakt's automated notifications capability comes to the rescue. With Interakt, you can send both personalized and bulk notification messages to your customers. You can set up campaigns to trigger messages to your customers.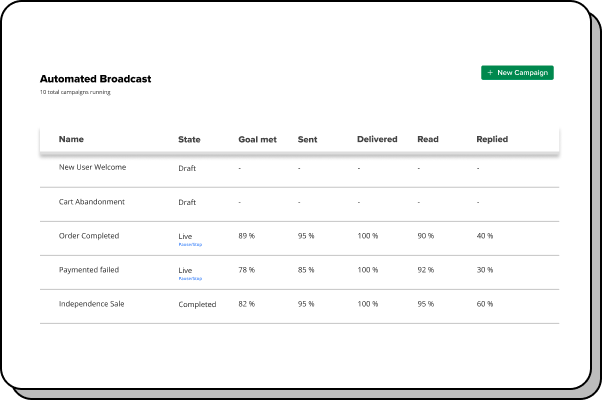 It can be a one-time campaign or an ongoing campaign, depending on the requirement. For example, you can set up an ongoing campaign to trigger an automated welcome notification email whenever a new user signs up on the website.
That's not all! With Interakt, you can also trigger notifications with rich media (images, videos, documents) and variables to make the message more appealing for the user.‍
2. WhatsApp Automation
Another time-saving WhatsApp API feature for businesses is the ability to send quick replies. So here's the deal – with Quick Replies, you can power your team to efficiently resolve complex queries in just a click!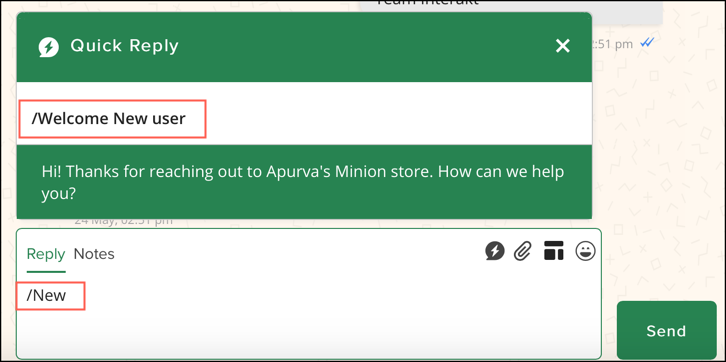 Interakt allows you to create WhatsApp quick replies and give it an "easy to remember name". Like the automated notification messages, you can add rich media and variables to make the message more personalized. Sending these instant, predefined messages as responses to frequently asked questions is just what you need to perfect your customer support and wow your customers!
‍
3. WhatsApp CRM
One of the main challenges faced by your customer support team is the huge inflow of support requests from customers. With a common WhatsApp number for the entire team, chances are high that your team may unknowingly miss out on a few messages or keep a customer waiting for a little too long! This could hurt your business in more ways than one.
Interakt's Shared Team Inbox offers a dedicated inbox capability for each teammate. You can easily manage and respond to all WhatsApp conversations from one place. Interakt's shared team inbox for WhatsApp helps in increasing productivity and fosters better collaboration amongst your team members. In addition to sending and receiving messages, the inbox provides complete details about the user.
Interakt's Smart Cards are everything you need to be well-informed about your user! On the right-hand side of the inbox screen, you get a quick snapshot of your users' details, you also get to add custom tags to the user (eg., newuser, blackfridaycampaign). There's more – you can write and save notes which can be useful for other team members if you plan to reassign a chat to them (yup, even that's possible)!‍
4. WhatsApp Templates Library
Businesses can engage better with customers by creating interactive messages, also known as WhatsApp template messages. Some examples of predefined templates include delivery alerts, payment notifications, flight reminders and so on. These template messages require prior approval from WhatsApp before they can be sent out to customers. It's important that you read these WhatsApp business API template guidelines before creating your WhatsApp templates.
With Interakt, you get a pre-approved WhatsApp template library where you can select and create rich media template messages  across different industries containing (text, images, videos, PDF attachments). Interakt also provides the option to send the template message in different languages based on the client's geographical location. The template message consists of four parts – header (optional content), body text, footer (optional) and buttons.
You can also add Call-To-Action (CTA) Buttons and Quick Reply buttons along with the template message. Customers can simply tap the button to start a conversation with the business instead of creating a new message.
‍

5. Contacts Management and Bulk Contact Upload
One of the most important WhatsApp Business API features is the ability to allow businesses to manage all their contacts in a single place. Effective customer information management is a major challenge for business managers because the information is spread across the system.
Interakt's WhatsApp contact management feature allows the business to organize and manage their customer information effectively. All the customer details – such as name, email id, contact details, custom tags, conversation history with the customer etc., can be added and searched easily from the "All Users" tab. WhatsApp bulk contact upload of contacts is also allowed on Interakt via a CSV file or using the API. Furthermore, you can apply specific filters to retrieve and export the required user information easily.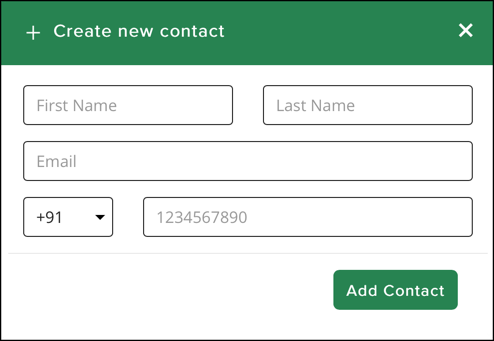 ‍
6. WhatsApp Chat Widget
For a business, the main objective should be to ensure how easily the visitors can get in touch with them. Placing the "Chat with Us" or "Contact Us" or "Support" floating button on the website is a key to generating more lead conversions.
Interakt allows businesses to embed the chat widget on your website as a pop-up. Customers can start the conversation with just a single click from the website. In addition, Interakt also allows you to customize the WhatsApp chat widget for the website based on your preference (color theme, design, text etc.,). Instead of a simple button or the plain WhatsApp logo, you can additionally style the chat widget with welcome text and image, set the position of the chat button on the website and so on.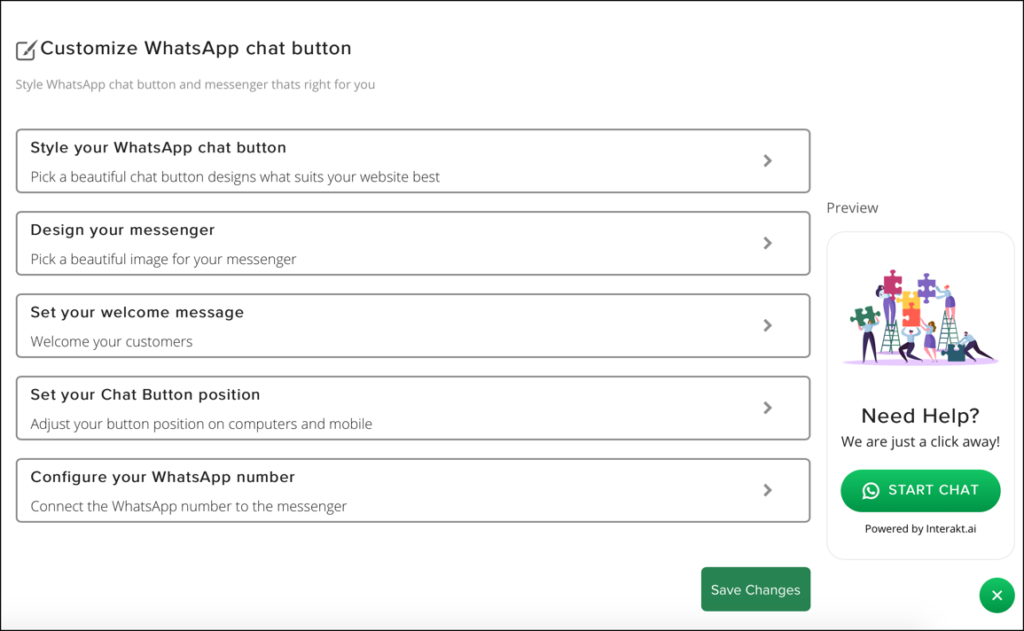 7. WhatsApp API Integrations
WhatsApp provides opportunities for businesses to integrate their WhatsApp Business API with external third-party solutions. Interakt is a solution that helps businesses integrate WhatsApp with external third-party solutions, existing CRM, customer service, or e-commerce platforms, providing a seamless customer experience.
This integration allows businesses to use Interakt as a full-stack WhatsApp business solution by seamlessly integrating it with popular e-stores, CRMs, payment gateways, and business apps like Shopify, Woocommerce, Instamojo, Pabbly, Zoho, Google Sheets, Razorpay, PayU, and Return Prime.
Overall, Interakt simplifies the process of using the WhatsApp Business API for businesses, by providing a centralized platform that can be easily integrated with a range of external solutions. This integration allows businesses to streamline their messaging, customer service, and marketing activities, making it easier for them to engage with their customers on WhatsApp.
Get WhatsApp Business API for your business today!
Talk about convenience, efficiency and customer preference – WhatsApp is a clear winner, especially when it comes to small and medium-sized businesses. WhatsApp Business API is easy to use and helps businesses to establish a personal connect with customers. With a growing number of users willing to chat with businesses over phone calls, the future of WhatsApp messaging for business sure looks promising.
Still in two minds? No problem!
You can get started with Interakt's 14-day free trial and experience the goodness of WhatsApp Business API Signup for yourself – sign up today!