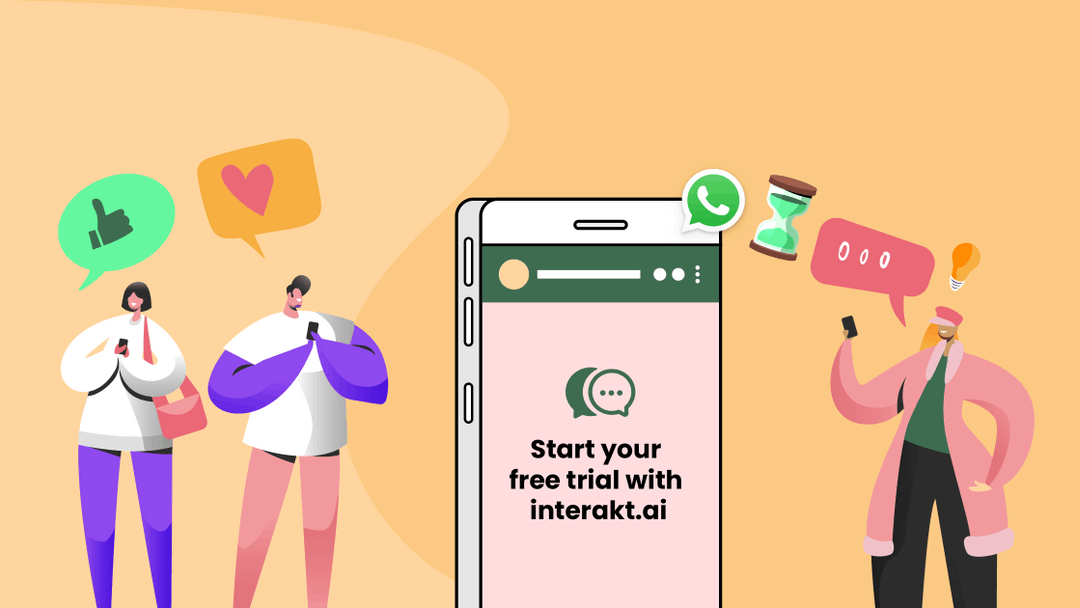 WhatsApp Business services: What are the services that I get from WhatsApp Business and all you need to know about them
With over two billion active users, WhatsApp is not only the most popular messenger app for connecting with friends and family but businesses too are turning to WhatsApp to engage with their customers. Here are a couple of good reasons why you should consider using WhatsApp Business for you and your customers.
People open their messenger apps many times a day. WhatsApp is the easiest and most convenient way for people to get in touch with your business as it is well aligned with their lifestyle and habits.

With messaging, you can reply to your customers quicker and be available to solve their problems instantly. This will build their confidence in you, and in turn, increase conversion rates and boost customer satisfaction.

The open rate for business messages on WhatsApp is at 80% compared to that of emails which is at a meagre 15%.
‍
What is WhatsApp business app?
WhatsApp offers you two options for your business. The size of your business will determine which one is right for you.
The WhatsApp Business App is meant for small businesses. You can create a WhatsApp Business account for free. It comes with basic features such as contact labelling, quick replies, automated messages and a business profile. The WhatsApp Business App allows only one user to operate an account and hence it is not ideal for large and fast-growing businesses.
Is WhatsApp Business free? 
Yes, WhatsApp Business is absolutely free to use. You can download the WhatsApp Business App from the App Store or Google play store if you are a small business owner. If yours is a growing business, WhatsApp Business API is just what you need! If you want access to WhatsApp Business API, then you are encouraged to work with Official WhatsApp Business Solution Providers, and use their products such as interakt. There will be a subscription fee based on the WhatsApp business service provider that you opt for.
What is WhatsApp Business API?
The WhatsApp Business API on the other hand was built for medium to large businesses that handle a considerably higher volume of incoming messages. Adding to that, this solution is also best suited for businesses that are looking to drive contextual customer engagements via bulk notifications and build a seamless integration with their Shopify store.
Unlike the WhatsApp Business App, WhatsApp Business API allows multiple team members across various devices to reply to users instantly.
To integrate your business with WhatsApp Business API, you need to approach a WhatsApp Business Solution Provider. What's important here is that you choose the right WhatsApp Business Partner, that's in line with your business goals.
Is WhatsApp Business API free? 
The WhatsApp Business App is free but the WhatsApp Business API is an advanced service that comes with a paid subscription model. This primarily depends on the WhatsApp business service provider. Ensure to compare the prices first before making a decision.‍
What are the WhatsApp Business services that you get from WhatsApp Business API?
Let's now take a look at some of the benefits you can enjoy by signing up for WhatsApp Business API.
Drive sales:
Boost sales by connecting with customers on the channel of their choice – WhatsApp. You can also improve your brand recall by sending highly personalized content and automating timely follow-ups on WhatsApp.
Offer delightful customer experiences:
Send timely and relevant messages to customers on their preferred app. WhatsApp Business API allows you to send personalised, bulk notifications to your customers. Improve engagement and product awareness by providing timely updates.
Real-time customer services: 
Interakt's multi-login tool helps to speed up query resolution and provide the best customer support. You can also send instant, predefined messages with rich media.
Data privacy:
WhatsApp Business API offers you a secure platform that allows you to communicate with your customers with absolute privacy. Messages sent are end-to-end encrypted which means neither WhatsApp nor a third-party provider can read the messages that you send or receive.
What does the WhatsApp Business API cost? 
Let's take a look at the charges that you can expect.
‍
Monthly subscription fee:
Signing up on WhatsApp Business API is free but this WhatsApp business service is made available to you by a partner to whom you will have to pay a monthly subscription fee. At interakt, you can gain access to WhatsApp Business API for a reasonable fee of Rs.999/- per month.‍
Setup cost:
Since the API integration is technically more complex than the other channels, a lot of providers charge a one-time setup fee over the additional monthly fee. However, interakt doesn't charge a setup fee.
Cost per message:
Messages you send your customers are free within the 24-hour service window. You can still respond to customer requests outside the 24-hour window but only through a pre-approved template message. For every template message sent after 24 hours have gone by, WhatsApp charges a small fee depending on the country code of your customer's WhatsApp number. For India, this is around 32 paise per message. interakt passes on the charges on actuals to you.
‍
What's the role of a WhatsApp Business Partner?
WhatsApp Business API was launched to help businesses scale up with much-needed features like a multi-user login for WhatsApp that supports an unlimited number of users across devices. Or better yet the ability to set up automated notifications and send out timely campaigns.
You can only access WhatsApp Business API through a partner. So who is a WhatsApp Business Partner? WhatsApp Business Partners or WhatsApp Business Solutions Providers are those who help you connect to WhatsApp Business API.
How will a WhatsApp Business Partner help your business?
They guide you every step of the way from helping you to create a WhatsApp Business API account, getting your business account verified, to figuring out how your entire team can collaborate and use the platform to cater to your customers.

They will also help you understand the guidelines laid out by WhatsApp and keep you posted on any new updates within the WhatsApp Business ecosystem.
WhatsApp Business API pricing is an important factor that you should consider before choosing a partner. Read on to learn more about WhatsApp API pricing.
How to choose the right WhatsApp Business API partner with value-based WhatsApp API pricing?
WhatsApp Business API pricing model differs from one WhatsApp business service provider to another. To identify the partner who is most ideal for your business, consider the following questions:
What are your use cases?

Which partner is offering the best prices that are just right for the offered feature-set?
Use cases aside, it's important to choose the partner whose pricing is honest and transparent. This is crucial for the growth of your business.
Ready to experience the all-powerful feature of WhatsApp Business API? We bet you are! Sign up for interakt's 14-day free trial and accelerate your business growth today!