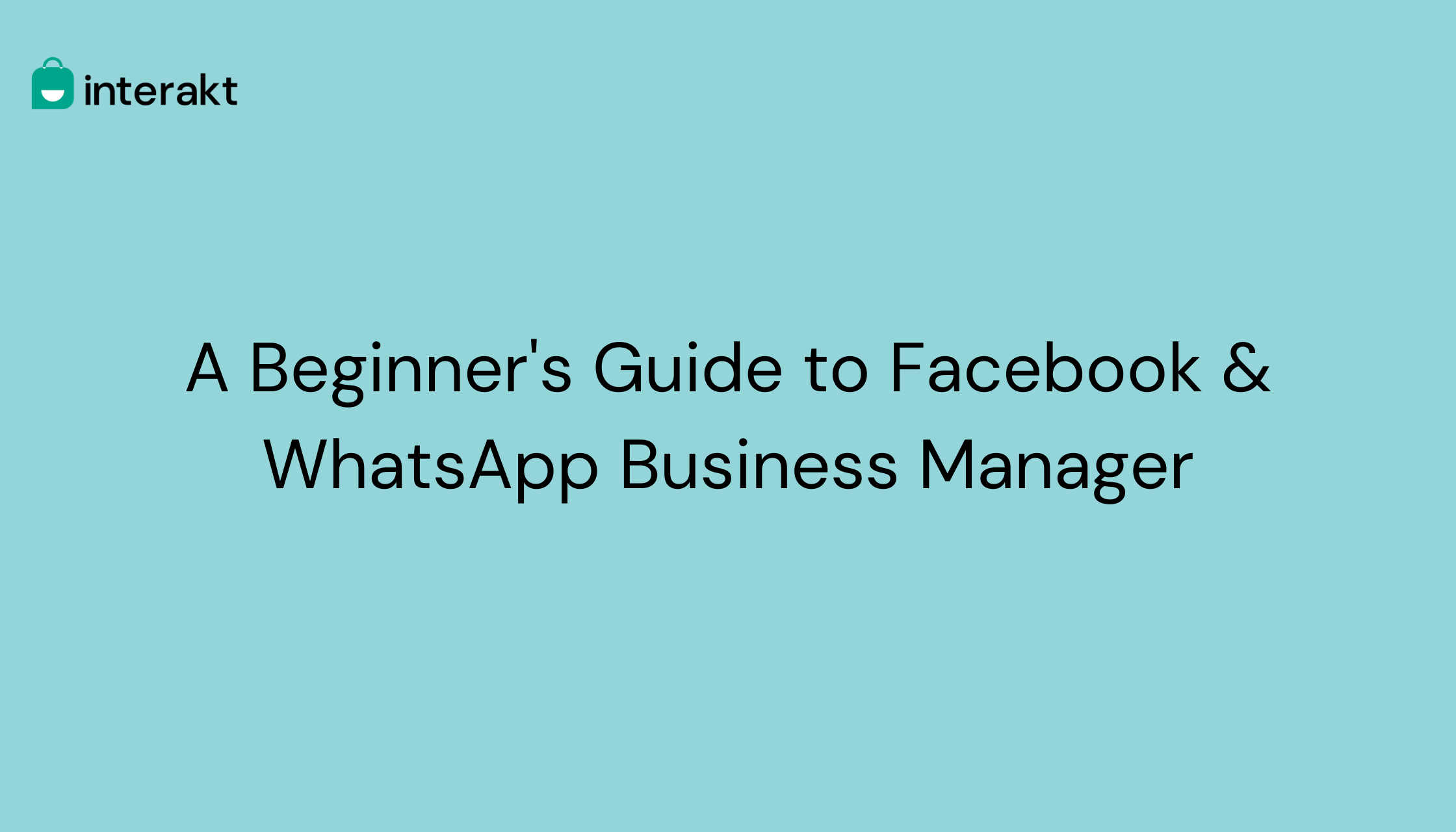 A Beginner's Guide to Facebook & WhatsApp Business Manager
Facebook is the oldest and the most popular social network out there. It has over 2.8 billion monthly active users and the numbers are only expected to rise with each passing year. If you run a business then you ought to have a Facebook Business Page. Today, more than 200 million businesses utilize Facebook's free services. Creating a Facebook Business Page is one of the simplest ways to market your business for free
In this blog, we are going to cover everything you need to know about the Facebook Business Manager, the benefits of WhatsApp and Facebook Manager, and how to set them up. Let's get started.
What is the Facebook Business Manager and how to access it? 
As Facebook has explained, the Facebook Business Manager is a centralized hub where you get to combine all of your business information and Facebook marketing activities in a single place. It allows you to share access to assets with your team, vendors and external partners.
The Business Manager can help streamline operations for your organization and clients.
Some of its top benefits include – 
a) It helps you keep your business and personal profiles separate

This simply means that you will not run the risk of posting something that's meant for the personal account on the Facebook Business Page or vice versa.
‍
b) Create and manage Ads
It gives you the ability to create, run and manage Ad accounts on a centralized dashboard. Detailed reports on these Ads are available which will help you monitor the performance of every Ad and plan for the future. This is considered to be one of the most significant benefits of the Facebook Business Manager.
‍
c) Share access to multiple people, while you continue to remain the admin 
This is another important benefit of the Facebook Business Manager because it lets you provide access to team members, clients and other users with special permissions. Here, the login credentials are not revealed and business asset ownership remains intact with you. Apart from that, your personal information will not be disclosed to co-workers.
‍
d) Extremely user friendly 
Let's be honest, there are quite a few platforms and apps that don't seem user friendly at all. However, the Facebook Business Manager is extremely easy to use for those who have no prior knowledge in managing marketing campaigns or Ads. Since the personal and business profiles are kept separate- there is no concern of getting the accounts or their content mixed up.
‍
e) Highly secure 
With the Business Manager, users can securely share access to clients, vendors and partners via two-factor authentication. That's not all, you can continually monitor Ad spending across the various accounts and be sure that nothing gets changed without prior approval.
You can access the Facebook Business Manager at business.facebook.com.
How to set up and create a new Facebook Business Manager account? 
We have listed out the simple steps to create your very own Facebook Business Manager account:
1. Firstly, you must log in to business.facebook.com 
2. Next, click on Create Account 
3. Now, log into your regular Facebook account.
4. Enter your business details such as name and email Id
5. Check your email and hit the confirm now button
There you have it! You have successfully set up your Business Manager Account.
‍
Why is it important to use Facebook Business Manager and not a personal Ads Manager account? 
You may already know that Facebook gives users the option to boost Fan page posts. This is one of the worst possible ways to create an Ad on Facebook. Here's why?
You are more or less shooting aimlessly expecting it to reach the right audience. It's not a good idea to be doing that. Instead, the Business Manager eliminates uncertainty on how Facebook spends your money. It gives you the big picture on-
• Who are you reaching? 
• When are you reaching them? 
• How much is your Ad spend? 
The Business Manager will let you have full knowledge and control over this.
‍
How to add your WhatsApp Business Account? 
Linking your WhatsApp and Facebook Manager is pretty straightforward. Follow the simple steps mentioned here to connect your WhatsApp Business Account to your Facebook page.
But before you do that, you will have to set up the WhatsApp Business Account.
‍
How to set up the WhatsApp Business Account? 
Download the WhatsApp Business App from the Google Play Store or the App Store (if you use an Apple device) for free. Now, create your account on it to get started.
The WhatsApp Business App is ideal for you if yours is a small business. However, if you are a growing SMB looking to expand its operations, then the advanced version of WhatsApp Business called the WhatsApp Business API is what you should be looking at.
The WhatsApp Business App supports only one user whereas the WhatsApp Business API enables multiple users to log in from different devices and work together seamlessly. To gain access to the latter you need to partner with a WhatsApp Business API service provider like Interakt.
Interakt was launched to cater to the growing communication needs of small and medium businesses. The WhatsApp Business platform via Interakt lets you reach out to customers through automated messages, personalized conversations, alerts and notifications.
‍
Benefits of signing up for WhatsApp Business API 
• It lets you offer great customer service through personalized messages, templates, automated responses and bulk notifications.
• Gives you a unified platform for sending important alerts and notifications to clients.
• Helps you form strong relationships with customers and builds trust and loyalty in them.
• Effortlessly manage large volumes of incoming messages
• Get a better understanding of your customer's needs and expectations by keeping a record of past conversations, purchases and other customer traits.
• Helps you reach out to your customers to obtain direct feedback on their experience with your brand.
• Helps you gain new customers through responsive chat widgets which when implemented on your website will allow customers to connect with you easily. A WhatsApp Chat button can also be added to your Facebook Ads and Posts to direct users to WhatsApp conversations.
Integrate WhatsApp and Facebook Business Manager to power your business.
Get access to WhatsApp Business API via Interakt to offer frictionless customer experiences. Sign up today for a 14- day free trial program.